I am excited to share my first recipe round-up today, "10 Healthy Pakistani Recipes." There is a common misconception that Pakistani food is unhealthy - that it just comprises fatty meats, and is laden with oil. While many commercial restaurants can serve food that is a bit indulgent, there are a lot of classic Pakistani dishes, which are actually quite good for you.
It's not on brand of me to say this but I have been focusing on eating healthier this year. My friends in Cambodia were great role models in terms of helping me develop an exercise routine that works for me, and making sure that I was eating nutrient-rich foods that energized me. The shift has helped a lot in terms of managing my energy levels, as well as physical comfort (e.g. less bloating etc.)
In order to eat healthier, I found that I didn't have to cut out Pakistani food at all. One of the biggest changes I made was switching to more whole grains so I finally learned to make roti with whole wheat durum flour, and scaled back my almost daily reliance on white rice and pasta. The second was to incorporate a lot more nutrient-rich foods, and be more mindful of the amount of protein. Since Saptarshi went pescatarian this year, we were cooking a lot more daal and beans (so many beans!); and different types of vegetables (check out some great vegetarian recipes here).
I understand that everyone is looking for something different when it comes to a healthy recipe, so I have tried to include a mix here based on varying needs. For some, it might be about weight loss, in which case, it would make sense for you to focus more on lower calorie but higher nutrient foods. For others, it's about having a more balanced meal, so in view of that, complement these recipes with what you think is missing - leafy greens, whole grains or protein. And if fat and cholesterol are a concern, then please, tone down the suggested amount of oil to what you are comfortable with.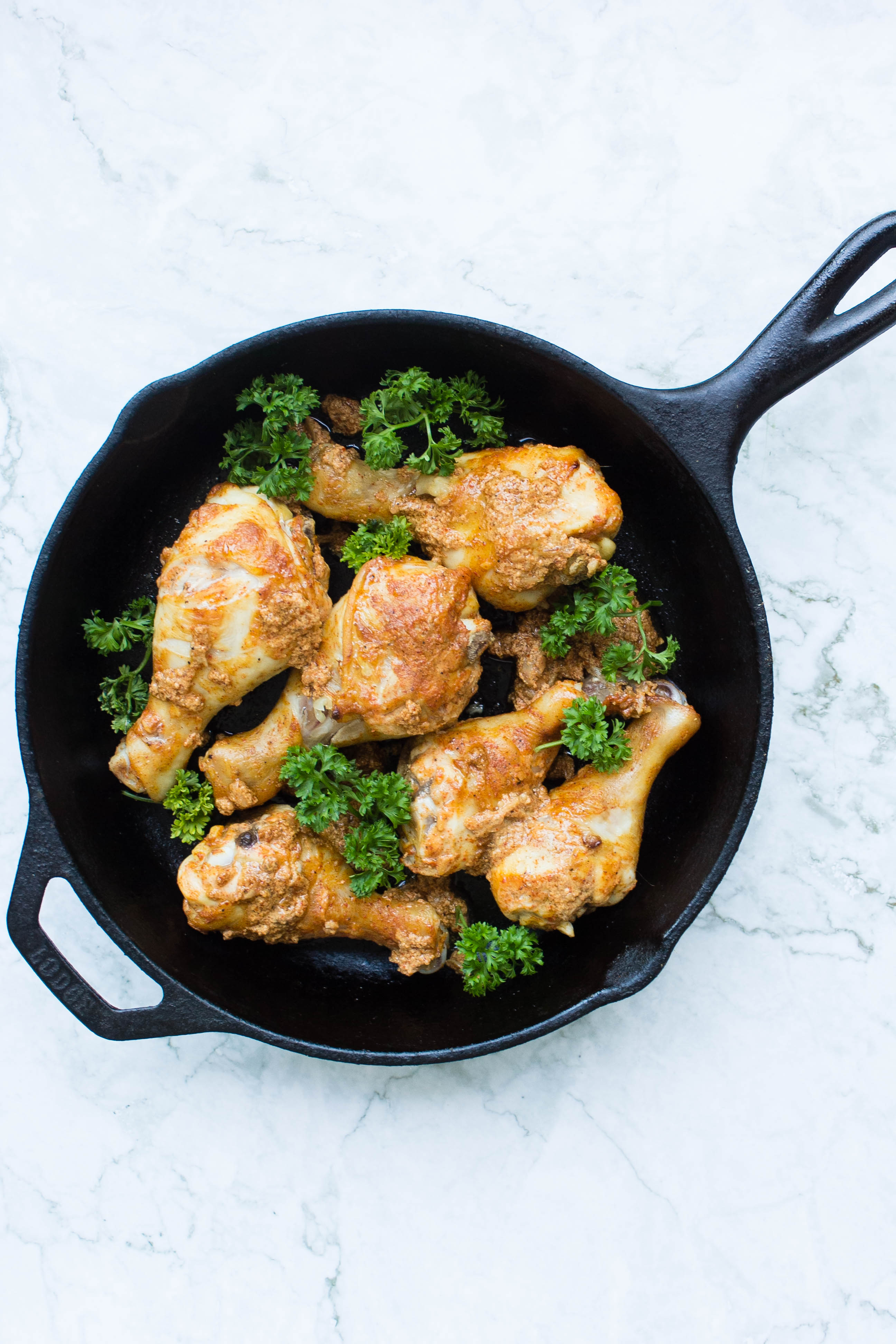 Baked Chicken Drumsticks
These baked chicken drumsticks are a protein and iron-rich, and no oil recipe. What makes them even better is they are not fussy. The marinade comes together in less than five minutes. After marinading the chicken for a few hours, you pop them in the oven and they are ready in less than an hour. You can pair them with a whole wheat grain, and nice leafy green salad of your choice.
Pakistani Style Chicken Drumsticks Recipe
These easy to prepare chicken drumsticks derive their flavor from a punchy yogurt marinade that my mother perfected over several years.
Check out this recipe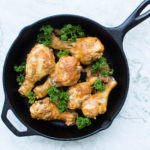 Boneless Chicken Hara Masala
This is a low-calorie (only 314!) but delicious and satisfying main. It uses boneless chicken breast, which is a lean protein; and doesn't require a ton of oil. It pairs well with whole wheat roti as well as rice.
Pakistani Style Hariyali Chicken Recipe
A perfect weeknight dish, hariyali chicken or chicken hara masala, is a Pakistani classic that derives its flavor from fresh cilantro, mint green chilies, garlic and ginger.
Check out this recipe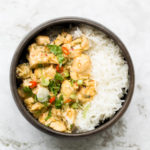 Bhindi Masala
This is a low-calorie (only 300 calories per serving!) and nutrient-rich dish. Okra is a great source of fiber and complex carbs, as well as calcium, iron and potassium. It's also delicious, and pairs beautifully with roti, or daal chawal.
Bhindi Masala Recipe
A sub-continent classic, bhindi masala was a household favorite growing up. Okra has a cult following, and this recipe is a very popular way to prepare it in Pakistan.
Check out this recipe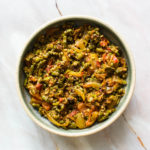 Chicken Keema
Keema is a Pakistani household staple, and this chicken recipe is a great low-calorie but equally satisfying variation. This goes beautifully with any side of greens, and whole wheat grains.
Chicken Keema Recipe
This chicken keema is the perfect healthy main to add to your weekly rotation. It's full of flavor, easy to prepare, and comes together in less than an hour.
Check out this recipe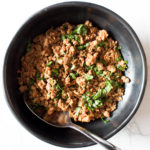 Chicken Tikka
This is a delicious protein heavy and Keto diet friendly recipe. I like my food SALTY so if high sodium is concerned, please go ahead and cut down the amount of salt recommended. Grilled chicken tikka is beautifully versatile - it goes really well with a wide variety of greens (salads as well as cooked greens). I would strongly recommend making some cooling cucumber raita to go on the side.
Chicken Tikka
A Pakistani classic, my uncle's recipe for chicken tikka requires few ingredients but is rich on flavor thanks to the fire of the charcoal grill.
Check out this recipe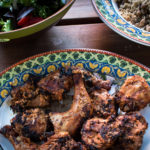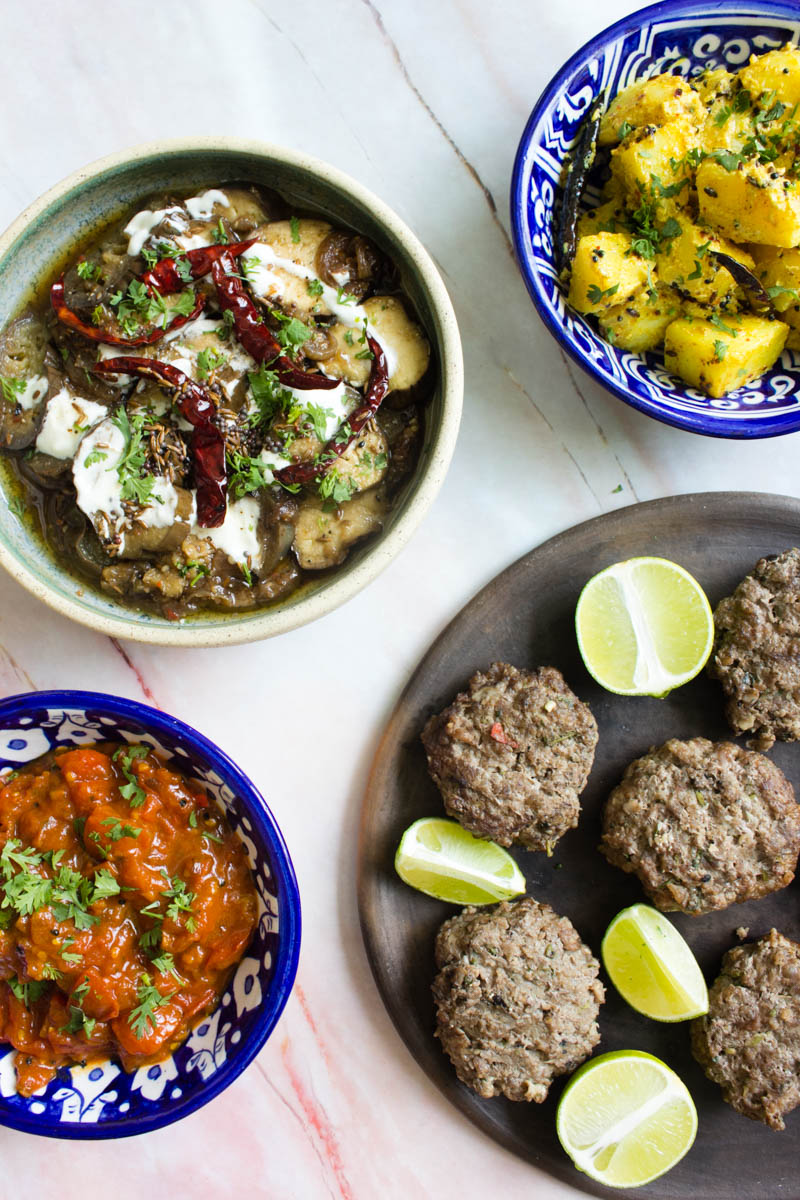 Ground Beef Kebabs
This is a crazy easy, no fry recipe for ground beef kebabs. It's a great option if you don't want to overthink a low-calorie, high-protein lunch or dinner. Again, it's also very versatile; and pairs well with salad, sautéed greens, and many varieties of whole grains. I would recommend pairing with this fresh mint chutney for some additional oomph.
Ground Beef Kebabs Recipe
This recipe for easy ground beef kebabs has become my go-to when having people over. They are the perfect side because they pair well with pulao and biryani, but can also be enjoyed with any gravy dish and chapati.
Check out this recipe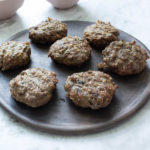 Khatti Daal (Tangy Lentils)
For my vegetarian and vegan friends, if you are looking to include more protein in your meals, lentils are your friends. They are also a good source of complex carbohydrates and fiber. This daal recipe is my recent favorite because of its smooth tangy flavor but this hefty mixed masoor moong daal is also a fantastic option.
Khatti Moong Daal Recipe
A gorgeous tangy khatti daal recipe that has been adapted for the Instant Pot. It get its vibrant flavor from tamarind and kadi pata.
Check out this recipe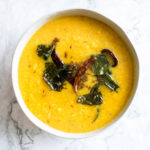 Karela Sabzi (Bitter Melon Vegetable)
It's only a matter of time until bitter melon blow up as the next super food. In any meal, we should be incorporating a wider variety of vegetables; and if you are adventurous and looking to switch things up, try this karela sabzi recipe. Bitter melons are a rich source of antioxidants, help fight inflammation, and are high on fiber but low on calories.
Karela Sabzi
A classic, easy vegan recipe for karela or bitter melon, one of South Asia's most popular summer vegetables.
Check out this recipe

Lobia Masala (White Beans with Tomatoes)
We all know that beans are having a moment in the United States. Like lentils, they are a fabulous vegetarian source of protein. They are also a great source of fiber! I have developed special affection for them in the last few years because of how delicate and versatile they are. This is a super easy and fast recipe that you can prepare with canned white beans. Again, it's adaptable enough to be paired with whole grains, and a wide variety of greens.
Lobia Masala Recipe
This Pakistani style lobia masala (white beans with an onion-tomato base) is an easy vegetarian meal that is perfect for busy weeknights.
Check out this recipe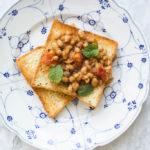 Haleem (Beef and Barley Porridge)
You maybe surprised that I included haleem in this roundup. Let me explain. Haleem by itself is such an amazing complete meal. It's a beautiful meat and grain porridge that will leave you feeling satisfied and happy without knocking over your metabolism. If you have the time, I would highly recommend preparing some and sharing with friends and family during the winter season.
Haleem
A complex meat and barley porridge, haleem is a dish that is perfect for long winter days, and meant to be shared with friends and family.
Check out this recipe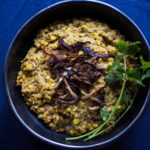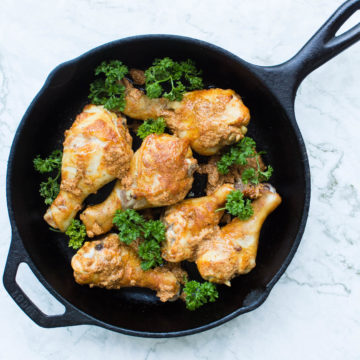 Pakistani Style Chicken Drumsticks Recipe
These easy to prepare chicken drumsticks derive their flavor from a punchy yogurt marinade that my mother perfected over several years.
Equipment
1 sheet pan or oven proof dish

1 medium size bowl
Ingredients
½

cup

whole milk yogurt

lightly whisked

2

teaspoon

Kashmiri red chili powder or 1 teaspoon cayenne red pepper

1

teaspoon

salt or to taste

1

teaspoon

garam masala powder

1

tablespoon

crushed ginger

1

tablespoon

crushed garlic

1

tablespoon

lemon juice

6

skinless chicken drumsticks or roughly 1 pound bone-in chicken pieces

1

tablespoon

olive oil
Instructions
Add whisked yogurt, chili powder, salt, garam masala powder, lemon juice, crushed ginger and garlic to a medium size bowl and mix well.

Make diagonal slits in the chicken and coat in yogurt marinade. Cover and refrigerate for 3 hours or overnight.

Grease ovenproof dish or sheet pan with roughly 1 tablespoon olive oil.

Preheat oven to 450°F with a rack in the middle.

Place chicken on ovenproof dish or sheet pan, cover with foil and bake for 15 minutes.

Remove foil and let the chicken bake for another 15 minutes.

Increase heat to 500°F and bring oven to broil. Broil chicken for 5 - 10 minutes. The exact time will depend on the type of chicken you are using.