When I first left Islamabad for the United States, I didn't cry. On the plane in between bouts of sleep, I kept thinking of the thick bamboos lined alongside the lawn in our home. I would enjoy looking at them from our TV room. They had grown tall enough to brush and bump against its windows on a windy day. I was thinking of Jahangir, our gardener watering the plants under the forgiving gaze of the early evening sun, quietly moving from one pot to the next.
Soon after I left, my mother got the bamboos cut and my father fired Jahangir for reasons that I don't quite understand and that I don't completely forgive them for. Jahangir had been coming to our house since I was ten years old. His daily presence and the quiet hum of our garden that he had built over the course of fifteen years had come to thread together my memories of home.
It's funny how when we look back at places, it's the strangest scenes that stick.
When I was getting ready to pack after my two months in Pakistan, my mother kept asking if I had had a good trip. She was worried because I was leaving stressed and frustrated, mostly because of work but also because I was leaving with things unfinished.
Given that I had come to Pakistan for two months, I had a long list of things I wanted to "accomplish" (see last post). Places to see. Collaborations to pursue. People to reconnect with. But of course, if you are from Pakistan, you know that Pakistan and Pakistanis are notoriously difficult to predict. Time is fluid except when it's not. People are flexible except when they are not. So weeks passed by, I went around in circles, and ultimately grew frustrated and restless.
And so I gave my poor mother a mixed response, "It's been good but I'm ready to go back".
As I have settled back into my life at Juarez, a new crop of memories have slyly begun to appear. As I'm typing, I'm overhearing the cries of the "radee wala" (recycling guy) bike outside my parents' house. Of our home building up to a steady chatter in the late morning. Of experiencing a distinct shift of seasons – putting away the heaters, opening the windows and letting the air and sound of my father's clamoring parakeets in.
I know now, what the trip did, what it "accomplished". It colored the fading backdrop of Islamabad in my mind. Against this enriched backdrop, I can now place the time spent with my aunts, uncles, cousins, friends and parents. Of digging my nails into ripe oranges under the gentle winter sun. Of drinking doodh patti while listening to qawwali alongside the centuries-old Buddha caves. Of finally paying attention, and noting the gradual transitions to retirement, parenthood, early adulthood.
Luckily, in February, Saptarshi also visited, and I had the luxury of playing tourist with him. Together we dragged my mother to show us old Pindi. We walked through moti bazar, the old spice market and then to the vibrant but dilapidated Jamia Masjid. My father took us to Taxila and then, to the Gurdwara Panjab Sahib in Hassan Abdal where we watched small turbaned school children play against the steady hum of Sikh prayer in the evening. On the way, we ate some fish - seating ourselves inside a neon-colored booth in one of the many restaurants lined on GT road – squirting small wedges of orange-lime on to deep-fried fish that we then tore in with some naan.
We visited my beloved Lahore, where Saptarshi said he got his first taste of "real Punjab", thanks to our rental car driver Imran, a fast-talking hustler who became our de facto tour guide. Thanks to Imran, we began our tour with a quick visit to Data Sahib. From there, we went to the magnificent Badshahi Mosque; got lost in the old walled city; stepped inside the quiet but gorgeous Wazir Khan mosque; took a Qingchi and grabbed some greasy mutton karhai doused in oil and black pepper near Anar Kali.
Back in Islamabad, we ate more meals at home than we did out, which is what we wanted. We enjoyed my Qaiser Mamoon's famous mutton karhai. Always served directly in the wok it was prepared in, we reached over to fight for the richly flavored masala at the bottom of the pan. At home, my special requests included nirgasi koftay – hard-boiled eggs nestled inside sliced, richly flavored koftay (meatballs); aloo paratha (flatbread with potato stuffing) that our home cook, Shehnaz painstakingly prepares by gently pressing spiced potatoes between flattened dough before oiling and heating it on the tawa.
I also ate a ton of goat. Since my father doesn't eat red meat, my mother was happy to have a partner in crime. Every week, we would have a different variation of goat curry: aloo gosht (goat with potatoes), shaljam gosht (goat with turnips), gobi gosht (goat with cauliflower) and finally, my favorite, palak gosht (goat with spinach).
During my last week, Shehnaz taught me how to prepare this old favorite. She said that I lived too far, otherwise she would pack it in Tupperware and send it with me so I don't ever have to miss it or worry about preparing it. I told her that this way was better.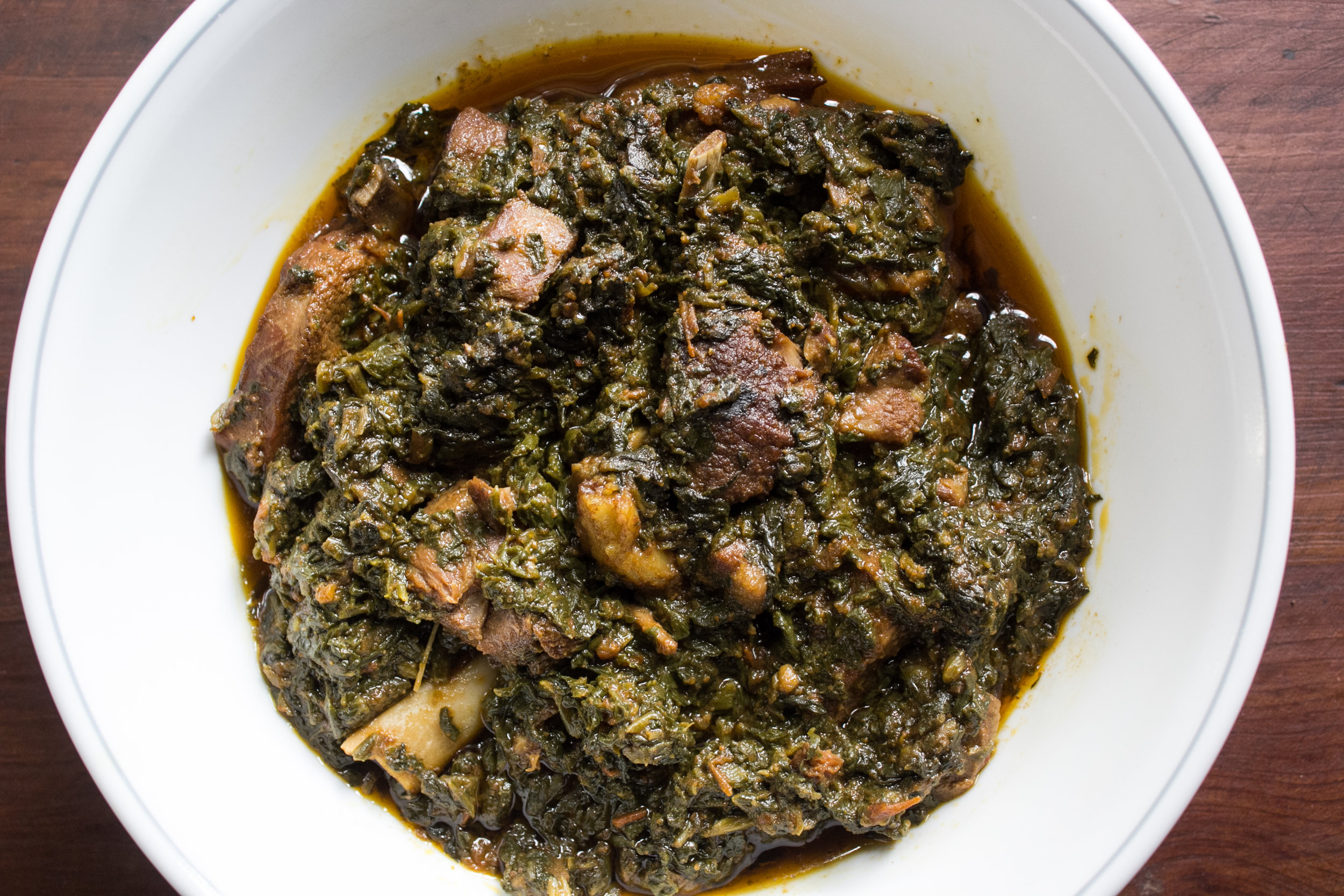 Palak Gosht
Serves 4
Ingredients
1 medium red onion, sliced in half rings
1 teaspoon garlic paste
1 teaspoon ginger paste
2 teaspoon coriander powder (available in specialty Indian/Pakistani grocery stores)
½ teaspoon turmeric powder
2 teaspoon Kashmiri red chili powder (can substitute ground cayenne red pepper but adjust per taste since cayenne is hotter)
Salt per taste (in this recipe we used 1 teaspoon of table salt, adjust accordingly)
2 roma tomatoes, finely diced
1 ½ lb mutton with bone (I normally ask the butcher for the shoulder or leg, cut in small pieces)
2 lbs (roughly) of spinach, thinly diced
Preparation
Heat a large heavy saucepan, add 3 tablespoon of canola/vegetable oil. Once hot, add sliced onion. On medium heat, brown the onions. Once they are evenly browned after about 10 minutes, add the ginger and garlic paste. Stir for a few seconds.
Add 2 teaspoon of coriander powder, ½ teaspoon of turmeric powder, 2 teaspoon of red chili powder and 1 teaspoon of salt. Fry for a few seconds.
Add diced tomatoes. Fry for 3-minutes and add the chopped meat.
Stir the meat in the spice-tomato mixture for 20 minutes. Add 3 cups of water. Cover and let it simmer on low heat for 1 ½ hour.
Once the meat has softened, add the spinach. On low heat, stir it in. It should begin to release a lot of water. Cover the pan and let the curry simmer on medium heat till the water has dried out.
Serve with chapati or basmati rice.