Eid Mubarak everyone! This bhuna gosht was originally published on January 8, 2017 in the dead of winter. I'm happy to repost it in celebration of Eid al-Adha. Wishing you all a safe, happy holiday with your loved ones. 
Jump to Recipe
It's getting chilly in the Chihuahua desert, and my Instagram tells me that it has begun to snow in the Northeast. My dear friend, Anita shared this timely bhuna gosht (stewed meat) recipe from beautiful Montreal. Bhuna gosht is a rich, heart-warming dish best enjoyed family style in the dead of winter.
"Bhuna" is a style of cooking where you let the meat (or vegetables) cook in its own spices. Here the meat is cooked over a period of two hours, during which it acquires a deep rich flavor reminiscent of family get-togethers in Pakistan.
After I got married, both my husband and I were away from our immediate family. During the holiday season, DC would empty out and we would stay back, intent on forming our own holiday traditions with our friends and family close-by.
This would involve binge watching every Oscar-nominated movie at our favorite cinemas. Weeknight stops at The Passenger and All Souls.  Pupusas at Judy's. And of course, cooking up a storm.
We would often coax my younger brother and sister to visit during their winter breaks, and enjoy lavish Pakistani home-cooked meals together.
Bhuna gosht is precisely the time of meal that is best enjoyed during such a time. When you have your sweats on, your family and friends are over for the day, and you can let richly-spiced meat brew over the course of a few hours.
While total cooking time is about two hours, this version of 'bhuna gosht' is extremely easy to prepare. Enjoy.
For similar recipes, check out the blog's meat and poultry section!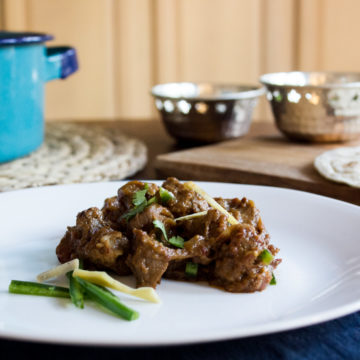 Bhuna Gosht
Ingredients
4

tablespoon

oil

canola/vegetable oil

1

large onion

thinly sliced in half rings

4

tablespoon

crushed tomatoes

2.2

lbs

beef stewing cubes

cut in 1-2 inch pieces

1

cup

full-fat yogurt

1 ½

salt to taste

or to taste

½

teaspoon

red chili powder

2

teaspoon

garam masala powder

2

teaspoon

cumin powder

4

garlic cloves

crushed
Instructions
Lightly whisk the yogurt and stir in the ground spices, salt and crushed garlic.

Coat the meat in the marinade, and leave in the fridge for 2 hours or more.

Heat oil in a stockpot on medium-low heat. Sauté the onion for about 7-10 minutes till it softens.

Raise heat to medium-high and add the marinated meat. Fry till brown, about 5 minutes.

Add the tomatoes, give it a quick stir and add 1 ½ cup water. Bring to boil and cover with tight fitting lid.

Dial heat to low, and let it cook for 2 hours while stirring occasionally. Add more water as necessary.

Once the meat is tender, it's ready to serve. Garnish will finely chopped cilantro and green chilies.