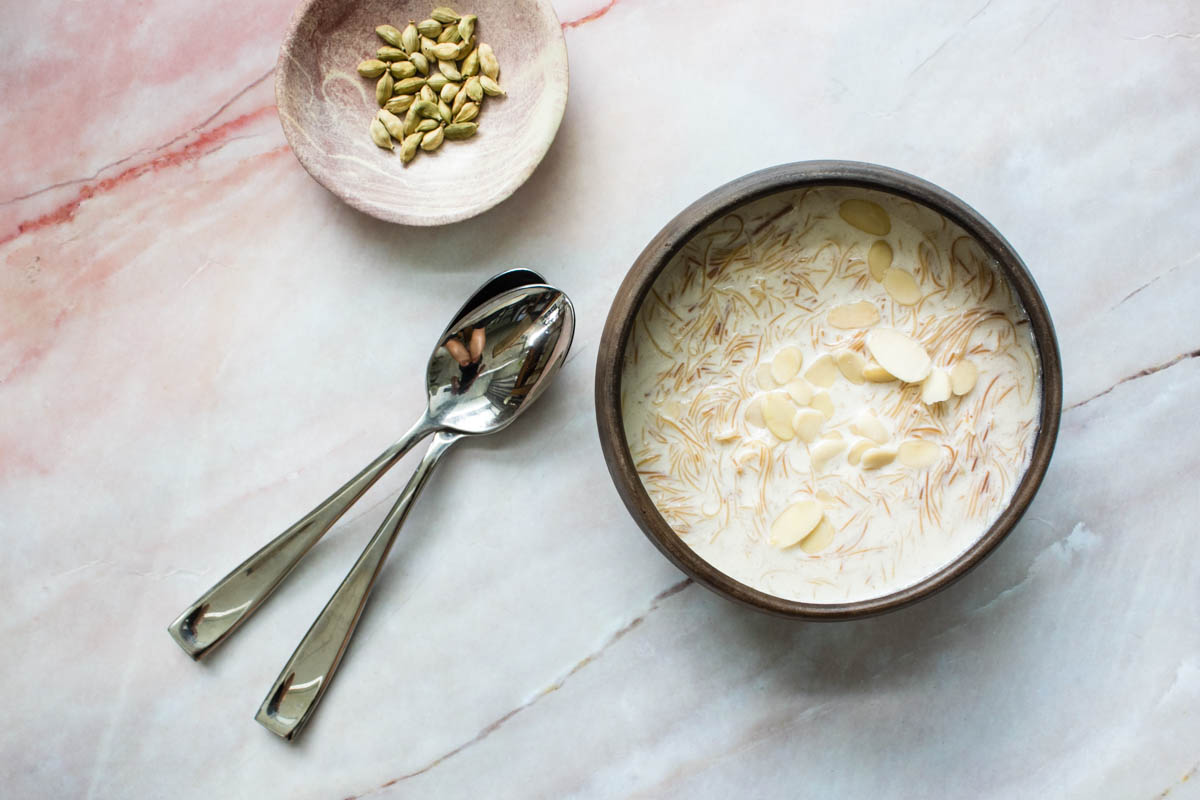 Jump to Recipe
One of the first desserts that most Pakistani blogs share is seviyan, a vermicelli pudding. It's a classic sub-continent sweet that emerges every Eid, so it's only fair that it's one of the first desserts that expat Pakistanis learn to make. What is great about seviyan is that because every household does it differently, there is no wrong way to prepare it. In essence, it is fried wheat vermicelli simmered in milk. There are however, dozens variations from household to household - from how long you decide to simmer the vermicelli in milk in to the choice of dry fruit.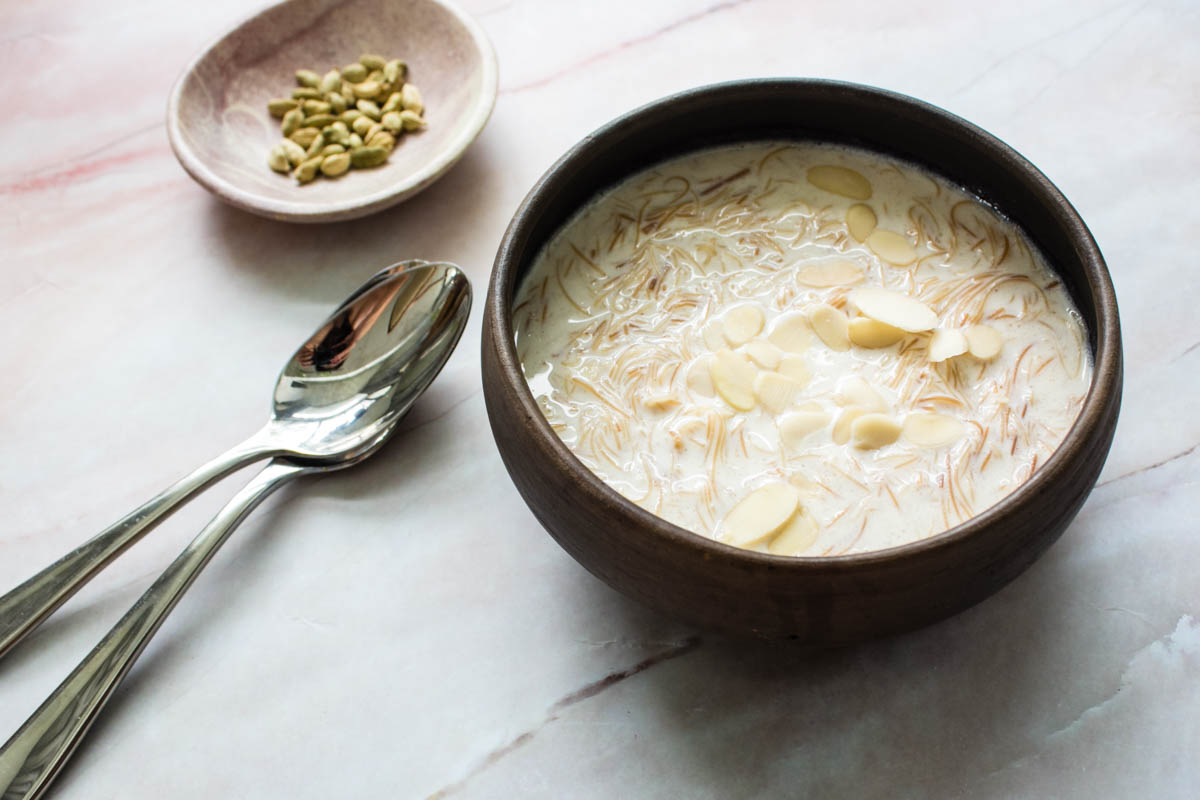 The recipe shared below is my mother's. My mother's family is originally from Ludhiana in Eastern Punjab, India, and they migrated to Jhelum in Pakistan during Partition. My mother grew up in, and spent most of her life in Rawalpindi and Islamabad. The recipe shared below therefore, has very strong Punjabi roots. I would love to hear how about how your family prepares it, and where they are from.
Most of my mother's family recipes are quite simple. It's in part a reflection of her childhood and upbringing. She was one of eight and so her mother, my nani jan, did not have the bandwidth for extremely time consuming, layered recipes. But her dishes still hit all the right traditional notes, as they do with this simple seviyan recipe.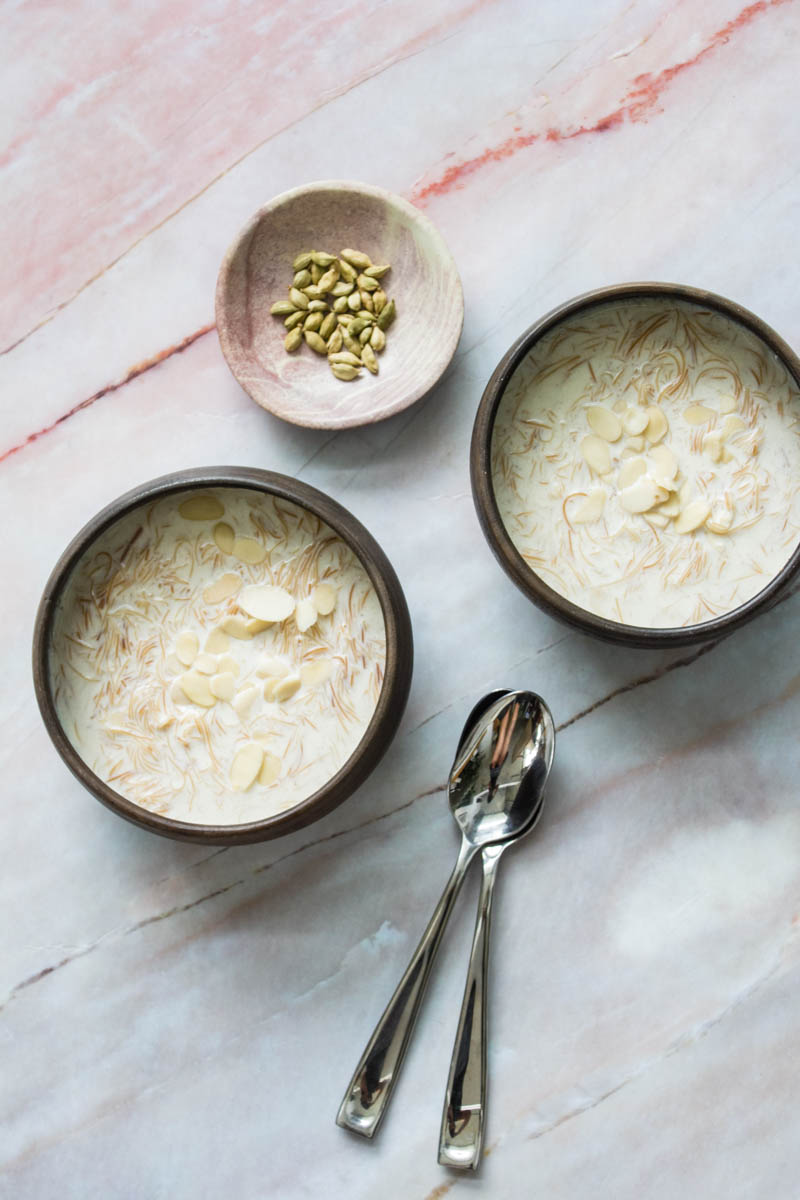 This recipe can be seen as a basic template for seviyan. It only utilizes the core set of ingredients: vermicelli, milk, sugar and cardamom. You can always add additional layers to give the dish more depth – saffron, more dry fruit etc. Some households prefer to have their seviyan simmered in milk for a long time, making the vermicelli soft. My mother and I prefer it to have some bite so we don't let it cook for that long. I also am a little conservative with my choice of dry fruit and prefer to stick with almonds but you feel free to play around.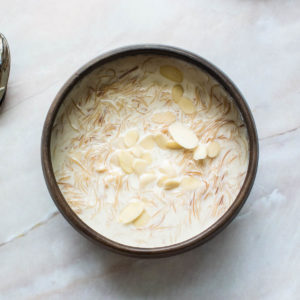 Seviyan (Vermicelli Pudding)
Seviyan, a vermicelli pudding, is a popular Pakistani dessert that nearly every family prepares dutifully on Eid.
Ingredients
4

tablespoon

canola oil or ghee

6

cardamom pods

1

packet of seviyan, approximately 150 gram

(vermicelli noodles, available in specialty Indian/Pakistani grocery stores)

2

liters

whole milk

¾

cup

sugar
Instructions
Heat oil in a large stockpot. Once it begins to shimmer, add cardamom pods and fry for about 30 seconds.

Add vermicelli. On medium heat, fry vermicelli till it browns slightly, approximately 2 – 2/1/2 minutes.

Lower heat, slowly add milk and then, bring to a boil. Add sugar and stir till it dissolves.

When the milk begins to bubble, lower heat and keep stirring till you get the desired texture, about 15 - 20 minutes. The milk should thicken and the sawaiyyan should retain some bite.

Place in serving bowl and let it cool at room temperature. Top with slivered almonds.
Notes
There are many variations to sawaiyyan. Many like to cook it for a lot longer (one hour or more). In my home, we like it when sawaiyyan still have some bite and so prefer not to cook them too much. Play around with the recipe and see what you like!