This Parsi custard, Lagan Nu is a sophisticated sub-continent dessert that brings together the best of English and South Asian flavors.
Jump to Recipe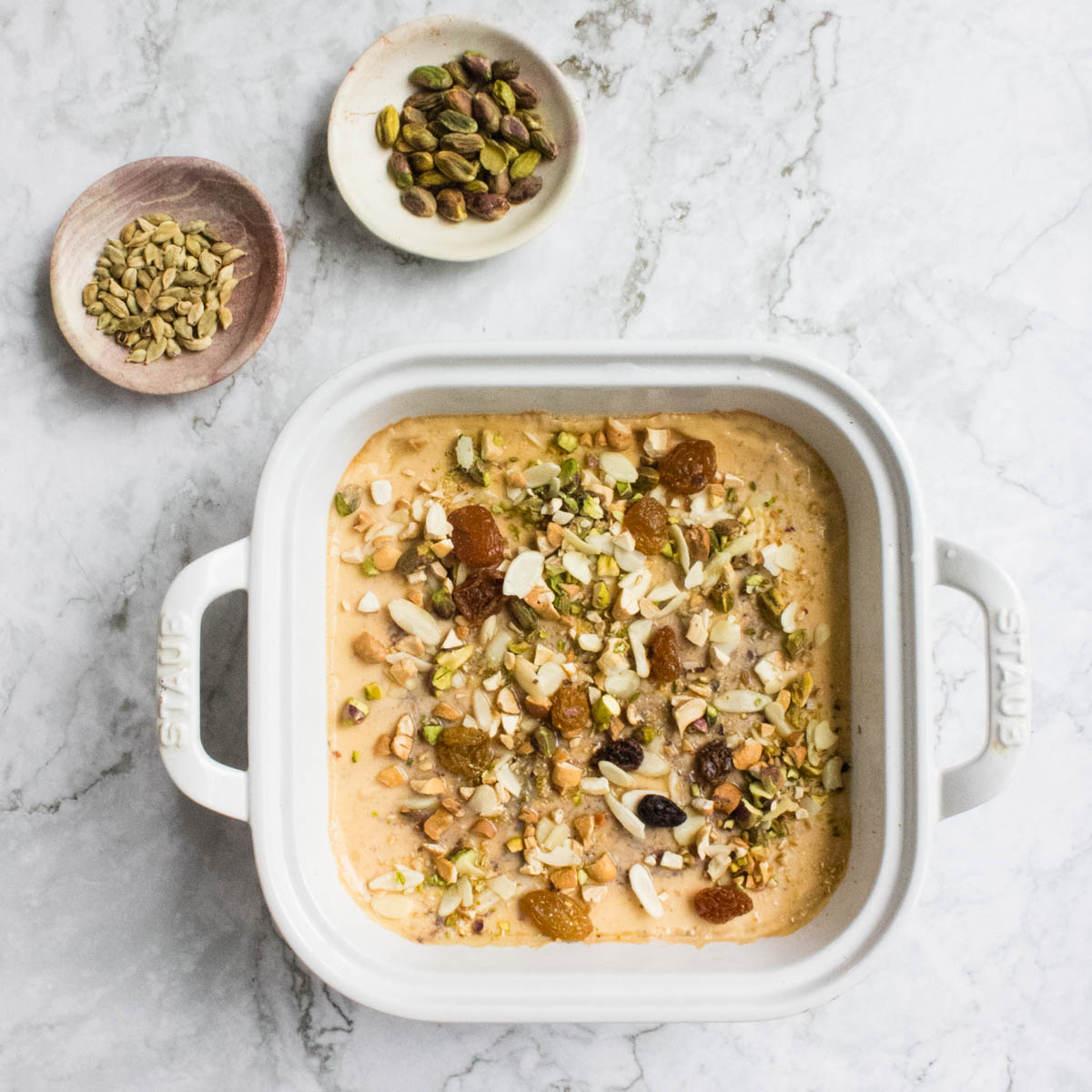 Jump to:
Hi friends – it's been a minute! I have been hard at work testing this Parsi custard: lagan nu. The recipe has been adapted from Sumayya Usmani's book, "Mountain Berries and Desert Spice", which features Pakistani sweets from across the country. Sumayya says that while custards are not a typical Pakistani dessert, this Parsi take is frequently served at weddings.
The Parsi Community in the Sub-Continent
Parsis are Zoroastrians that migrated to the sub-continent from Persia during the Muslim conquest of the region between CE 636 – 651. In Pakistan, they are predominantly concentrated in Karachi. They are a comparatively small community but given their intellectual and cultural prowess, their contributions to sub-continent culture have been immense. Pakistan's leading intellectuals have been Parsi, including one of the first English novelists: Bapsi Sidhwa! Incidentally, one of my favorite sub-continent food writers, Meher Mirza is also Parsi. She has written extensively and elegantly about Parsi culinary traditions. You can follow her on Twitter and read some of her work here.
When I did a little taste testing of this custard with my friends in Phnom Penh, I was struggling to explain Parsi culinary tradition. Fortunately, many people have written about it much more articulately than I could even attempt. Meher's work is a great start. I also enjoyed this informative, beautifully written piece by Ligaya Mishan, A Bid to Maintain One of the World's Oldest Traditions.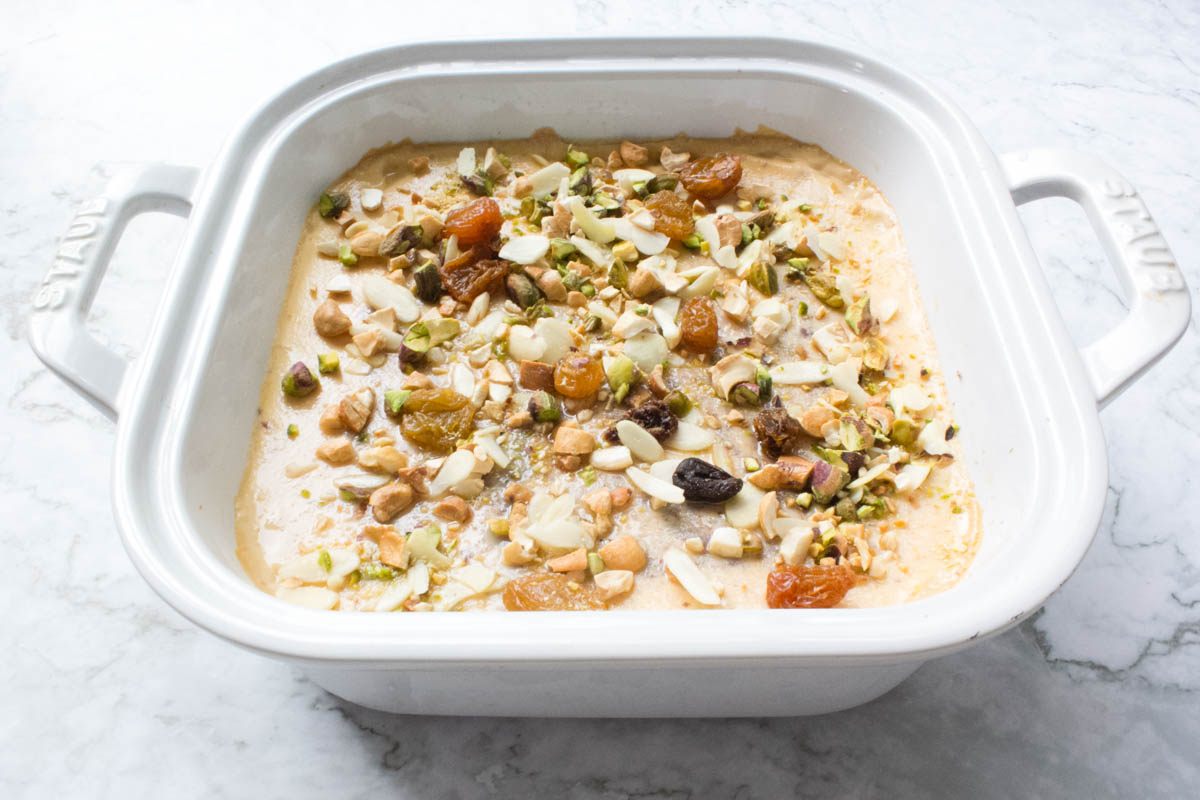 Can South Asia Claim Custard as Its Own?
While personally I have never been to a Parsi gathering where I have tried lagan nu, I do think custard is a very South Asian dessert. My friend, Sharanya in this recent fabulous, intricate piece in fact asserts how fruit custard maybe one of India's most popular desserts.
The custard I grew up eating was always made out of a box (Rafhan is the Pakistani brand of choice) and served with fruit. Once layered with plain cake and jelly, you would get trifle – another classic Pakistani dessert. In her piece, Sharanya talks about how the runny sub-continent custard bears little resemblance to the traditional British custard that the colonizers brought with them. In fact, she adds, Parsi custard is probably the closest to traditional English custard, adapted from either crème caramel or caramel custard.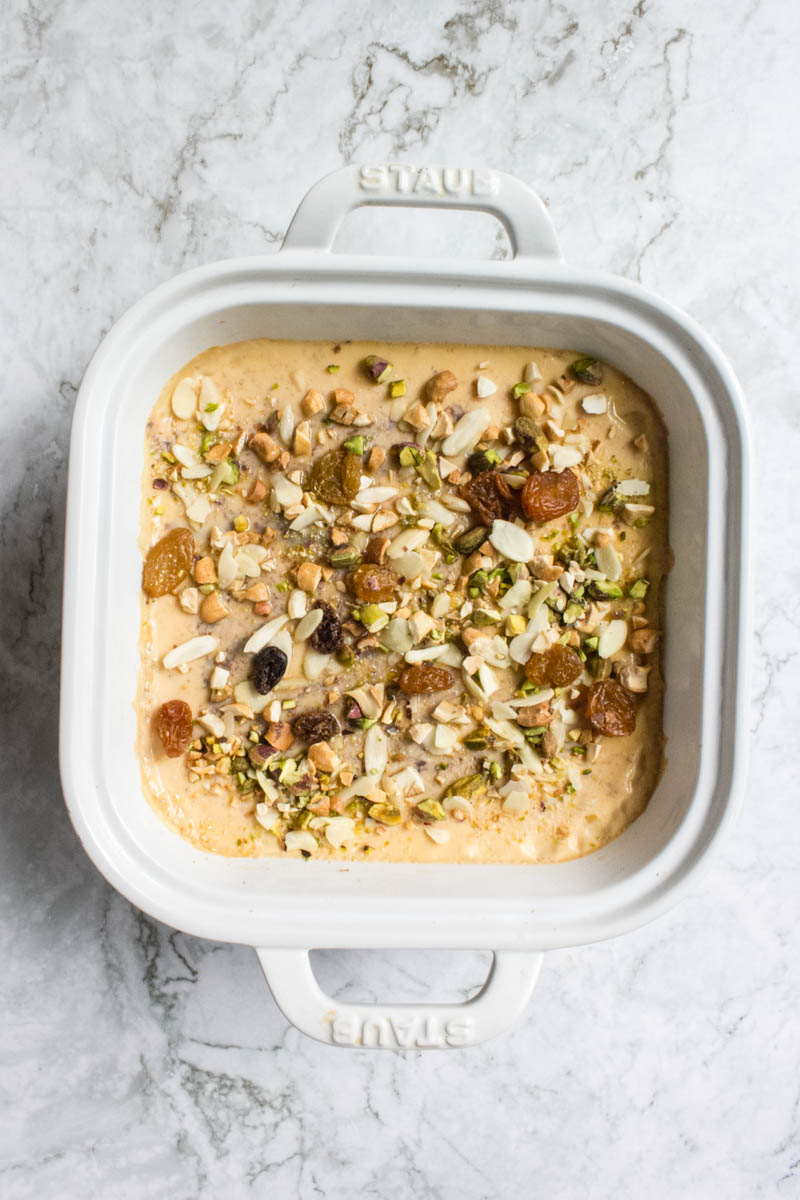 Some Tips on Making Custard
It just goes to show (like I say in every other blog post...), there is no one way. There are dozens of variations. For this recipe, I used Sumayya's recipe in the book as a base, and incorporated pieces from this easy egg custard recipe on Epicurious. To get the consistency I wanted, I adjusted the milk to egg ratio, and dialed down the sweetness to my liking. Since this was my first attempt at custard, I am by no means an expert. But here's a few tips that might help you:
The biggest trick with custard is to make sure the milk doesn't curdle. Sumayya's techniques in the book in this respect are quite helpful. Once the milk comes to boil, bring heat to low and add condensed milk and sugar. Keep stirring for 15 minutes till the milk thickens. While yes, this exercise is tedious, it prevents the milk from curdling. It also helps thicken the mixture for that nice, creamy texture.
Another tip is to not add the eggs when the milk is hot. Let it cool down before gradually adding the beaten egg in.
The peculiarity and heat of your own oven matters. While Sumayya had set her oven temperature to 220 F, I slightly amped it to 300 F and cooked it for a full hour. This helped me get the slightly firm texture that I wanted. One of my friend likened it to the texture of flan, which makes a lot of sense given the earlier reference to how this recipe is a direct adaptation of crème caramel.
If serving with fruit rather than nuts, I would probably want a softer texture. In that case, just leave the custard for maybe 35-45 minutes than the full hour.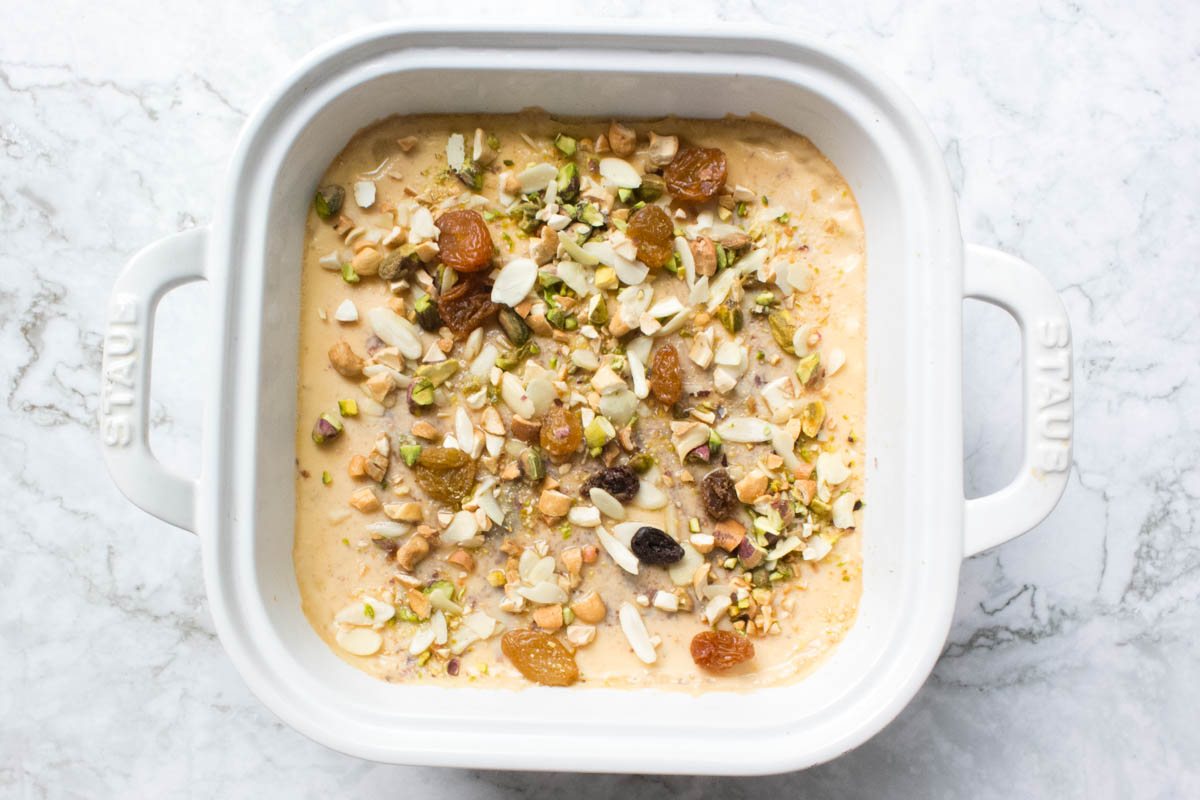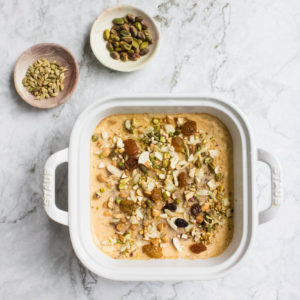 Parsi Custard Recipe (Lagan Nu)
This Parsi custard, Lagan Nu is typically served at weddings. It's a sophisticated sub-continent dessert that brings together the best of English and South Asian flavors.
Ingredients
4

cups

whole milk

1

cup

condensed milk

½

cup

sugar

4

eggs

1

teaspoon

vanilla extract

¼

teaspoon

ground nutmeg

2

cardamom

seeds removed and ground

1

tablespoon

blanched

slivered almonds (optional)

1

tablespoon

pistachios

roughly chopped (optional)

1

tablespoon

cashews

roughly chopped (optional)

1

tablespoon

raisins

optional
Instructions
Pre-heat oven to 300°F (150°C). Grease a square baking dish (roughly 8 x 6-inch) with butter or ghee.

Bring milk to boil in a stockpot. Lower heat and stir in condensed milk and sugar. Keep stirring on low heat for 15 minutes until the mixture thickens. Remove any milk residue with a slotted spoon. Remove from heat and let it cool for roughly 10 to 15 minutes until it becomes tepid.

In the meantime, in a large bowl whisk the eggs, vanilla extract, nutmeg and ground cardamom till foamy.

Once the milk is lukewarm, slowly stir in the egg mixture. Pour the custard into the baking dish and bake in the oven for roughly 1 hour until the custard is set.

Allow to cool and place in the fridge for at least 2 hours.

Top with nuts and raisins (if using) before serving.