Jump to Recipe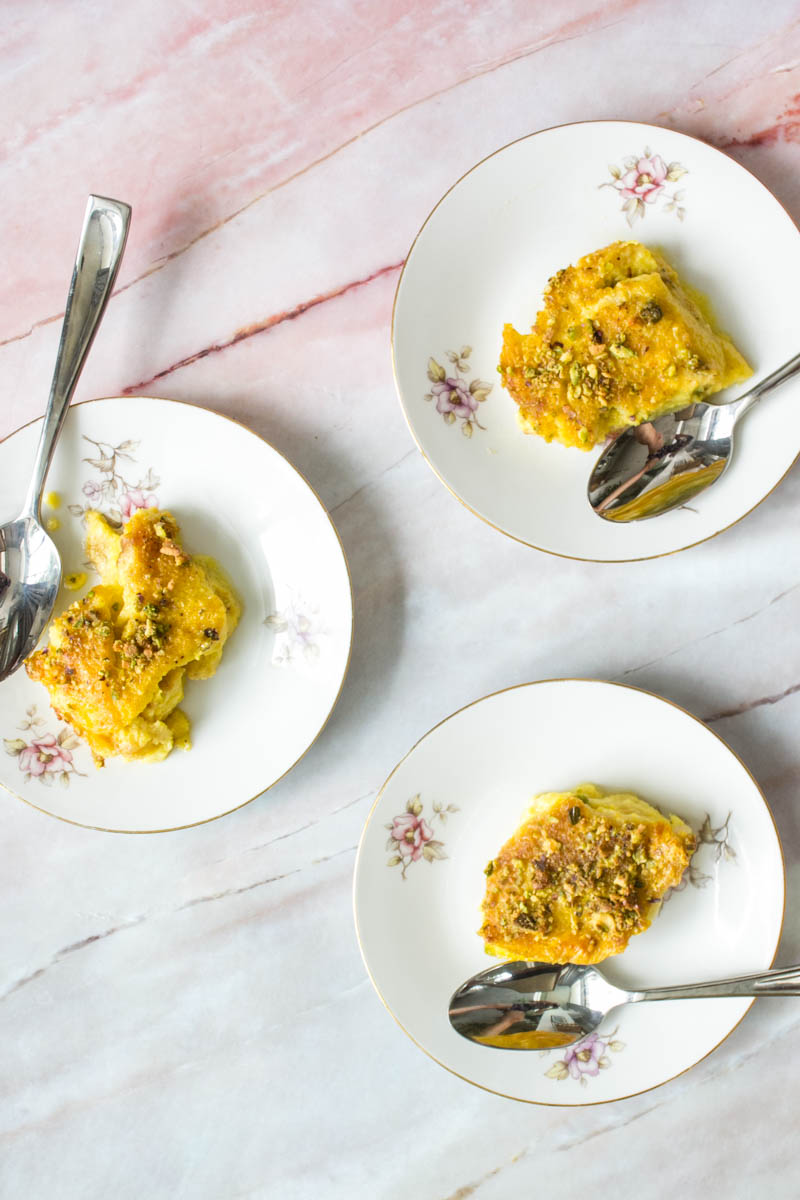 Jump to:
Friends – I am thrilled to share this shahi tukray recipe on the blog. I'm not going to lie. I frequently struggle with posting desserts so it's always a major milestone when a new dessert recipe goes up!
Shahi tukray is a very popular Pakistani dessert that is frequently featured in Pakistani cookbooks and blogs. To be honest, I never really grew up eating it and so don't really have a point of reference. In the development of this recipe, I went back and forth on traditional variations but then, came across a lovely take in Saliha Mahmood's gorgeous book, "Khazana". The version I share here is an adaptation of her recipe. In my opinion, it's kind of like a baked French toast meets traditional shahi tukray.
The story of how shahi tukray came about in the sub-continent is an interesting one. Bisma Tirmizi does a deep dive its history in this interesting piece for DAWN. There is some debate about whether the dessert came with Babur during the 16th century or emerged during the days of the British East India Company from a traditional English bread pudding. Some argue that it may have its roots in a Middle Eastern bread pudding, either Um Ali from Egypt or Eish es Serny, all of which likely emerged from a desire to use up leftover bread.
Rumor has it that shahi tukray was a popular dish among Mughals during Ramadan. Maybe this is the reason why it's widely served during Iftar. In fact, I was supposed to post this recipe during Ramadan but alas, here I am two months later. Sorry :/
For next year though…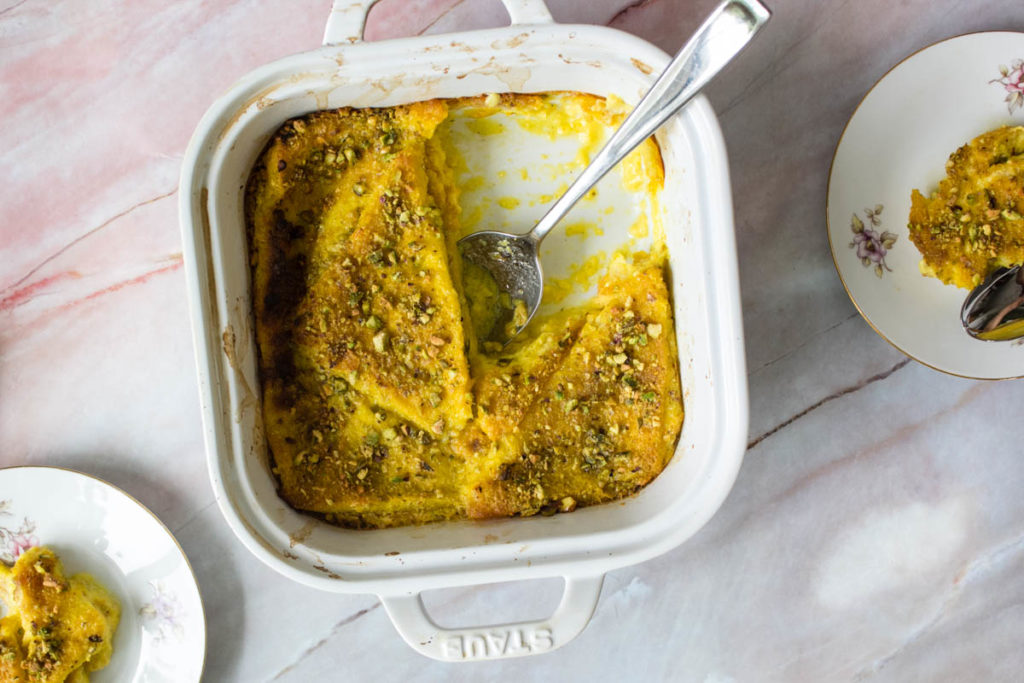 How to Make Shahi Tukray Your Own
Like with all Pakistani dishes, there will always be somebody who will tell you there is only "one way" to do it. I'm sorry but they are wrong. I pored through several recipes of shahi tukray and was surprised (but not really) to find A LOT of variation between recipes. The fundamental principle however is this: shahi tukray is fried bread that is submerged in sweetened, spiced, thickened milk.
Here are some ideas on how you can adapt any shahi tukray recipe (including this one) to your preference:
Play around with the aromatics. For this recipe, I only used ground cardamom and a pinch of saffron but like Saliha did in her recipe, you can add cloves, star anise, cinnamon (and others!)  And this goes without saying, but play around with the sweetness. I only us 5 oz. sugar in this recipe (a little less than ¾ cup) but if you like your shahi tukray sweeter, go ahead and add some more sugar!
You can choose how you want to thicken your milk. Shayma in this recipe uses a combination of half and half and heavy whipping cream. Tirmizi incorporates condensed milk. I went with Saliha's fun route and turned it into a custard with the incorporation of beaten egg. How long you decide to cook down the milk also varies. Here I stuck to ten minutes while Saliha let the milk simmer in the spices for close to half an hour.
Think of shahi tukray like French toast – what kind of bread do you want? For this recipe, thicker white bread is ideal. But in other traditional recipes, you can use a single layer of thin white bread or double it up. I would love to try a variation with brioche or challah.  
Play around with type of nuts you want to top it off with. Blanched almonds are a a classic choice but since I love the depth of pistachios, I just stuck with those.  
Hope these tips will give you inspiration to play around with this classic South Asian dessert, and that you have as much fun cooking and eating it as much as I did. Enjoy x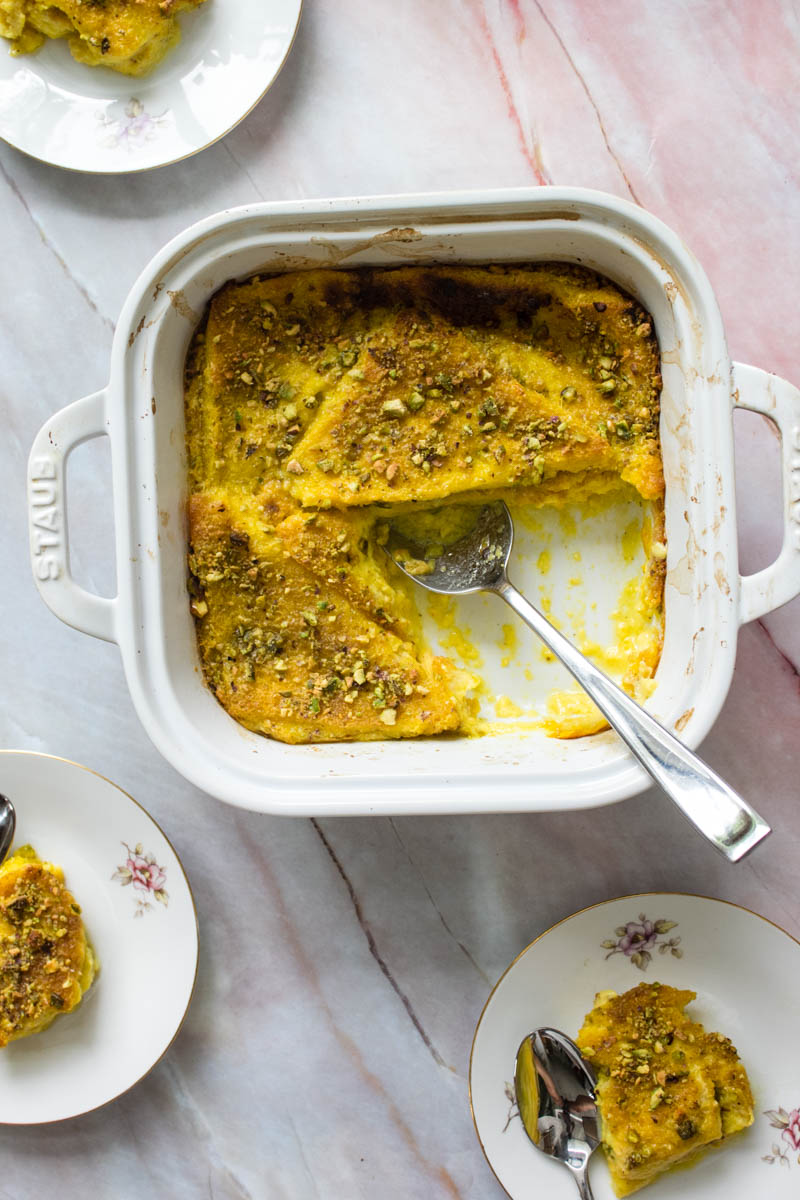 More Ideas for Pakistani Desserts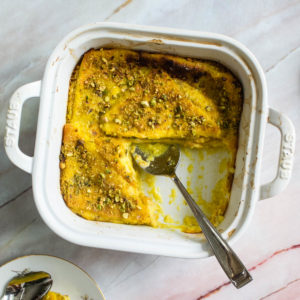 Shahi Tukray Recipe
This shahi tukray recipe is a modern adaptation of a classic, fragrant South Asian bread pudding popular during Ramadan for Iftar.  
Ingredients
4

slices

white bread

edges removed, each slice cut in four triangles

1

cup

oil

canola/sunflower/vegetable

3

cups

whole milk

Pinch

saffron threads

toasted and ground

6

cardamom

pods removed and seeds ground

3

eggs

beaten

½

cup

sugar or to taste

1

tablespoon

pistachios

crushed
Instructions
Pre-heat oven to 350° F. Butter a square baking dish.

Heat oil in a non-stick frying pan. Fry bread in batches, about 1-2 minutes each side until golden brown. Add extra oil as needed. Remove from heat.

Arrange bread in layers in buttered baking dish.

Place milk in saucepan and bring to boil. Lower heat. Add ground saffron and cardamom, and let it simmer for 10 minutes. Occasionally stir and remove any milk residue with a wooden spoon. Remove from heat.

While the milk simmers on low heat, beat eggs and sugar with a whisk in a large bowl until well-mixed.

Pour milk into the egg and sugar mixture, and beat again until well-mixed.

Pour custard over bread, and bake uncovered for 25 minutes.

Top with crushed pistachios.