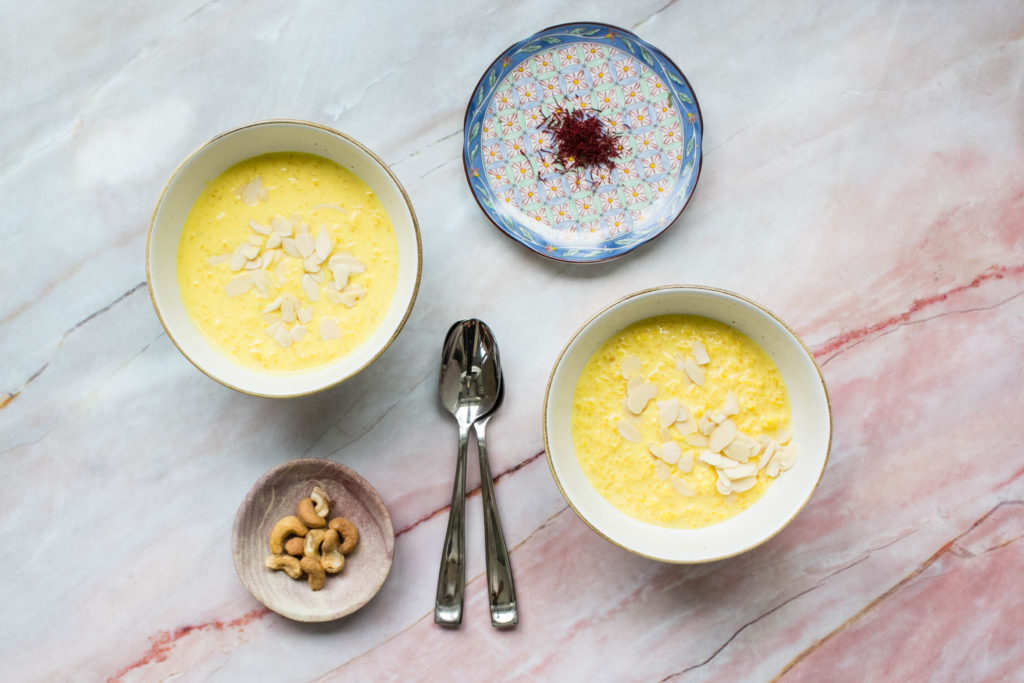 I'm back with another recipe adaptation from Sarla Razdan's book, Kashmiri Cuisine: Through the Ages (the first one was fried pumpkin flowers). I'm especially excited about this kheer (rice pudding) recipe because the blog is extremely short on desserts. There was not a huge variety of Pakistani desserts that were prepared in my home. Aside from sawaiyyan and gajar ka halwa (check out Izzah's genius Instant Pot recipe), my mother would mostly prepare Western ones (my personal favorite was the "KitKat dessert" that was cake rusk doused in black coffee and topped with cream and crushed KitKat).
People, including South Asians, have mixed feelings about desi desserts. They are heavy on dairy and sugar, and mostly ignore the wide variety of fruits that are available in the region. That said, if prepared correctly, they are the perfect close to a festive day. Kheer, like sawaiyyan, is a celebratory dessert that is served during Eid or at weddings. It's something that I would normally have at functions rather than at home although, I do know that variations of kheer are very popular within the home. Personally, I have always preferred sawaiyyan to kheer but this adaptation may have just changed my mind.
In the original recipe, Razdan added raisins as well as crushed cashews. I am not a huge fan of raisins in my kheer, and found that the cashews didn't add much value. I also heavily reduced the amount of sugar and saffron. Even a pinch of saffron will add the desired gentle hue and aroma. The real game changer however, was Razdan's addition of desiccated coconut. It added much needed depth of flavor to an otherwise very simple dessert.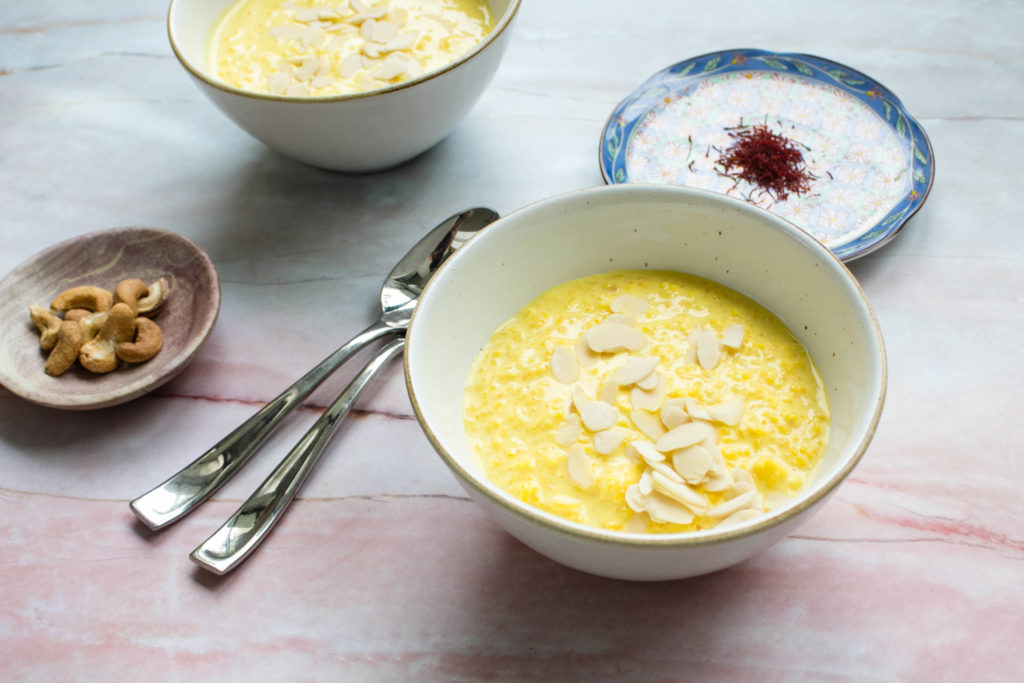 Tips to Make Kheer
Many thanks to my Instagram buddies for guiding me as I experimented with this recipe. Special shout-out to talented graphic designer, Chaudhry Aleem for sharing a lot of great tips.
Soak the rice for six hours or more, and make sure you break the wet rice with your hands before adding it to the milk to cook.
Pay attention to the pot at all times. Make sure you are stirring on a consistent basis to thicken the mixture and ensure that no rice sticks to the bottom of the pot.
How long you let the milk and rice cook will depend on how thick you want the kheer to be. I found 50 minutes worked for me. Some found the texture to be too wet after it came off the stove. But the mixture does thicken when you place it in the fridge. Play around with the recipe and see what you like!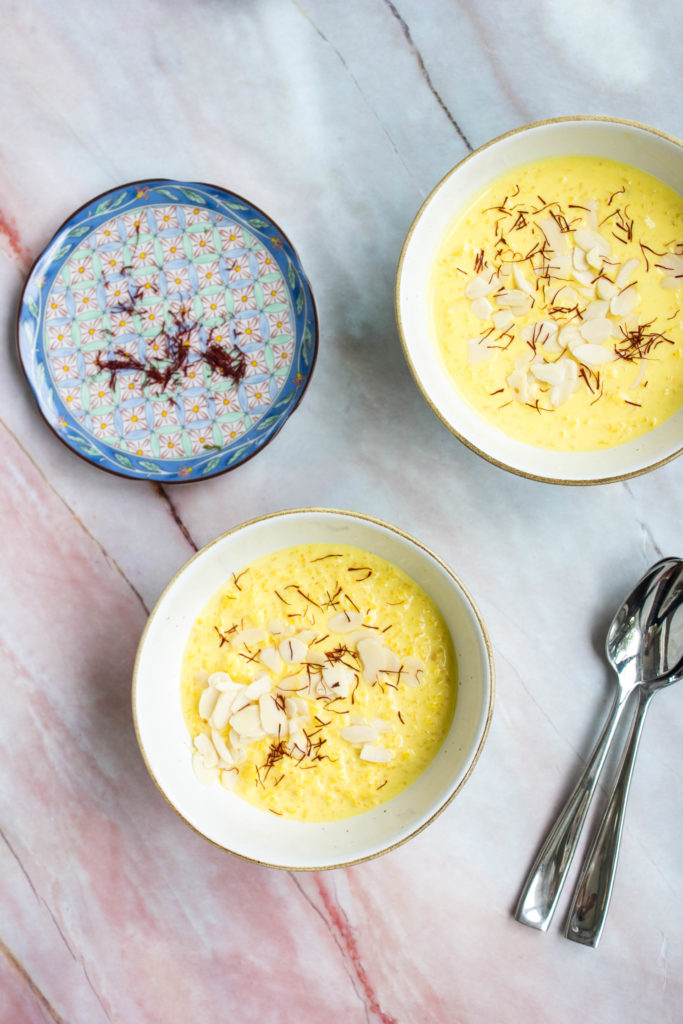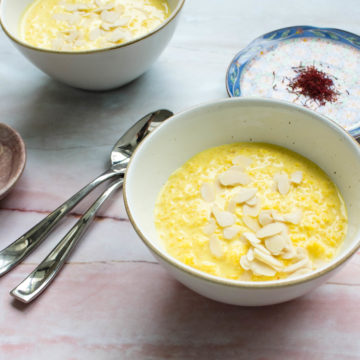 Kheer (Rice Pudding)
Ingredients
½

cup

basmati rice

soaked overnight

8

cups

whole milk

⅓

cup

sugar

¼

cup

almonds

slivered

¼

cup

desiccated coconut

¼

teaspoon

saffron

crushed

3

cardamom pods

cracked
Instructions
Break the soaked basmati rice with your hands.

Add milk and rice to a large pot. Bring to boil, about 3 minutes, and let it simmer on low heat for 40 minutes while stirring often.

Add sugar and keep stirring, about 5 minutes.

Add the remaining ingredients and let it simmer while stirring for another 8 – 10 minutes.

Place in serving bowl and top with slivered almonds for garnish. Let the kheer cool down to room temperature before putting it in the fridge. Serve cold.
Notes
For some, the kheer might not be as thick as you want it after 50 minutes of cooking time. I found that it naturally thickens further once you place it in the fridge, and personally, I prefer my kheer to retain some creaminess. If you want your kheer to be thicker, let it simmer for an hour or more while stirring constantly.