Jump to Recipe
It's been so long since I have written a post that I feel like I have forgotten how to blog. The past six months have been ridiculous. I was juggling unforgiving work hours in Washington D.C. while planning a cross-continent move. Pakistan Eats was on hold till I felt I was on firmer footing. I officially quit my job back in April and moved to my new home, Phnom Penh, Cambodia last week.
While my kitchen is still not operational, after a year of being in storage, I finally have all my dish ware, cookware and cookbooks! The excitement of moving to a fabulous new country is almost overshadowed by the joy of being reunited with my things and knowing I have a real home again. And a beautiful one too! We are in a space with gorgeous natural light after a long time. Our apartment that has floor to ceiling windows overlooks mango trees. At night, I can see Phnom Penh's lit pagodas from my bedroom window. While there's still so much to learn and explore about my new home, right now I'm just relishing the simple pleasure of organizing my books, deciding where to hang our art, and enjoying the beautiful, calming views.
While I had other recipes planned before this one, since Eid is around the corner, I felt I owed it to everybody to share the recipe for sawaiyyan, a popular Pakistani dessert that many families dutifully prepare every Eid. While there are several great recipes for sawaiyyan already out there (see Come Con Ella, Flour and Spice, My Tamarind Kitchen, Spice Spoon among many others), I felt I had to include one here in order to stay true to Pakistan Eats's mission.
I went back and forth on this recipe for several months, not 100% sure of what the rules are for how 'done' the vermicelli noodles should be. After poring through several recipes, it appears that nearly every family does it differently. This recipe is one that felt right to me. It's very easy to make and if you haven't ever tried sawaiyyan, I would highly recommend giving it a go. Eid Mubarak everyone!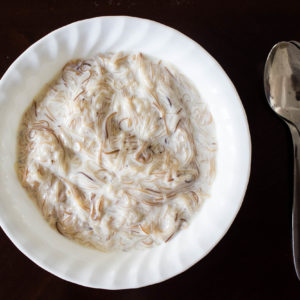 Sawaiyyan (Vermicelli Pudding)
Ingredients
4

tbsp

canola oil or ghee

6

cardamom pods

1

packet of sawaiyyan, approximately 150 gram

(vermicelli noodles, available in specialty Indian/Pakistani grocery stores)

2

liters

whole milk

3/4

cup

sugar
Instructions
Heat oil in a large stockpot. Once it begins to shimmer, add cardamom pods and fry for about 30 seconds.

Add vermicelli. On medium heat, fry vermicelli till it browns slightly, approximately 2 – 2/1/2 minutes.

Lower heat, slowly add milk and then, bring to a boil. Add sugar and stir till it dissolves.

When the milk begins to bubble, lower heat and keep stirring till you get the desired texture, about 15 - 20 minutes. The milk should thicken and the sawaiyyan should retain some bite.

Place in serving bowl and let it cool at room temperature. Top with slivered almonds.
Notes
There are many variations to sawaiyyan. Many like to cook it for a lot longer (one hour or more). In my home, we like it when sawaiyyan still have some bite and so prefer not to cook them too much. Play around with the recipe and see what you like!