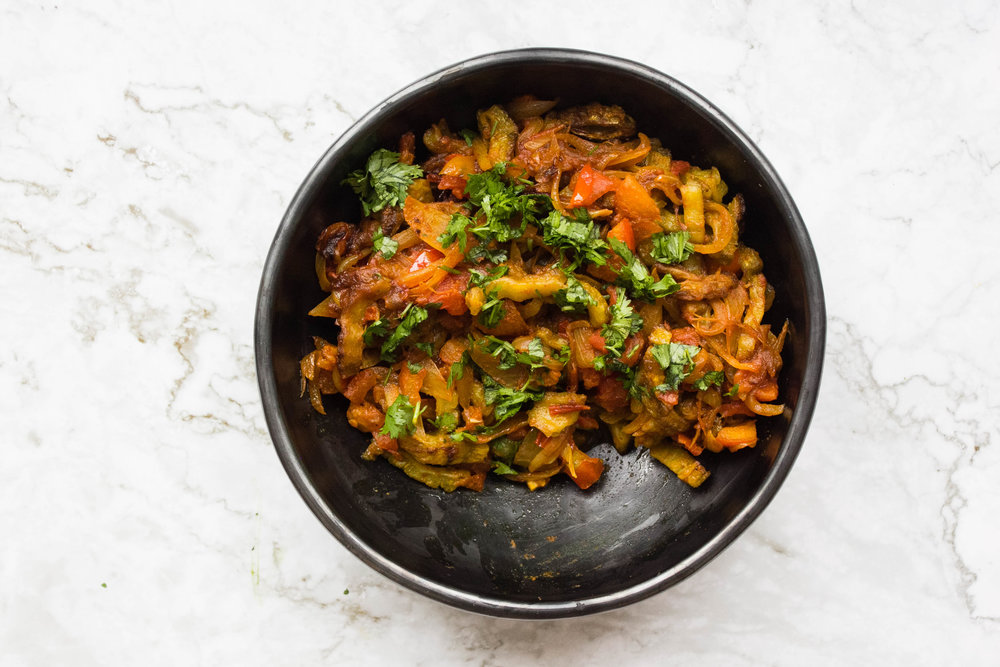 I'm excited to feature my first karela recipe! I only start cooking karelay (bitter melon or bitter gourd) with some regularity the past year or so. I rediscovered them at the Dupont Circle Farmer's Market a couple of years ago. Luckily, at that time my mom was visiting so we had an opportunity to make them together. I had them again in Calcutta where they were thinly sliced and deep fried, much like the okra featured here. They were phenomenal. The recipe below is an adaptation of my mom's and Rushdie's pyaaz walay karelay (bitter melon with onions) from her book.
Karela is a vegetable that is native to South and Southeast Asia. Even though it's a bit of a novelty in the US, many cultures have grown up eating it and relish the bitter taste. In Cambodia, I have had bitter melon soup, and at Japanese restaurants, fried and served by itself. I'm not sure about other regions but in South Asia, you always take steps to mitigate the bitter taste of the vegetable. This can be done by soaking it in salt or tamarind water, or slicing and salting it for a couple of hours before cooking it. That's what I have done in the recipe here. It is definitely time intensive but for many, karelay are well worth the effort. Enjoy.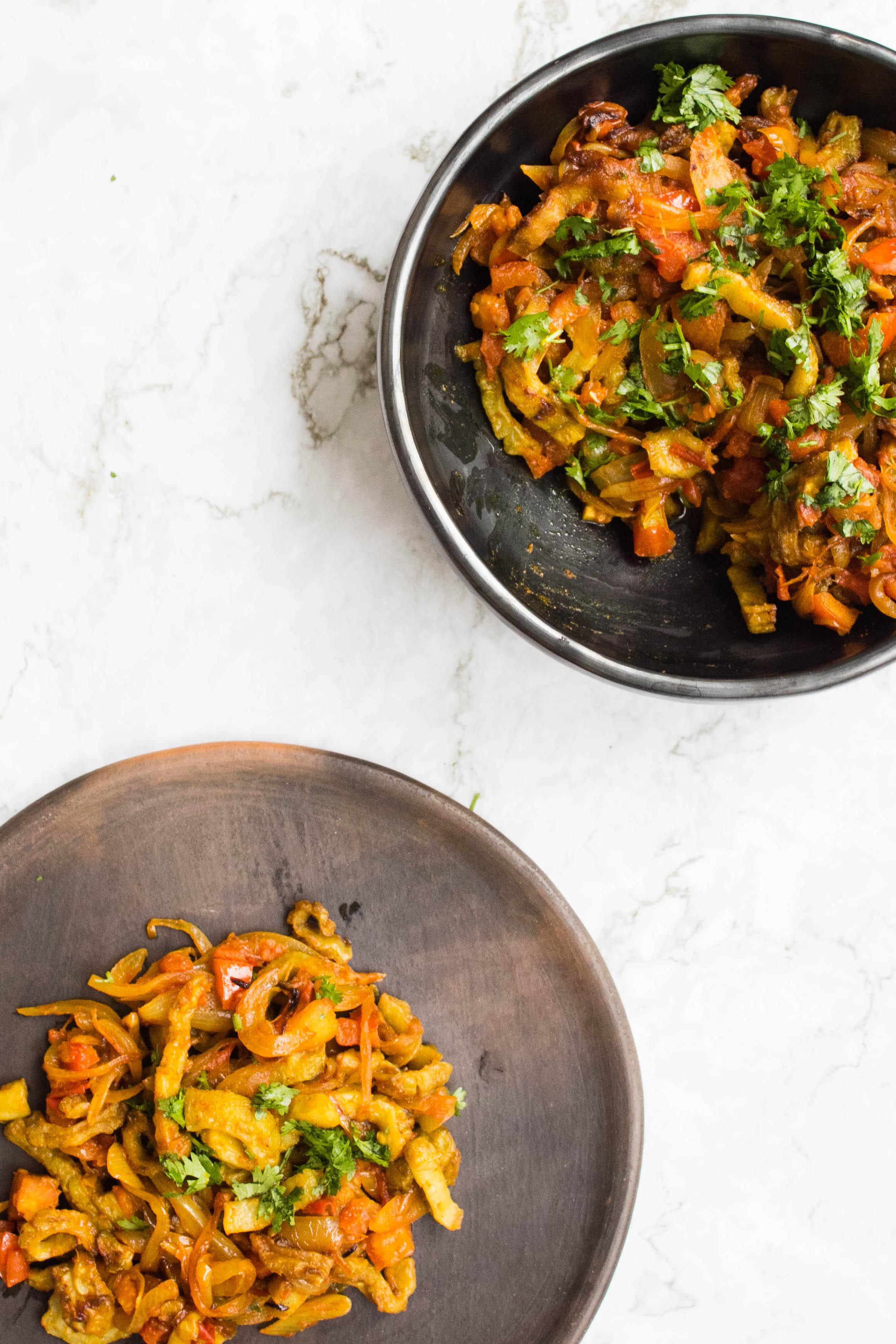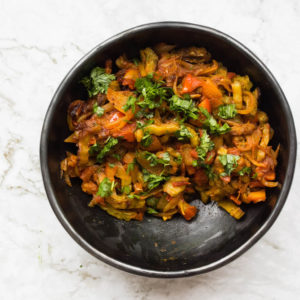 Karela Sabzi
A classic, easy vegan recipe for karela or bitter melon, one of South Asia's most popular summer vegetables.
Ingredients
4

bitter melons

skin scraped with a knife, sliced length wise, deseeded and sliced in half rings (roughly 1 ½ lb)

½

cup

oil

2

large yellow onions

thinly sliced in half rings (roughly 1 ½ lb)

2

teaspoon

red chili powder

1

teaspoon

salt or to taste

2

teaspoon

coriander powder

1

teaspoon

cumin powder

1

teaspoon

garam masala powder

½

teaspoon

turmeric powder

4

roma tomatoes

diced

4

tablespoon

cilantro

finely diced for garnish (optional)
Instructions
Generously salt sliced bitter melon and place in colander for 2 hours. Squeeze water out with your hands.

In a large saucepan, heat oil and fry bitter melon on low to medium heat for 20 – 30 minutes. Drain on paper towel and set aside.

In the same oil, add onion and fry for 10 minutes on low to medium heat till it browns evenly.

Add salt and spices and stir for 1 – 3 minutes. Add water to deglaze the pan if necessary.

Add diced tomatoes and fry on high heat for 5- 7 minutes.

Add the fried bitter melon. Dial heat to lowest possible point and cover. Let it steam for five minutes.

Add cilantro for garnish and serve with either roti or plain rice.