Jump to Recipe
These easy to prepare Pakistani style chicken drumsticks derive their flavor from a punchy yogurt marinade that my mother has perfected over several years.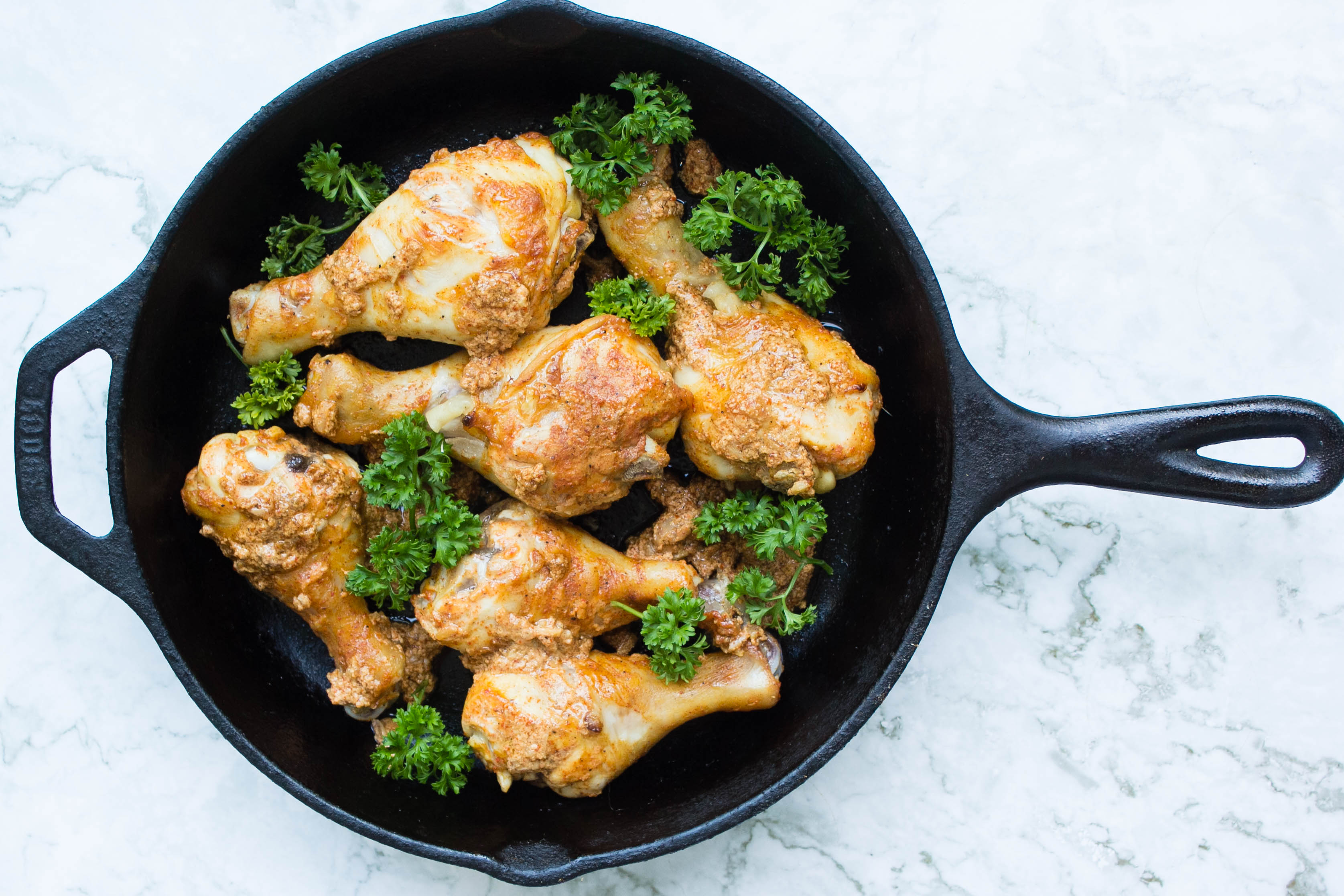 Jump to:
Even though we didn't celebrate Christmas, December was always a festive time for us. My parents hosted a ton, and I have continued their tradition in the various cities I have called home. There are nights that are easier than others depending on how smart we have been about menu planning. These delicious chicken drumsticks have always been a part of one of our more successful nights. I love how they pair well with a variety of dishes and cuisines, and are super easy to make.
The recipe is adapted from my mother and home cook, Shahnaz. I'm not sure how the recipe came about. Is it a traditional Pakistani recipe? Absolutely not. But it's definitely the type of recipe that would come out a Pakistani home after years of trial and error. My mother would use this marinade on both rack of lamb as well as chicken. She typically prepares the meat over a stovetop but I wanted to adapt their recipe for the oven to make dinner preparation easier.
I used drumsticks here but the recipe can be adapted for any type of cut with bone. Given that it's a yogurt marinade, these chicken drumsticks will not be as crispy as the ones made with a dry rub. The 8 to 10 minute broil however, gives them a lovely golden color.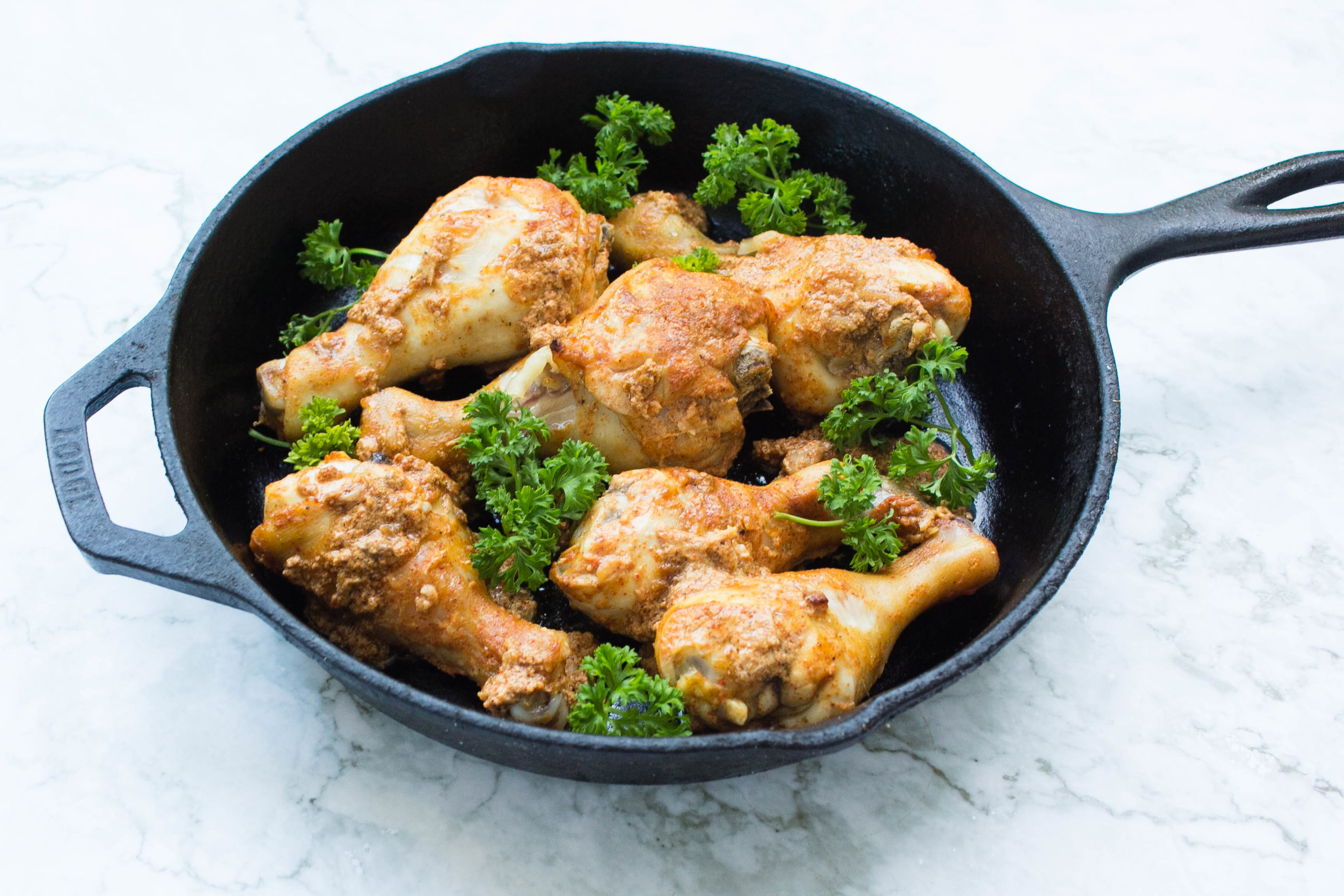 Tips on How to Roast Chicken
I want to thank my Instagram community for their great advice on roasting chicken. I love crispy roast chicken but also realize that the yogurt marinade Pakistanis use makes it difficult to get that perfect texture. Here I have created the effect thanks to my friend Anita's advice of putting the chicken on broil on high heat for the last 10 minutes. Here are some of the other great tips shared by Pakistan Eats's friends:
Shahla from the fabulous blog, My Berkeley Kitchen, and my friend Ragini, both advocate for crisping the skin on high heat in a pan before putting it in the oven.
Shahla also recommends patting the skin dry to remove excess moisture. See Helen Rosner's pro-tip of using a hair dryer to make roast chicken.
Another reader recommends avoiding yogurt altogether and instead adding lemon for tanginess, and a little bit of cream or mayonnaise for softness.
Kiran, behind the amazing Pakistani food blog, Mirchi Tales, says that when she does add yogurt, she strains it to make it thicker and reduce the water content.
If you are interested in grilling chicken rather than baking it, have a look at Qaiser Mamoon's recipe for chicken tikka that my husband adapted a couple of summers ago.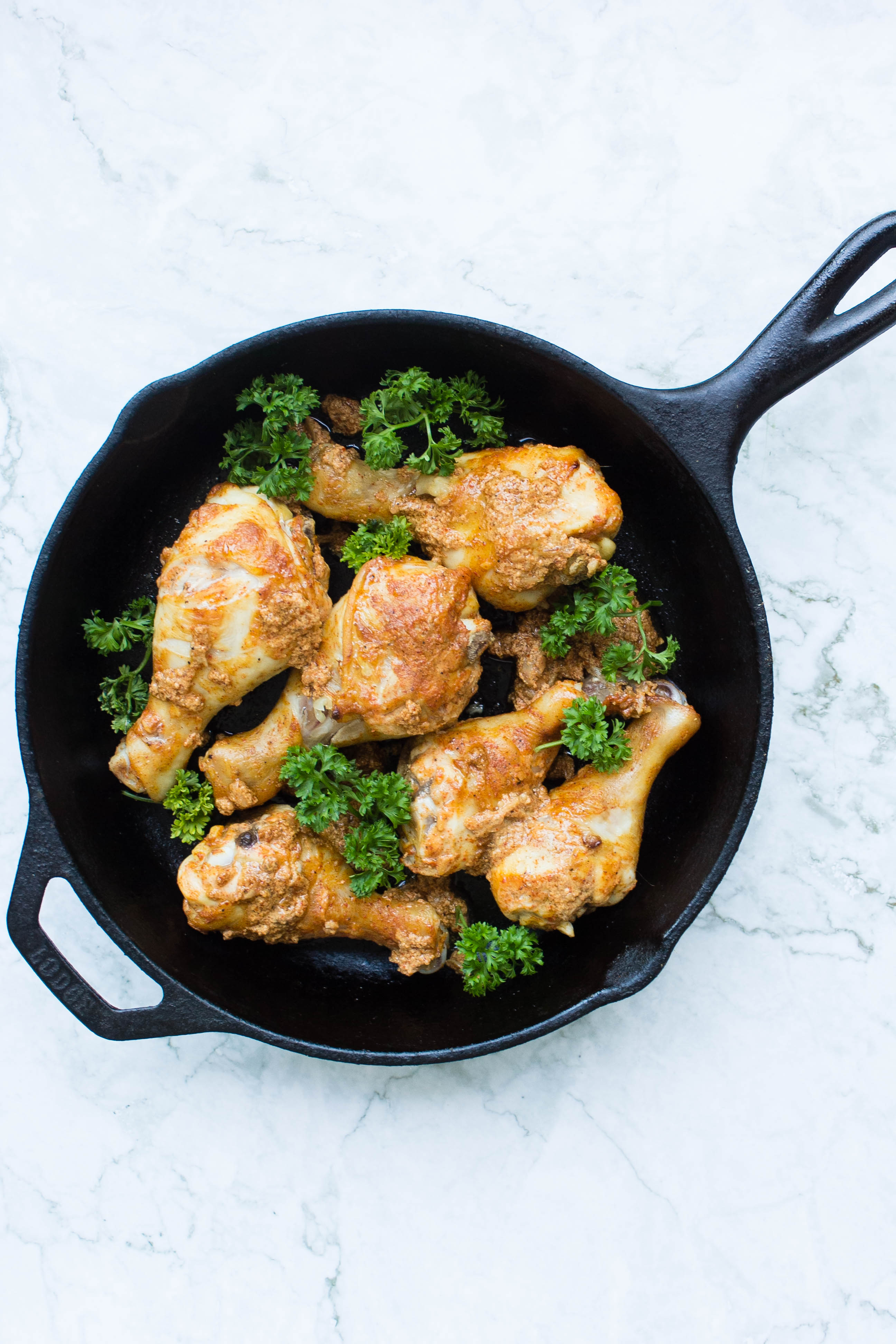 What to Serve It With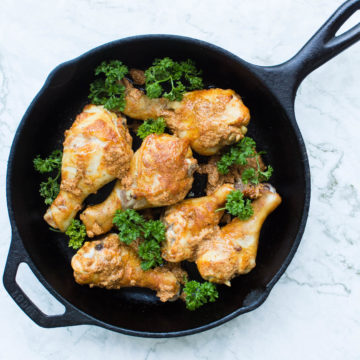 Pakistani Style Chicken Drumsticks Recipe
These easy to prepare chicken drumsticks derive their flavor from a punchy yogurt marinade that my mother perfected over several years.
Equipment
1 sheet pan or oven proof dish

1 medium size bowl
Ingredients
½

cup

whole milk yogurt

lightly whisked

2

teaspoon

Kashmiri red chili powder or 1 teaspoon cayenne red pepper

1

teaspoon

salt or to taste

1

teaspoon

garam masala powder

1

tablespoon

crushed ginger

1

tablespoon

crushed garlic

1

tablespoon

lemon juice

6

skinless chicken drumsticks or roughly 1 pound bone-in chicken pieces

1

tablespoon

olive oil
Instructions
Add whisked yogurt, chili powder, salt, garam masala powder, lemon juice, crushed ginger and garlic to a medium size bowl and mix well.

Make diagonal slits in the chicken and coat in yogurt marinade. Cover and refrigerate for 3 hours or overnight.

Grease ovenproof dish or sheet pan with roughly 1 tablespoon olive oil.

Preheat oven to 450°F with a rack in the middle.

Place chicken on ovenproof dish or sheet pan, cover with foil and bake for 15 minutes.

Remove foil and let the chicken bake for another 15 minutes.

Increase heat to 500°F and bring oven to broil. Broil chicken for 5 - 10 minutes. The exact time will depend on the type of chicken you are using.