Jump to Recipe
This chicken tikka recipe and post is a two-part tribute to Pakistani BBQ and summers in the US.
Pakistani BBQ is of legendary status, but due to the intensity of the summer, suggesting "grilling" during the months of May - August in Pakistan is crazy talk.
So when I moved to the US, BBQs during Memorial Day and July 4th weekends were novel concepts that I grew fairly attached to over the years. And while I have grown to love American BBQ, my heart consistently yearns for desi BBQ that I have come to imagine as an unlikely unifier of our provinces and regions' eclectic culinary traditions.
Growing up, we would typically dine out to get our BBQ fix, but a few years ago my mother's brother, Qaiser Mamoon took on the responsibility of becoming the family's grill master.
Here he shares his recipe for a universal favorite - chicken tikka.
What I love most about this is that the tikka is brought to life not by a convoluted amalgamation of spices (to quote Qaiser Mamoon, "it's chicken tikka, not bhel puri") but by the fire of the grill.
He prepares the chicken on a fired up charcoal grill. He directly exposes the skewered chicken to high heat, moving it frequently to ensure that it doesn't burn as it gets cooked.
In this recipe, we switched up his technique to capitalize on the deep gas grill we have in our building. While my husband inadvertently infused the process with an American flare, the chicken tikka remained on point and tasted like home.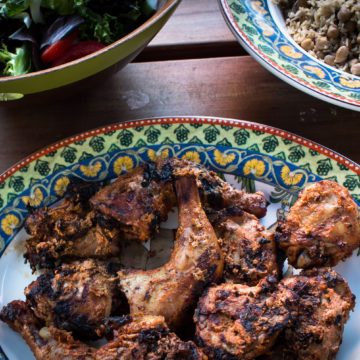 Chicken Tikka
A Pakistani classic, my uncle's recipe for chicken tikka requires few ingredients but is rich on flavor thanks to the fire of the charcoal grill.
Ingredients
6

chicken whole legs

thigh included – each leg weighed about ½ pound

3

tablespoon

oil

canola/sunflower/vegetable

24

oz

full-fat yogurt

Juice of 1 whole lemon

Salt to taste

Pepper to taste

3

tablespoon

red chili powder

(preferably Kashmiri red chili powder)

1

tablespoon

cumin seeds
Instructions
Whip the yogurt to make it an even consistency.

Stir in the red chili powder, cumin seeds and add juice of one lemon.

Make slight diagonal splits on the chicken with a knife. Coat chicken with oil, salt and pepper.

Add the chicken to the yogurt marinade. Make sure it's well-coated. Refrigerate for 6 hours or overnight.

To begin grilling, turn up all burners (this grill had four burners) and bring heat up to 400°F.

Remove the chicken from marinade, and place it on one side of the grill, preferably concentrated on top of only one burner. Reserve the marinade. Cook each side for about 10 minutes (so 20 minutes total). The outside should look crispy, bordering on charred.

Turn off the burner directly beneath the chicken. Leave the other three on high. Shut the grill and keep it closed for 30 minutes. Open it, flip each piece, and re-baste them with the remaining marinade. Let it cook for another 30 minutes with lid closed.

Serve with naan, chutney, lemons and red onions.