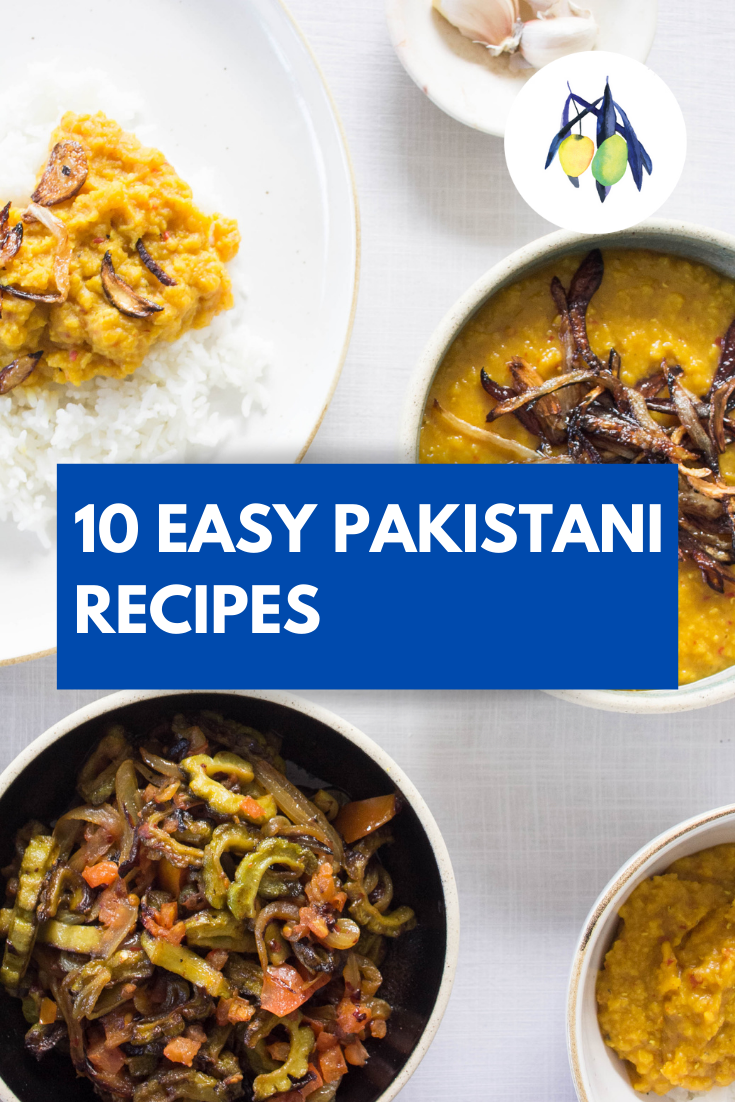 Hi! Here's an overdue roundup of easy Pakistani recipes for beginner cooks. I'm into my sixth year of Pakistan Eats (!!!), and I frequently hear friends say they love the look of the recipes on the blog but are too afraid to cook them. Many are intimidated by the number of spices required or the steps involved.
In order to dispel the myth that South Asian cooking is difficult and that Pakistani recipes are inaccessible, I have compiled this roundup of recipes that are simple, don't require a ton of obscure ingredients and spices, and are delicious. Hope it will encourage you to take that first step, and give Pakistani home cooking a try.
Boneless Chicken Karahi
This had to be the first on the list because I find the flavors to be quintessentially Pakistani. This was also one of the first recipes on the blog. When I just started to learn to cook Pakistani food, I would frequently turn to it. It's not difficult to master, and always delivers stellar results.
Easy Boneless Chicken Karahi
Chicken karahi maybe Pakistan's national dish. If you are missing Pakistani food, this recipe for an easy boneless chicken karahi is a great place to start.
Check out this recipe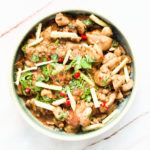 Beef Keema (Ground Beef)
No roundup of Pakistani dishes can be complete without a keema recipe. Keema is ground meat. In my earlier roundup on healthy recipes, I shared the chicken keema recipe. The one below is a beef version. This recipe is unusual because it omits the use of tomatoes; and it incorporates a generous helping of yogurt towards the end.
Beef Keema
A Pakistani classic, this dish of ground beef gets its warm flavor from a rich spice blend, and a lovely creamy texture from the yogurt added towards the end.
Check out this recipe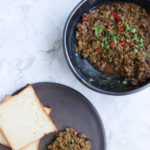 Chana Pulao (Chickpea Pilaf)
Another recipe that I think is quintessentially Pakistani. It also dispels the myth that Pakistani is predominantly meat heavy and too rich. Chana pulao is so light and filling. Pair it with a side of cooling raita and these easy broiled kebabs, and you have a complete meal.
Chana Pulao
A versatile, vegan pilaf that is easy to prepare and pairs well with a wide variety of dishes, be it BBQ or a simple raita.
Check out this recipe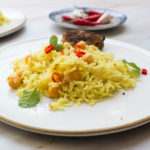 Tahri (Rice with Potatoes)
Tahri doesn't come up enough when you talk about South Asian food. It's a beloved summer dish across the sub-continent. Check out this great piece by my friend, Shirin Mehrotra about the origins of this dish. The recipe below is my mother's recipe that uses potatoes but tahri can take many forms.
Tahri
Tahri is a simple yellow rice dish from north India. My mother grew up eating the version with potatoes during summer, with a side of cilantro chutney.
Check out this recipe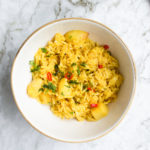 Aloo Sabzi (Curried Potatoes)
This is a Punjabi household staple. While minor details may vary from home to home, the basics are the same: potatoes simmered in a spicy tomato-onion base. It's a vegan recipe that I personally love to have with roti or naan but many also enjoy with rice.
Aloo Sabzi
Aloo sabzi is a Pakistani household classic that carried me through graduate school . A simple, satisfying dish, it's best had with poori and halwa but can also be enjoyed on its own with roti or rice.
Check out this recipe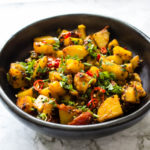 Bhindi Masala
Another Punjabi household staple, this is a great dish to master if you love ordering bhindi masala at your favorite South Asian restaurant. It's a straightforward recipe that consistently delivers great results.
Bhindi Masala
A sub-continent classic, bhindi masala was a household favorite growing up. This recipe is a popular way to prepare okra in Pakistan.
Check out this recipe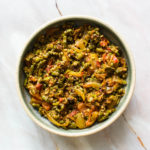 Masoor Ki Daal (Red Lentils)
No roundup of Pakistani recipes (especially one for beginners) can be complete without a daal recipe. One reader mentioned that she always felt intimidated by the variety of lentils, and she would always return from the store empty handed. For those who can relate to her, I will urge you to start with this recipe for masoor daal or red lentils that are easily available in any major grocery store.
Masoor Ki Daal
This is a very basic recipe for the masoor ki daal that was prepared at my home. Take it as as a template that you can dress up as much as you want.
Check out this recipe

Kaali Daal (Black Lentils)
In my opinion, kaali daal is so under-appreciated. This recipe below was shared by my aunt's cook, Aziz. What I especially love about this particular recipe is the composition of its tadka (tempered spices) that really takes it to the next level.
Kaali Daal
Kaali daal was a lunch staple at my home. This simple vegetarian main is elevated by a rich tadka that infuses it with great flavor.
Check out this recipe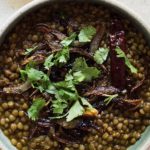 Roadside Style Fried Fish
I love Hina's contribution to the blog for this recipe of Naran style fried trout that she would frequently have when on road trips with family. You can swap out the trout with any fish fillet.
Fried Fish
This is simple recipe for Frontier style fried fish that highlights the natural flavors of freshwater trout.
Check out this recipe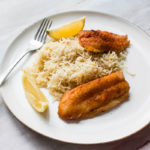 Seviyan (Vermicelli Pudding)
I wasn't planning on including a sweet but excluding seviyan from an "easy Pakistani recipe" roundup just seemed wrong! An Eid staple in households across Pakistan, this is an incredibly easy dessert to master.
Seviyan
Seviyan, a vermicelli pudding, is a popular Pakistani dessert that many South Asian families prepare on Eid.
Check out this recipe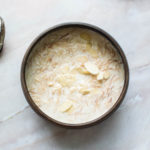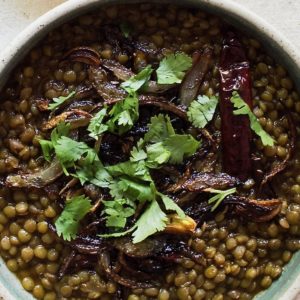 Kaali Daal (Black Lentils)
Kaali daal was a lunch staple at my home. This simple vegetarian main is elevated by a rich tadka that infuses it with great flavor.
Ingredients
Daal
1

cup

black lentils

rinsed (they are sometimes called green lentils in American stores)

1

teaspoon

salt

or to taste

¼

medium-sized yellow onion

thinly sliced in half rings

½

teaspoon

black pepper

or to taste

2

teaspoon

red chili powder

(preferably Kashmiri red chili powder)

½

teaspoon

turmeric powder
Tadka
¼

medium-sized yellow onion

thinly sliced in half rings

¼

cup

oil

canola/sunflower/vegetable

2

cloves

garlic

thinly sliced

2

dried red chilies

½

teaspoon

cumin seeds
Instructions
Add the lentils to a medium-sized sauce pan, add 5 cups water and bring to a boil.

Once the water has come to a boil, add ½ of the onion, turmeric, red chili powder, salt and pepper.

Give the daal a quick stir, cover it with a lid and let it cook undisturbed for 35-40 minutes, until soft.

About 20 minutes in, start getting the tadka (tempering) ready. Heat oil in a frying pan. Once it begins to shimmer, add the remaining chopped onion. Fry on high heat until it starts to brown. Add the garlic and fry until it slightly changes color. Add cumin seeds and stir until fragrant (while keeping an eye on the onions and garlic, making sure they don't burn). Add chilies and fry for a few seconds. Remove from heat.

Once the tadka is ready, check your daal to see if it's done. If the lentils are soft, remove from stove and place daal in serving dish. Pour the tadka (including the oil) over it.

Serve with rice and achaar (pickles).
Notes
The tadka is probably the most difficult part of this dish. Since each pan is different, you will have to adjust the heat and timing to ensure that the onions, garlic and spices don't burn. They should be a nice medium brown. The sequencing is also important. The onions take longest to brown so add them first, and then add the rest of the ingredients in fairly quick succession.