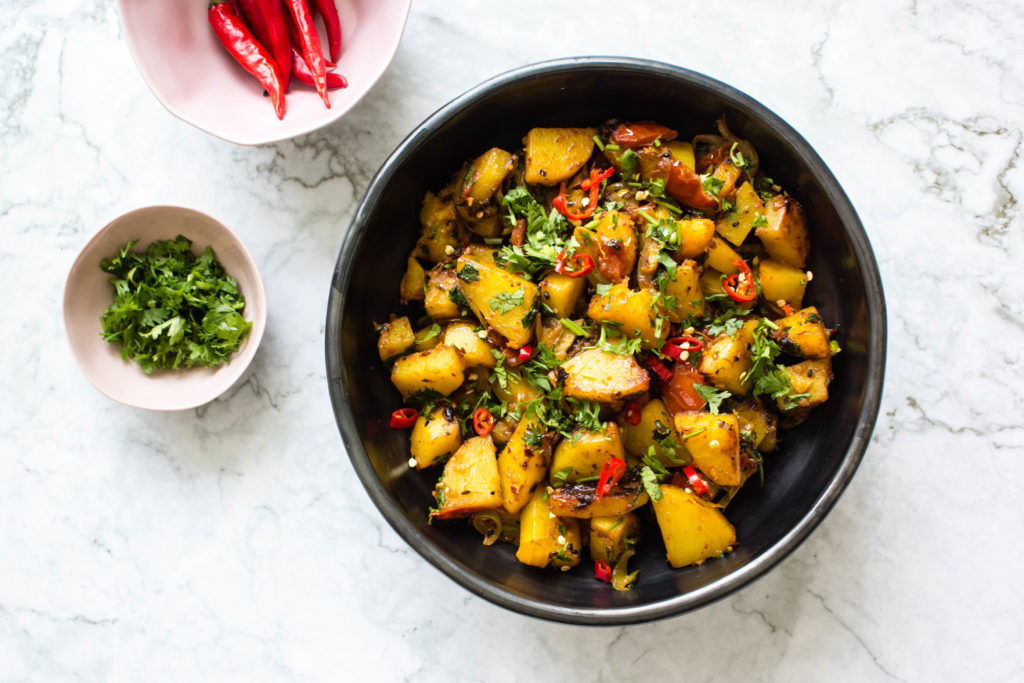 Jump to Recipe
Hello from what will arguably be the strangest time of our life. It feels weird to pop-in here to share an aloo sabzi recipe during an unprecedented crisis but here I am.
I'm writing from Phnom Penh, Cambodia, where the country is definitely on edge amidst the news of rising cases and the possibility of the announcement of a national emergency that will severely limit movement. Saptarshi and I had been waiting for the axe to drop in Cambodia for a while since we heard about the outbreak in China. It's been an incredibly distressing three months, as we have seen the outbreak travel from country to country, ravaging Iran, Italy, Spain and now New York, home to my younger brother and sister. The scale of the crisis is rapidly growing in Pakistan as well where the government has refused to ban religious gatherings despite moves in neighboring Muslim countries. Given South Asia's population density, the region is a ticking time bomb.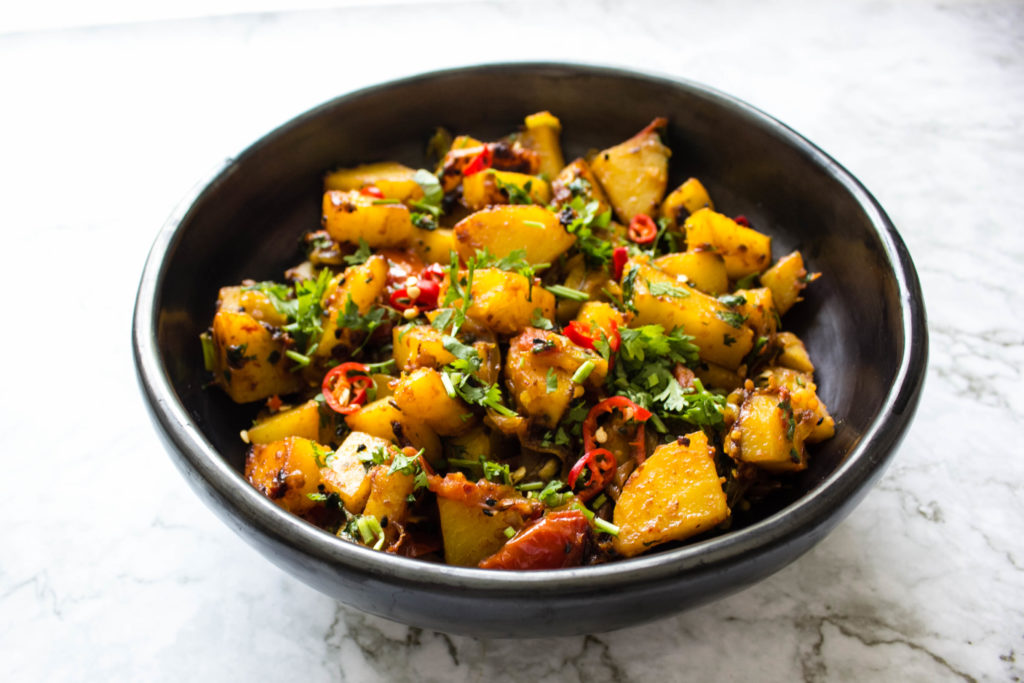 Earlier in January, while I was in Pakistan, I was having a conversation with my mother about resilience, and what it takes to be a resilient individual, family and unit. International development professionals talk about resilience among households and communities a lot – how do you build or enhance their ability to withstand a crisis. I have been thinking about it as an individual a lot in the last year.
Last spring, I felt my resiliency 'reserves' completely depleted. It took for me to leave my job, a ruthless detachment from the problems of my family and friends, a focus on food, and enormous self-reflection and rest to slowly come back to equilibrium. I still haven't come to peace with my decision to take 'time off' but again, I think if I hadn't taken those steps, I might not have been equipped to handle a crisis of this scale.
An overwhelming majority of individuals do not have the same luxuries as me – a partner with a stable income, no pressing professional pressures and pending bills, and the ability to quarantine in a comfortable environment. We are checking in with our friends and family regularly and so far, everyone is safe. We are incredibly bummed that my sister-in-law and friends have had to postpone their weddings scheduled for May. But we look forward to celebrating them when the cloud of this terrible virus is gone.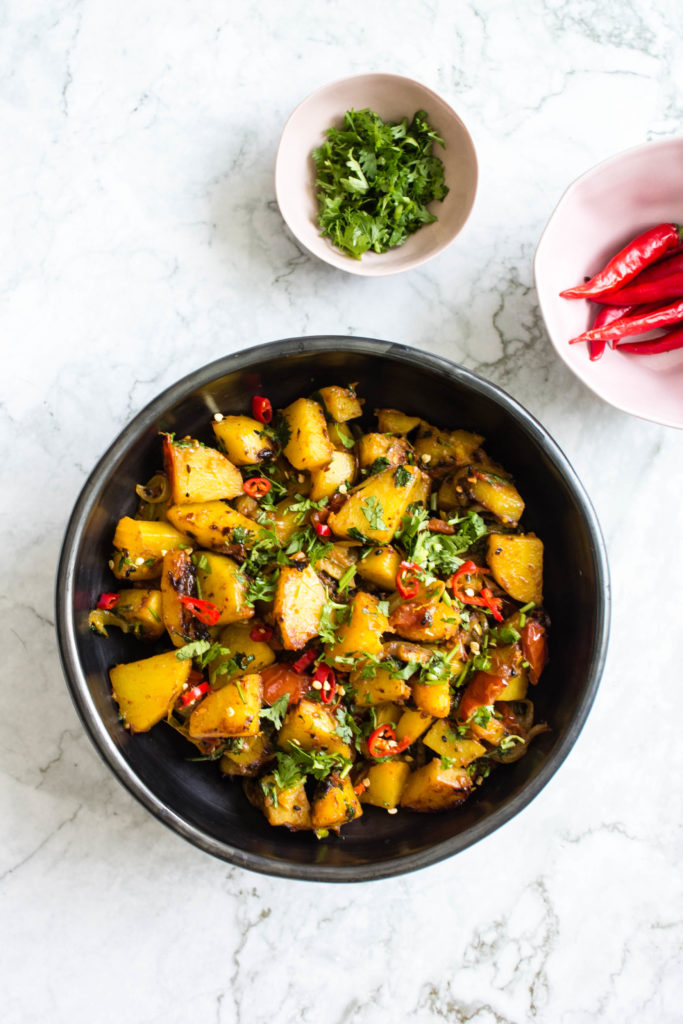 In the meantime, there's lots of projects I'm working on that are keeping me busy. Some of them are a little bit more mundane like updating old recipes, such as kadhi chawal and bagara baingan; others more interesting like poring through cookbooks to look for recipes of Pakistani regional cuisines; and working on various story ideas, this time more focused on Cambodia.
Hope you are doing okay too given the circumstances. Be kind to yourself. As my younger and wiser sister recently reminded me, there is no right way to feel right now. Sending you lots of love, and an easy recipe for aloo sabzi that carried me through graduate school and likely through quarantine.
Stay safe x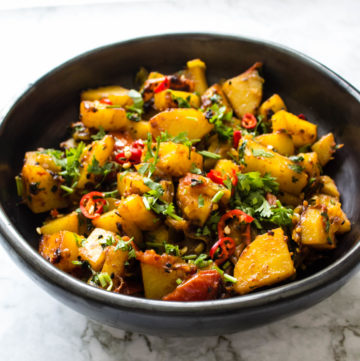 Aloo Sabzi (Curried Potatoes)
An easy vegetarian main or side that is best had with poori, fried flatbread and suji ka halwa for breakfast.
Ingredients
¼

cup

oil

canola/sunflower/vegetable

1

tsp

crushed ginger

1

tsp

crushed garlic

1

large yellow onion

sliced in half rings

½

tsp

turmeric powder

1

tsp

coriander powder

1

tsp

red chili flakes

1

tsp

salt or to taste

3

roma tomatoes

diced

3

potatoes

diced

½

tsp

kalonji/nigella seeds

½

cup

cilantro

finely chopped
Instructions
Heat oil. Add chopped onion and brown on medium low heat for 5-7 minutes till soft.

Add crushed ginger and garlic and fry for 30 seconds.

Add ground spices and fry for 30 seconds – 1 minute till aromatic.

Add tomatoes and fry on high heat for 5 minutes.

Add salt.

Add potatoes and coat in masala for about 2 minutes.

Add ½ cup water, bring to simmer, lower heat and cover for 10 minutes.

Lift cover, add a splash of water to deglaze the pan if needed. Add kalonji/nigella seeds, and fry for 2 minutes.

Add diced cilantro and fry for 1 minute.

Place on serving platter and serve with poori.
Notes
To prevent the potatoes from darkening while cooking, I have found that soaking the peeled and chopped potatoes in water helps. 
The dish is versatile and can be served with a wide variety of dishes. Personally, I love it with poori, fried flatbread and suji ka halwa.