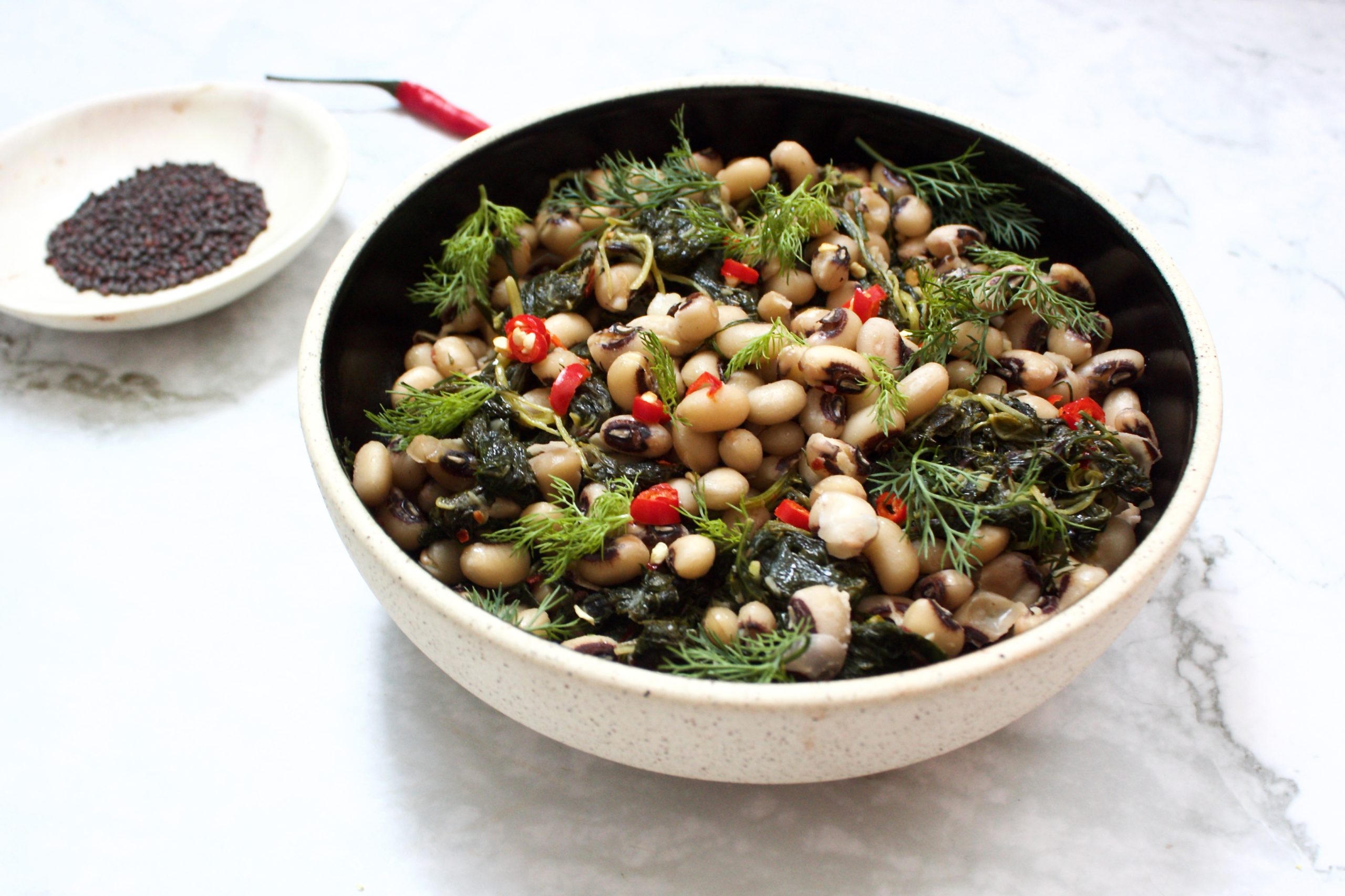 Jump to Recipe
Hello! Very happy to share this new Sindhi style black-eyed peas recipe that I have adapted from Madhur Jaffrey's fabulous cookbook, "The Curry Bible." The book is an impressive collection of recipes from the curry trail. It provides critical context to the origin of curry outside of the sub-continent, which is rooted in the practice of indentured labor that emerged during British colonial times. It was extremely eye opening, and I would highly recommend picking up a copy.
"The Curry Bible" includes many recipes from her travels to Pakistan as well. I was happy to find a few Sindhi recipes from Pakistan. I have been wanting to learn more about this very rich regional cuisine. Unfortunately, I have had very little exposure to it since I grew up in Islamabad, and went to college in Lahore; and Sindhi food hasn't really made its way outside of the province (with a handful of exceptions, such as the Sindhi restaurant, Sarang, in Islamabad.) If you are curious about learning more, I wrote this short piece for DAWN about Sindhi food; and my friend, Pooja Makhijani has this great piece on Food52 on the Sindhi diaspora.
This black-eyed peas recipe was one of the Sindhi recipes included in "The Curry Bible." I have said this earlier (see last post on healthy Pakistani recipes) but in 2021, my husband and I made a big push towards vegetarianism at home. This has given me renewed affection for legumes (check out some recipes here - recent favorites include lobia masala and this moong khatti daal.)
Adaptations to Jaffrey's Original Recipe
The original recipe in "The Curry Bible" was shared by Jaffrey's Sindhi friends in Karachi. I tried the original version a couple of times, and made the following tweaks:
Dialing down the dill: The original recipe called for a fairly large amount of dill to the point that I felt it overpowered all the other ingredients. I significantly dialed it down to bring more balance to the final dish.
Swapping out the dried lemon: This swap unfortunately, definitely takes away from the authenticity of the recipe, and undercuts the strong Persian undertones of this dish. But dried lemons can be difficult to find, and I didn't find their addition significantly enhanced the flavor. I opted for Jaffrey's suggested substitution of lemon juice (but in the end) and a little bit of lemon zest to add some brightness.
Omitting yogurt: If you have been following the blog for a while, you know that I absolutely love yogurt, and it's an integral part of many Pakistani recipes. I however, decided to omit it from this recipe because I wanted this dish to be on the brighter and fresher end.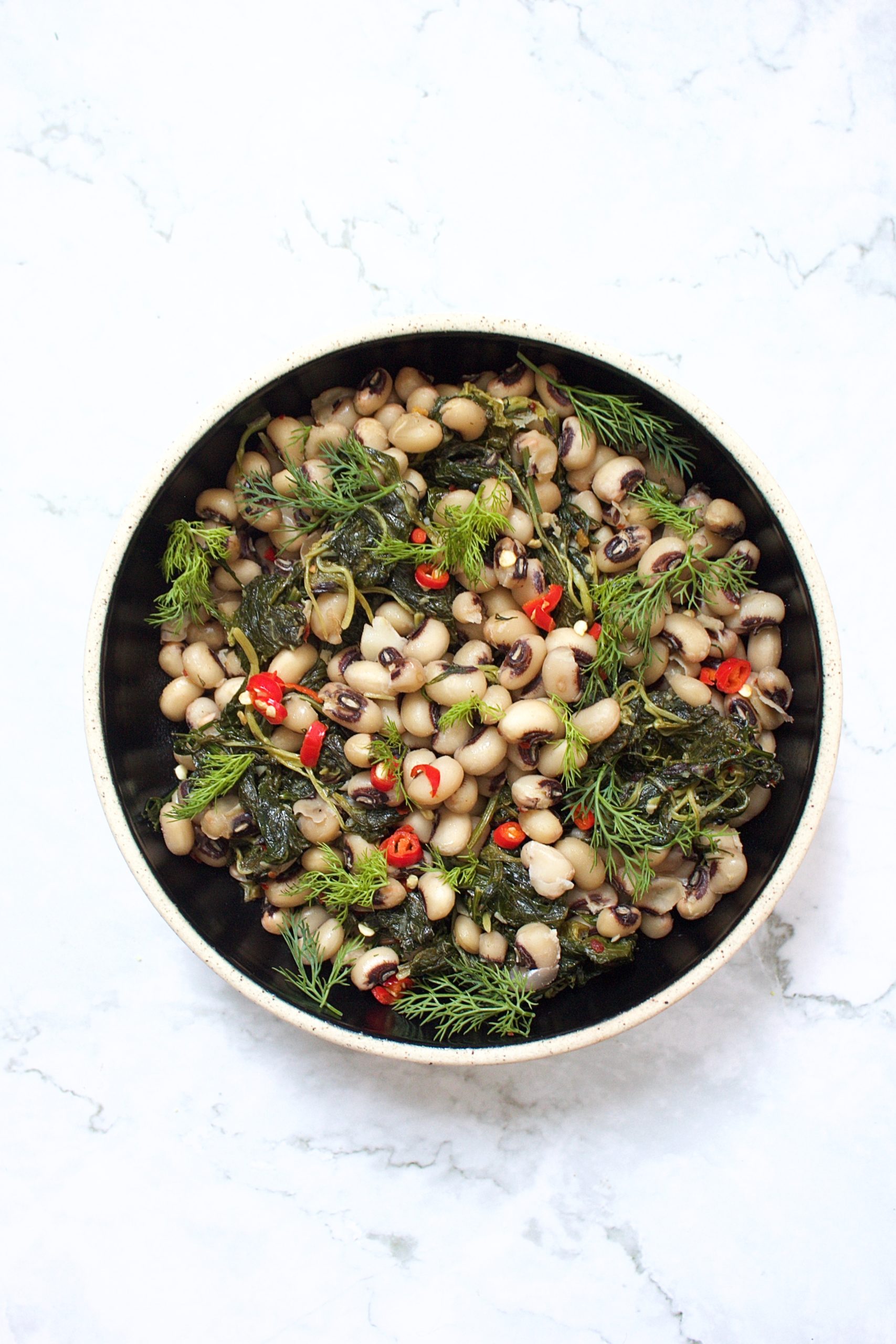 Can I use Canned Black-Eyed Peas for this Recipe?
You can use absolutely use canned white beans if you are in a hurry. But if you have the time and patience, I will put in a strong plug for using dried black-eyed peas, and then boiling them. They retain a firmer texture, and taste better. If you do decide to use canned beans, they are a lot more delicate so treat them with care. This especially applies to the last step. Pour the cooked spinach and dill masala into the pot with beans rather than the other way around. It doesn't seem like it would make a difference but it really helps keep the shape and texture of the black-eyed peas intact.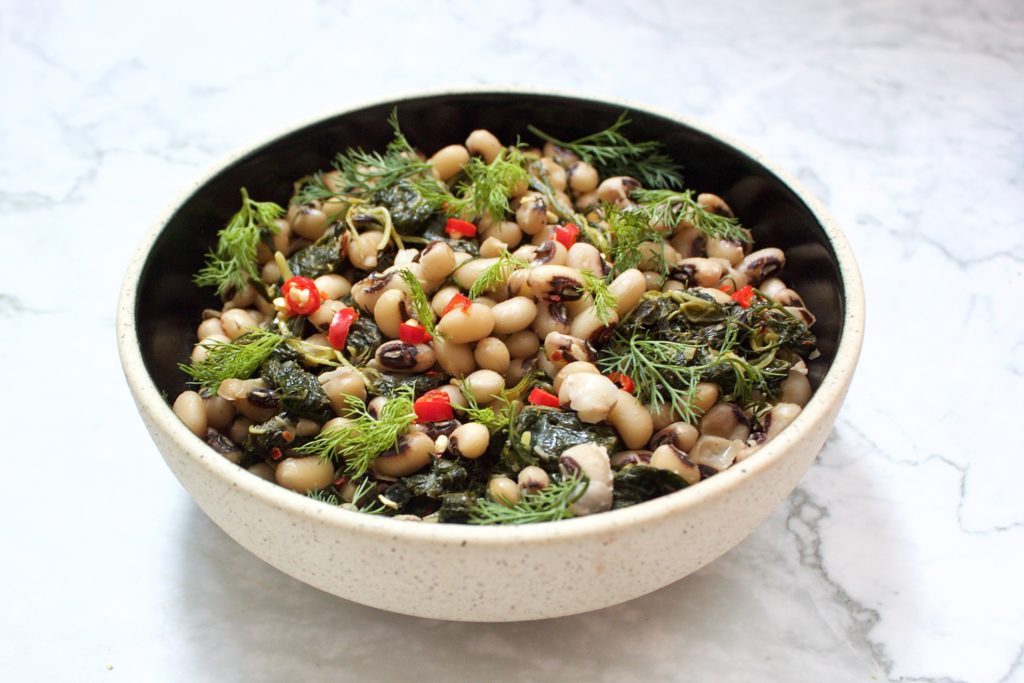 What Do I Serve this Dish With?
Paratha: I will put in a very strong plug for serving this dish with a paratha (check out my friend Izzah's recipe here.) The paratha's lush texture pairs really well with the brightness of the black-eyed peas. If you don't have the time to make paratha, just grab some frozen ones from your neighborhood South Asian grocery store.
Shami kebab: Serving shami kebabs with these peas will bring incredible depth to your meal. It also satiates the Pakistani need to serve meat with every meal without overpowering the table.
A Side of Potatoes: I think a nice side of potatoes will also round off your meal really well. My personal choice will be these Gujarati style spiced potatoes that are on the drier end. But this classic Punjabi style of aloo sabzi also works!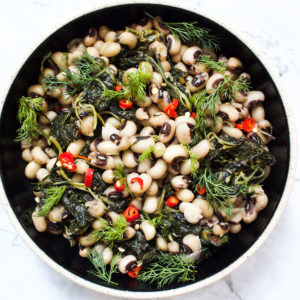 Black-Eyed Peas with Spinach and Dill
An adaptation of a Sindhi recipe for black-eyed peas with spinach and dill. This is a healthy, bright side dish with Persian undertones.
Ingredients
1

cup

black-eyed peas

soaked overnight

4

tablespoon

neutral oil

canola/sunflower/vegetable

½

teaspoon

cumin seeds

¼

teaspoon

mustard seeds

2

teaspoon

crushed garlic

10

kadi patta

(curry leaves)

1

bird's eye chili

finely chopped

8

ounces

(226 grams) spinach

roughly diced

1

cup

dill

finely chopped

1

teaspoon

red chili flakes

1

teaspoon

salt or to taste

Zest of ½ lemon

Juice of ½ lemon
Instructions
Add black-eyed peas to stockpot. Add 4-5 cups water, and salt to taste. Bring to boil, and let peas simmer until soft. Drain water, and set peas aside in the same pot.

In a separate wok or large frying pan, heat oil. Add cumin seeds and mustard seeds. When they begin to pop, add the crushed garlic, kadi pata, and chopped chili.

Fry for roughly 30 seconds on medium low heat. Begin to add chopped spinach in batches, folding it in with the spices. Add chopped dill. Increase heat to medium, and continue to fry until the spinach begins to wilt.

Pour over the spinach and dill mixture into the pot of black-eyed peas. Add 1 cup water, red chili flakes, and salt. Bring to boil. Lower to simmer, cover with tight fitting lid, and let it cook for roughly 10 minutes.

Once done, top with lemon juice and lemon zest. Garnish with fresh dill and finely chopped chili, and serve with paratha or roti.