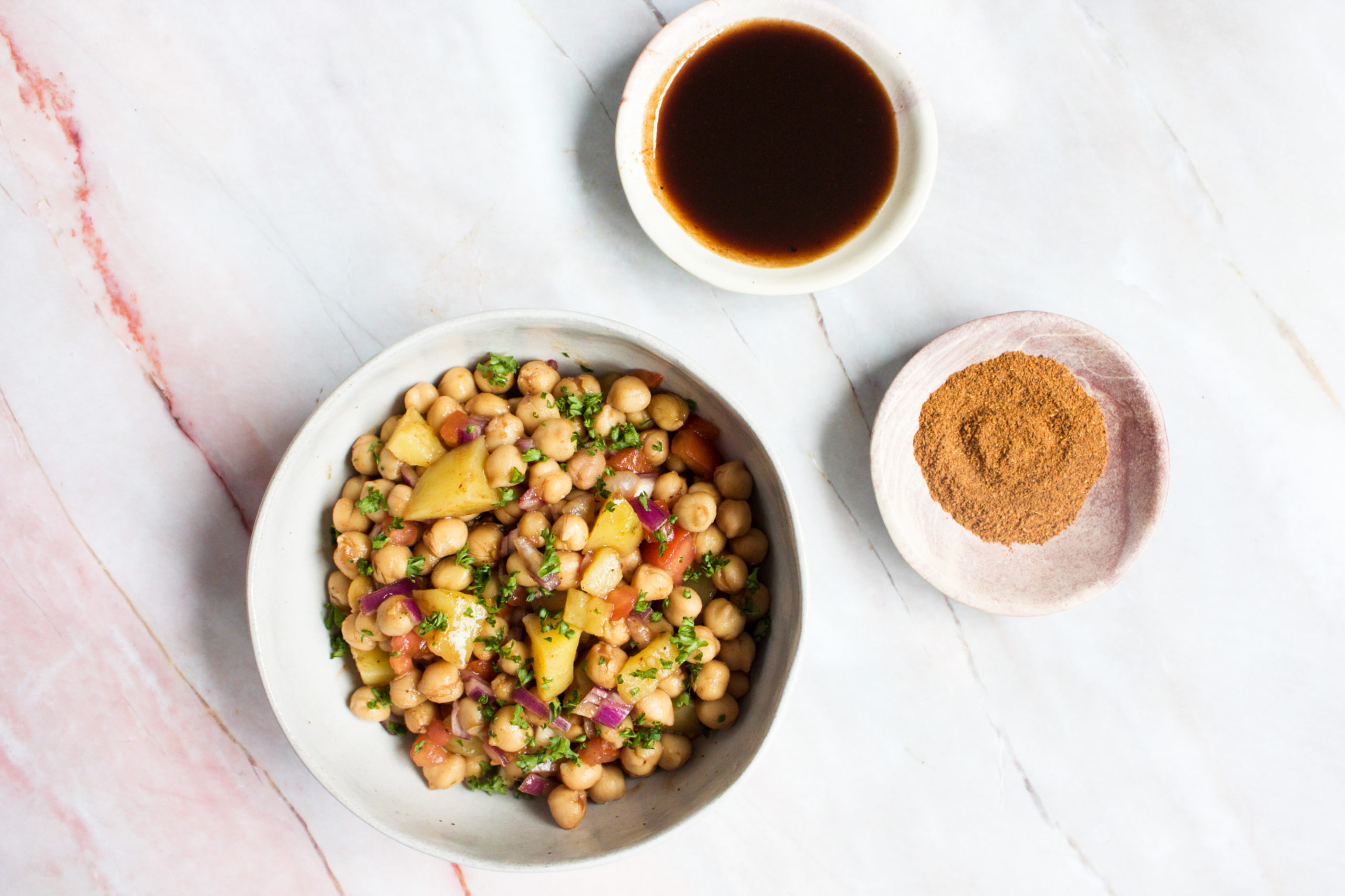 Jump to Recipe
Hi! After a gap of several years, I'm back with a recipe of another sweet and savory snack: chana chaat! This may be the Jillani family's favorite variety of chaat: it's sweet, tangy and crunchy. This chaat would make a regular appearance at our home every Ramadan and Eid. I have shared my mother's basic template recipe but feel free to play with it. The beautiful thing about chickpeas is that they provide a forgiving neutral space for you to layer flavors; so feel free to dress it up or dress it down.
What is Chaat?
Chaat is a type of savory snack that is ubiquitous in South Asia. There are dozens of varieties that can be found in food stalls as well as inside people's homes. The ones most popular in my home is fruit chaat (think of it like a spicy fruit salad), and chana chaat (a sweet and tangy chickpea salad). They both incorporate chaat masala, which is a funky spice blend that is equal parts sour, salty and spicy.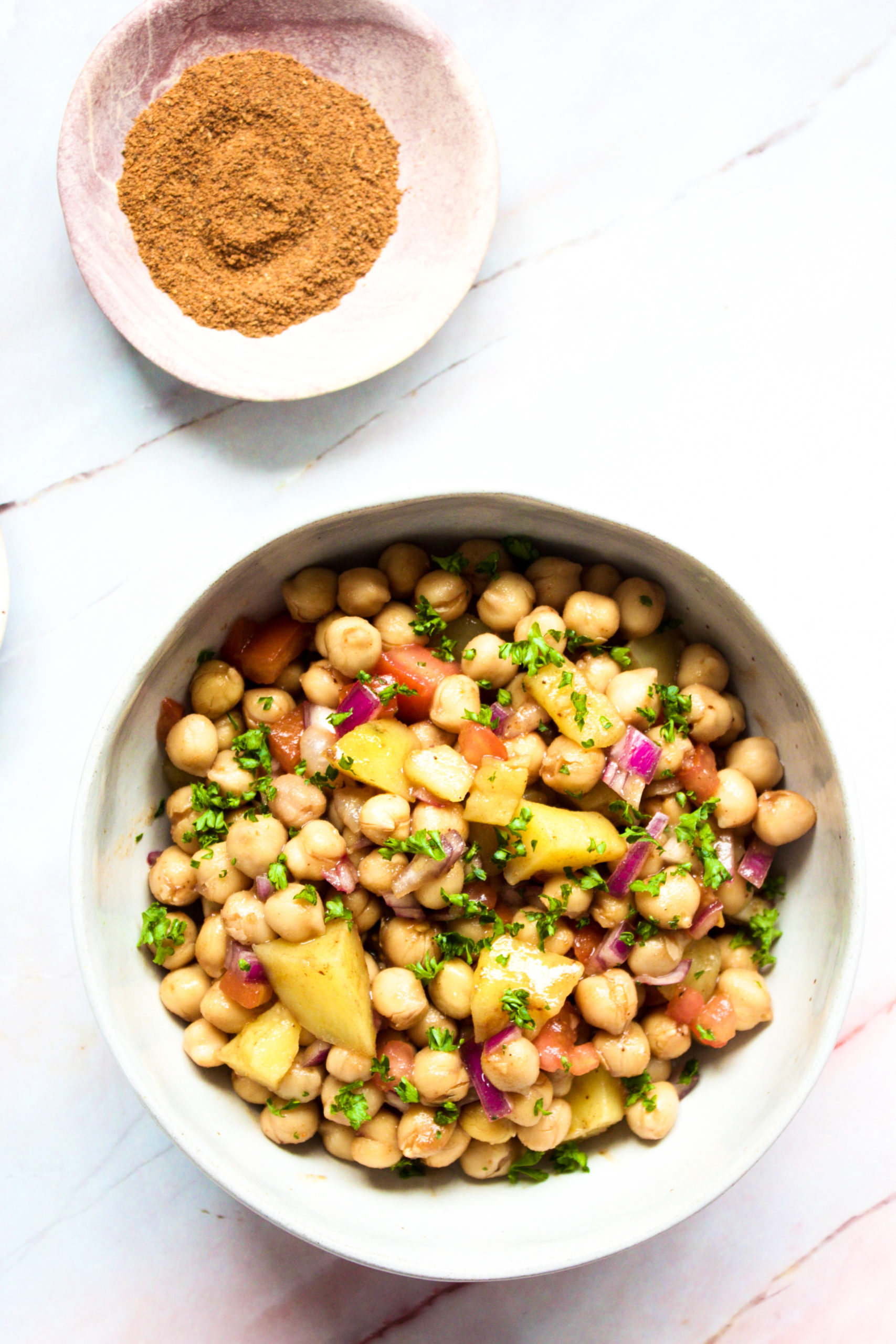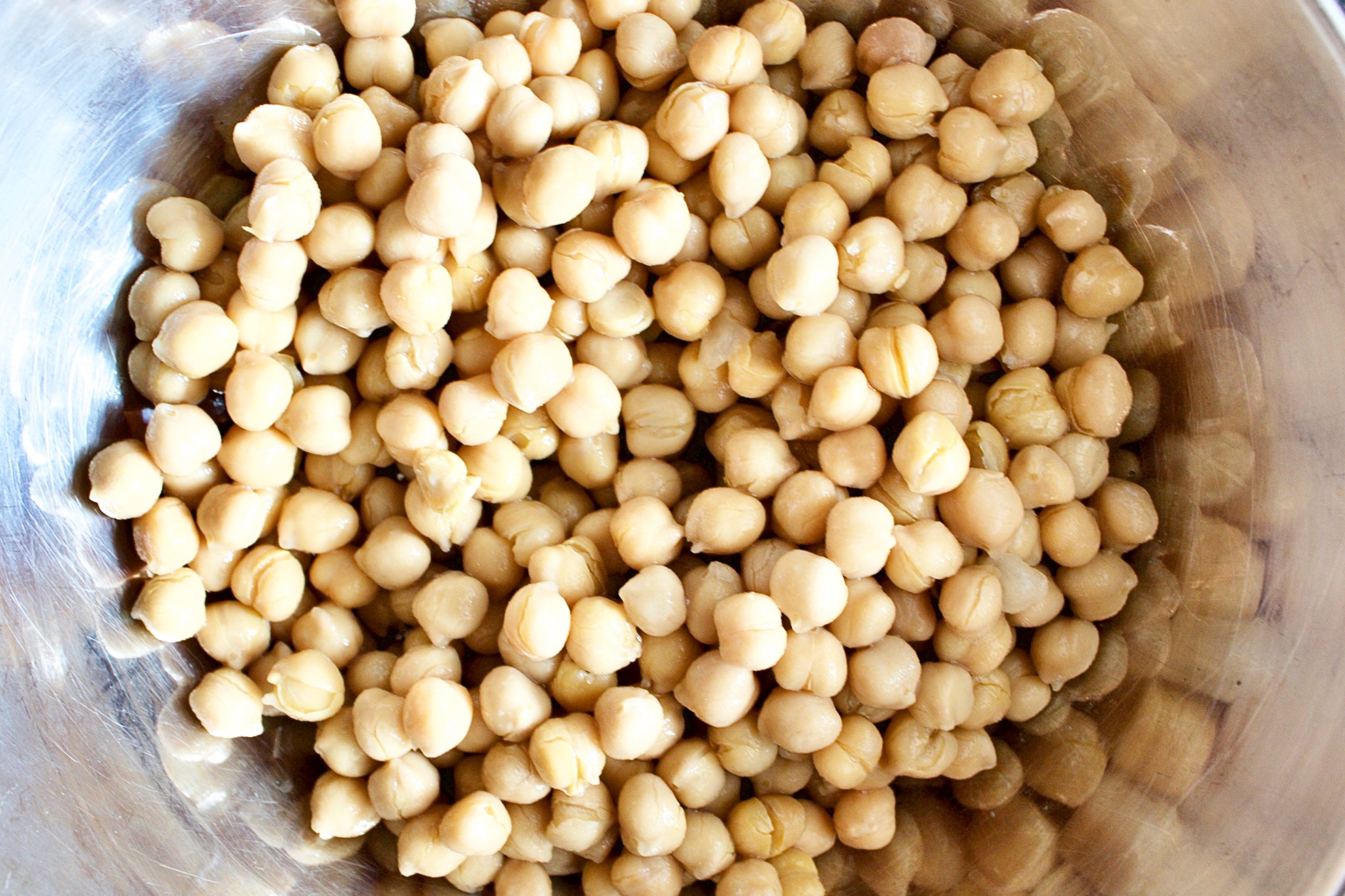 What are Key Ingredients in a Chana Chaat?
Chickpeas: The primary base ingredient of a chana chaat are chickpeas. I normally use canned chickpeas but traditionally, you use dried ones and boil them until they are soft.
Tomatoes: I would put in a strong plug for putting in tomatoes. I normally use regular roma or plum tomatoes.
Red onions: Diced red onions provide a bit of a crunch, which is essential to any good chaat. I like to use roughly the same volume of red onions as the tomatoes to balance out their flavor.
Potatoes: These are optional. If you have time, I would strongly recommend adding them because they provide some additional heft to the chaat, making it filling enough to have for lunch. In terms of proportions, I like to use 2 parts potato to 1 part diced onion, and 1 part diced tomato.
Cilantro: OK, so I have a confession to make but in the photos, I have used diced parsley instead of cilantro. It maybe obvious to some. While it doesn't hurt to have parsley for garnish, adding heaps of finely chopped cilantro adds a lovely fresh flavor. It also makes it a lot prettier. Highly recommend!
Chaat Masala: Available at specialty South Asian grocery stores, this spice is key to chaat. A bit funky, a bit sour, and a bit salty, it's honestly what makes chaat 'chaat'.
Imli or Tamarind Chutney: This according to my mother is an essential ingredient of a chana chaat. Given that the rest of the chaat takes minutes to assemble, this is the most time consuming portion of the recipe. The good thing is that you can make the chutney and put it in an airtight container and use it for a variety of different things. See notes below.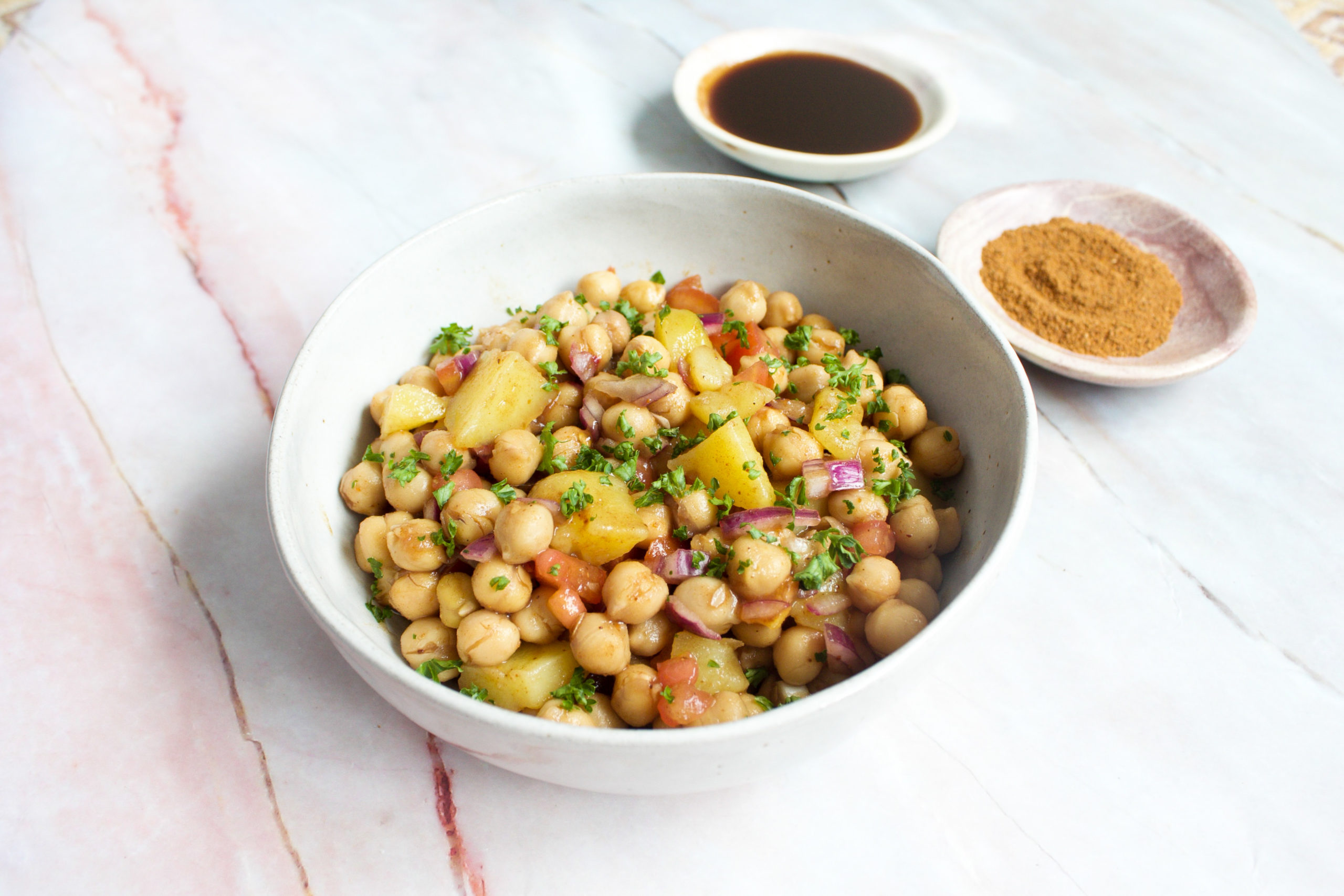 Imli or Tamarind Chutney
This is the most time consuming portion of the recipe. The good thing is that you can make a batch of chutney, put it in an airtight container, and it will last you for a few weeks. It makes a great dipping sauce for pakoras, samosas (check out Kiran's recipe for keema samosa here), and is stunning when paired alongside yogurt with aloo ka paratha.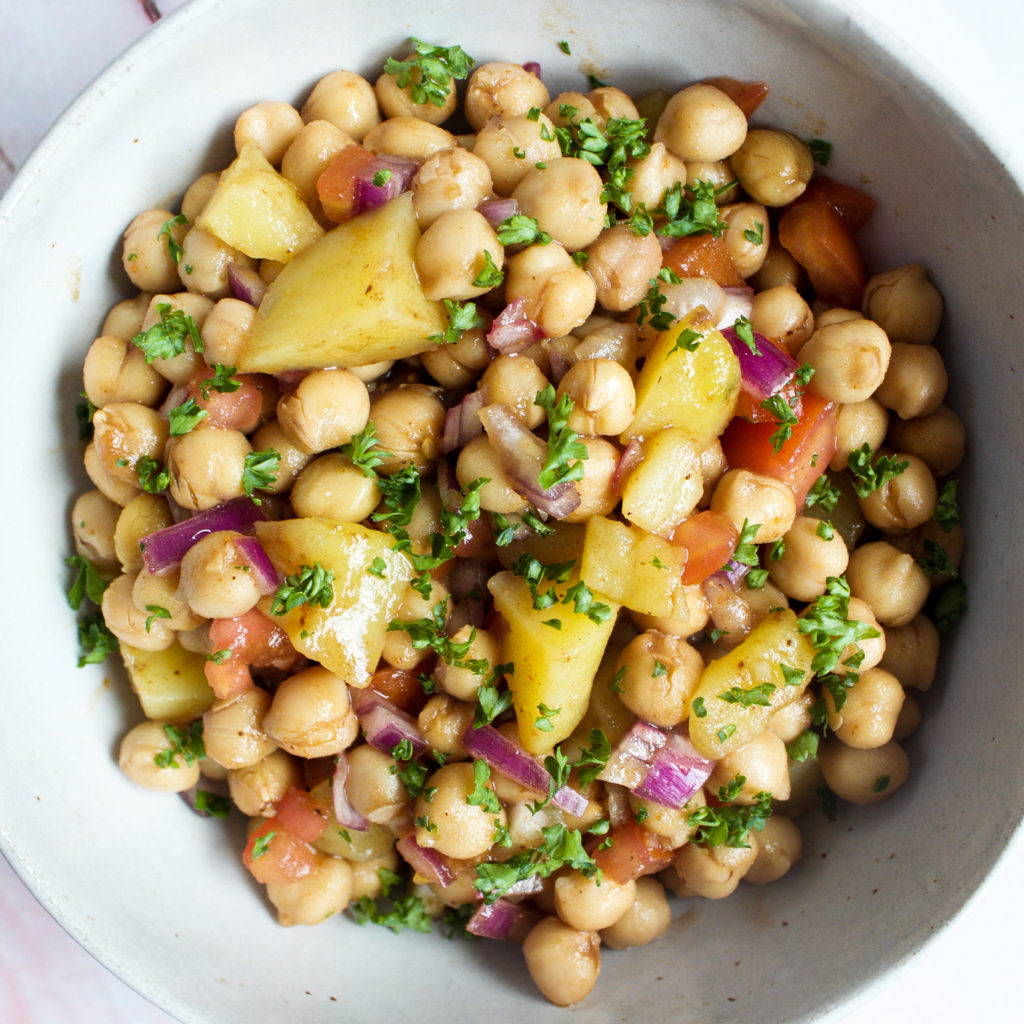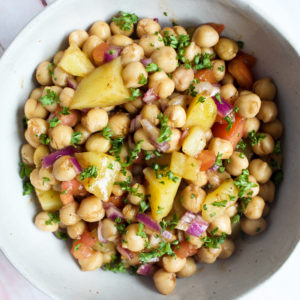 Chana Chaat
A sweet, tangy, crunchy snack that is served at both food stalls and Pakistani homes. It's a staple during Ramadan and Eid but really can be enjoyed at any time of the year.
Ingredients
Imli or Tamarind Chutney
8

ounce

or 226 grams tamarind with seeds

½

teaspoon

salt

1

teaspoon

cumin powder

2

teaspoon

cayenne pepper

1

cup

sugar
Chana Chaat
30

ounce

garbanzo beans or chickpeas

roughly two 15 oz cans

5

ounce

or 150 grams diced potato (boiled and peeled)

2 ½

ounce

or 75 grams red onion, diced

2 ½

ounce

or 75 grams roma tomato, diced

1

teaspoon

salt

4

tablespoon

tamarind chutney

4

tablespoon

diced cilantro

2 ½

teaspoon

chaat masala
Instructions
To prepare the chutney, place tamarind in a large heatproof bowl and pour roughly 3 to 3 ½ cups of hot water. Let the water come to room temperature, and squeeze the tamarind pulp with your hands, removing the seeds as you go along. Once you have removed all the seeds, strain the tamarind juice.

Place the tamarind juice, salt, cumin powder, cayenne pepper and 1 cup sugar in a saucepan. Bring to simmer, and let it cook for 45 minutes to 1 hour until you get the desired consistency. Remove from heat and place in airtight jar.

To get started on the chaat, drain canned chickpeas and place in large bowl. Add diced potato, onion, and tomato. Add salt, chaat masala and 4 tablespoon of tamarind chutney. Mix well. Add finely diced cilantro and mix again. Dust with remaining chaat masala.