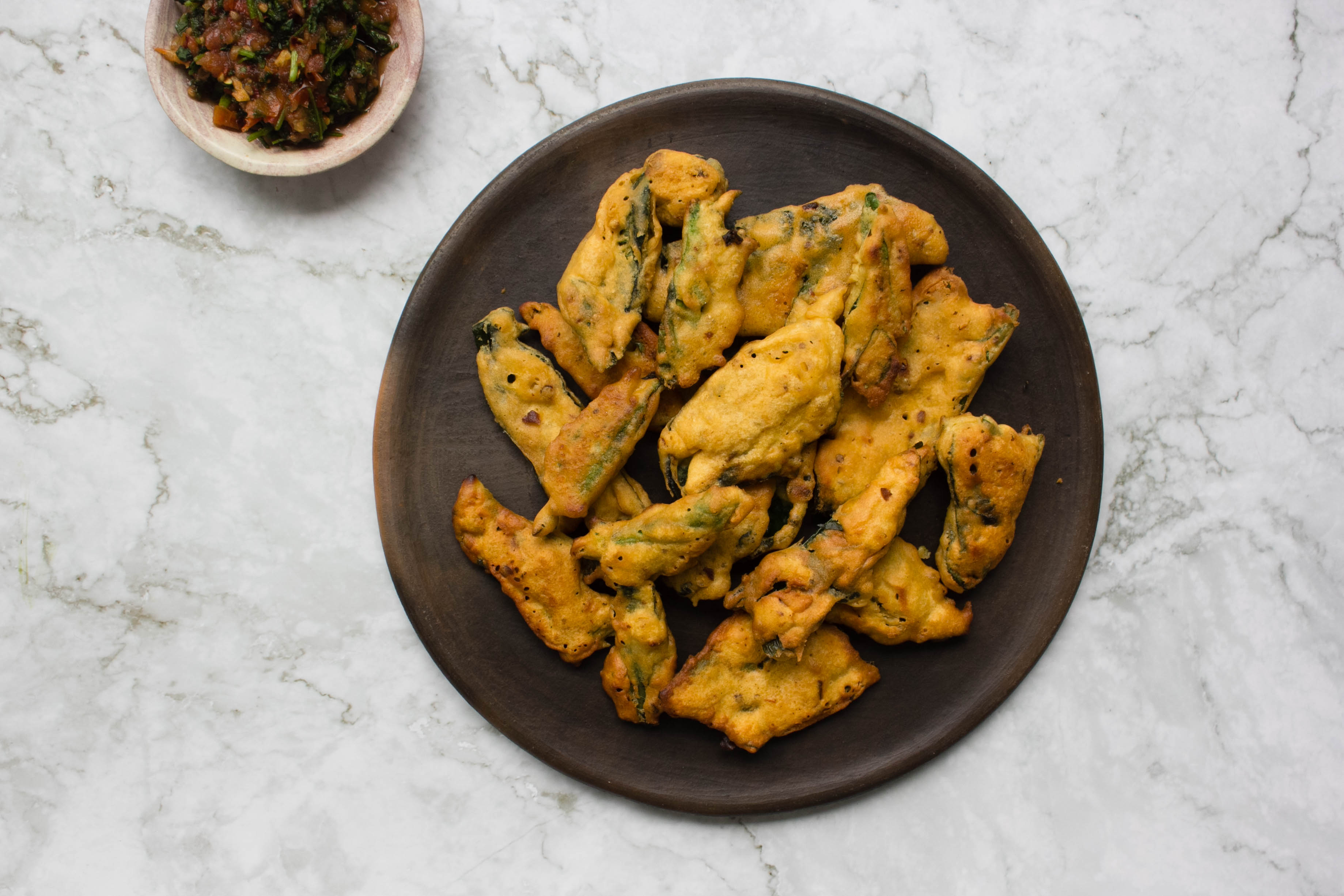 Jump to Recipe
Pakoras are a Ramazan and rainy day staple in Pakistan. My personal favorite are the ones made with spinach: palak pakoray.
Battered and fried, pakoras loom large in the desi subconscious. You can have them as a roadside snack or in the evening with a cup of tea.
In India, it is said that each city has its own pakora: Hyderabad's mirchi bajji, Jaipur's mirchi vade, Bombay's batata vada, Delhi's palak patte ka pakora, and Ram laddu, Gujarat's numerous bhajias and gotas.
In Pakistan, if you decide to grab a packet of pakoras from the market (served in glorious oil soaked newspaper bags), you will likely get a "mixed" pakora - a medley of onions, potatoes and chilli deep fried in gram flour batter. At home, we would get served a similar type - onion and potato mix - just more delicately prepared and trolley ready.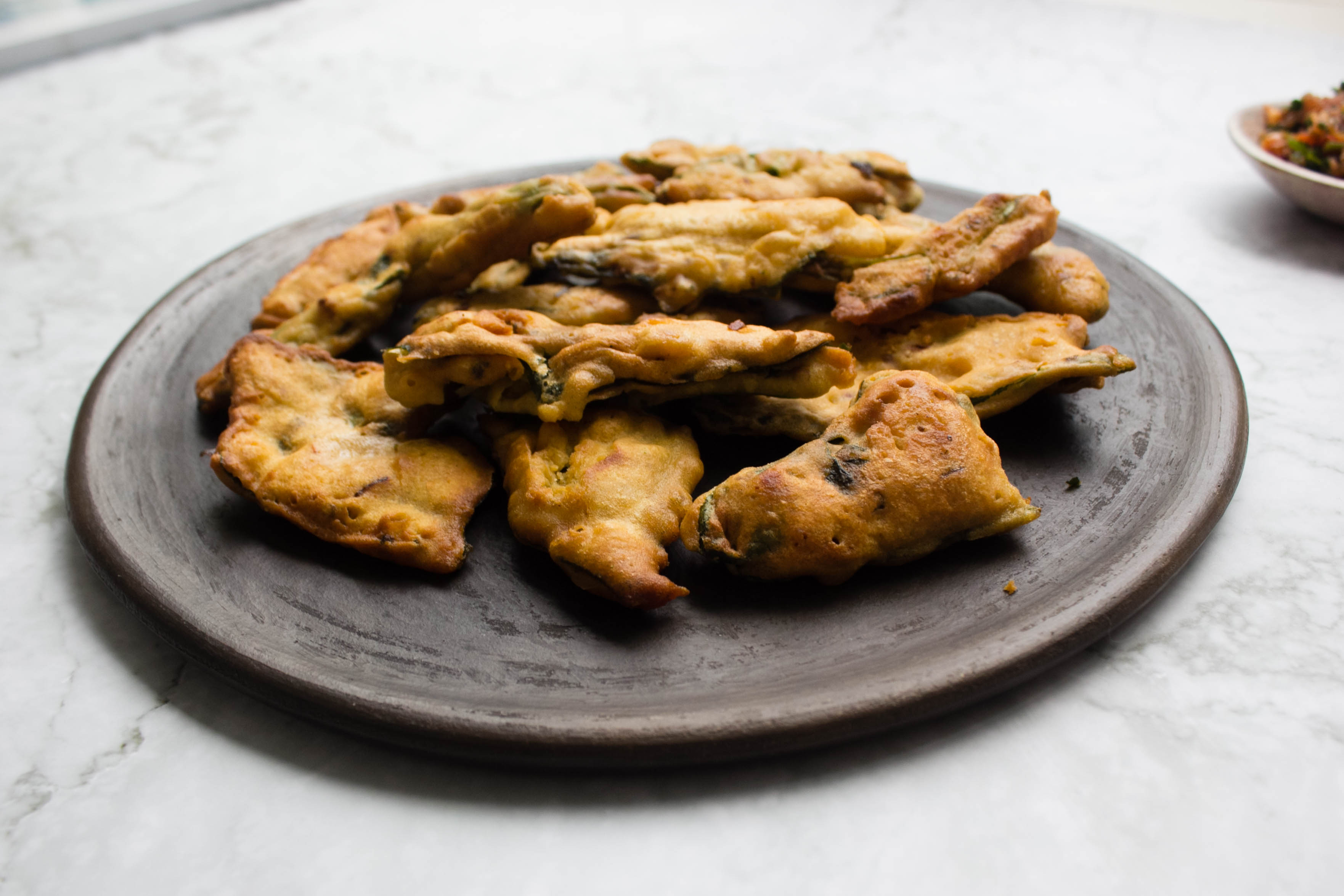 It's unclear how pakoras like Rooh Afza became an Iftar spread staple in Pakistan. Wherever you go, you will undeniably find pakoras served alongside fruit chaat, samosas and Rooh Afza. Unsurprisingly, I also had my first palak pakoray (featured here) at my friend Zainab's place for Iftar during eighth grade.
I loved how wispy and light they were, and find them to be a spring-appropriate entry way to pakora newbies.
Here I used my mom's pakora batter recipe but instead of putting her preferred onion/potato mix, used trimmed spinach leaves.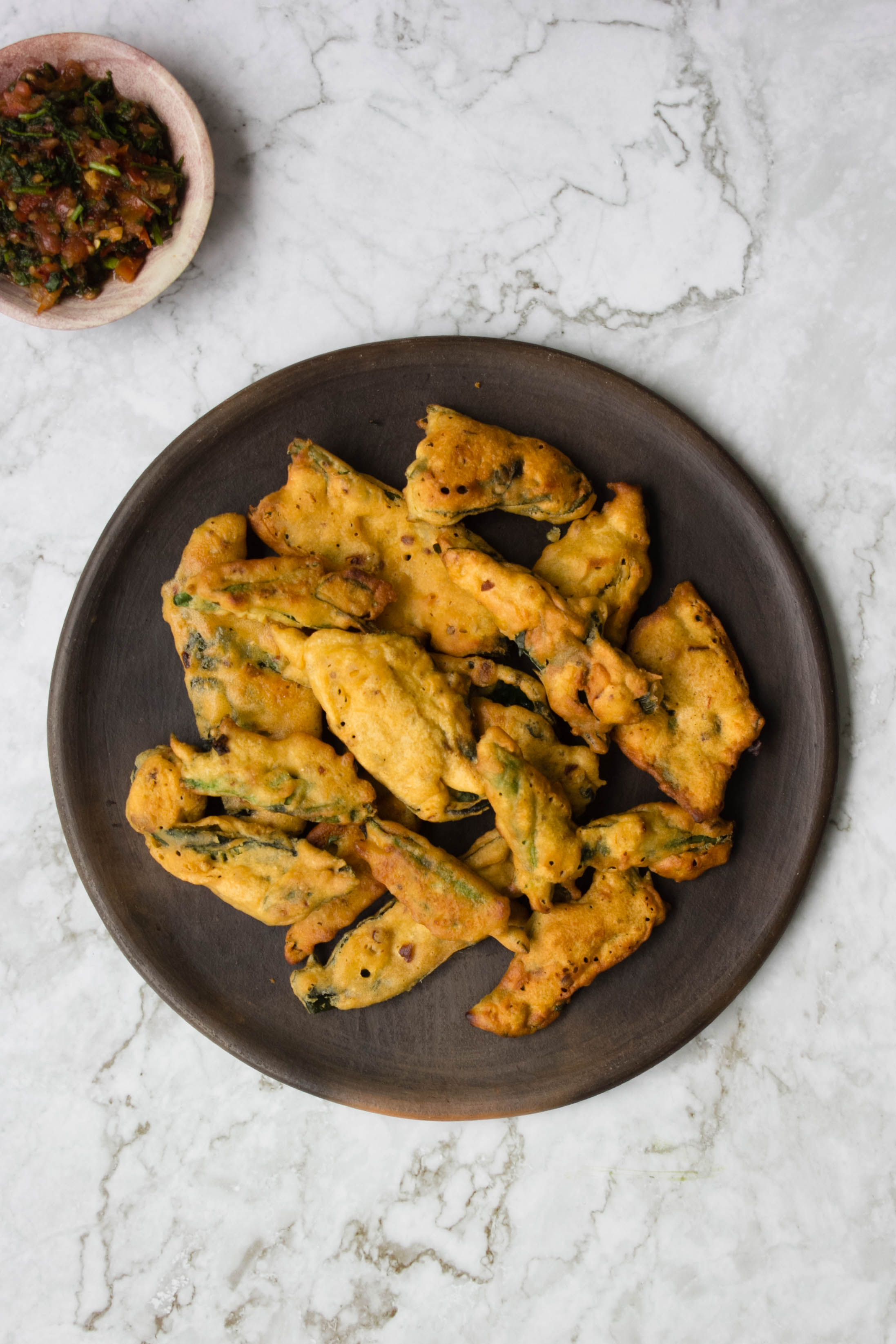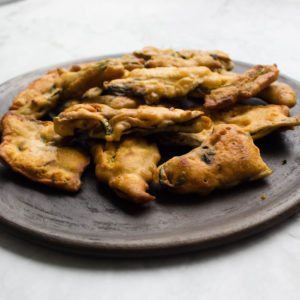 Palak Pakoray
Ingredients
2

cups

besan/gram flour

(can be found in South Asian grocery stores)

1

cup

water

Salt to taste

2

teaspoon

coriander seeds

roasted and ground

2

teaspoon

red chilli flakes

¼

teaspoon

baking soda

1

bunch spinach leaves

trimmed and halved

½

cup

canola/sunflower/vegetable oil + more as needed
Instructions
Place the besan in a large bowl and add salt, ground coriander seeds, chili flakes and baking soda. Slowly pour in the water, whisking it in till the mixture is consistent (it shouldn't be watery or too thick).

Heat a small saucepan (I used a 2 qt. saucepan) and add about ½ cup of oil or more if you'd like. Bring heat up to medium. Once the oil begins to simmer, begin to fry in small batches. Cover the spinach leaves with the flour batter and carefully drop the dredged spinach leaves on to the pan. Make sure their shape stays intact and don't overcrowd the pan. If the pakoras don't float up immediately, let the oil heat up a little more.

Fry each side till it becomes a medium brown. Flip. The timing will vary based on the heat of the pan. Bring the heat down to low if the pan begins to overheat and pakoras begin to burn easily

Transfer fried pakoras on paper towels to absorb excess oil.