This post was originally published on November 23, 2018. I updated the recipe after testing it a few more times, and so decided to re-publish it. 
Jump to Recipe
Friends, I have some news!
Pakistan Eats had the great honor of winning the Editor's Choice award for the Best Food Culture category at the Saveur 2018 blog awards. I went to Memphis to attend the ceremony and was blown away by the talent of the finalists, the soul of Memphis, and the thoughtful and delicious itinerary the Saveur team put together. It was a whirlwind two days and there is still a lot to process. I'm going to do my best to share some of the great advice I received from the panelists and bloggers at the awards as well as some of the speakers at the various events I have attended during the last couple of months. It's been a challenge to balance blogging and work, and navigate a competitive and bizarre social media landscape so these conversations have really helped ground me in thinking about what is important to me and how I can take Pakistan Eats and its community to the next level.
But first, a thank you!
When I first started Pakistan Eats, I would often use the term 'we' in my social media posts and then thought it was a little strange given it's only me that was writing. But honestly, it is a 'we'. I get a lot of help. From my husband who serves as my sous chef and sometimes hand model. From my mom whom I frantically call every time my editorial calendar is looking a little thin. And from my amazing friends and family who were my first contributors when I started the blog back in 2016. THANK YOU for helping get this project off the ground, even when nobody was really sure where I was going with it 🙂 And a big thank you to those who follow this blog! I love hearing from you and am truly grateful for your curiosity and respect for Pakistani food and culture. I hope you'll stick with Pakistan Eats and let me know what you would like more from this blog!
Notes from Memphis and Other Places
While these notes and observations are meant more for people trying to make it as creatives, I hope others will find this advice useful as well:
People are working social media all the time. Everyone makes it look easy on social media. But really, people use a gazillion tools to optimize their social media use. If you really care about cracking it, you have to dedicate a lot of time to it and pay for it. A surprising number of bloggers (including those with large followings) pay for ads. They are also strategic about the content they are putting out, basing it on who they are trying to connect with. These past couple of years, I have grown to despise social media and find that it saps my energy so…what then?
Put your work first. Maurizio, founder of the gorgeous blog, The Perfect Loaf balances his passion for baking sourdough with family and his full-time career as a software engineer. While his Instagram feed is gorgeous, Maurizio reminded me that he always put his craft first. He bakes bread every day (!) and is always focused more on getting better at his work than the bells and whistles of social media.
Consider community. Kat Gordon (who is phenomenal btw), the founder and baker at Muddy's Bake Shop in Memphis really flipped my idea of what good hospitality and community is. She said that when a guest leaves your place, their first thought should not be about what a great host you were but a sense of having contributed something special to the gathering. Bringing this back to social media, this is less about self-promotion and more about meaningfully engaging with your audience, online and IRL.
Space it out. Gordon also said that her bakery was a no social media zone during work hours. She said that she blocks specific times for social media to respond to followers. This again is super important because it prevents you from getting sucked the social media blackhole, opening up more time to create.
Stick to your blog. Should everyone shut their blogs down and start a YouTube channel? Should you stick to Instagram? The jury is still out on whether blogging is a dying field. But I did appreciate this post by Geneva on why your blog is more important than ever: "Your blog is invaluable because it's your own little piece of the internet". It's one of the few mediums where the quality of the content matters and you are not beholden to the whims of a specific platform.
But how do you scale beyond the blog? "Scaling Beyond the Blog" featuring legends, Peter Meehan and Joy the Baker was one of my favorite panels at the Saveur blog awards. During the panel, they talked a lot about the hard business of writing and publishing cookbooks. Their advice was consistent with Nik Sharma's great blog post on the topic. Find an agent. Write a book proposal. Work with a publisher that respects you.
 Pay your bills first and plan ahead. So does that mean you give up your job and start working on a book proposal? Not so fast. Nadya Agarwal, editor at Kajal and Natasha Sumant of Gundi Studios at a recent conversation in DC explained to me that nearly all creatives had a roster of steady, boring clients that paid the bills. Agarwal said that nobody talks about that work on Twitter because it's not sexy but that doesn't mean it's not getting done. She also recommends locking down some recurring columns with a handful of publications before deciding to go freelance.
While blogging and gramming will continue to be slow for me for the remainder of 2018, I'm excited to take these lessons into the new year. Till then, I hope everyone in the US had a lovely Thanksgiving. If you haven't already, do check out this gorgeous turkey by my friend Sarah Mir at Flour & Spice and Kathryn killing the game over at Cardamom and Tea.
I also want to put a plug in for some of these very cool blogs I learned about while in Memphis: Kitchen Unnecessary, an inspiring video series on cooking outdoors; Alexandra's Kitchen, really accessible and fun seasonal recipes; homegirl Tea for Turmeric for healthy South Asian recipes; Feasting At Home for beautiful, internationally-inspired recipes; 2foodtrippers for travel guides; To What Place for her gorgeous photographs and guides on destinations less traveled; Cahier No. 1, Vanessa's amazing mission to catalogue her Haitian grandmother's recipes; Jun and Tonic for a creative and modern take on Asian recipes; Foods Before Dudes, so original and delightful, go check it out for yourself; Cooking for Elephants, beautiful Chandigarh-based but multicultural food blog; and of course, all my phenomenal co-finalists: Kitchen Butterly from Nigeria who won Reader's Choice; favorite Cardamom and Tea; The Curious Appetite on Italy by the lovely Coral; Viet World Kitchen and the gorgeous A Kitchen In Uganda.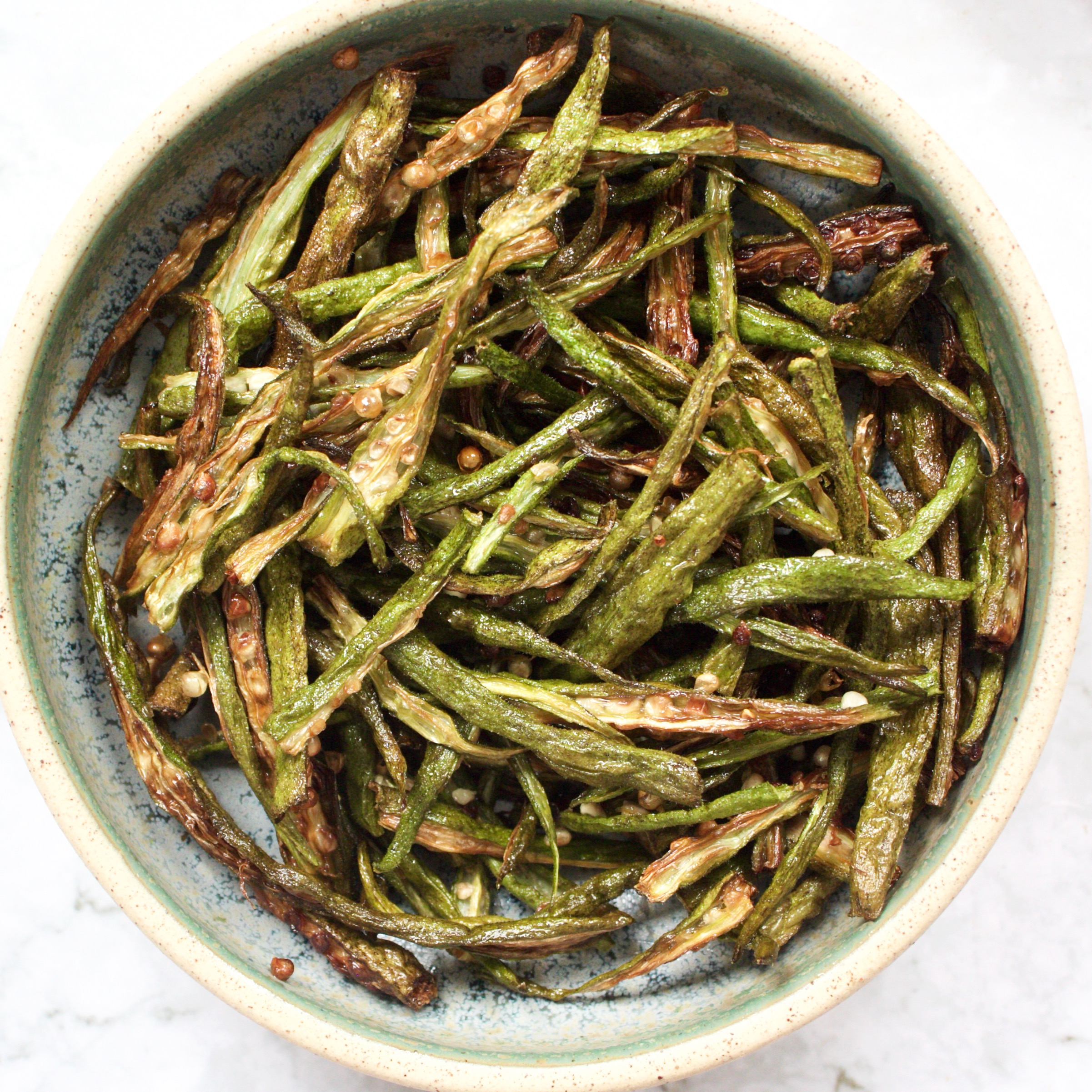 What to Serve with Kurkuri Bhindi?
My mother would always this fried bhindi at a dinner party. Everybody loves fried okra. Think of it like kale chips. It also goes well with a multitude of dishes. Ami would nearly always serve it as a side with chicken or mutton roast and vegetable rice. I like to serve it with these baked chicken drumsticks (also inspired by my mom); and a simple matar pulao (pea pilaf).
Tips on Preparation
Preparing the okra: It's is definitely time consuming. Here I prepped it the way my mom does, by cutting the okra length wise into tiny strips. If I have time, I do six lengthwise; or I just stick to four. Given the large volume of okra you have to slice to get any meaningful serving of fried bhindi, it can take a long time. Feel free to cut the okra crosswise. It looks less pretty but is still a welcome addition to the table.
Frozen okra won't work: Unlike bhindi masala, this recipe definitely requires fresh okra. The appeal of this dish is that the okra is crispy, and it would be near impossible to get the same texture with frozen okra.
Quantity of oil: The quantity of oil you use will depend on the size of your skillet or wok. I use the smallest saucepan I have so I can use a smaller quantity of oil. Of course, that also means it takes much longer for the okra to fry because I have to do it in smaller batches. Whatever pan you use, just make sure that the oil is at least 2-inches deep.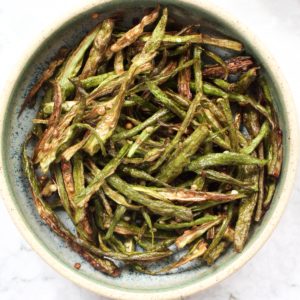 Kurkuri Bhindi (Crispy Okra)
This crispy kurkuri bhindi is one of my mother's specialties. It's a delicious side that she would frequently serve alongside lamb roast and fried rice.
Ingredients
2

lbs.

okra

1-2

cups

neutral oil

(canola/sunflower/vegetable)

¾

teaspoon

coriander powder or to taste

¾

teaspoon

salt or to taste

Juice of 1 lemon
Instructions
Thinly slice each okra length wise in 4-6 parts. Spoon out the seeds where you can.

Heat a non-stick wok, saucepan or skillet. Add oil until it's 2-3 inches deep. Let it heat for a few seconds. To check if the oil is ready, drop an okra to see if it rises.

Bring heat to medium-low and fry the okra in batches. Don't overcrowd the pan. Fry until it browns slightly and becomes a deeper forest green. Make sure it doesn't burn.

Drain on a paper towel. Season with salt and coriander powder, and gently mix well.

Top with lemon juice right before serving.