Jump to Recipe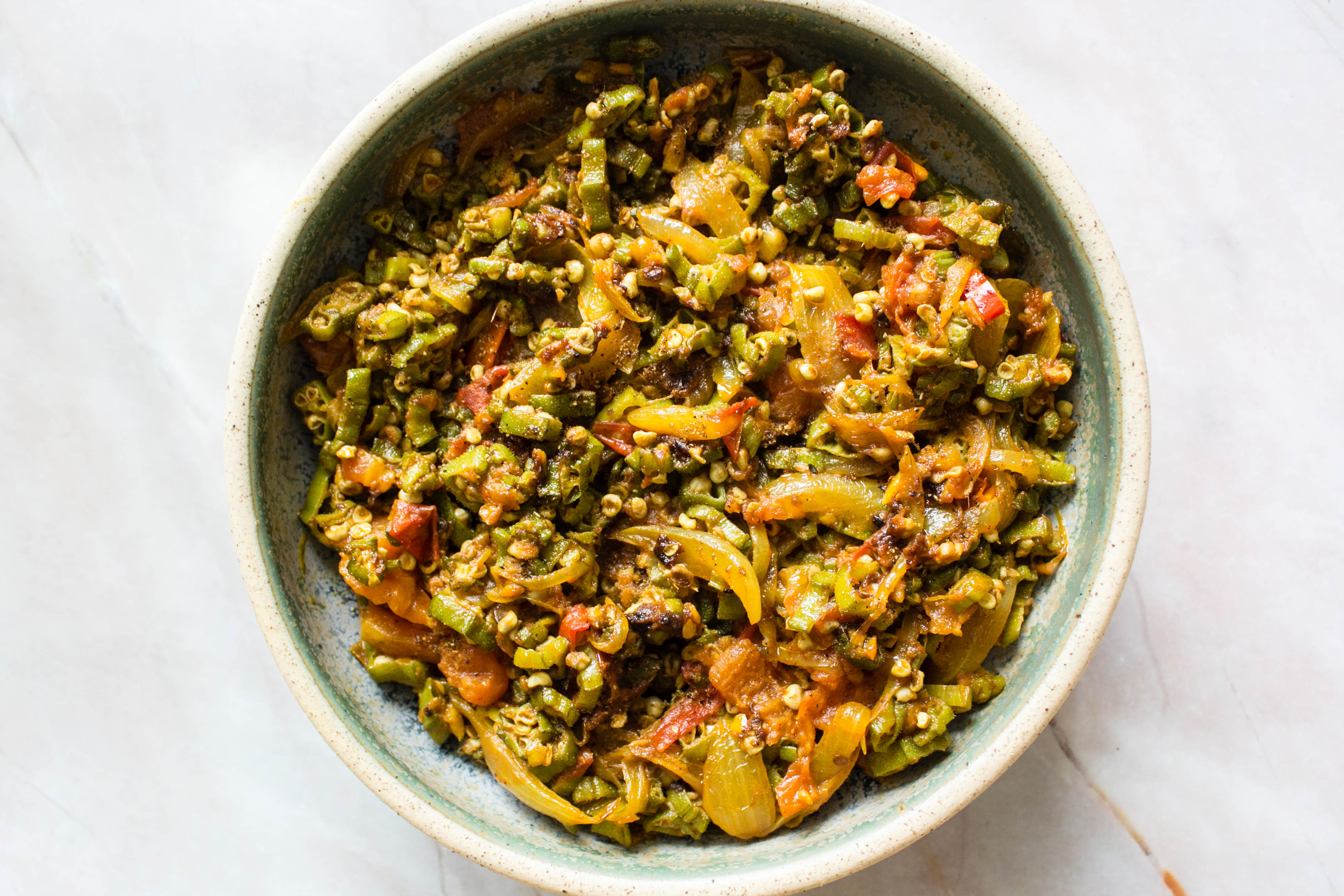 Jump to:
I'm a little embarrassed that it took me this long to post a bhindi masala recipe given it's such a sub-continent classic. Like aloo sabzi and masoor ki daal, bhindi masala is a staple in the Jillani home – the kind of dish you take for granted growing up but miss it as soon as you stop getting it. Bhindi hits home every time I make it. I adore it alongside daal chawal, but also really enjoy it by itself with roti.
Bhindi or okra has a cult following, and it is enjoyed in a wide variety of ways. My favorite way to have it is deep fried like here, but that's more of a snack or fun dinner side rather than a substantive dish that can be had on its own. This bhindi masala is a very classic recipe – there are several very similar variations of it across homes (and blogs!) There may be a few tweaks in the spices and proportions use but by and large, the fundamentals are the same: a tomato-onion base spiced with turmeric, red chili powder, coriander or cumin powder (or both) mixed in with pan-fried bhindi.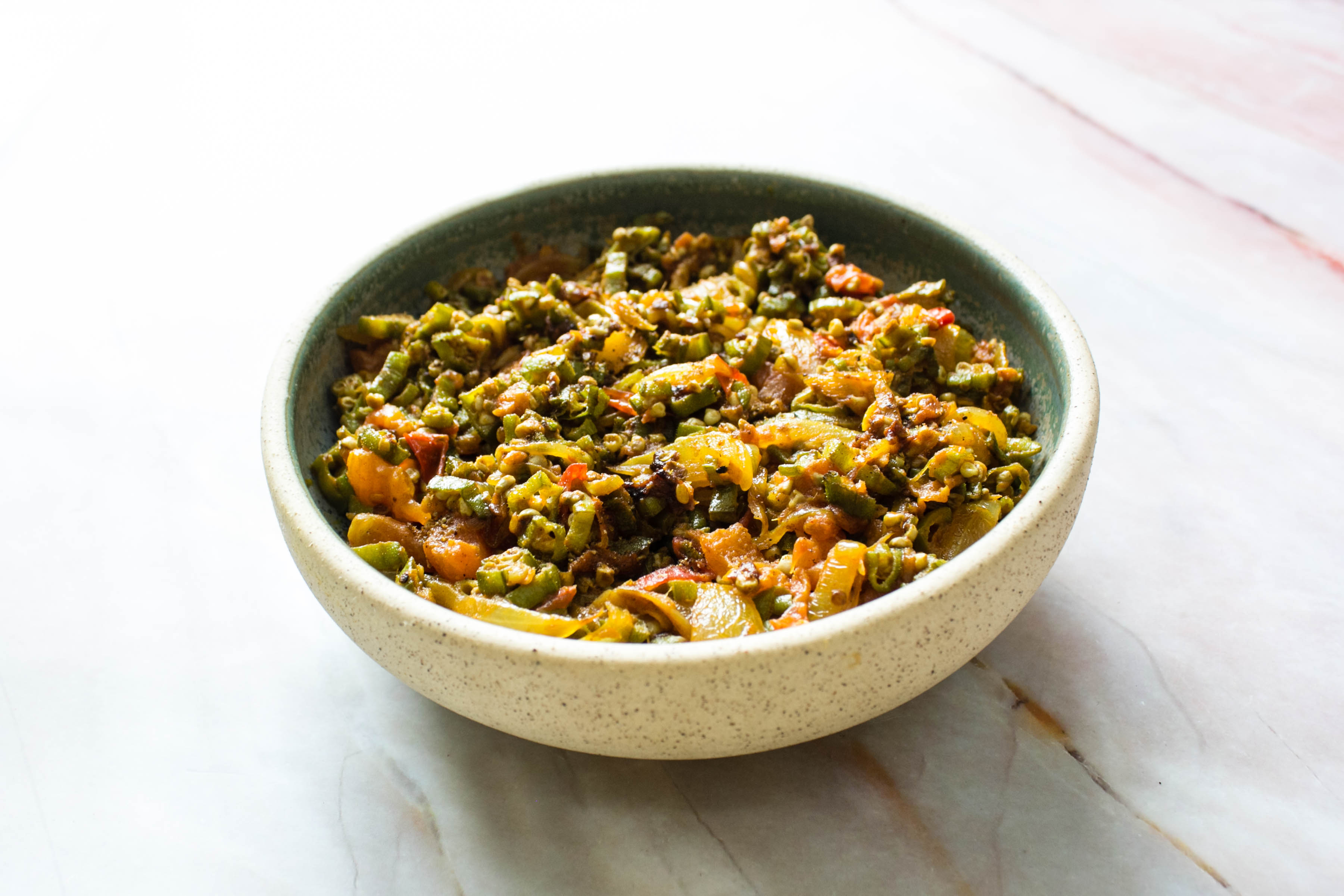 How to Make Bhindi
This is a fairly simple dish but if you are making okra this style for the first time here, are a few things to consider:
Cutting okra is very time-consuming. There is no shame in using cut, frozen okra that you can sometimes find at the grocery store. You may want to thaw it before frying, noting that the cooking time will vary if you use frozen okra.
I used a carbon steel wok to prepare the okra. I personally find it easier to use a rounded pan because I find that the oil goes further, allowing me to reuse it for the tomato-onion base.
It took me about 10 minutes to fry the okra on medium heat until it stopped being sticky. Some people like to continue to fry the okra until it becomes a deep forest green. For me, it was more important that the okra was cooked enough to stop sticking but retained its shape. How long it will take depends on both the okra and the pan.
I know it can get confusing when we say 1 onion or 2 tomatoes given that there is wide variation in sizes. The important thing to remember is the proportion – the onion and tomato should be roughly the same weight/volume, half of that of the okra so 1:1:2 (onion: tomato: okra).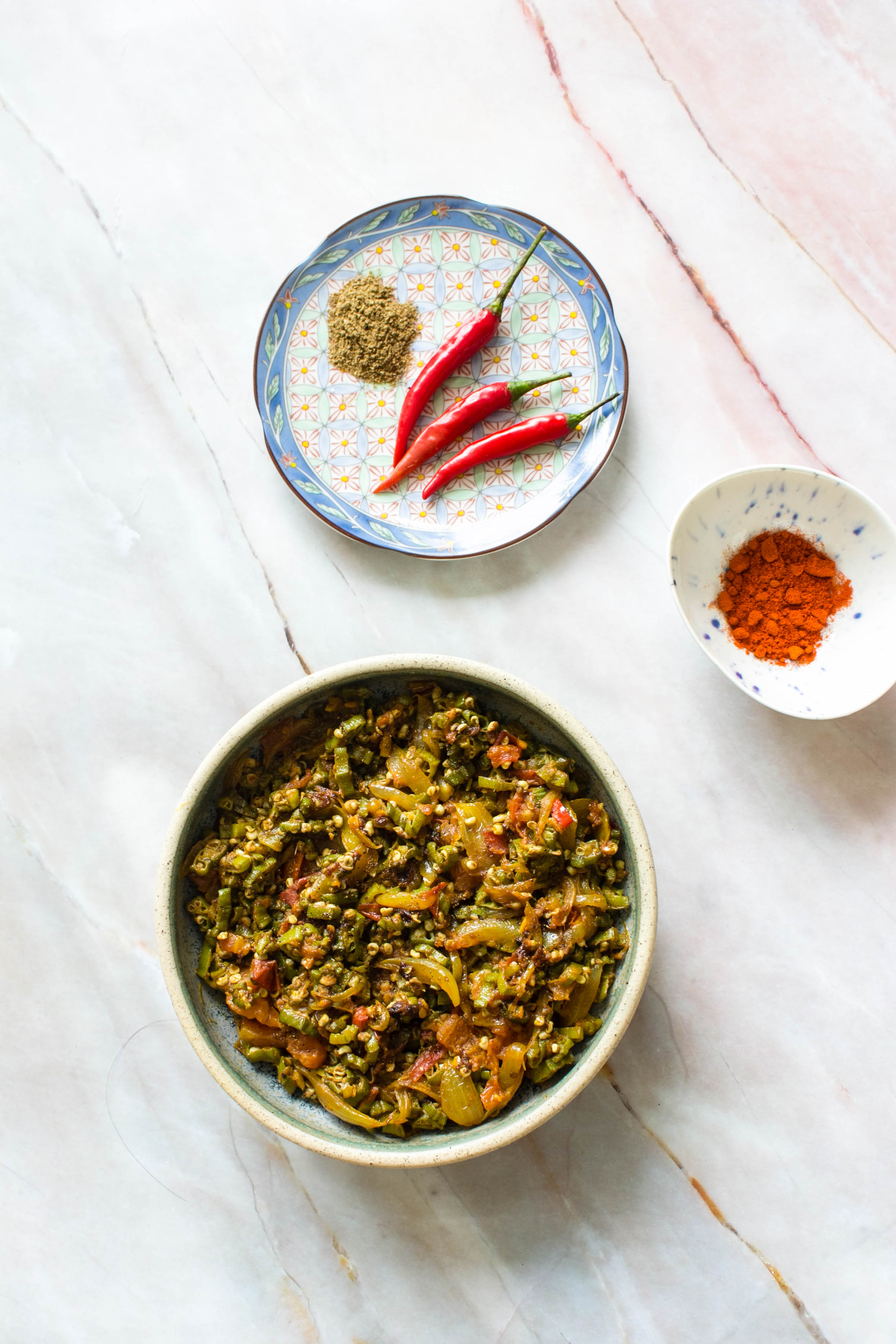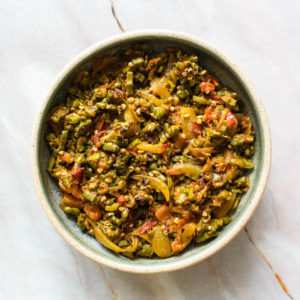 Bhindi Masala Recipe
A sub-continent classic, bhindi masala was a household favorite growing up. Okra has a cult following, and this recipe is a very popular way to prepare it in Pakistan.
Ingredients
½

cup

oil

canola/vegetable/sunflower

1

pound

okra

thinly sliced crosswise

1

medium-sized onion

thinly sliced in half rings

1

teaspoon

crushed ginger

1

teaspoon

crushed garlic

1

teaspoon

red chili powder

preferably Kashmiri

½

teaspoon

turmeric powder

½

teaspoon

cumin powder

4

roma tomatoes

roughly diced

Salt to taste

¼

teaspoon

garam masala powder for dusting
Instructions
Heat oil. Fry okra on medium heat until it stops being sticky, about 10 minutes. Remove from heat. Remove okra with a slotted spoon and drain on paper towel.

Reheat oil and add onion. Fry on medium-low heat until translucent and soft, about 7 minutes.

Add ginger and garlic paste, and fry 30 seconds – 1 minute.

Add ground spices (red chili, turmeric and cumin powder), and fry 30 seconds – 1 minute until aromatic. Add a splash of water to deglaze the pan if needed.

Add tomatoes and fry on high heat for about 5 minutes until they begin to soften and break down. Add salt.

Once the masala is ready, add fried okra and stir gently on medium-low heat until well-mixed, about 2-3 minutes.

Place in serving dish and dust with garam masala powder.