Jump to Recipe
On my first day in El Paso, I was struck by the city's crisp air, and expansive horizon. In the evening, I was amazed to see the sun's soft orange glow reflect on its bare mountains, and the lights of its sister city and our new home, Juarez, sparkle across the highway.
Given Juarez's place as an industrial hub, I knew it was going to lack El Paso's quiet West Texas charm. But we heard that the pace of life was steady, and the attitude of its people, laid back. After an intense, six-year run in DC, I was on the verge of burnout, and felt ready for a change in lifestyle.
I had high hopes for my first year in Mexico. I had visions of walking into mercados with fluent Spanish, and stepping out with fresh produce every weekend. Of making tortillas at home, kneading the dough with confidence, and slapping it on the tortilla press like a pro. Of sitting under thatched roofs in Yucatan, biting into brightly flavored fish tacos. Of slickly ordering obscure mezcal labels at cool-kid-bars in Mexico City. Of me in organic caftans, my hair flowing against the backdrop of the Chihuahua desert.
Fast forward a year, I still struggle to order at restaurants; responding with a feeble, "No entiendo" (I don't understand), anytime anybody speaks to me in Spanish. I have cooked Mexican food a handful of times, each instance being more humbling than the last. I have barely traveled inside Mexico, and wouldn't know a good mezcal label if it hit me in the face. I don't own any caftans. And I am more burnt out than I was when I came here.
The past one year has been, strange.  Soon after we moved, Trump was elected President, and America began to get attacked by a steady stream of bad news. Following inauguration, the daily news of the current administration's terrifying actions compelled me to make a promise to engage in one civic action (big or small) per day.
For two months, I called my state representatives. I called my Senators. I called every other state's Senators. I trolled them on Facebook. I e-mailed them. I participated in webinars on civic participation. I attended meetings in-person. I went to rallies. I donated. I divested. I harassed my family and friends to do more.
I did this, in addition to trying to settle into my new home. Learn Spanish. Make new friends. Stay in touch with old ones. Travel for work and family. And cope with my own family's personal loss, grief, and challenges back in Pakistan.
It didn't take long for me to lose my mind. I forgot my cat in the garage for several hours. I would step out, wearing my clothes inside out.  I came close to missing several flights. I would frequently misread the gate number. One time, I was waiting to board a plane to National Airport, when my flight was to Dulles. I ran so hard to catch the correct flight, that I got a coughing fit that lasted 20 minutes into take-off.
Come March, when I had to prepare for two back-to-back work trips, and my first major event for Pakistan Eats, I decided to step back and disengage. I had to regain my balance. It worked, to an extent. I stopped "almost missing" flights, and haven't forgotten my cat, Marouf, in the garage again. But the impending sense of doom fueled by world events hasn't gone away. And I feel an overwhelming sense of failure for not having done Mexico justice.
I also can't shake off a sense of isolation that has intensified in recent months. It's reminiscent of my first couple of years in DC; when you know you are floating away from your family and friends's narrow social orbit, and see them putting you on a shelf. It's when you don't know many people in your new home, and haven't "crossed over" with the ones you do know.
After a series of awkward friend dates over a period of six years, I had finally built a community of wonderful friends in DC. I had watched the city change, and became invested in its creative growth. The pain of leaving Pakistan is still fresh in my mind, and so, when I belatedly realized I lost my second home too, I was overcome by an intense wave of loss.
So, to cope, I did what 26-year old Maryam did. I cooked, and had people over. A lot.
Back in 2011, in my sparsely furnished apartment in DC, I would serve beef qeema, and chicken karhai on mismatched bowls and plates. There would be cheap beer - Yuengling, a nod to our days in Ithaca, and a combination of Red Stripe and PBR. And Yellow Tail (obv). Sometimes, I would host brunch, and my guests would see me struggle with pancake batter. They would smile sympathetically, as they sipped on cheap mimosas out of mason jars, and chat about life in the district: work, love, foreign policy, and the like. Wine was spilled. Carpets were ruined. Friendships were made.
My hosting skills have improved since then, but I'm nowhere close to getting it down to a science. At our first gathering in Juarez, we invited a couple to try Hunza Valley's baloganze pitchu - crushed tomatoes and onions reduced on low heat, topped with a generous helping of cilantro - and girgir aloo, a hefty potato and lentil dish. I also prepared bhuna gosht - beef marinated in yogurt, brewed over the course of a couple of hours. It was my first time making it, and the yogurt coated meat did not sit well in our pan. I sheepishly placed the sad bowl of dried out meat, burnt around the edges, on the table. I probably should have let it be. One of the guests poked at it on her plate for the remainder of the meal. I have tried to be better since then.
In February, we hosted the first "Pakistan Eats supper club" to raise funds for Planned Parenthood. Saptarshi lit up our tiny charcoal grill, and got to work on beef kebabs spiced with minced ginger, garlic, and green chili. Meanwhile, I worked on getting the biryani, halwa, and condiments ready.  We hosted farewells for new friends leaving. On a Wednesday, I prepped a classic Pakistani weekday meal – my beloved chicken karhai, with spiced potatoes, and okra fried and simmered in a classic tomato and onion base, with wheat tortillas that doubled as chapattis. Our friends wrote back, saying they were grateful we got their kids to eat vegetables. I will take that as a success. We hosted our first Eid lunch. Saptarshi lit up the grill again to make kebabs, and I set some lamb to boil for a pulao. I fried eggplant to fold inside whipped, savory yogurt; and toasted vermicelli in a spoonful of cardamom-infused ghee to make sawaiyyan (vermicelli pudding). We hosted brunch. I tried my hand at pooris, which was a spectacular failure; that we served with some Punjabi-style cholay - chickpeas cooked in tamarind water, crushed tomatoes and onions infused with a generous blend of spices - and Bengali-style spiced potatoes with cauliflower.
Last weekend, we hosted the second Pakistan Eats supper club to raise funds for Topos, to support earthquake relief efforts in Mexico. It was my way of giving a little piece of ourselves to a country that I haven't gotten to know as much as I would have liked.
The menu was an adaptation of the dinner I did in collaboration with Sally's Middle Name and Pineapple DC in in May. We started with palak pakoray – spinach leaves dipped in gram flour and deep fried – served with a cilantro and mint chutney. We followed it with a kachumber salad - diced cucumber, onion, tomato and cilantro tossed with lemon juice, salt, pepper, and salad greens. For our main course, Saptarshi prepared chicken tikka, that we served with Channa pulao (chickpea pilaf), and cucumber raita. We finished it off with a classic Pakistani fruit salad tossed with chaat masala, sugar, and a little bit of orange juice.
As I walked in and out of the kitchen, heating up dishes, and bringing out the next course, I could see the wine bottle being passed around, and hear dinner chatter getting louder. Saptarshi and I quickly glanced at each other, and smiled. We have been here before.
It just so happened that New York Times Magazine came out with this gorgeous interactive feature on the dinner party by their Eat columnists today. Their writers have articulated the beauty and joy of hosting much more elegantly than I have. This sentence from Gabrielle Hamilton though, especially spoke to me, as I wrapped up this post.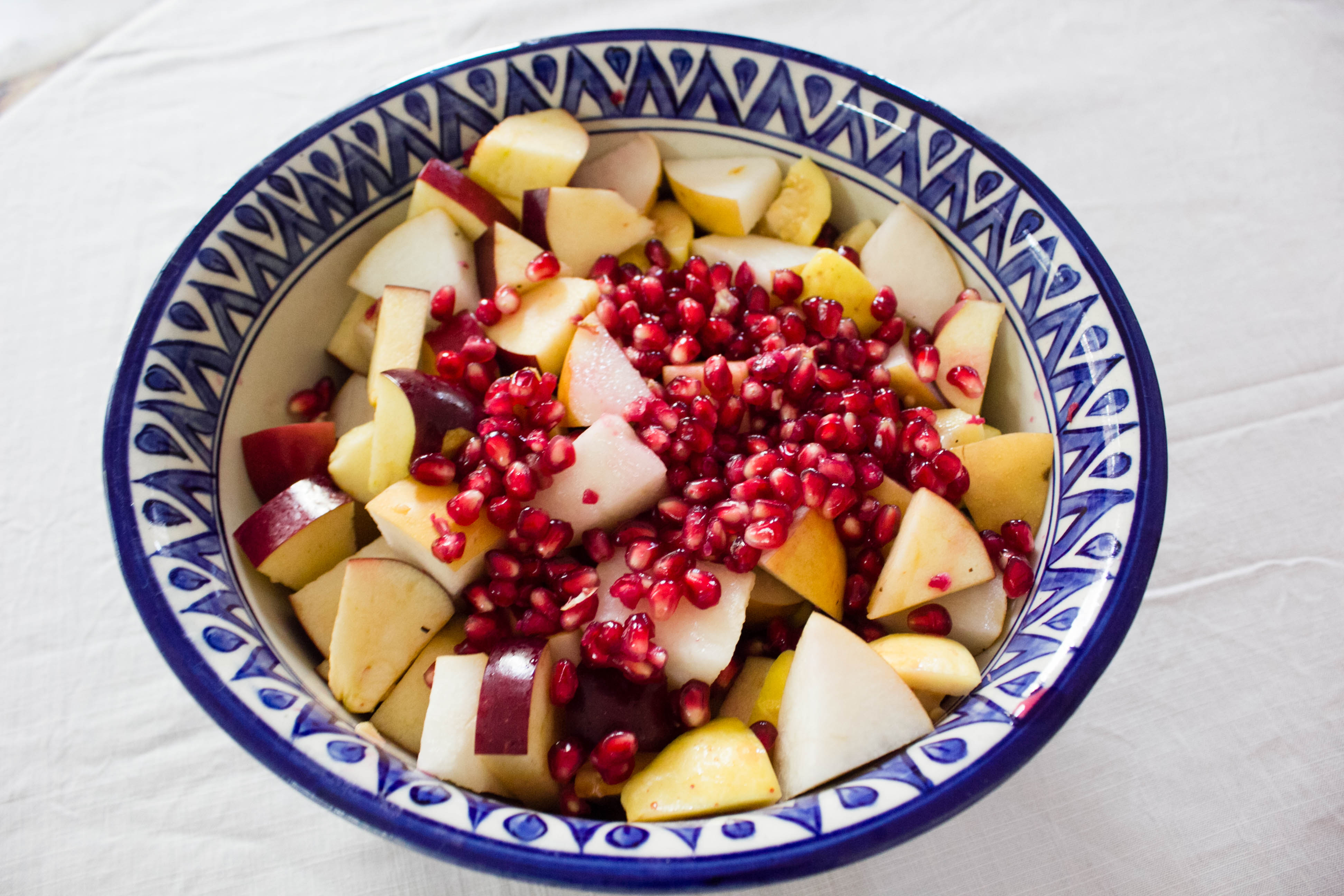 I had gotten the idea of serving fruit chaat as dessert from Come Con Ella's Instagram. I'm a lousy baker, and since one of our guests was vegan, the idea of serving a fruit chaat appealed to me. After seeing guavas at the market, a classic Pakistani fruit chaat seemed like the logical choice.
We typically serve fruit chaat at Iftar during Ramazan, but I think it also makes for a nice, no-fuss finish to a heavy meal. We tried serving it with vanilla ice cream, but it was an awkward fit - I won't recommend it.
Disclaimer: I made this recipe on the fly. The good thing about fruit chaat is that you can taste and adjust depending on your preference, as you go along.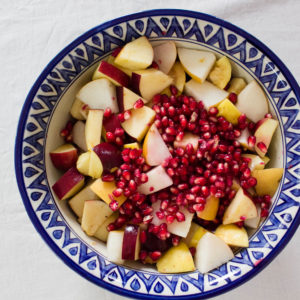 Fruit Chaat
Ingredients
2

Honeycrisp apples

diced in roughly 1-inch pieces

6

guavas

diced in roughly 1-inch pieces

Seeds of 2 pomegranates

2

bananas

sliced crosswise, roughly 1-inch thick

Juice of one orange

1

– 2 tablespoon of fine sugar

Salt and pepper to taste

use with restraint since chaat masala is already salty

1 ½

teaspoon

of chaat masala
Instructions
Throw chopped fruit in a large bowl. Season with salt, pepper and chaat masala. Stir, taste, adjust.

Squeeze the juice of the orange on the salad, and stir to coat.

Sprinkle sugar, and stir to coat again.

Taste, and adjust.