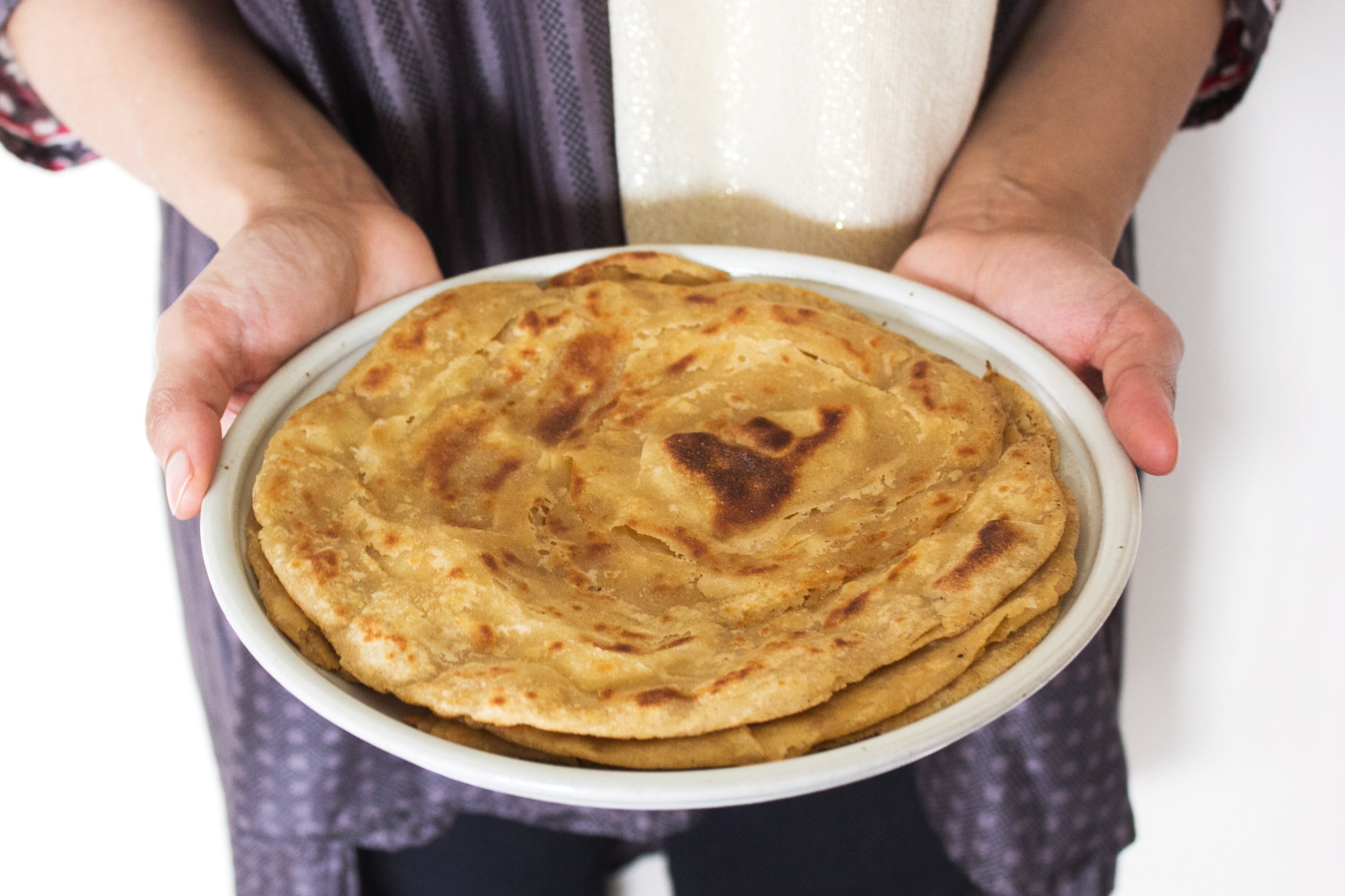 The past year has been one of the most difficult in recent memory, and cooking did very little to fix it. Previously I have written about how cooking and hosting served as a balm when I felt uprooted and disoriented. This time round, cooking became a chore. I would squeeze it in between long work weeks and when I did, it wasn't even very good. Multiple recipes failed leading to a negative spiral that impacted my confidence as a cook and a blogger. I could no longer turn to my kitchen for comfort. I had to turn to friends instead. This post is a little 'thank you' note to one of them: Izzah, a talented blogger and chef, and definitely one of the bright spots of an otherwise tough year.
I had the great pleasure of meeting Izzah in person during the Saveur blog awards in Memphis last fall. I had been in touch earlier that year regarding a piece I wrote for NPR on Ramadan and wellness, and was already touched by her warmth and sincerity over the phone. And of course, she more than lived up to it in person. Her and her husband instantly reminded me of the generosity I associate with Pakistanis, insisting they drop me at the hotel every time I had to walk late after the night's events. When I visited Houston for Thanksgiving and asked Izzah if she was interested in cooking something for Pakistan Eats, she not only happily and instantly said 'yes', she made me a multi-course meal as a warm welcome to her city. During my afternoon with her, she was generous with her words of encouragement as well as really sharp advice and tips that she has gleaned from growing her amazing blog, Tea for Turmeric. If there is a living, breathing model for shine theory in the blogging community, Izzah is it.
Of course, the recipe that Izzah decided to share for Pakistan Eats is emblematic of her spirit. Lachha paratha is a gorgeous layered flatbread that fills you with joy and comfort. Working with flour is definitely outside of my comfort zone but in a patient and methodical way, Izzah broke it down, empowering me to make parathas at home as well.
Here's Izzah's recipe for lachha paratha. Should we all be this lucky to have friends like her.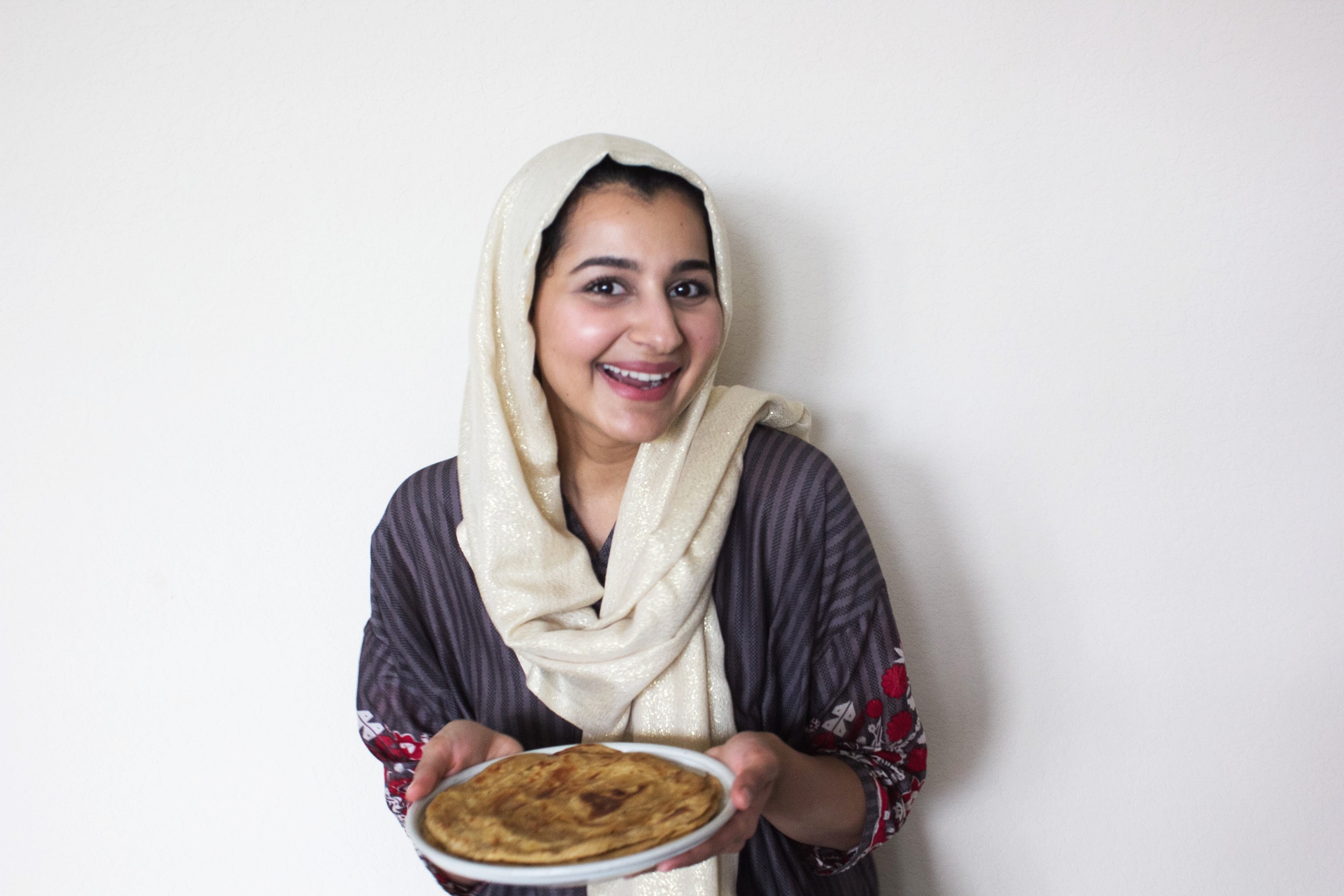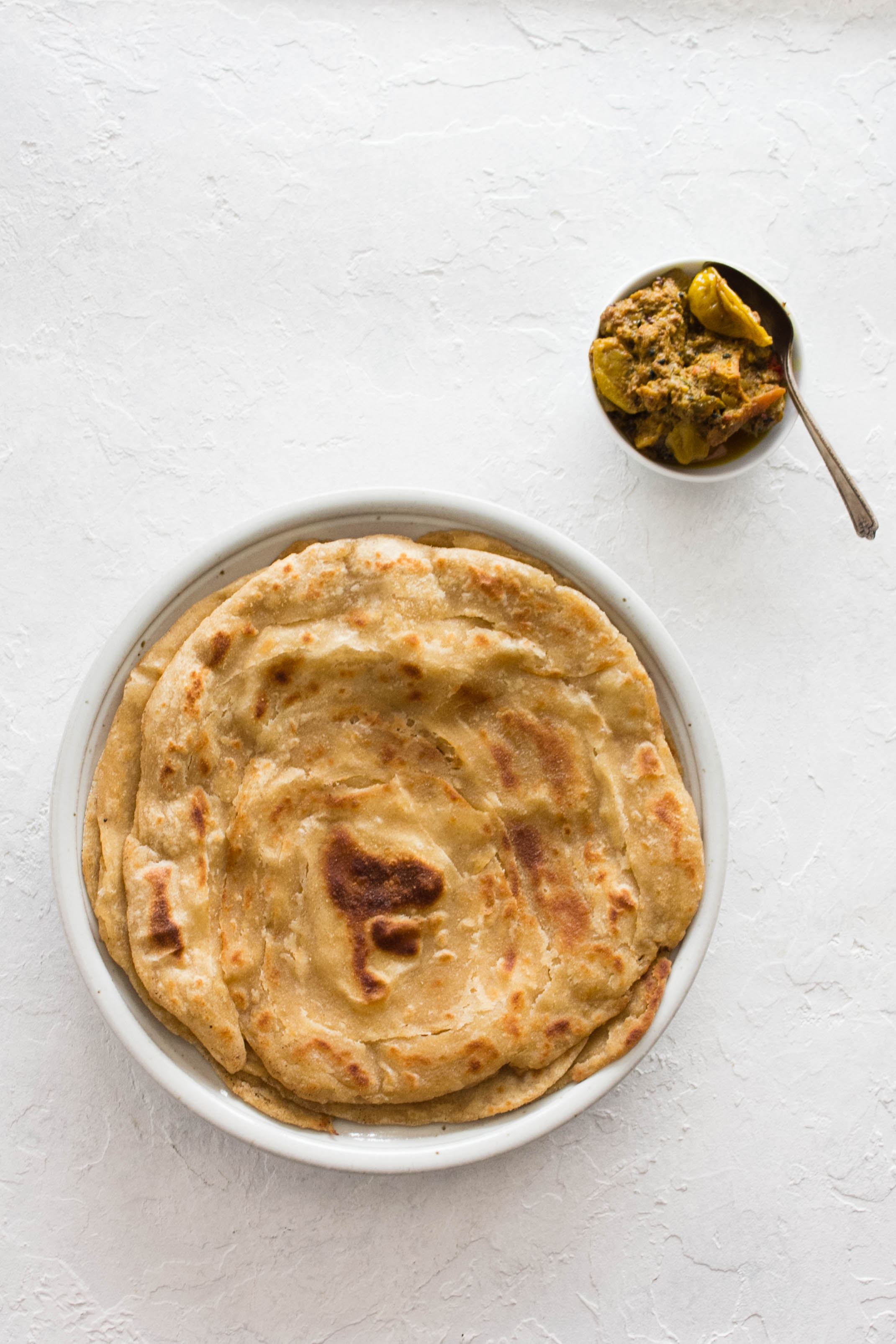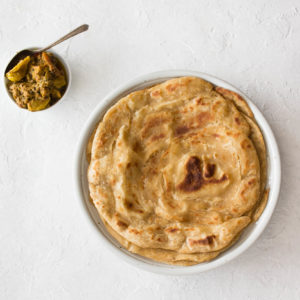 Lachha Paratha (Layered Flatbread)
Ingredients
2

cups

atta

durum wheat flour, plus more for dusting

1

cup

water

+ 2 tablespoon water if needed

¼

teaspoon

salt or to taste

Spreadable butter as needed

oil or ghee may also be used
Instructions
Combine the atta and salt in the bowl of a stand mixer fitted with a dough attachment.

Turn the mixer on to medium speed to start mixing. Slowly add in 1 cup of water, letting it mix with the dough before adding more. If the dough seems dry, add the additional 2 tablespoon of water. If it seems too wet, dust it with a little more atta.

Continue to knead on medium speed until a smooth, dry, and flexible ball of dough forms. It should start wrapping itself around the dough attachment.

Remove the dough, place in an airtight container, and refrigerate until ready to use. (It is nice, but not necessary, to let the dough rest for 10-15 minutes to allow the gluten to develop. It makes it easier to handle.)

Once you are ready to cook the parathas, place spreadable butter, atta for dusting, and a rolling pin near your workstation. Dust your fingers with the dry atta, and take a medium-sized piece of dough (around 90-100 grams) and form into a round ball. Dust the atta on both sides, pressing to form a patty about 3 inches in diameter.

Meanwhile, heat a tawa, heavy-bottomed (preferably cast iron) or flat griddle over medium heat.

While the tawa is heating, roll the paratha out to 5-6 inches in diameter and spread about 2 teaspoon of butter onto the flattened dough. If your butter is cold, dotting pieces of it onto the dough is fine too.

Fold in half from the top to the bottom. Then spread 1 teaspoon of butter onto the folded dough. Starting from the top, roll down swiss-roll style until a long log is formed. Roll this log, especially from the middle, to make it thinner and as even as possible until it's about 18 inches long. Then roll tightly into itself from one edge to another. It will look like a cinnamon roll from top. Toward the end, secure the loose end of the dough gently toward the center. Dust both sides with the atta again and roll this out once more until it is around 8-9 inches in diameter. Dust as needed while rolling and do not apply too much pressure.

Place the paratha on the hot tawa. As the bottom of the paratha begins to cook, add 1-2 teaspoon of butter to the top. Once the bottom is partly cooked (this will take about 10-15 seconds), use a spatula to flip over and add butter on the other side. Cook on both sides for 2-3 minutes, adding butter to dry spots as needed. Once the paratha is golden and crispy on both sides, remove from heat.