Jump to Recipe
Sweet dalia is a simple breakfast of cracked wheat porridge with milk that comes together in less than 20 minutes.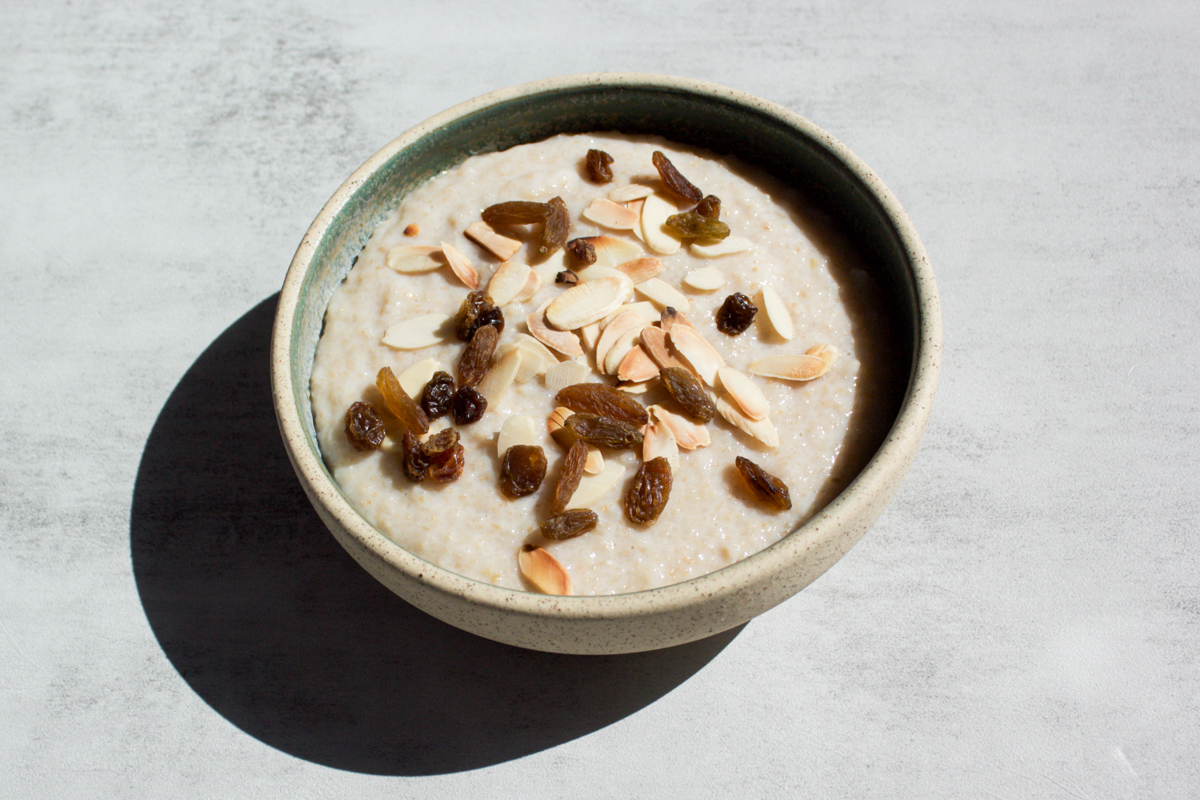 Jump to:
I ran away from porridge when I was a child. In a bid to become healthier (see healthy recipe roundup), I finally started eating oats after moving to Manila but unfortunately, I never grew to like them. While my friend Kathryn's delightful post on creamy oatmeal, and Izzah's recent post on sweet oatmeal have gone a long way in mitigating my distaste for them, it took me swapping out oats for dalia or cracked wheat to finally enjoy my breakfast porridge.
When I called up my mother to get the recipe for dalia, she reminded me that in Islamabad, our family had switched to oats a long time ago. Original dalia is made of cracked wheat, a whole wheat grain. If you, like me, are trying to reduce your consumption of refined carbohydrates, having dalia for breakfast is a great way to incorporate more whole grains into your diet.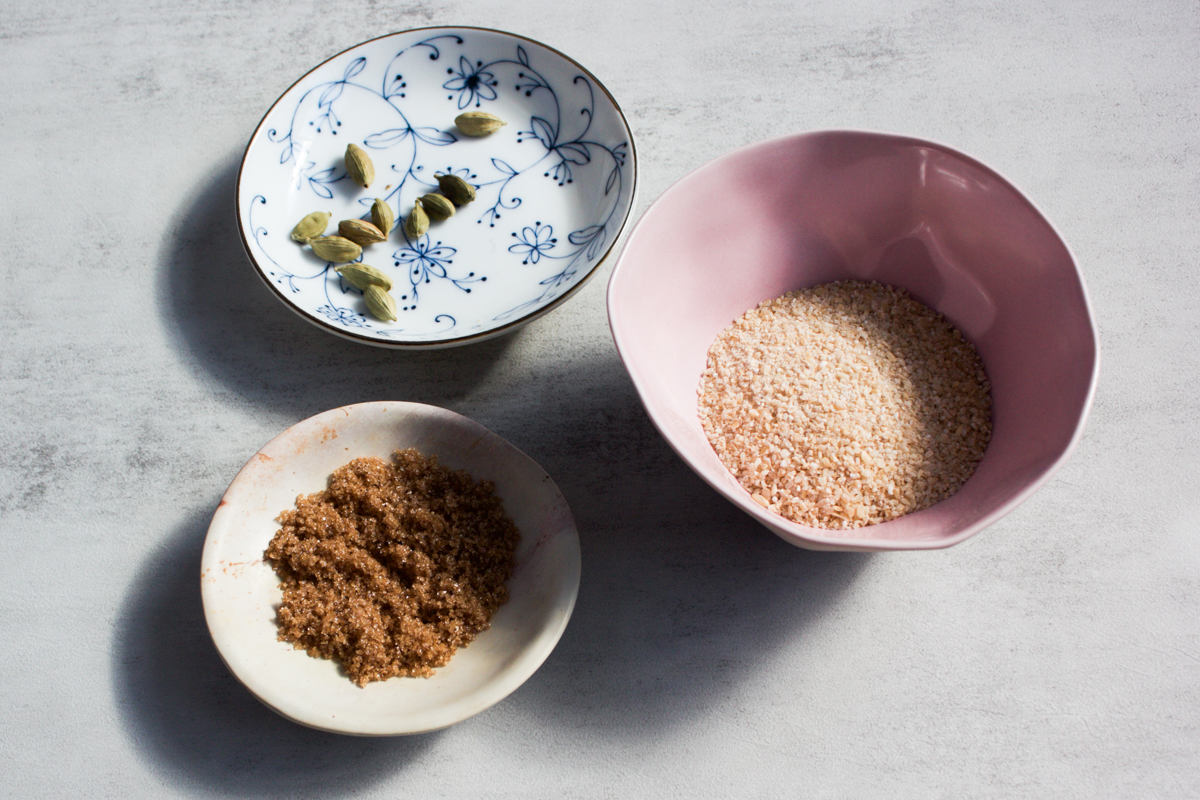 Is Dalia the Same as Bulgur?
My quick research tells me that they are similar – both are a form of whole wheat. Bulgur however, has been cleaned, parboiled, dried, and ground before packaging. Dalia on the other hand is raw. Denver Post describes dalia as "whole raw wheat berries that have been milled into smaller pieces." In appearance however, they both look the same.
Is It Healthy?
Yes! A pet peeve of mine is people who don't eat carbs. I'm really opposed to diets like keto. While they maybe effective for short-term weight loss, they run contrary to basic principles of good nutrition. What I personally instead advocate for is incorporating more whole grains into your diet. In that vein, oats, barley bulgur, dalia, millet, quinoa and farro are all great additions to your pantry.
How to Make Sweet Dalia?
Dalia can be made both sweet and savory. In a non-scientific Instagram survey, it was fun to learn about how many of my followers incorporated dalia in richly spiced goat curries (delicious!) In my family, we had a sweetened version that I'm going to share with you.
Roast the dalia on high heat: As mentioned earlier, dalia is an uncooked form of whole wheat, so it takes a two-part process to cook it. The first is roast. Here I like to add a couple of cracked cardamom pods to help enhance the fragrance.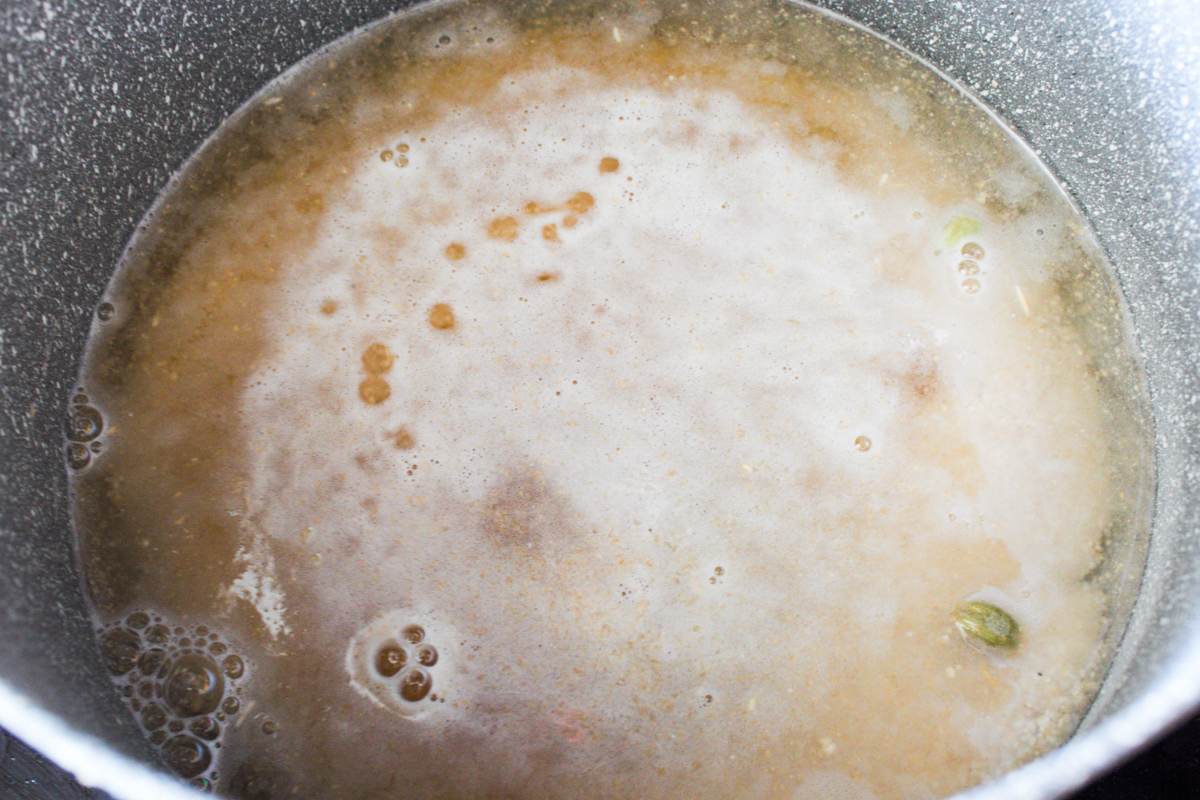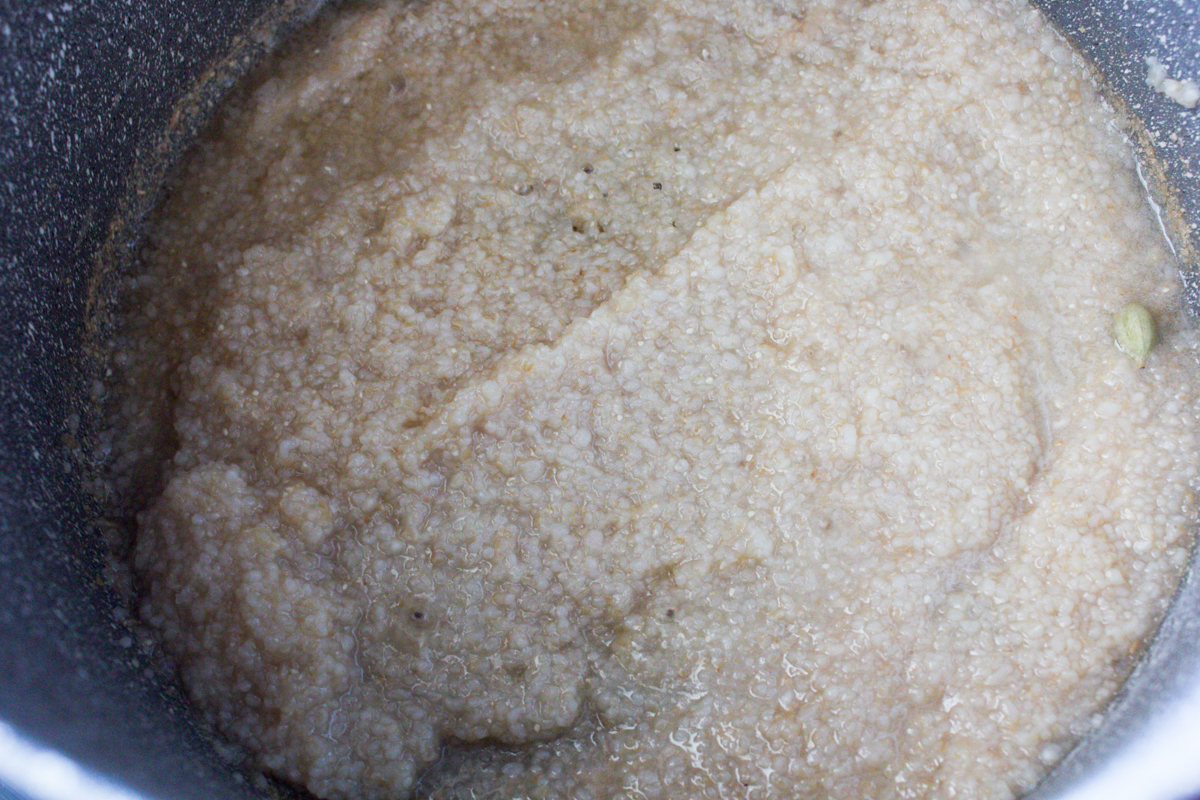 Boil the dalia in water: This is the second part of cooking it. My mother, like Kathryn here, recommends drowning the dalia in water. You don't want it to become too granular. Once the dalia is cooked, you can actually remove it from heat and place in an airtight container in the fridge for up to three days. My mother's family would reheat it, and add some hot milk and sugar on top to have it with breakfast.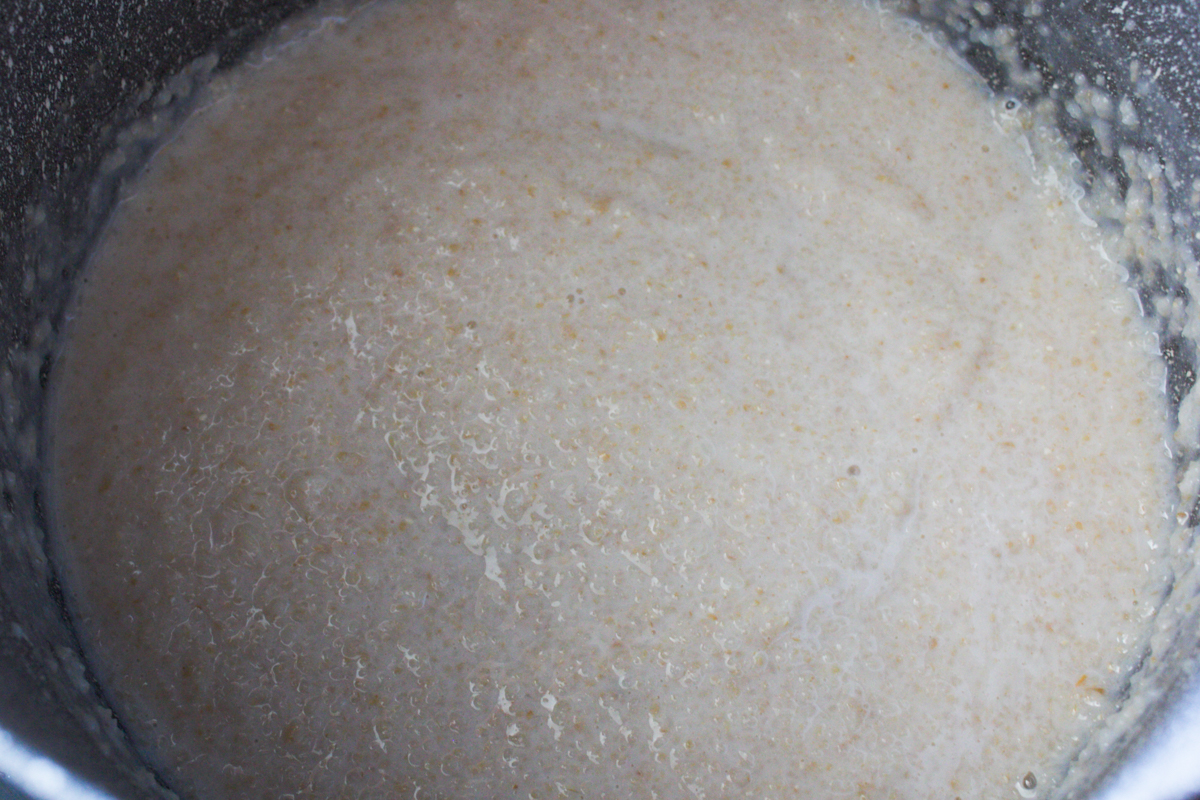 Adding milk: Once the water has boiled out, bring heat to low, and add half cup milk. I added whole cup milk but you can substitute for a low fat version. Stir until you get the desired consistency, and remove from heat. If you are adding milk at a later stage, I would recommend heating the milk first, and then adding it to the dalia.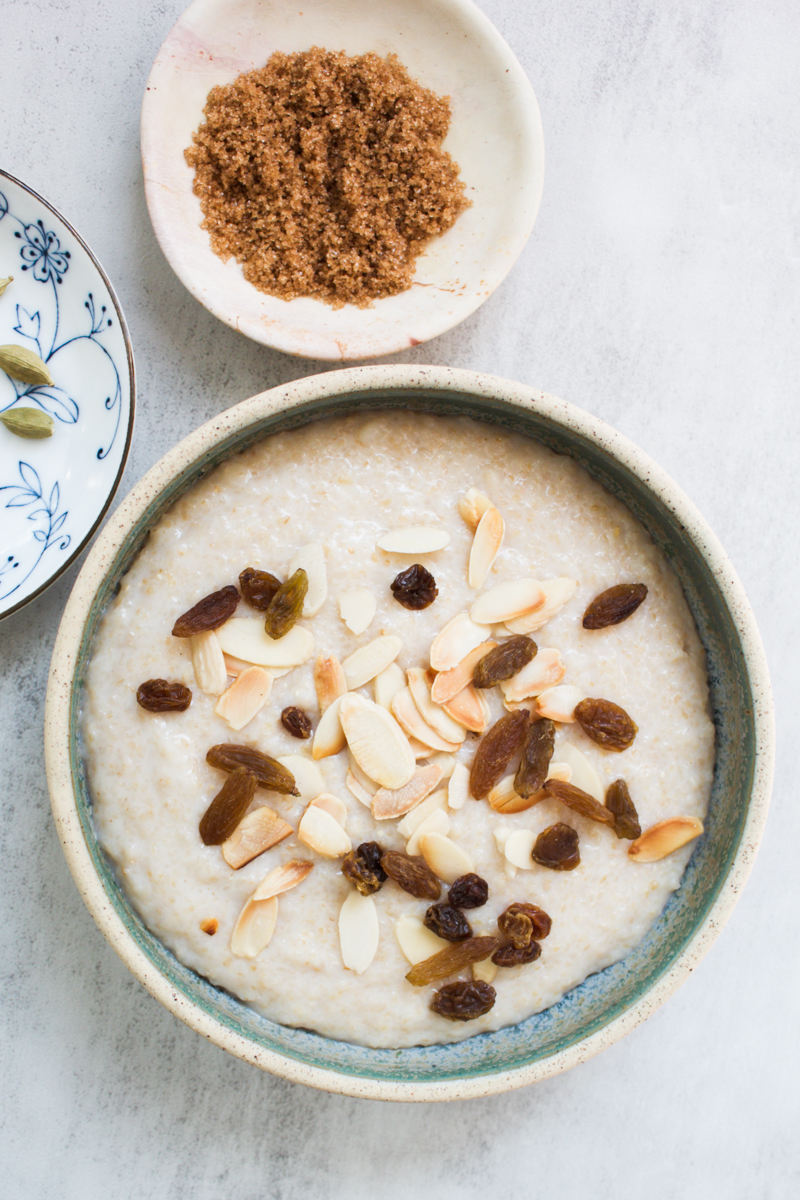 Suggested Toppings
Toasted nuts: Toasted, slivered almonds are a classic topping, but chopped pistachios work just as well!
Raisins: You can use golden, green or a mix like I did in the photo. I like to toss them in with the toasted almonds but they work on their own too.
Chopped dates: The rich sweetness and chewy texture of the dates are a lovely complement to the creamy dalia.
Sugar! My mother's family would just top their dalia with some sugar. Brown sugar or muscovado work especially well.
For more ideas, check out Kathryn's beautiful post on oatmeal, four ways where she provides some pretty inspired ideas for toppings!
More Pakistani Breakfast Ideas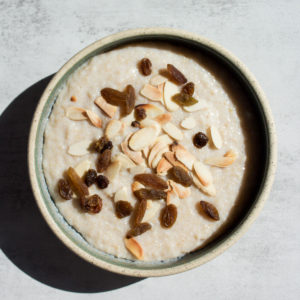 Sweet Dalia Recipe (Cracked Wheat Porridge)
A healthy breakfast recipe for sweet dalia, a comforting wheat porridge, that comes together in 20 minutes.
Ingredients
½

cup

dalia or cracked wheat

2

cardamom pods

cracked

2 ½

cups

water

¼

teaspoon

salt

1 ½

tablespoon

brown sugar or to taste

½

cup

milk
Instructions
Heat saucepan, and add dalia and cardamom pods. On high heat, roast the dalia until it changes color slightly, about 5 minutes.

Add water, salt and sugar, and bring to boil. Lower heat, and let the dalia simmer uncovered for 7-8 minutes or until the dalia is cooked, and nearly all the water has boiled out. It is important that you do not let the dalia become completely dry. During this step, keep scraping the bottom of the pot with your spatula to prevent the dalia from sticking.

Bring heat to low, and add milk. Stir vigorously for about 2 minutes or until you get the desired consistency. Remove from heat and serve immediately.