Khagina can be roughly defined as South Asian style eggs. This is a simple Punjabi variation, which incorporates a lightly spiced tomato-onion base, potatoes and fresh cilantro. It's a bright, filling breakfast that is now part of my weekly rotation.
Jump to:
I first tried khagina thanks to Shayma Saadat's recipe several years ago. While scrambled maybe my least favorite way to have eggs, the sentiment definitely doesn't apply to khagina. This is in part due to the color and flavor brought by fresh tomatoes and cilantro.
In India, the more widely used term is bhurji or akoori but you can still find recipes that go by khagina. The term maybe more widely used in Muslim households in India. There is significant variation in the recipes with the Bengal version incorporating a smoked, mashed eggplant; or this Hyderabadi take with a beautiful tadka courtesy of chef Ranveer that resembles a shakshouka.
I never grew up having khagina at home (my family's choice of eggs was either a masala omelet or fried egg with paratha.) But my mother did. This is her recipe, which incorporates potatoes. In Pakistan, this dish is mostly called aloo anday (potatoes with eggs) but it would still fall within the larger category of khagina.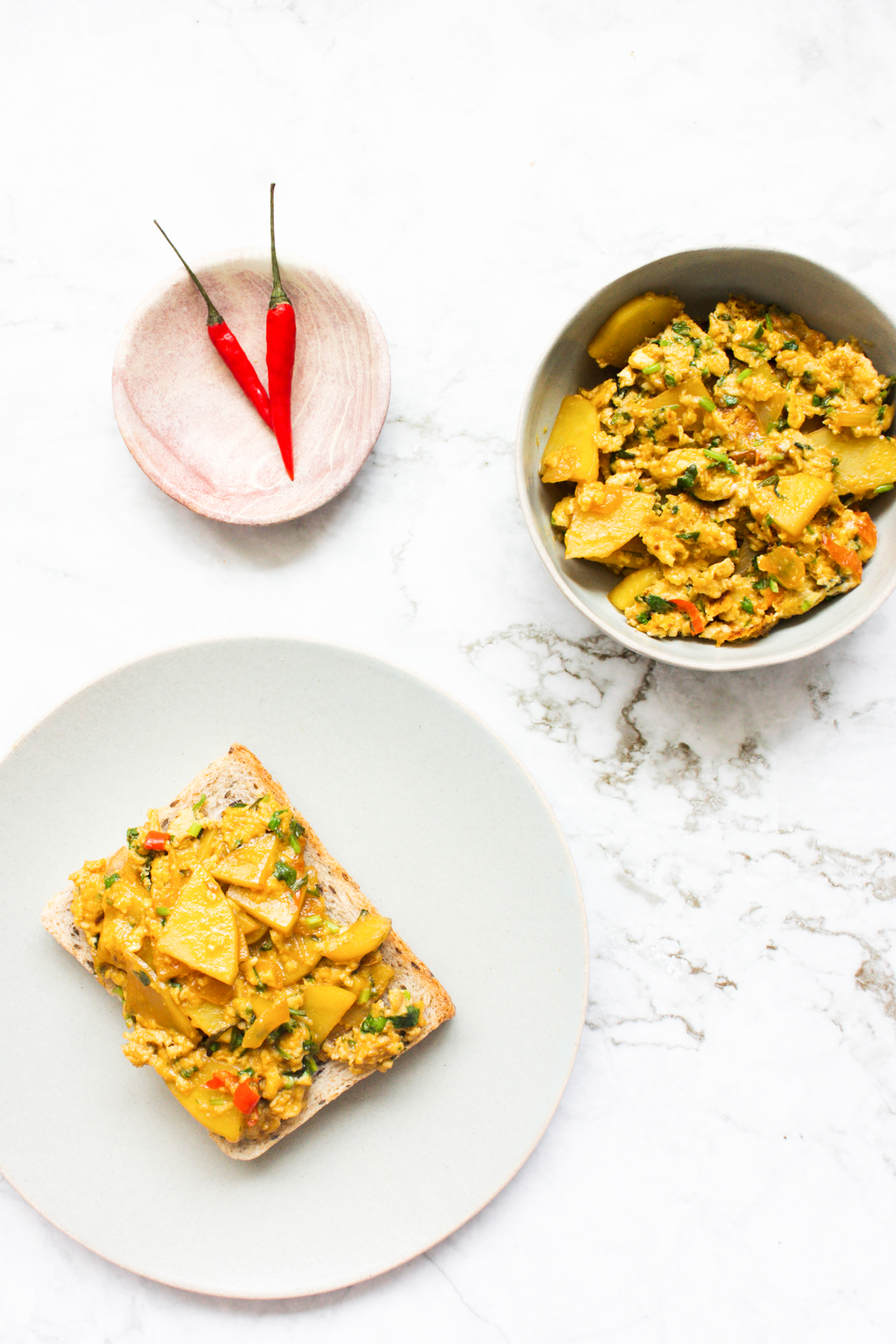 Primary Ingredients
In my quick research, I found there is significant variation in ingredients, so what makes khagina 'khagina'? In addition to eggs (obviously) here's a quick note on commonly found ingredients:
Tomatoes: This (I would argue) is an essential ingredient of a khagina. How much you cook them will depend on home to home. In South Asian cooking, we normally use roma tomatoes. Here I have preferred to keep them mostly whole, not cook them down too much.
Spices (of your choice): There is significant variation in the spices you use. In Shayma's recipe, she opted to use whole cumin seeds, which give the eggs a nice smoky bite. My mother goes for simple ground spices of chili powder (we normally use Kashmiri chili powder,) as does Sarah of Flour & Spice. Kiran of Mirchi Tales' variation is heavier on the spices, with the addition of coriander powder, turmeric powder and garam masala powder.
Whole chilies: This I would also argue is an essential ingredient. In this recipe I have used a bird's eye chili but feel free to substitute it with another more commonly available variety. Just remember to adjust for heat.
Onions (optional): Feel free to omit this ingredient but if you decide to use potatoes, I would suggest keeping it in. The onions provide a nice base for the potatoes to simmer in.
Potatoes (optional): Not all families use potatoes in their khagina but my mother's recipe does. It adds to the cooking time but gives the eggs a nice heft, making it a much more complete meal.
Cilantro: This again, I feel is a key ingredient. Cilantro adds color, freshness and flavor. While cilantro is the traditional herb of choice, play around and incorporate other herbs of your choosing (mint would be an especially lovely addition.)
Preparation Suggestions
Like all scrambled eggs, khagina comes together fairly quickly so here are some basic best practices to make sure it comes out well:
Keeping an eye on proportions: The produce I find in Philippines looks fairly different than what you might find at your grocery store. Keeping that in mind, my suggestion is to use the 1:1:2 ratio for your onion, tomato and potato. So basically, the onion and tomato mixture should be roughly the same volume as your diced potatoes.
Prep all ingredients beforehand: You have to move fairly fast so it's best if you have the ingredients lined up in order of use.
Slice the potato very thinly: Make sure you slice the potato fairly thinly ¼ inch or less thick. This will help them cook fairly quickly and prevent the dish from overbrowning.
Cooking and Serving Tips
Use a nonstick skillet: This maybe obvious to many but just want to reiterate the importance of preparing your scrambled eggs in a nonstick skillet to get the right fluffy consistency.
Salting: J. Kenji López-Alt in this piece on the "best scrambled eggs" recommends adding salt to the whisked eggs in advance of cooking them. But since we are preparing the eggs on top of a masala base, I definitely recommend adding salt to the potatoes. The blandness of the potato masala base would otherwise really undermines the overall finish of the dish.
Cooking the eggs: After browning the onions and potatoes, I bring the heat to medium-low to low before adding the eggs. I don't stress too much about how fluffy I want the eggs to be. But I definitely don't want them coming together to form an omelet, so make sure you are constantly break them with your spatula until they just about set into soft curds.
Serve immediately: This dish has to be served straight away. While I have had leftover khagina for lunch, it doesn't compare to what comes right off the stove.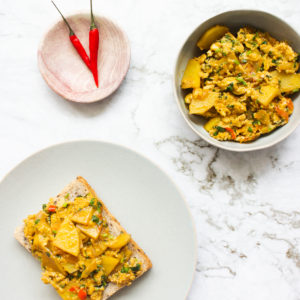 Khagina Recipe
A quick recipe for khagina, Pakistani style scrambled eggs with potatoes. A bright and filling breakfast that you can enjoy with a side of roti or bread.
Ingredients
4

tablespoon

neutral oil

canola/sunflower/vegetable

¼

onion (roughly 2 ounce or 57 grams)

roughly diced

½

teaspoon

turmeric powder

1

teaspoon

red chili powder

preferably Kashmiri red chili powder

1

small potato (roughly 4 ounce or 113 grams)

thinly sliced

1

roma tomato (roughly 2 ounce or 57 grams)

roughly diced

½

bird's eye chili

finely chopped

Salt to taste

4

eggs

lightly beaten

½

cup

cilantro finely chopped
Instructions
In a nonstick skillet, heat oil. Once it begins to shimmer, add chopped onion and fry on medium heat until translucent, about 5-7 minutes.

Add turmeric powder and red chili powder, and fry on medium-low heat until fragrant.

Raise heat to medium-high. Add chopped potatoes, tomato and green chili, and begin to fry until the mixture is well-coated in the masala, and potatoes are done, roughly 10 minutes.

Lower heat to medium, and add eggs and cilantro. Moving quickly, break the eggs with your spatula as they are setting to form small, soft curds. Remove from heat if necessary to prevent eggs from overcooking.

Remove from heat and serve immediately with roti or any bread of your choice.