Jump to Recipe
This masoor moong daal recipe is a great way to switch up your weekly daal rotation. The addition of tomatoes and onions adds a bit of heft, and the incorporation of kadi patta brings a beautiful tartness. Topped with a smoky and spicy tadka of cumin and mustard seeds, and dried red chilies, you will find yourself a daal recipe you can't stop making.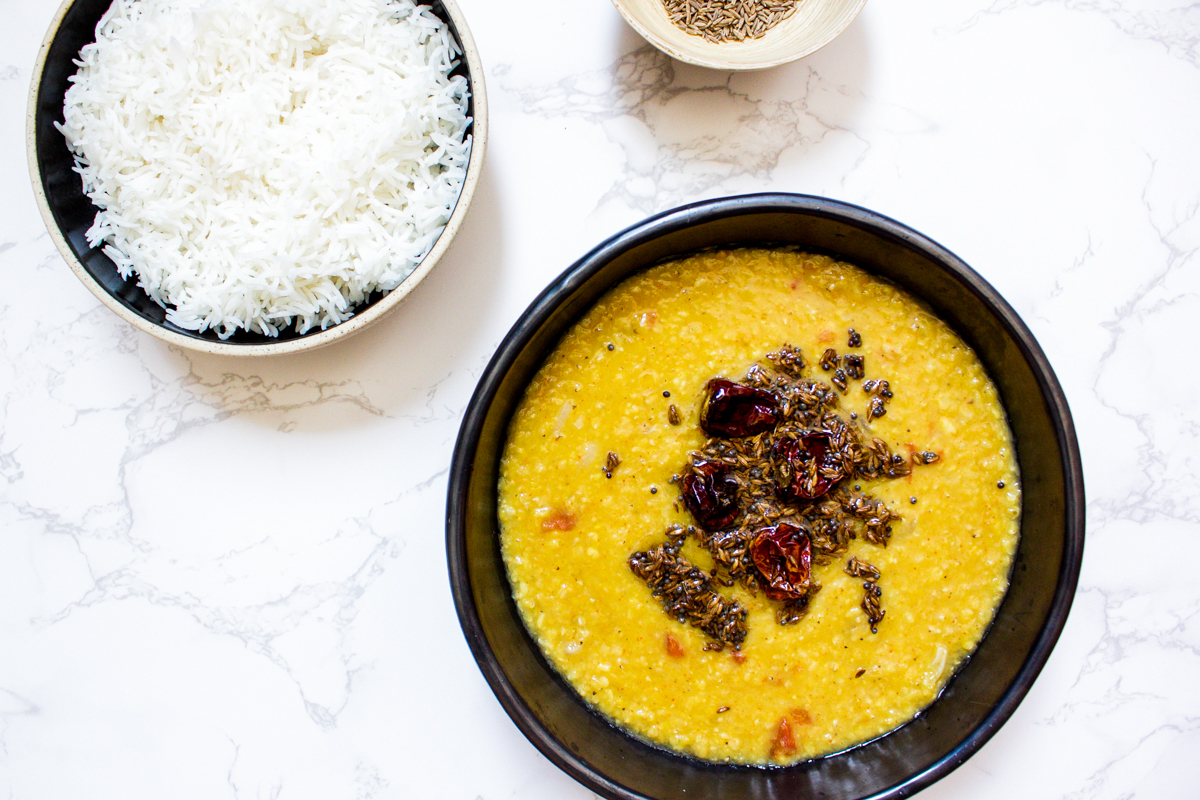 Jump to:
Back in November 2017, I wrote about my love for Karachi and its food for TASTE, and shared the recipe of my aunt's moong and masoor daal. I grew up in Islamabad, and went to college in Lahore. It was only in 2015 that I began to visit Karachi for work, and became infatuated with its chaos and grit. My quick affection for Karachi however, did not really come as a surprise. I have always had a special place in my heart for its residents. Their easy confidence, cosmopolitanism, work ethic, and no-fuss attitude have always served as an important counterweight to the provincialism I found in my hometown.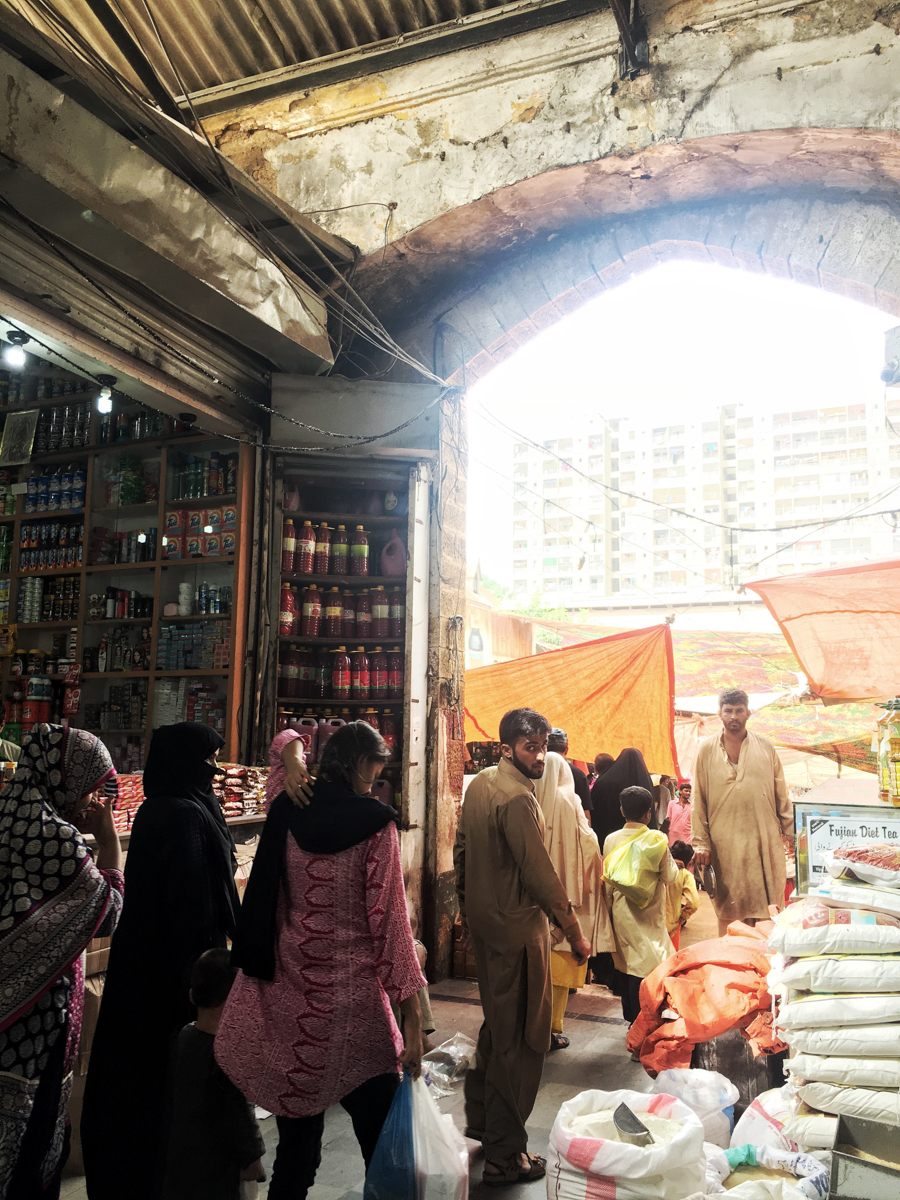 My love for Karachi also extends to its food. While street food has always been famous, I really enjoy Karachi home cooking as well. Since starting the blog, I have frequently looked to my Karachi friends and family for recipe inspiration. See my friend, Erum's mother's baghara baingan, and gawar sabzi; and my aunt's gujarati aloo.
The same aunt also showed me how to prepare this mixed moong and masoor daal that she learned from her Gujarati friends. The daal that I grew up eating was either green lentils (kaali daal) or simple red lentils (masoor daal), boiled with some turmeric and red chili powder. This mixed daal has more texture and flavor. It takes a bit longer to cook, but I recently tested the recipe with Instant Pot, and it came out beautifully in less than 15 minutes.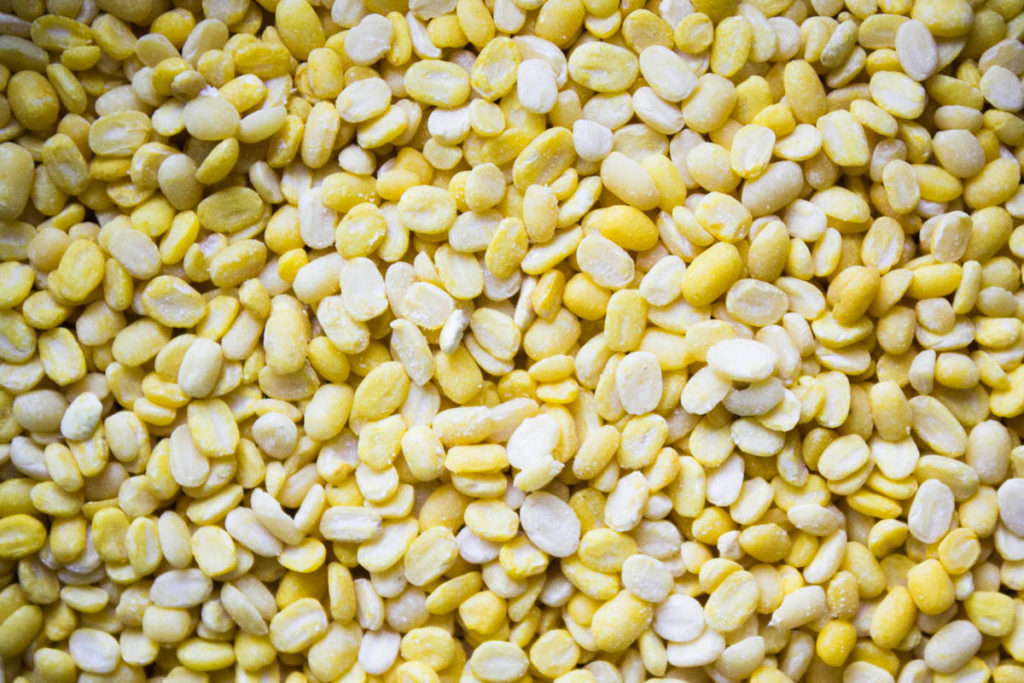 About the Ingredients
Masoor daal (red lentils): These are the bright orange lentils that you can find in most grocery stores. They cook quite fast compared to other lentils, and have a gentle, earthy flavor.
Moong daal (yellow lentils): Moong daal is mung beans (green from the outside), split with the skins removed. It has a lovely sweet flavor but takes slightly longer to cook. You may need to visit a specialty South Asian store to find moong daal.
Crushed ginger: You can buy this from the store or you can peel and crush a knob of fresh ginger at home. I like to make a small batch using a food processor, and store it in an airtight container with a dash of olive oil to make it last longer.
Crushed garlic: Again, you can buy this from the store or just peel and crushed 2-3 cloves using a mortar and pestle or food processor.
Kadi patta (curry leaves): These leaves add a lovely tartness to the daal. They however, can be tricky to find. South Asian groceries stores in the U.S. run out of them pretty fast! If you are lucky enough to find some, buy a big batch, and freeze them. I have listed them as optional in the recipe because even though they are that extra special ingredient, I have made this daal without them several times, and it's still delicious.
Red onion: These bring a peppery, spicy flavor to the daal; and add some heft to the overall dish. If you don't have red onions, you can omit them. If you want to swap them out for a yellow or white onion, just note that it will slightly sweeten the flavor of the daal.
Roma tomato: The addition of a ripe roma tomato helps deepen the tanginess of the daal, and again, give it a bit more texture. In Pakistan, we normally prefer roma tomatoes because of their low moisture content, but you can also swap it with any more easily available variety.
Ground spices (turmeric and red chili powder): Both will add color to the daal. The red chili powder will of course, add some heat as well. I generally prefer to use the Kashmiri red chili variety because of its bright color, and mild taste. If you decide to use ground cayenne red pepper, you may want to reduce the suggested amount to adjust for heat.
Bird's eye chili: This is what brings real heat to the daal. In the original recipe, I had listed two but sometimes, they can be quite hot; so I dialed it down to one. You can also swap out the chili for a more easily available local variety. Just remember to adjust for your preferred spice level.
Mustard seeds: These will be used for the tadka towards the end. I typically use the black variety. If you don't have any on hand, you can always use your preferred variation of tadka (see notes below).
Cumin seeds: These come right after the mustard seeds, adding a nice smoky tinge to the tadka.
Whole red chiles: In Pakistan, we normally use the indigenous round ones (dundicut peppers). They are an excellent addition to your pantry if you can find them. If I can't find them, I just swap them for a locally available variety of dried chili – in the U.S., it was normally the long dried red chilies found in Central American grocery stores. In the Philippines (pictured in the photos), I used a Japanese variety.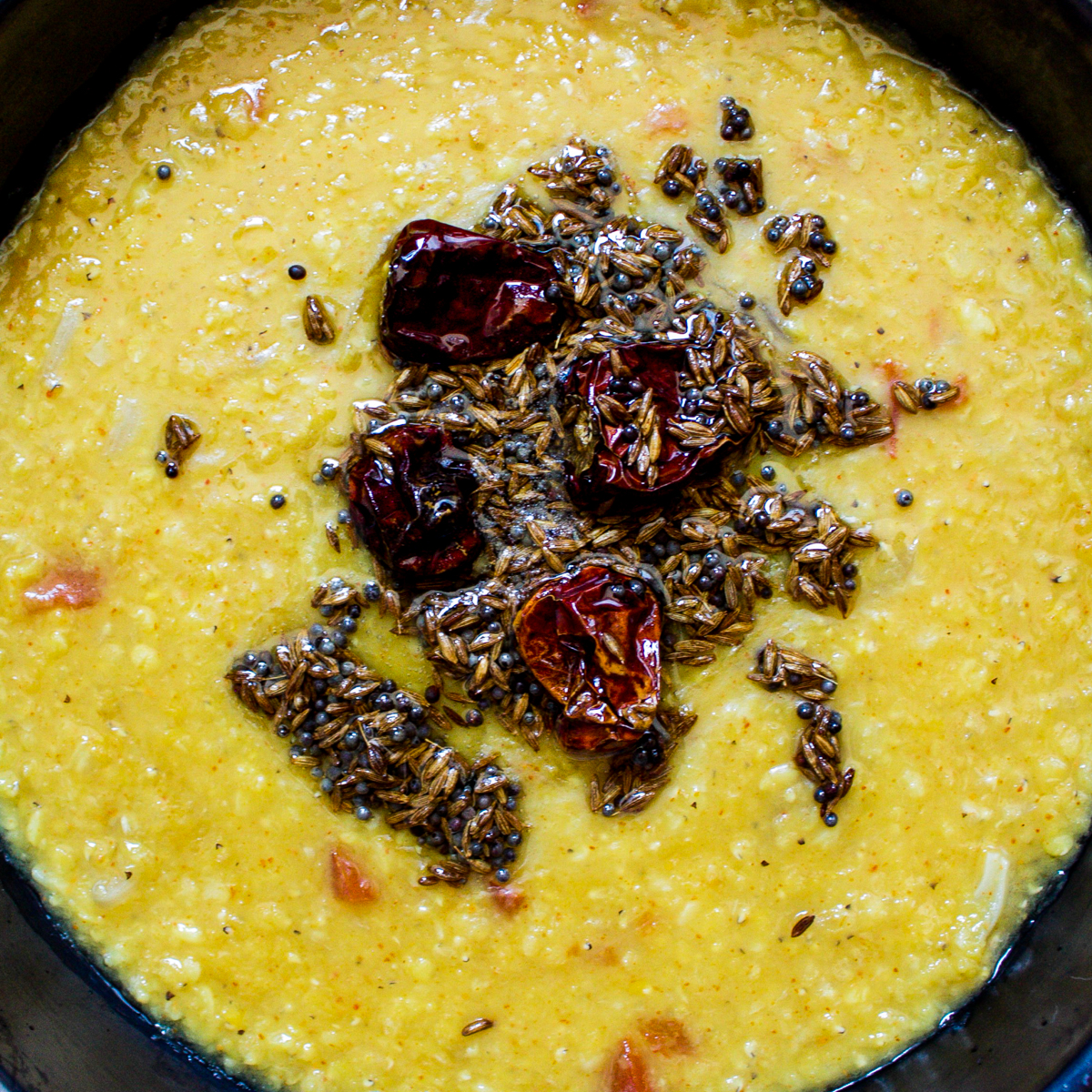 Make the Tadka Your Own
While I have included my preferred tadka in the recipe, I want to encourage you to play around with the variation! Tadka can take many different forms. In my home, the most common tadka was just fried onions, or fried garlic (thinly sliced) with whole red chilies. This kaali daal recipe includes a beautiful tadka of sliced onions, garlic, cumin seeds, and dried red chilies. This khatti moong daal one opts for one with kadi patta, red chilies and cumin seeds.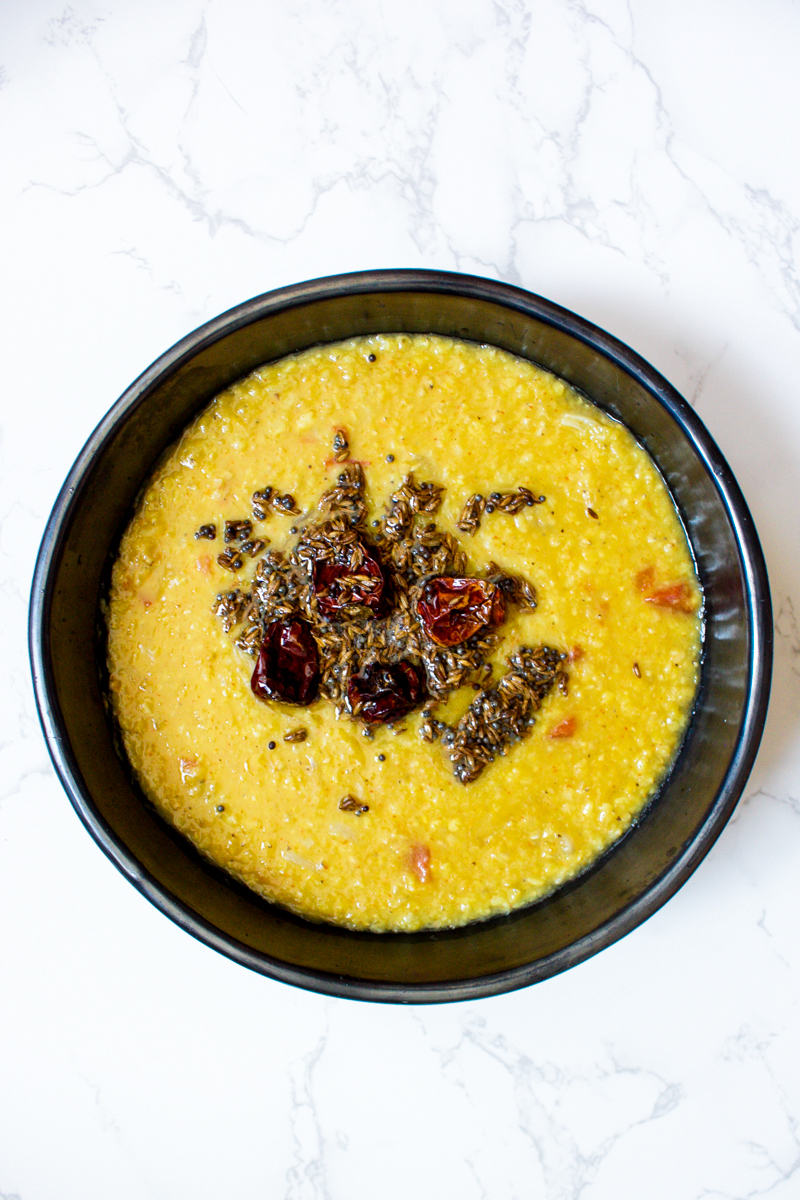 What to Serve with this Daal?
If having friends over, I would love to serve this daal with:
Moong and Masoor Daal Recipe
This recipe for masoor moong daal is packed with flavor thanks to the generous addition of kadi pata and tadka of cumin seeds and whole red chilies.
Ingredients
Daal
¾

cup

red masoor daal (red lentils)

¼

cup

yellow moong daal (yellow lentils)

preferably soaked for 4 hours or more

1 ½

teaspoon

crushed ginger

1 ½

teaspoon

crushed garlic

8

kadi patta (curry leaves)

optional

1

small red onion

thinly sliced in half rings

1

roma tomato

roughly chopped

1

teaspoon

salt

or to taste

½

teaspoon

turmeric powder

1

teaspoon

red chili powder

preferably Kashmiri red chili powder

1

bird's eye chili

diced
Tadka
2

tablespoon

neutral oil

(canola, sunflower or vegetable oil)

1

teaspoon

black mustard seeds

2

teaspoon

cumin seeds

6

dried red chilies
Instructions
Stove Top
Wash the masoor and moong daal (red and yellow lentils) until the water runs clear.

Add rinsed masoor and moong daal to a stockpot and add 5 cups of water. Bring to a simmer.

Add crushed ginger and garlic, kadi patta, onion, tomato, turmeric, and red chili powder, and bird's eye chili.

Bring heat to low and cover with tight fitting lid. Let daal cook for 45 minutes to 1 hour. Check for doneness, and salt. If it needs to cook more, add ½ cup hot water, and let it simmer until it's soft.
Instant Pot
Wash the masoor and moong daal until the water runs clear.

Add masoor and moong daal, crushed ginger and garlic, kadi patta, onion, tomato, salt, turmeric, and red chili powder, and bird's eye chili, and 3 cups water to the Instant Pot. Turn Instant Pot on.

Close the lid and move the steam valve to sealing. On manual setting, set the cooking time to 10 minutes at high pressure.

Once the timer is up, move the steam valve to venting position to immediately release steam. After the pressure has released, carefully remove the lid, making sure you are not touching the metallic part. Turn Instant Pot off.
Tadka
Once the daal is ready and placed in serving bowl, begin to get the tadka ready. Heat 2 tablespoon of oil in a saucepan and add mustard seeds. Once the mustard seeds begin to pop, add cumin seeds. Once the oil becomes aromatic, add whole red chilies.

After they have changed color slightly, pour the tempered oil on top of the daal. Serve.