Jump to Recipe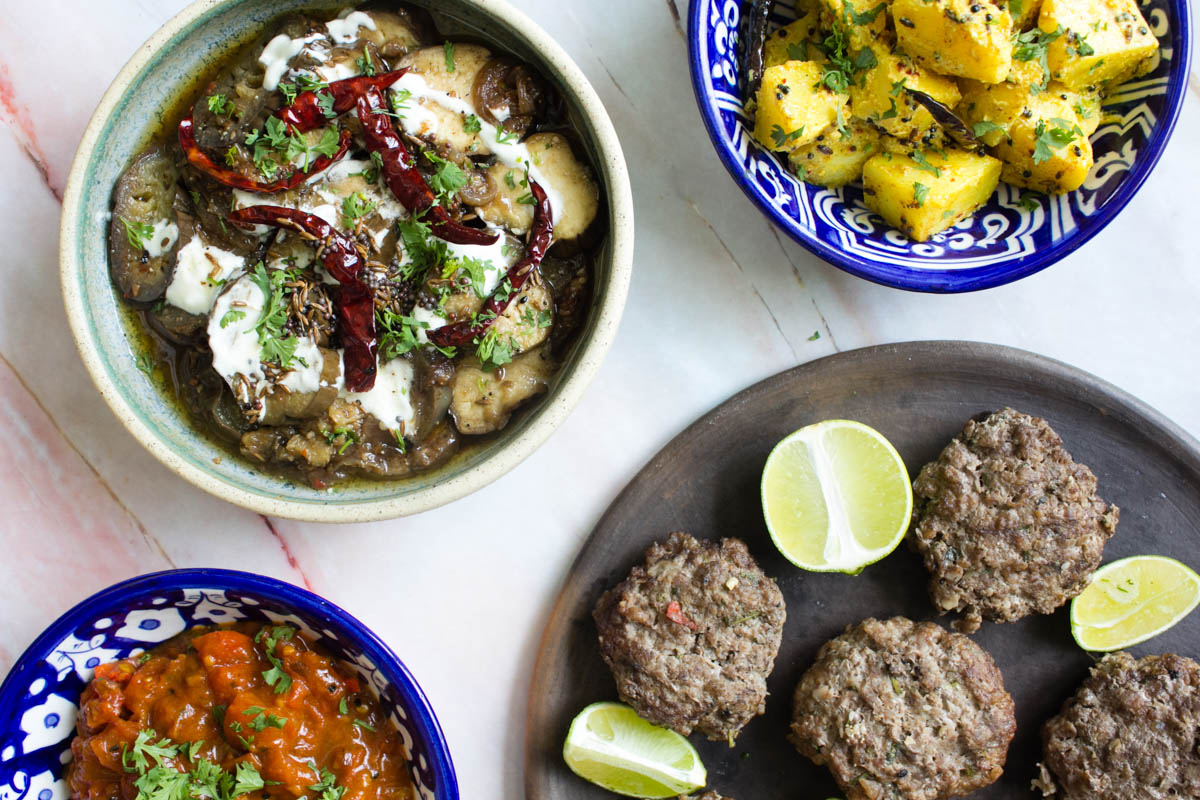 This recipe for beef kebabs was originally posted in March 2017. When I remade them recently, I realized it needed a bit more work. Here's a new and improved version of Saptarshi's famous kebabs.
On February 26 2017, Saptarshi and I hosted the first "Pakistan Eats" supper club in our new home.
Since the beginning of "Pakistan Eats," I have tested and shared the recipes on the blog with my friends and family in D.C. Sharing a laugh over a home cooked meal on a routine basis has been the most rewarding part about the blog. So I wanted to continue the tradition in Mexico but take the idea further, and test different menu courses.
In Pakistan, even formal dinners rarely have multiple sequenced courses. With the exception of dessert, all dishes are served at the same time, family style. You have everything mashed up together on a plate, and while it's one tasty plate, you never pay each dish the individual respect it deserves.
For our first supper club, we decided to stick with the classics, and so our four-course menu was:
Beef kebabs with green chutney / Dahi baingan (deep fried eggplant in savory yogurt) with fresh greens / Chicken biryani / Cucumber raita / Sujji ka halwa (semolina pudding)
Kebabs hold a special place on the Pakistani table (see this menu planning guide). While at home, kebabs will typically be pan-fried, here we served a grilled version to pay homage to Pakistani BBQ.
If you ever visit Pakistan, don't leave without having BBQ (sorry vegetarians). Pakistanis across regions take special pride in their meats, either slowly roasted or fired up on the grill.
This recipe of the beef kebab tastes similar to seekh (skewered) kebab. Seekh kebab I like to think is the workhorse of BBQ. While it will never be the star of the table, it's ever-present because it's easy to prepare, filling, delicious and versatile. Of course, seekh kebabs are by no means unique to Pakistan. You'll find dozens of variations of skewered kebabs in Turkey, Iran, Afghanistan among others.
If you don't have access to the grill and are craving kebabs, you can also prepare them in the oven. After pre-heating the oven, I broiled them for about 12 minutes. While they lacked the smokey flavor, they were still delicious. Give it a try!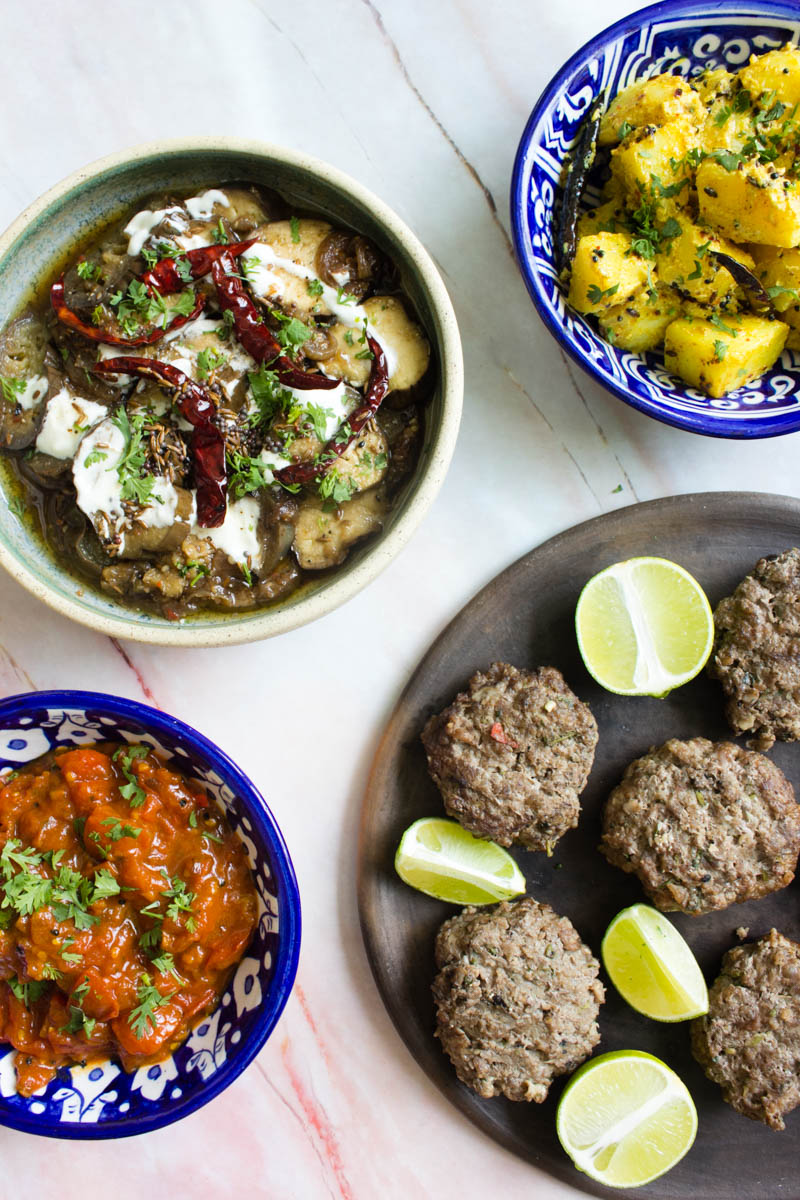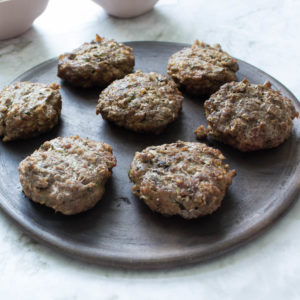 Ground Beef Kebabs Recipe
This recipe for easy ground beef kebabs has become my go-to when having people over. They are the perfect side because they pair well with pulao and biryani, but can also be enjoyed with any gravy dish and chapati.
Ingredients
½

medium-sized yellow onion

roughly chopped

1

tablespoon

cilantro

roughly chopped

2

Thai bird's eye chilies

roughly chopped

1

pound

(~ 450 grams) ground beef

drained

½

teaspoon

garam masala powder

1

teaspoon

salt or to taste

1

teaspoon

red chili powder

preferably Kashmiri

½

teaspoon

black pepper

½

teaspoon

cumin powder

Juice of 1 lime

1

teaspoon

crushed garlic

1

teaspoon

crushed ginger

2

tablespoon

olive oil
Instructions
Put the roughly chopped onions, cilantro, and chilies in a food processor and grind until finely chopped.

Place the ground beef in a large bowl. Add salt and ground spices (garam masala powder, red chili powder, black pepper, cumin powder) and mix well.

Add the onion-cilantro mixture, crushed ginger and garlic, lime juice and olive oil to the ground beef. Mix well.

Take fistfuls of the mixture, and begin to shape into little patties.

Grill Instructions: If you are using the grill, make sure you heat it up well. The time will depend on whether you are using a charcoal or gas grill. Once hot, place kebabs on the grill and cook each side for 4-6 minutes.

Oven Instructions: If you want to prepare them in the oven, pre-heat it to 450°F. Line a sheet pan with aluminum foil and grease it. Place kebabs on it and then insert the sheet pan into the center rack of the oven. Set it to broil on high heat for 10 – 15 minutes depending on how well done you like them to be (I set them for 12 minutes).