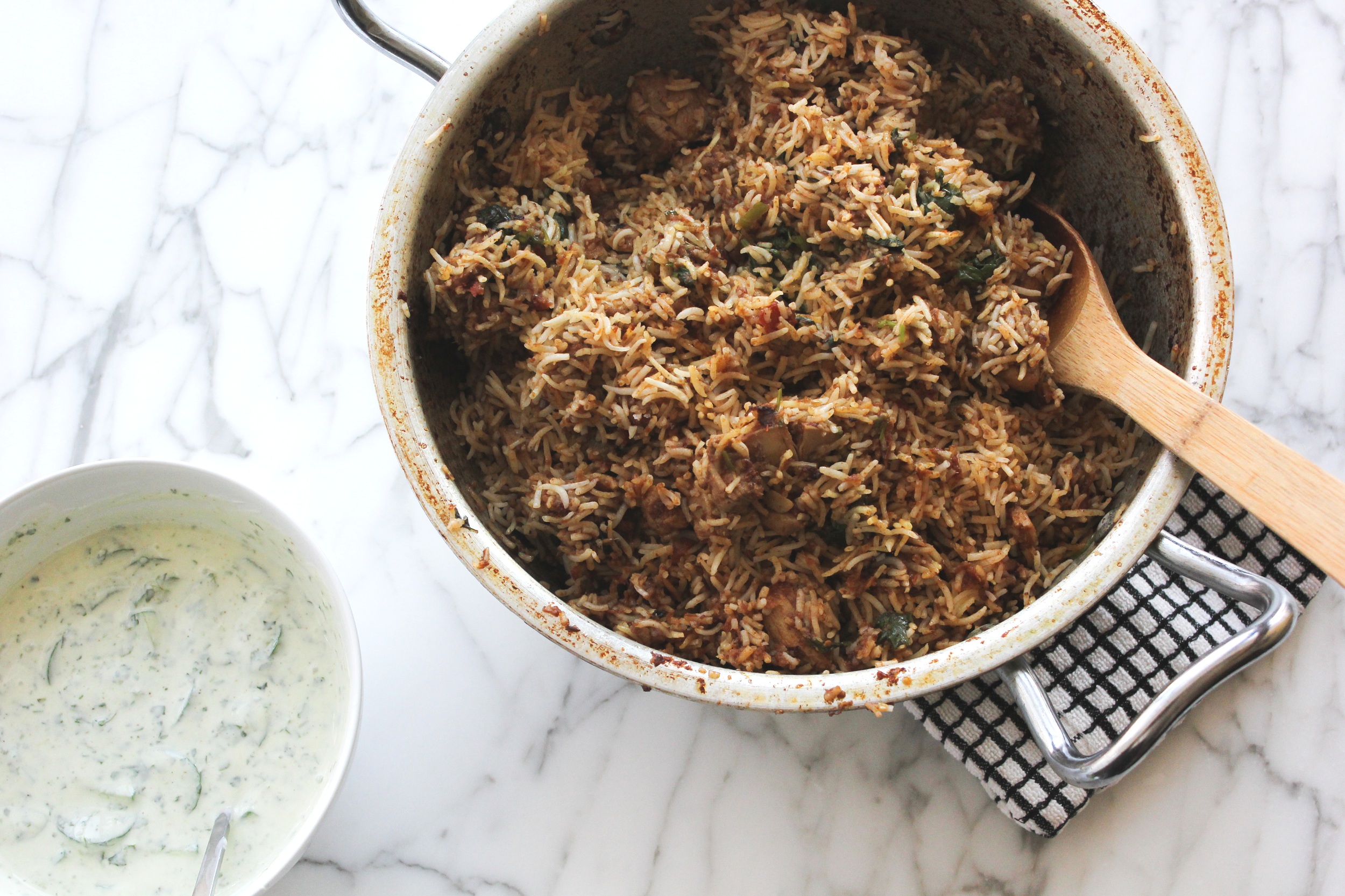 Jump to Recipe
Biryani inspires many feelings among desis across the sub-continent. I had always been intimidated to make it. But thanks to my friend Albar's recipe for boneless chicken biryani, I was finally able to overcome my fear for preparing what maybe the sub-continent's most iconic dish.
While the exact origin of biryani is disputed, it was certainly inspired by merchants from Persia, and has over the years taken many different forms in South Asia. My friend Pooja Makhijani wrote this great piece on the different varieties of biryani for Saveur; and Kathryn of the fabulous blog, Cardamom and Tea, writes about its Persian origins here.
In Islamabad, I mostly grew up eating pulao. It was only during college that I got introduced to this glorious, flavor-packed dish by my Karachi friends. I would religiously treat myself to biryani take-out from Biryani Express post exam week - a welcome break from cup noodles and stale pizza from the campus khokha (tuck shop).
For my friend, Albar, biryani was also a treat during college breaks. Except he was lucky enough to enjoy one lovingly prepared by his mother, and not from a suspect take-out joint.
Albar's family is originally from Lahore, and the biryani he enjoyed during his college years reflects the rich Mughlai culinary tradition of the area. Here Albar recreates his mother's recipe to make it more accessible for people on-the-go. This boneless chicken biryani is what he calls the "young professional biryani" (a term that could only originate in Washington).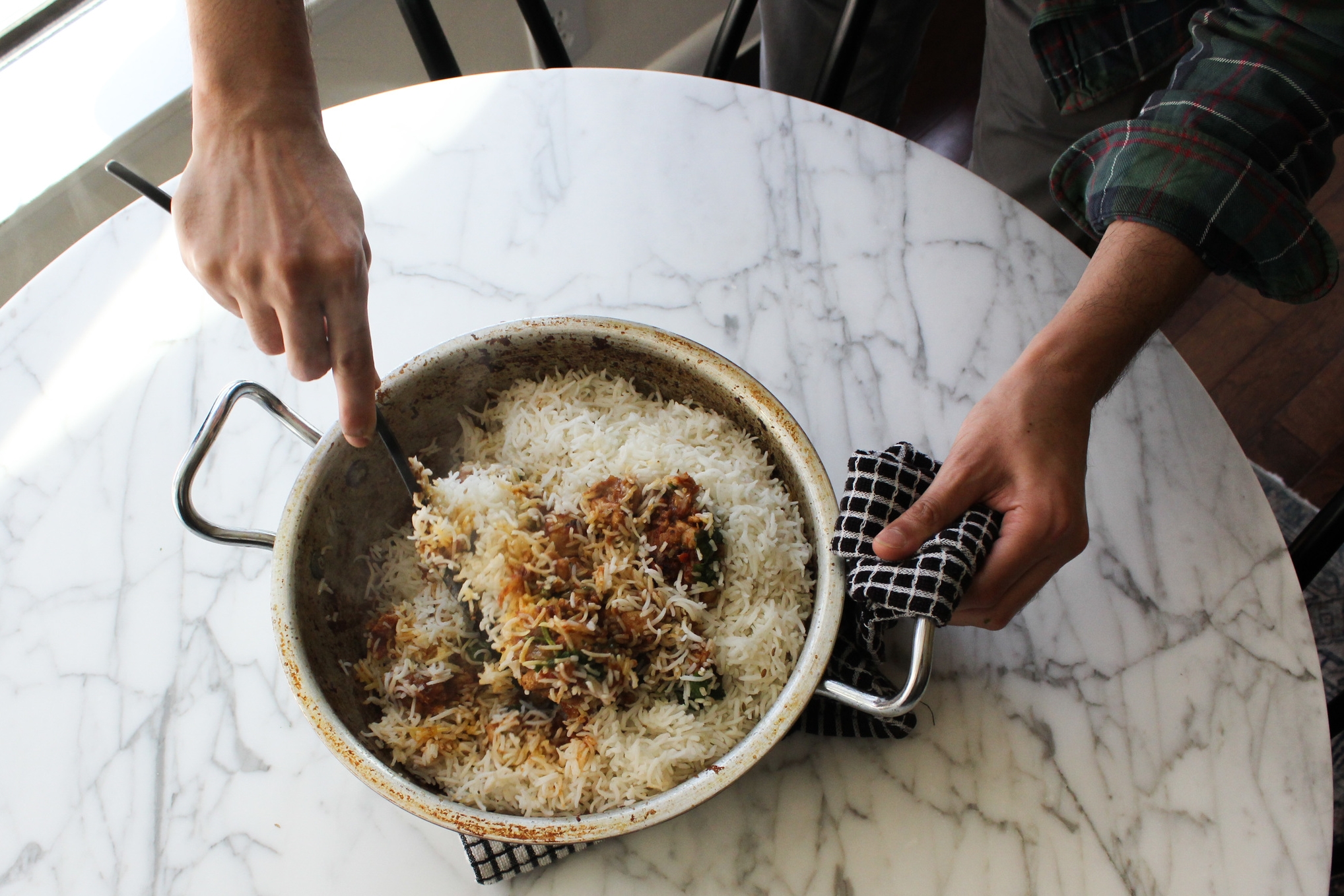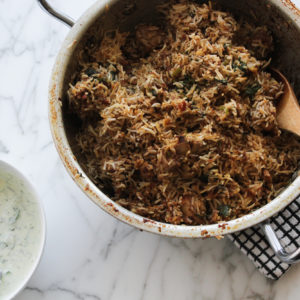 Boneless Chicken Biryani
Ingredients
Rice
2

cups

basmati rice

1

tablespoon

cumin seeds

optional

3

whole cloves

optional

Salt to taste
Chicken
4

tablespoon

oil

1 ½

lb.

boneless/skinless chicken thighs

diced

1

medium onion

thinly sliced in half rings

3

tablespoon

crushed ginger

2

tablespoon

crushed garlic

1

black cardamom

1-

inch

cinnamon stick

½

teaspoon

turmeric powder

1

tablespoon

cumin seeds

2

tablespoon

cumin powder

1

tablespoon

coriander seeds

2

tablespoon

coriander powder

¾

teaspoon

red chilli powder

½

teaspoon

garam masala

14

oz

can of crushed tomatoes

drained

½

tablespoon

dried pomegranate seeds/anar dana

(optional)

2

tablespoon

yogurt

brought to room temperature

2

bird's eye chilies

half slit

Handful of cilantro
Instructions
Wash the rice well, and soak it for at least 30 minutes. Drain it.

Bring a large pot (about 4 quarts) of water to a boil, and add 1 tablespoon whole cumin seeds, cloves, salt, and rice. Bring to a simmer till rice is al dente, about 5 minutes or less.

Drain the rice immediately on a colander.

Heat a saucepan and toast the cumin and coriander seeds on low heat till they are aromatic. Let them cool and then, grind in a spice or coffee grinder or using a mortar and pestle. Place in a small bowl along with black cardamom, cinnamon stick, turmeric powder, cumin powder, coriander powder, red chili powder and garam masala powder. This can be done in advance.

Heat a large, heavy-bottomed pot and add oil. Once the oil begins to shimmer, add the thinly sliced onions and a dash of salt. Fry the onions on low to medium heat till they are a deep brown. Traditionally, you are encouraged to let them simmer on low heat for close to 25 minutes, I stick to about 10 minutes. Be careful not to let them burn.

Once the onions are evenly done, add crushed ginger and garlic, and all the spices set aside earlier. Fry the spices till they stop smelling raw. Add a splash of water to deglaze the pan if needed. Check for salt and adjust as needed.

Increase heat and add crushed tomatoes. Mix well and let it simmer on medium heat for about 5 minutes.

Add the pomegranate seeds (if using), and the diced chicken. Stir on high heat for another 4 minutes.

Once the chicken is about done, lower heat and add yogurt, green chilies and half of the chopped cilantro.

Let the chicken simmer for another few minutes till its evenly cooked and the volume of the mixture has reduced and become concentrated. Remove from heat.

In a separate heavy-bottomed pot, add half of the rice. Top with the chicken korma and spoon the remaining rice over it. Top with the remainder of the cilantro.

To put the biryani on 'dum', tightly wrap the pot's lid with a kitchen towel and cover the biryani. Turn the heat up and then, dial it to the lowest point. Let the biryani steam for about 10 minutes.

Remove from stove and gently mix the biryani, taking care not to break the rice. Place in large serving platter. Garnish with finely chopped cilantro and green chilies.
Notes
For those who find whole spices over-whelming, you can omit the whole cumin seeds in the rice. For the chicken korma, you can remove them with a slotted spoon before you layer it with the rice.