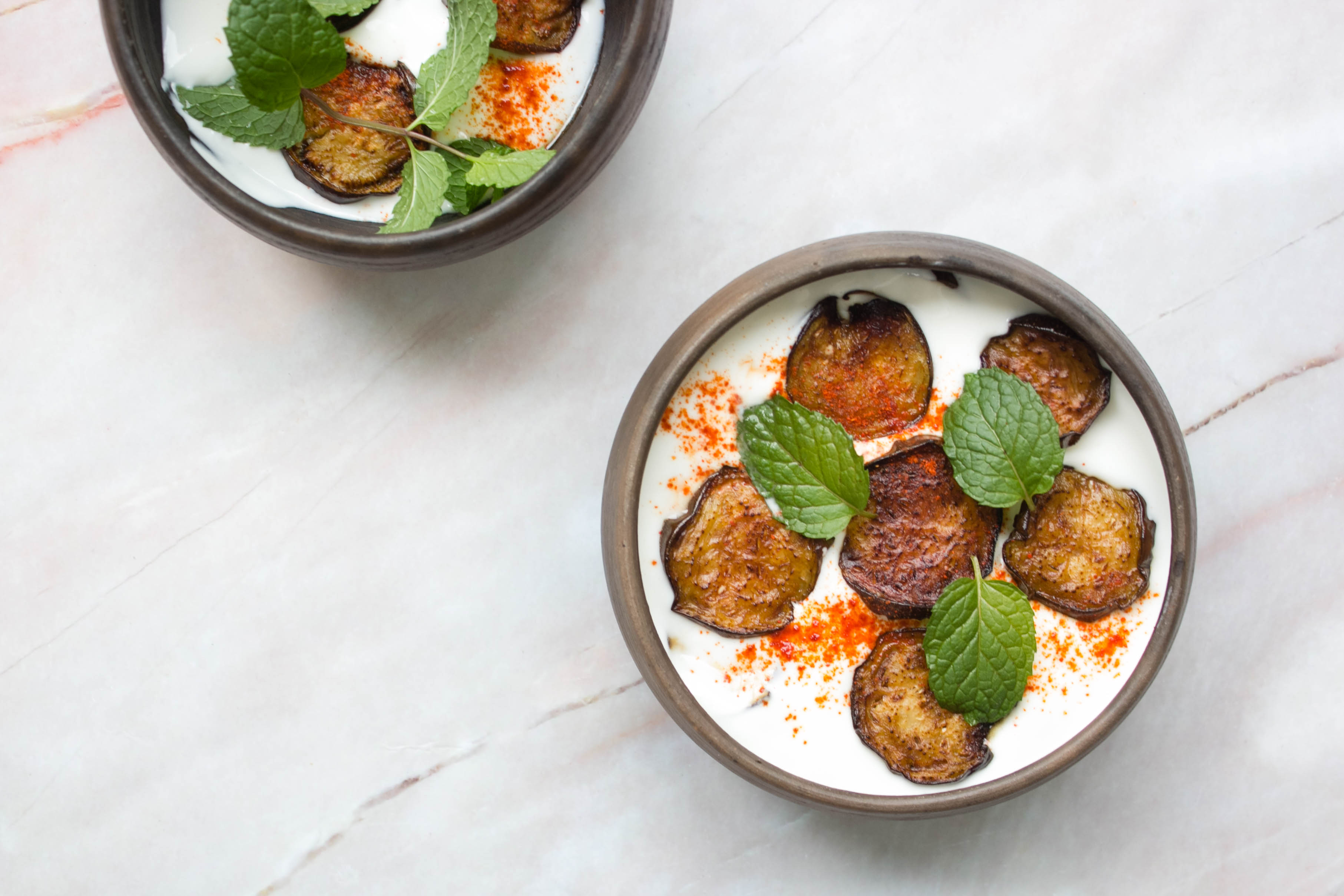 Jump to Recipe
I think of my dadi (paternal grandmother), Mommy often. I will write a longer post about her life and influence, but for now, I want to share the recipe for dahi baingan, a handy four-ingredient side that I would often enjoy at her home for dinner.
Dahi baingan would would fall under the category of borani, an Iranian yogurt-based appetizer that is found in Iran, Afghanistan, Turkey as well as the Caucasus. In Pakistan however, we do not have it as an appetizer but as part of the main meal.
It was probably one of the first Pakistani dishes that I learned to cook in the States largely because of how easy it was. While it is ordinarily had as an appetizer or side (a wonderful accompaniment to pulao), I often eat is as a main with naan or roti. I have also dressed salads with it and it's worked out really well.
While there are many, many variations to dahi baingan (personally very excited to test out this Saveur recipe), this is the version that I grew up with. If it was prepared differently at your home, I would love to learn more and test it out.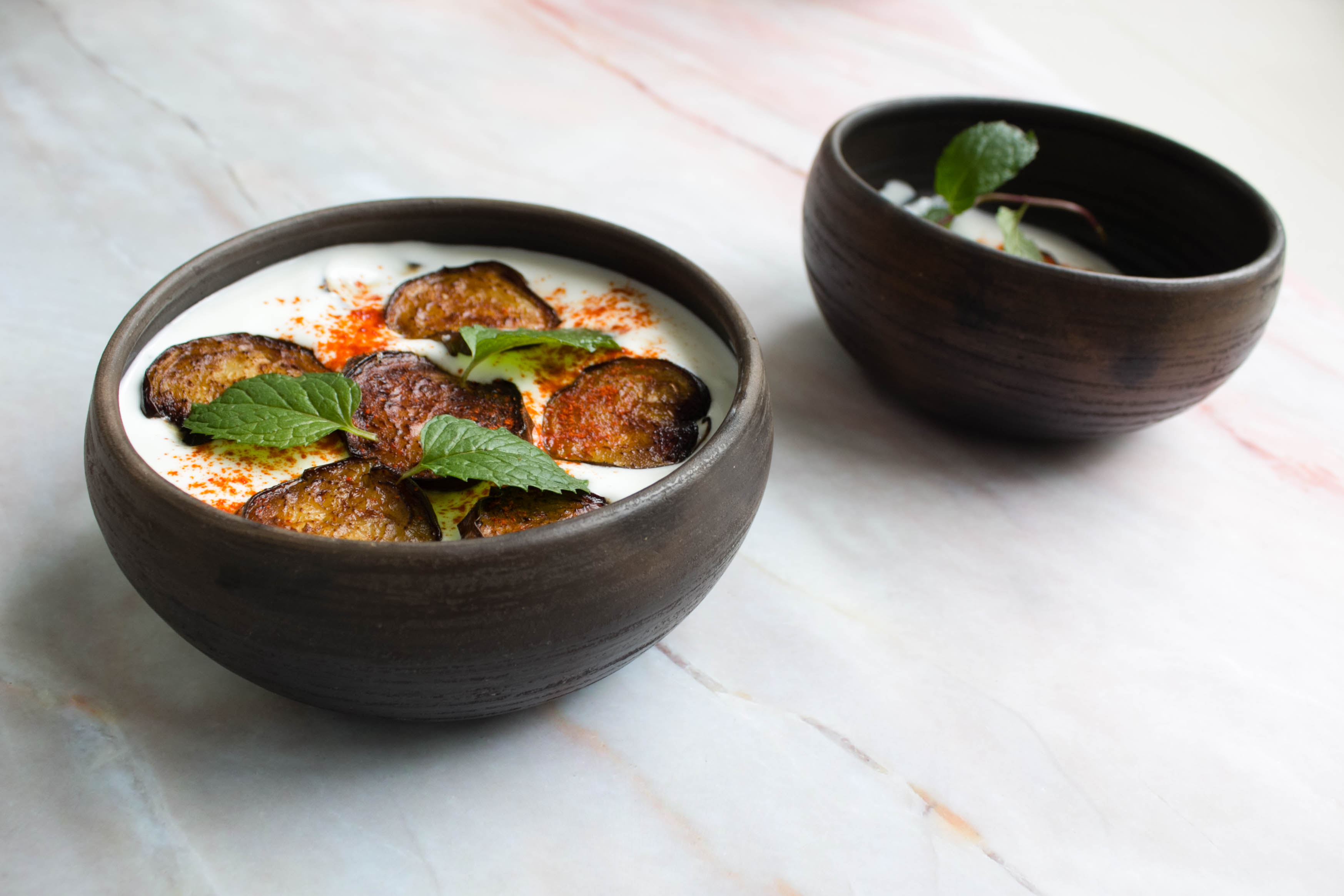 A Couple of Tips on How to Make Dahi Baingan
The flavor of the dish comes from fried eggplant. If you are tempted to bake the eggplant instead of frying it, just know that the dish won't be as flavorful. Instead, play around with the quantity of oil. I keep ½ cup of oil on the side and add it as needed. You may end up using a lot less.
Pay attention to the color of the eggplant when frying it. Each pan is different. I fry the eggplant on medium to medium-low heat and it took about 2-3 minutes each side. Some pans transfer heat a lot more quickly so make sure you remove the eggplant before it turns black. If it burns, it will infuse a very bitter taste to the yogurt.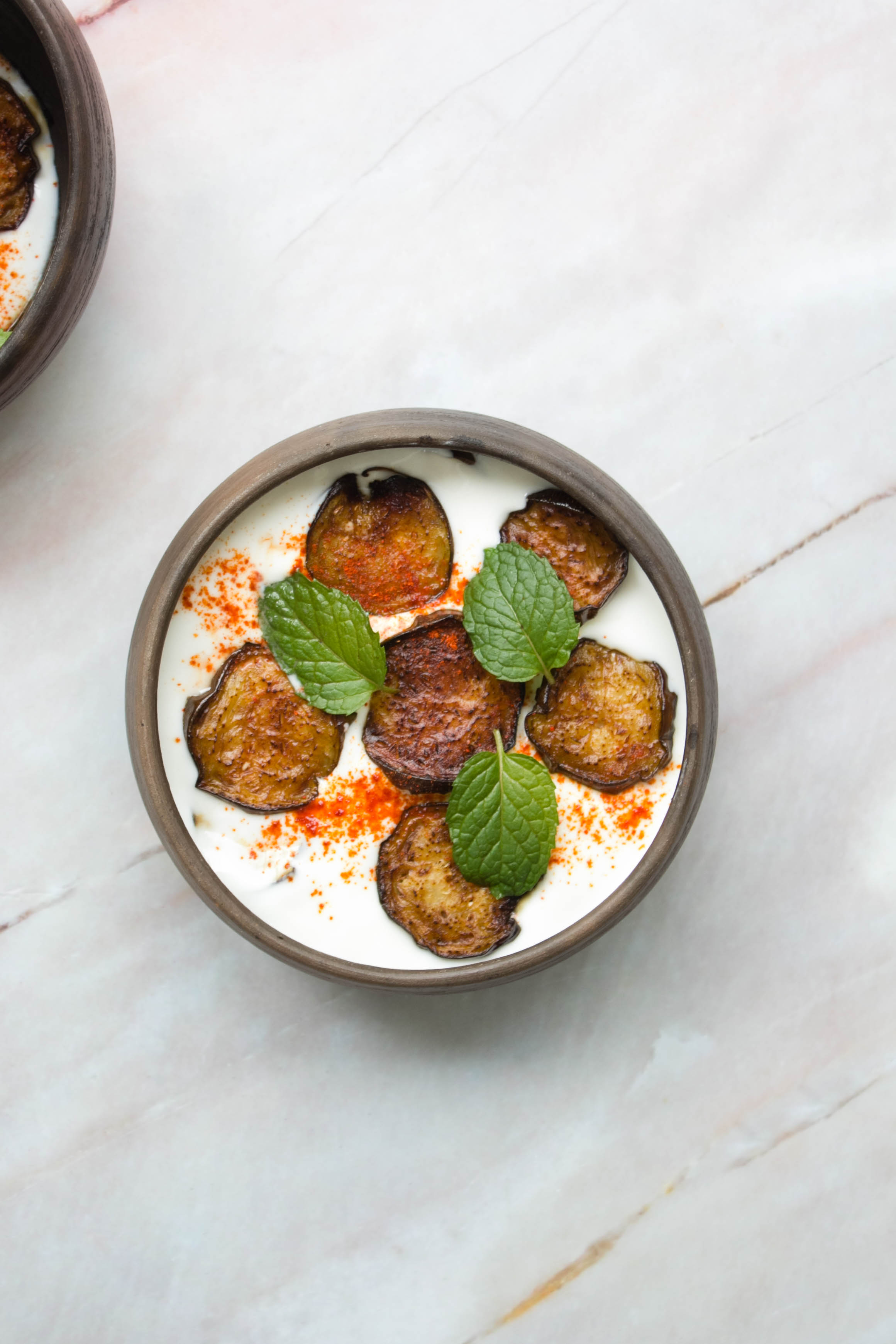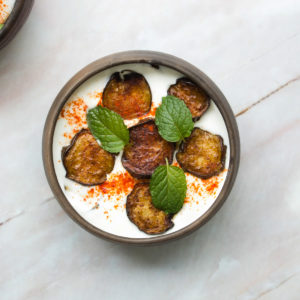 Dahi Baingan
Ingredients
½

cup

oil

canola/vegetable/sunflower

14

oz

eggplant

thinly sliced crosswise

4

cups

full-fat yogurt

1

teaspoon

salt or to taste

¼

teaspoon

red chili pepper
Instructions
Heat a non-stick frying pan. Add oil. Once it begins to shimmer, add slices of eggplant in batches. Make sure you don't overcrowd the pan.

Fry each side on medium-low heat until it's golden brown. The exact time will depend on your pan. I was using a non-stick pan, and each side was taking about 2 minutes.

Place fried eggplant on paper towel to absorb excess oil.

Meanwhile, get the yogurt ready. Whip the yogurt until it has an even consistency. Add salt to taste.

Gently fold the fried eggplant into the yogurt. Dust with red chili powder.