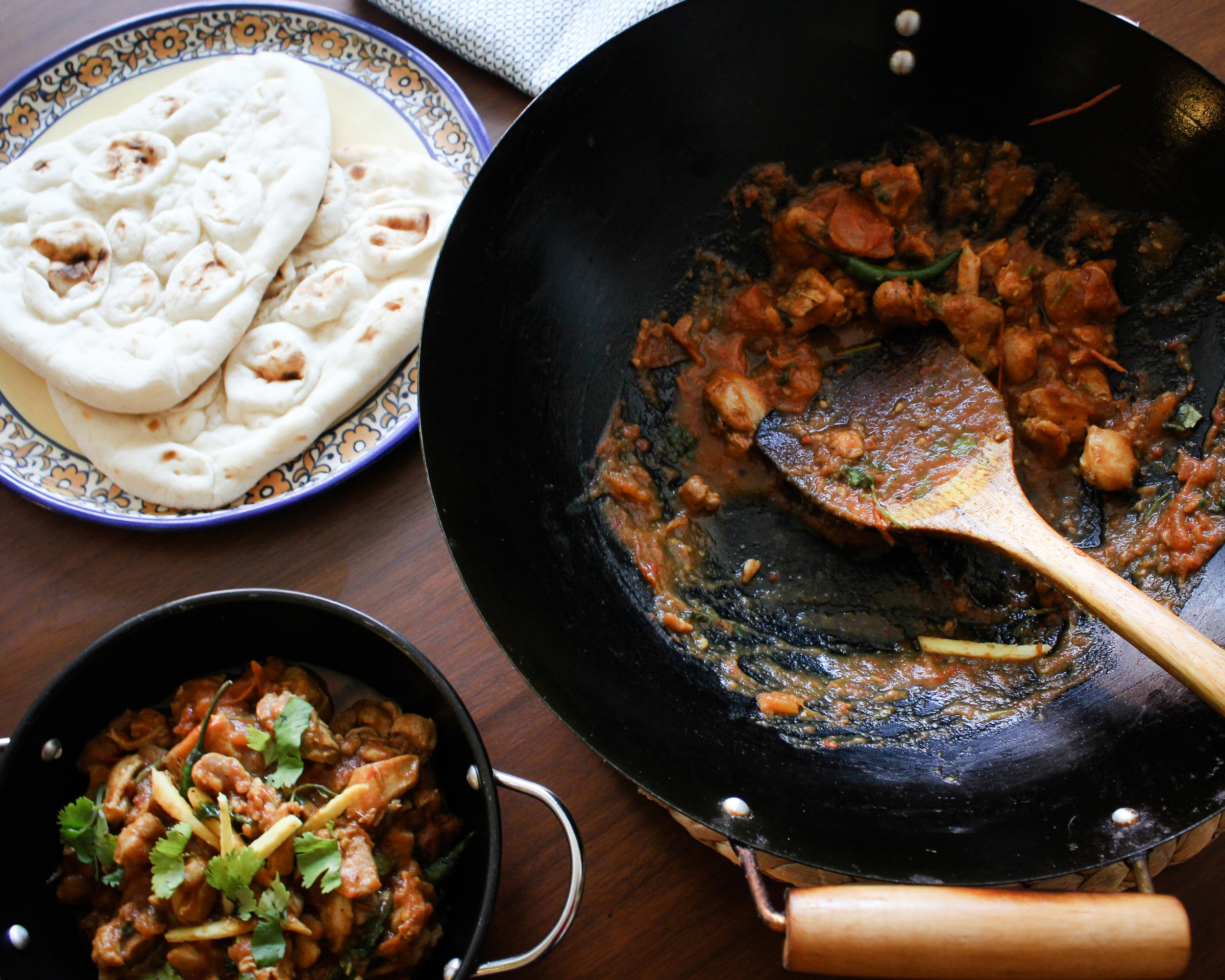 I hope for Pakistan Eats to be a platform where you can share recipes that are most meaningful for you. I'm going to start by sharing my own version of Pakistan's culinary star, 'chicken karhai'.
When you google chicken karhai, the following definition comes up on Wikipedia:
"Chicken karahi (Punjabi: چکن کڑاہی ), also known as gosht karahi (when prepared with goat or lamb meat instead of chicken) and kadai chicken is a Pakistani and North Indian dish noted for its spicy taste and usage of capsicum. It is said that only one utensil is required to cook this dish and that is a karahi (wok)."
Source: https://en.wikipedia.org/wiki/Chicken_karahi
I was appalled and confused. Known for its usage of capsicum? What is this guy smoking?
Chicken karhai (karhai meaning wok), in my opinion, deserves a spot in the sub-continent's culinary top 5. I will also go as far as saying that it's Pakistan's national dish. Granted – I was born in Islamabad and went to college in Lahore. My entire family immigrated from Eastern Punjab to Western Punjab. So there is clearly a Punjabi bias here. But that said, you can go to any dhaba (roadside restaurant) in the middle of nowhere Pakistan, and they will be able to serve you a delicious, crackling, blackened wok of tomato-chicken goodness.
While chicken karhai is often termed as Lahore's culinary attraction, it's cousin, karahi gosht (literal translation: wok – meat) hails from the Frontier. So maybe the idea that chicken karhai is Pakistan's national dish is not so far-fetched? I would love to hear your thoughts.
If you are craving Pakistani food, learning how to make chicken karhai is the place to start.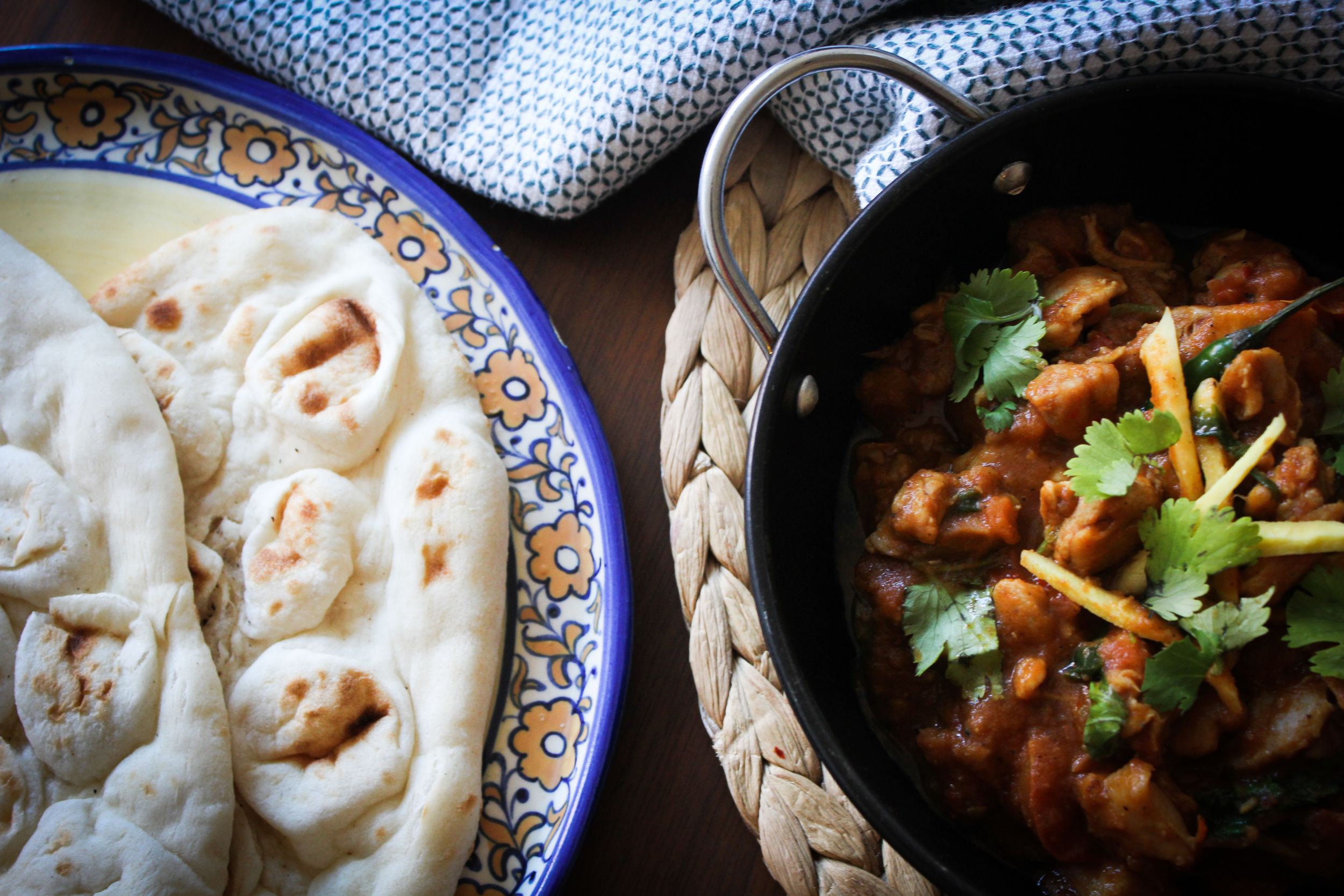 Chicken Karahi
Ingredients
1 1/2

lb.

boneless chicken

preferably chicken thighs, diced

3

tbsp

canola/sunflower/vegetable oil

2

cloves

garlic

finely chopped

2

green chili

any kind will work

1

tsp

ginger paste

1

tbsp

cumin seeds

Salt to taste

6

small roma tomatoes

de-seeded, roughly chopped

1

tsp

black pepper

1

tbsp

red chili flakes

1

tsp

garam masala powder

4

tbsp

chopped cilantro

1

tbsp

yogurt

Garnish

½

cup

cilantro

finely chopped

1 ½

inch

knob ginger julienned
Instructions
Heat oil in a large karahi or wok. After the oil begins to shimmer, lower heat and stir in garlic. Fry for a few seconds till it browns slightly (make sure it doesn't burn).

Add green chilies and ginger paste. Stir to make sure paste doesn't burn. Add cumin seeds and fry for a few seconds.

Turn the heat up high, and add chicken and salt. Stir till it's no longer pink, about 10 minutes.

Add chopped tomatoes and stir continuously for about 10 minutes.

Add red chili flakes, black pepper and garam masala powder. Check for salt.

Once the tomatoes have broken down, let the mixture simmer for another 5 minutes on high heat till it has reduced in volume.

Add cilantro and yogurt. Keep stirring till the tomatoes have become jammy.

Remove from heat. Garnish with cilantro, green chilies, and julienned ginger and serve hot, with naan/chapati, preferably in the karahi itself.