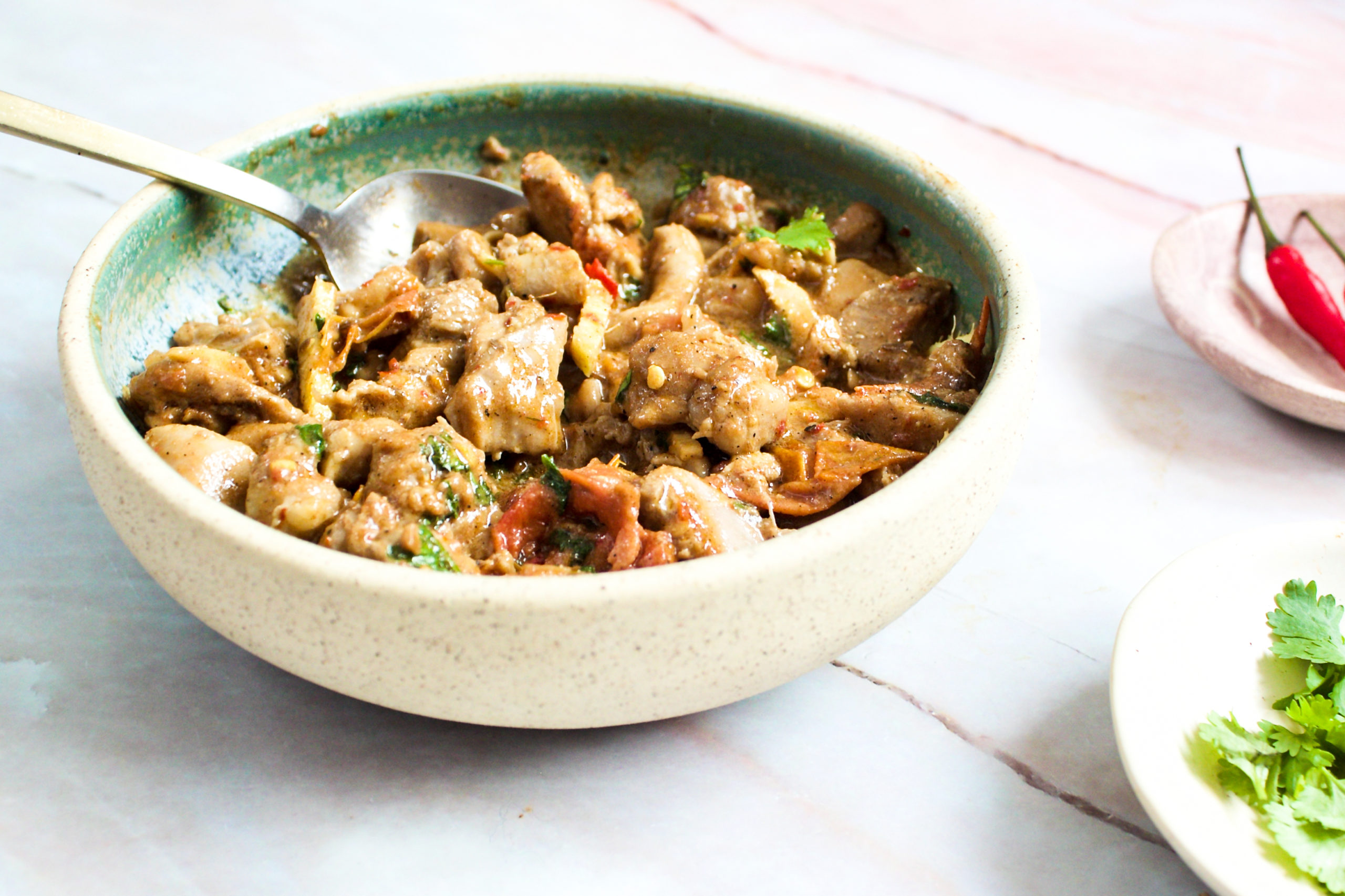 Jump to Recipe
It was about time that I republished Pakistan Eats's first recipe for boneless chicken karahi! I have always maintained that chicken karahi maybe Pakistan's national dish. Go to any dhaba in the country, and they will serve you a blackened wok of this delicious chicken-tomato goodness. Traditional karahi is always made with chicken-in-bone, but when I was starting out as a cook, I was too meek to attempt it. Instead I worked on my adaptation with boneless chicken. Think of this recipe as a lazy diaspora adaptation of a traditional dish.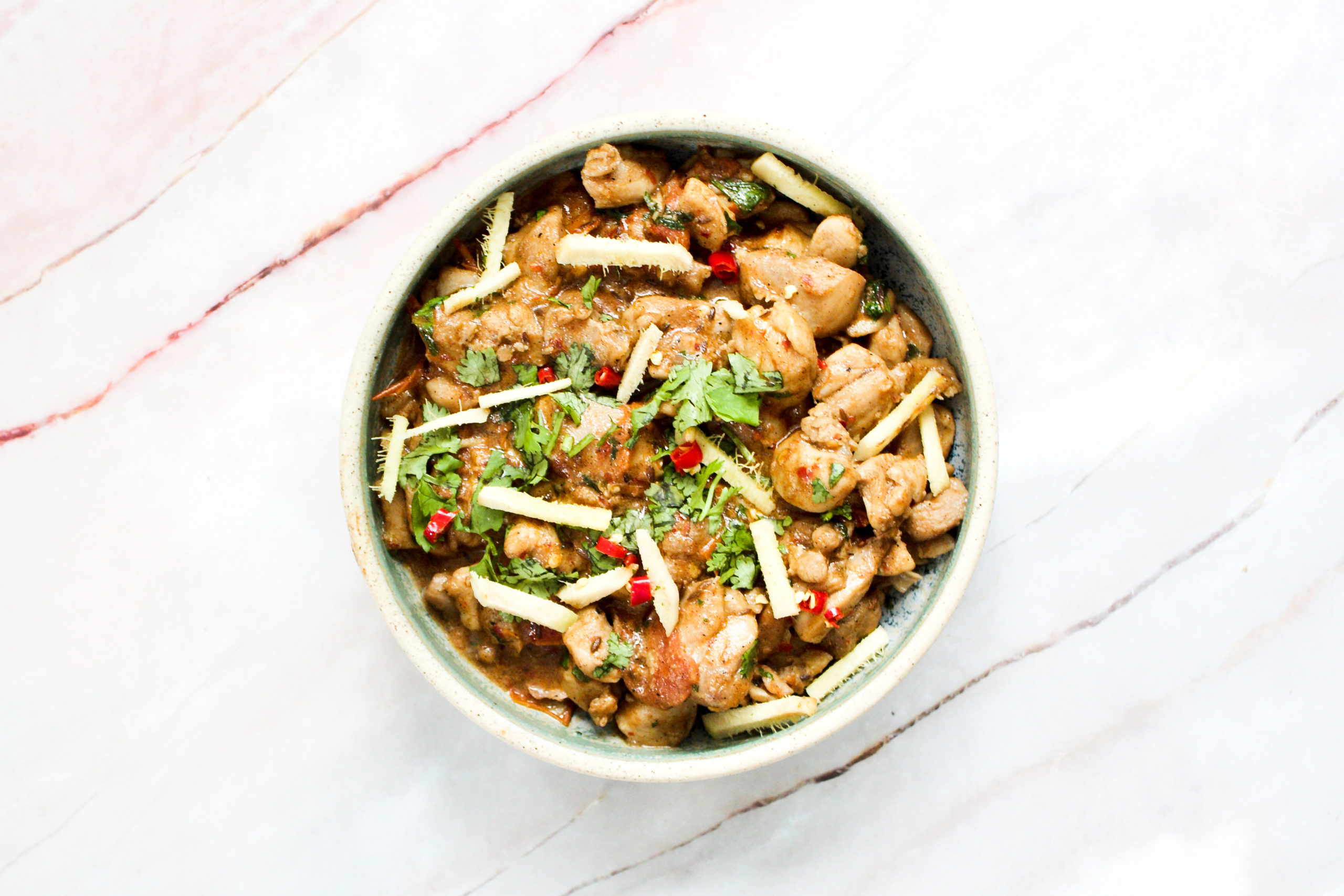 What are the Components of a Dhaba Style Chicken Karahi?
Fatima of the blog, Fatima Cooks, has a great post on the components of an authentic karahi. Izzah from Tea for Turmeric also shares some fantastic tips here on how to adapt this recipe. In addition to their great suggestions, here are a few suggestions of my own:
Prepare and serve it in the karahi! The beauty and flavor of the karahi lies in its masala. The dish is on the drier side, so it's best served in the karahi or wok that it's prepared in. On a related note, karahi is also at its best, fresh.
Tomatoes, tomatoes, tomatoes: Please do not use onions in any variation of a chicken karahi. Traditional karahi is prepared in a spicy tomato base. The tomatoes need to be fried on high heat until jammy.
Use ground spices sparingly, and fresh ginger liberally: Karahi is a simple, rustic dish; and so I would suggest not overdoing it with a slew of ground spices. Instead I would recommend upping the use of finely chopped green chilies and of course, fresh ginger. A generous topping of finely julienned fresh ginger will give the karahi some of that extra oomph.
Notes on Ingredients and Substitutions
Chicken: You are free to use any cut of boneless chicken. Typically I prefer thighs because I find them juicier, and more flavorful; but chicken breast works as well.
Tomatoes: In Pakistan, we traditionally use roma or plum tomatoes. They are cheaper, and release less water. I would recommend against using cherry tomatoes, and any other sweeter varieties since it will significantly undercut the natural tanginess of the dish.
Yogurt: For a dairy-free variation, feel free to omit the use of yogurt. It's a personal preference because I like how it enhances the texture of the final dish. But I have also found that omitting it doesn't significantly undermine the final flavor.
What Do I Serve with Karahi?
Before I go into the side dishes that best complement karahi, I have to emphasize that karahi should always be served with roti or naan. Since the dish is on the drier side, pairing it with rice undercuts the punchy flavor of the dish.
Chana Daal: The traditional accompaniment to karahi is typically chana daal (split yellow gram lentils.) This type of daal is also dry, and best enjoyed with naan as well. The textures of the daal and karahi also pair well with each other.
Bhindi Masala: I personally love to prepare bhindi masala with karahi as well. Okra's deep flavor helps balance the punchy, bright flavors of the karahi.
Karela Sabzi: While a nontraditional pairing, I also want to put in a soft plug for serving karela sabzi (bitter melon) with karahi. The bitterness of the karela helps offset the spiciness and tanginess of the karahi.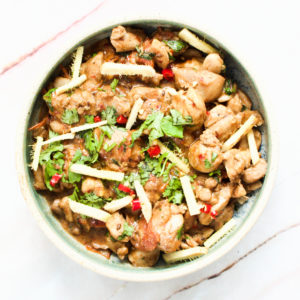 Boneless Chicken Karahi
Boneless chicken karahi is a diaspora adaptation of a Pakistani classic. It is a delicious, straightforward recipe that is perfect for busy weeknights.
Ingredients
3

tablespoon

neutral oil

canola/sunflower/vegetable

1

teaspoon

crushed garlic

2

bird's eye chili

roughly chopped

1

teaspoon

crushed ginger

finely chopped

1

tablespoon

cumin seeds

1 ½

lb.

boneless chicken

preferably chicken thighs, diced

1½

salt or to taste

6

small roma tomatoes

de-seeded, roughly chopped

1

teaspoon

black pepper

1

tablespoon

red chili flakes

1

teaspoon

garam masala powder

4

tablespoon

chopped cilantro

1

tablespoon

whole-milk yogurt

(optional)

Garnish

½

cup

cilantro

finely chopped

1 ½

inch

knob ginger

finely julienned

1

bird's eye chili

finely chopped
Instructions
Heat oil in a large karahi or wok. After the oil begins to shimmer, lower heat and stir in garlic. Fry for a few seconds until it browns slightly, while making sure it doesn't burn.

Add green chilies and ginger paste. Stir for a few seconds before adding cumin seeds. Fry until fragrant, roughly 30 seconds or less.

Turn the heat up to high, and add chicken and salt. Stir until it's no longer pink, about 10 minutes.

Add chopped tomatoes, and stir continuously on high heat until jammy (about 10 minutes.)

Add red chili flakes, black pepper and garam masala powder, and stir. Check for salt.

Let the mixture simmer for another 5 minutes on high heat until it has reduced in volume.

Lower heat, and add cilantro and yogurt. Stir until well-mixed.

Remove from heat. Garnish with finely chopped cilantro, green chilies, and ginger.