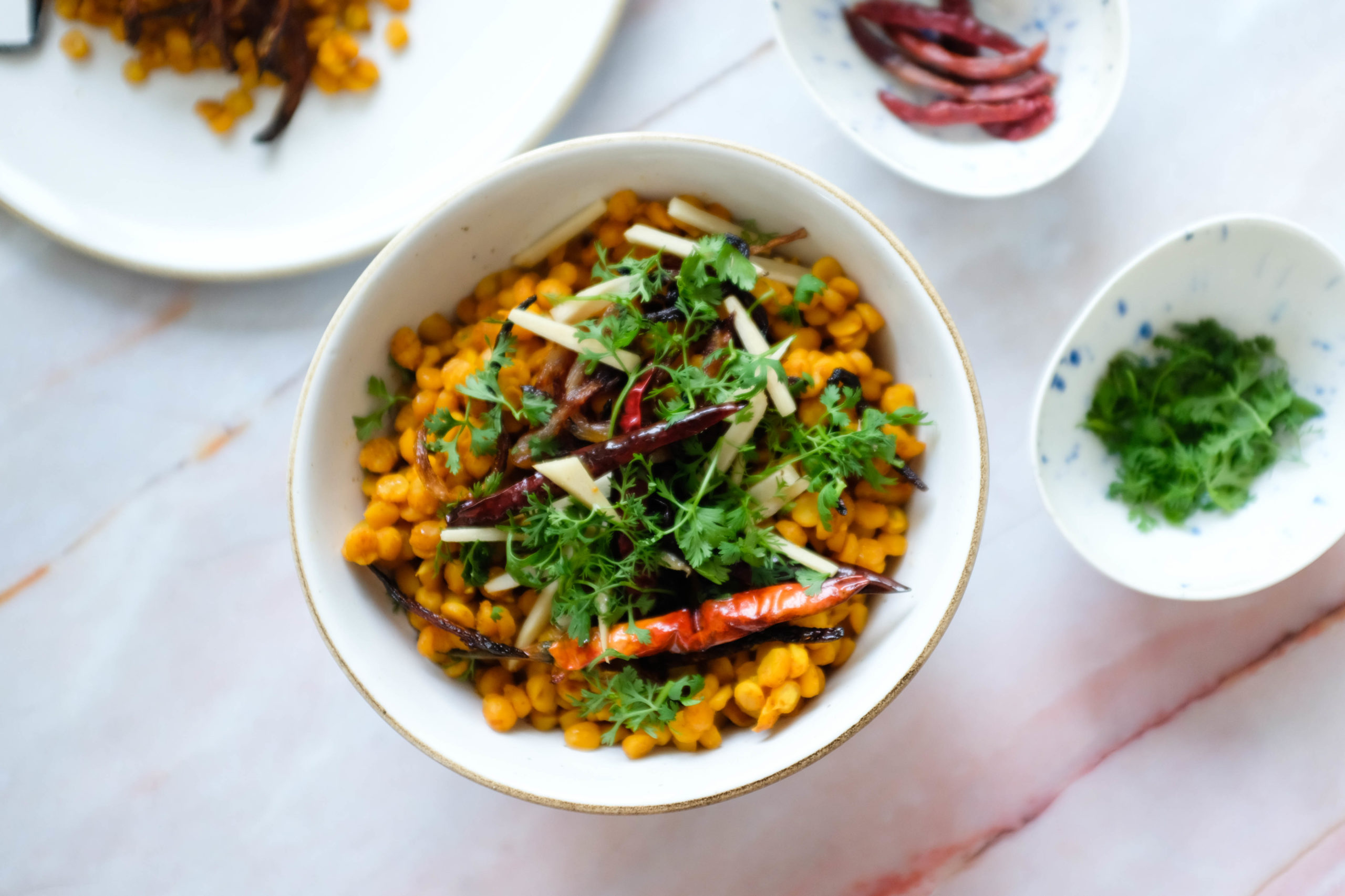 Jump to Recipe
I got back into the kitchen last week after a two-week trip to Pakistan, and picked up Sumayya Usmani's cookbook, Summers Under the Tamarind Tree again. I made a lovely tapioca pearl kheer for the first time, and revisited her chana dal recipe that I had made several years ago. I have often talked about Usmani's work, and will make a plug for her books once again, both Summers Under the Tamarind Tree and her more recent, Mountain Berries and Desert Spice.  I really appreciate Usmani's commitment to the entirety of Pakistani cuisine and her effort to share regional recipes. She is also a creative chef, and it's super fun to observe how she adapts recipes through incorporation of new ingredients and flavors in traditional dishes.
I recently heard somebody complain that when authors and chefs adapt recipes for a 'Western audience', why do they still call the recipes Pakistani? Something about the argument didn't sit well with me. While I didn't speak up then, now that I have had time to think through it a little bit more, in order for Pakistani cuisine to evolve and reach its potential globally, we need to start being less rigid about how we view Pakistani food and "traditional", "authentic" recipes. A narrow, fixed vision of Pakistani food frequently excludes diaspora communities and ignores the impact of migration on food.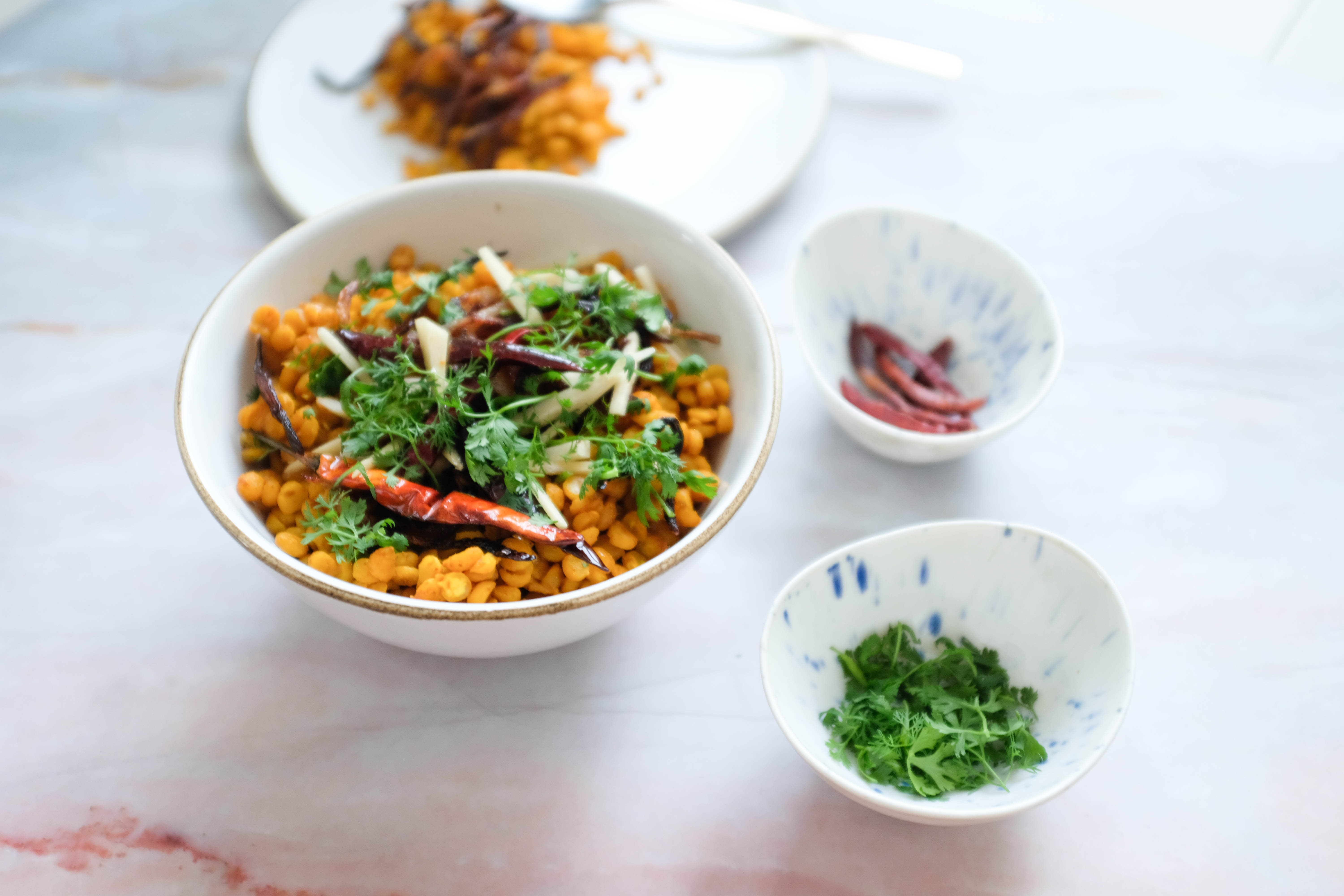 Jaya Saxena wrote a great piece on authenticity for Eater recently, where she discusses how our understanding (and by "our", I'm referring primarily to those in the US) of authenticity has shifted – from us desperately seeking it through hole-in-the-wall restaurants – to shunning it (David Chang, case in point). Right now, at least in the United States, we luckily find ourselves somewhere in the middle where we are recognizing that each person's definition of authentic is different:
"The goal, then, becomes figuring out what, exactly, someone means when they ask for "authenticity." Some people are looking for dirt-cheap tacos that fit their limited idea of what Mexican food should be. Others are looking for dishes they tasted decades ago in their birth countries. And then there are those who are searching for food that speaks to every part of themselves, even if that looks closer to "fusion." The latter is what Soleil Ho spoke of as "assimilation food," and what Dale Talde calls "diaspora cooking."
While Saxena's piece is US-centric and discusses at length how a mainstream US audience engages with the cuisine of a specific culture, within South Asia, I also feel it's time to broaden our understanding of what is "authentic", and what is "correct". As somebody who has been blogging and writing about Pakistani food for 4+ years, and started by crowd-sourcing recipe of traditional dishes from friends and family, there are always a dozen ways to prepare even something as basic as masoor ki dal. Each family and individual has their own take on a recipe, especially those who live overseas. Soleil Ho's great essay on assimilation food, and similarly, Priya Krishna's viral cookbook, Indian-ish talk about how their families had to adapt based on what was easy, and what was easily available. They may not be traditional but I would argue that it doesn't make those dishes less Pakistani/Indian/Vietnamese/etc. – rather, it simply broadens our understanding of what these cuisines are as well as what American/British/Canadian etc. food is.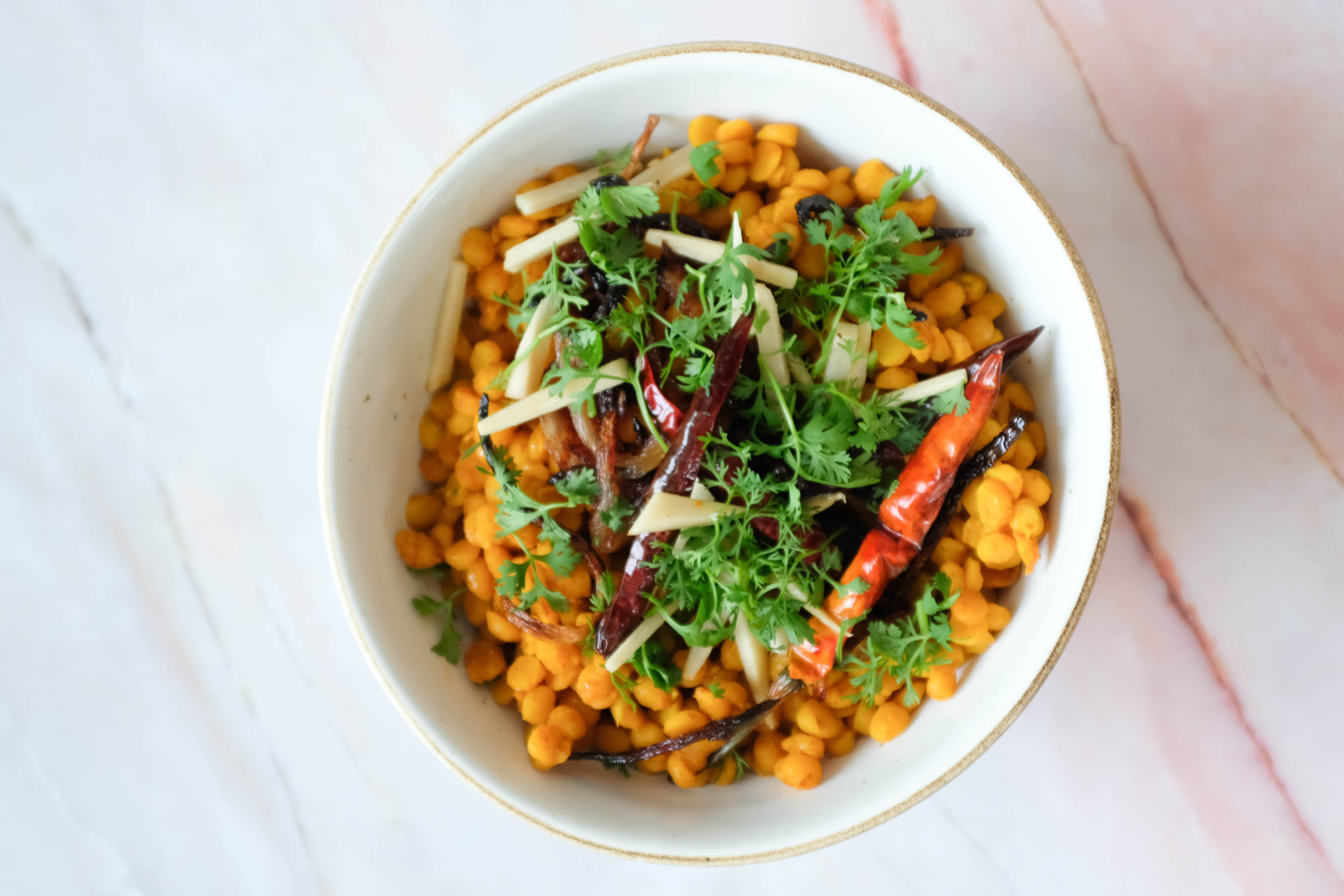 While Usmani's book is not a reference to diaspora cooking, I do love how her personal touches to traditional recipes that are inspired by her new home in Scotland or her culinary training. For instance, stuffed sweet potato parathas or a hibiscus and Himalayan pink salt raita. Given Usmani is Pakistani and has spent years testing out Pakistani recipes, her recipes do not qualify as "Pakistani cuisine" simply because they don't fall within the narrow definition of what we grew up eating?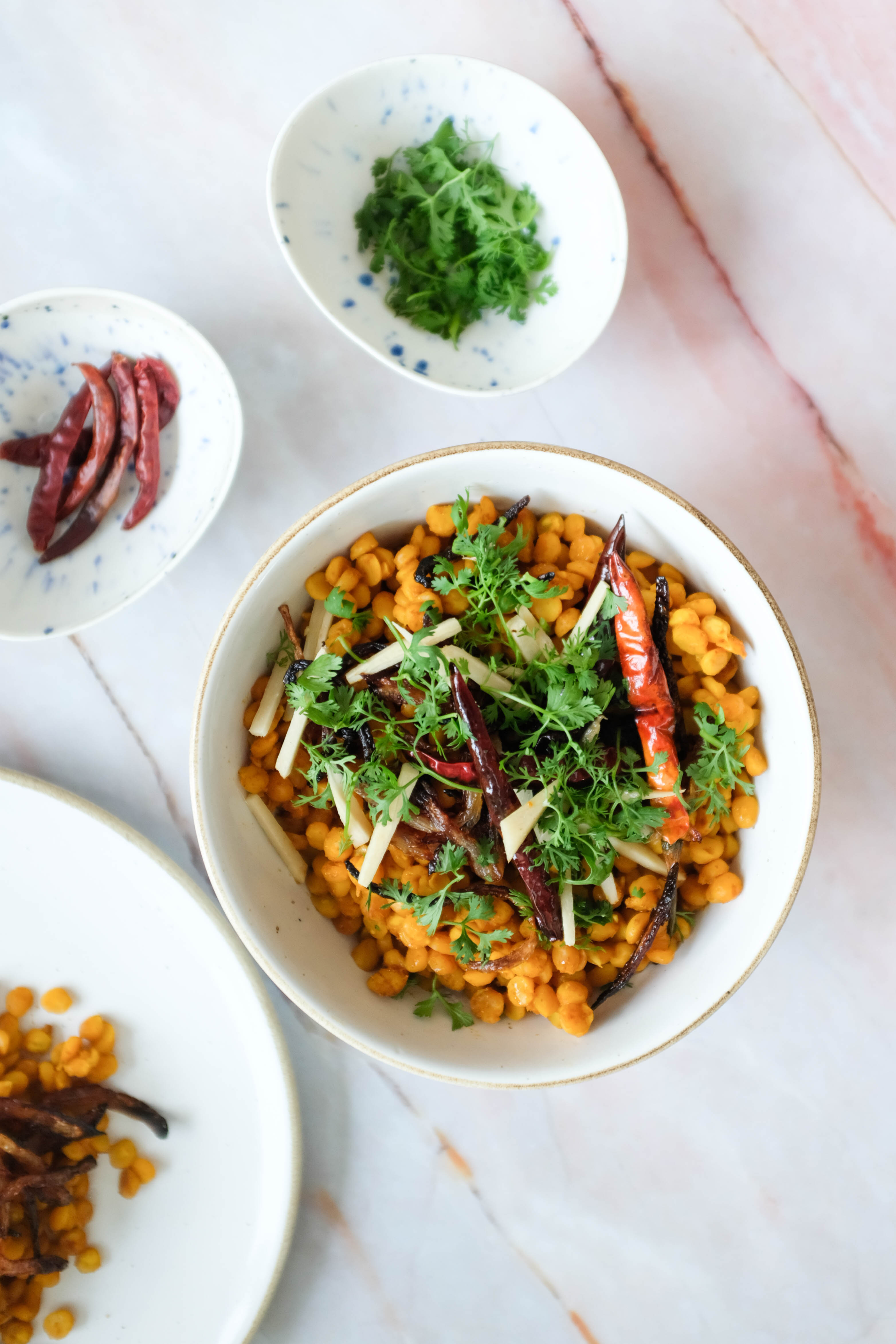 Adapting recipes for what is available, what is easier and honestly, what works for you is great. It's a clever way of keeping traditional dishes relevant, and keeps things in the kitchen interesting. On that note, here's my take on Usmani's chana dal. I really enjoyed eating and making this dal because the flavor is very similar to the urad dal I grew up eating in my home in Islamabad. It's very different from the masoor ki dal or kaali dal or masoor mong dal featured earlier because it's dry and had with a naan or chapati instead of rice.
This recipe is especially fun because of the incorporation of tamarind paste and the generous heap of cilantro and julienned ginger that infuse a sharp, fresh flavor to the dish. I made some adjustments to the cooking process and spices to further sharpen the flavor profile to suit my taste. Hope you'll give the recipe a try, and then, test out your own variations in the spirit of the creative process and rejecting outdated notions of what constitutes as authentic Pakistani food, and what doesn't.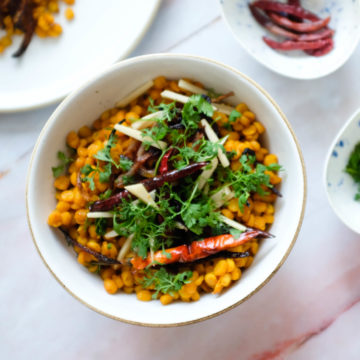 Chana Dal Recipe
An easy 30-minute recipe for a punchy chana or split yellow gram dal that derives it sharp flavor from a rich spice blend and tamarind sauce.
Ingredients
1 ½

cup

chana dal

split yellow gram

3

cups

water

1 ½

teaspoon

crushed garlic

1 ½

teaspoon

crushed garlic

2

tablespoon

tamarind paste

home-made or store bought, see notes

1

teaspoon

cumin powder

2

teaspoon

coriander powder

½

teaspoon

turmeric powder

1

teaspoon

red chili powder or to taste

1

teaspoon

salt or to taste

½

yellow onion

sliced in half rings

¼

cup

oil

canola/sunflower/vegetable

4-6

dried red chilies

3-

inch

ginger

julienned

2

tablespoon

cilantro

finely chopped
Instructions
Rinse the chana dal and soak overnight.

Place the dal and water in a medium-sized saucepan. Bring it to boil.

Add crushed ginger and garlic, tamarind paste, ground spices and salt. Lower heat and let the dal simmer uncovered for roughly 20-25 minutes. The dal should soften and the water boil out. Remove from heat.

While the water is boiling, fry sliced onion in ¼ cup oil for about 10 – 12 minutes until it's a deep even brown. Drain on paper towel.

When the dal is done, heat 2 tablespoon of oil, and fry 4-6 dried red chilies for a few seconds.

Place the dal in serving dish, top with caramelized onions, fried chilies and oil (tadka), and freshly cut ginger and cilantro. Serve with roti/chapati or naan.
Notes
For this recipe, I used a store-bought tamarind paste. If you want to make it at home, soak a walnut-sized tamarind pulp in warm water. Using your fingers or a spoon, deseed the tamarind pulp and press it to extract the juice out of the tamarind. Strain it and add the tamarind water to the saucepan along with the rest of the ingredients.