Happy new year friends! I'm very excited to share the recipe of a Pakistani classic, haleem.
While holidays have come to an end, the cold weather has not. For my last piece as TASTE's Cook in Residence, I wrote about the allure of Christmas, memories of Eid, and how my siblings and I learned to make December our own. Needless to say, a lot of cooking was involved. In the piece, I share my mother's recipe for haleem, a dish that is perfect for lazy, winter days. Read the full story here, and find the recipe below.
Other winter favorite dishes include: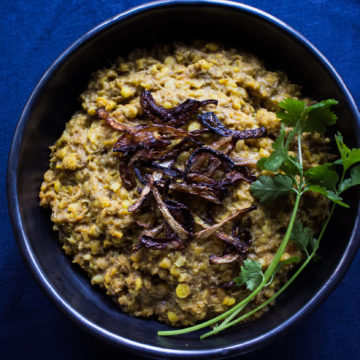 Haleem
A complex meat and barley porridge, haleem is a dish that is perfect for long winter days, and meant to be shared with friends and family.
Ingredients
Lentil Mixture

1

cup

wheat kernels

rinsed and soaked overnight

½

cup

yellow split peas

rinsed and soaked overnight

¼

cup

barley

rinsed and soaked overnight

¼

cup

basmati rice

rinsed and soaked for one hour

¼

cup

red lentils

rinsed and soaked for one hour

¼

cup

moong daal

rinsed and soaked for one hour

1

medium yellow onion

thinly sliced in half rings

Salt to taste

1

tablespoon

turmeric powder

2½

tablespoon

red chili powder

Meat Korma

⅓

cup

oil

canola, sunflower or vegetable oil

2

lb

boneless beef chuck or lamb shoulder

fat trimmed and roughly chopped in 1-inch pieces

2

tablespoon

ginger/garlic paste

6

black cardamom pods

8

cloves

2-

inch

cinnamon stick

10

peppercorns

½

cup

plain yogurt

2

tablespoon

coriander powder

1

teaspoon

garam masala powder
Instructions
Bring 4 quarts of water to a simmer and add grains. Add salt to taste, 1 tablespoon red chili powder, turmeric powder, and ½ sliced onion. Dial heat to low and cover. Let it simmer for approximately 2 hours. Stir occasionally to make sure that the grains do not stick to the bottom of the pan.

Once the grains are fall-apart soft, drain excess water and transfer to a food processor. Mince it well to soften the texture, and transfer grain mixture to a large pot.

Once the grains are boiling, begin to prepare the meat korma. Heat oil in a large pot. When the oil is sizzling hot, add onions and fry on medium heat till they are golden brown and crisp, about 7 minutes, more if necessary. Be careful not to burn. Once onions are ready, transfer to a paper towel to drain excess oil.

Move the saucepan to a cooling rack and let it cool. Heat remaining oil again on low heat, add ginger and garlic paste, and let it fry for a few seconds. Be careful since it may splutter. Add meat, salt to taste, and whole spices (black cardamom pods, cloves, peppercorns, cinnamon stick), and fry on medium-high heat till the meat is evenly cooked, about 5-7 minutes.

Stir in coriander powder, garam masala, and remaining red chili powder into the yogurt. Add fried onions and the spiced yogurt to the meat. Continue to cook on medium-high heat for another 5-7 minutes till the oil begins to separate.

Lower heat. Add 5 cups of water and bring to a simmer. Cover and cook till meat is tender and falling apart, roughly 1 to 1½ hours. Stir meat frequently to make sure it does not stick to the bottom.

Once the meat is ready, take out whole spices with a slotted spoon. Transfer meat mixture to a food processor and mince till it has an even consistency. Once ready, transfer to the pot with the grains.

On low heat, begin to stir the grain and meat mixture together till it is well blended, about 5 minutes. Top with crispy, fried brown onion.

Serve alongside finely chopped green chili, cilantro, julienned ginger, chaat masala, lemon or lime wedges, and naan.