Jump to Recipe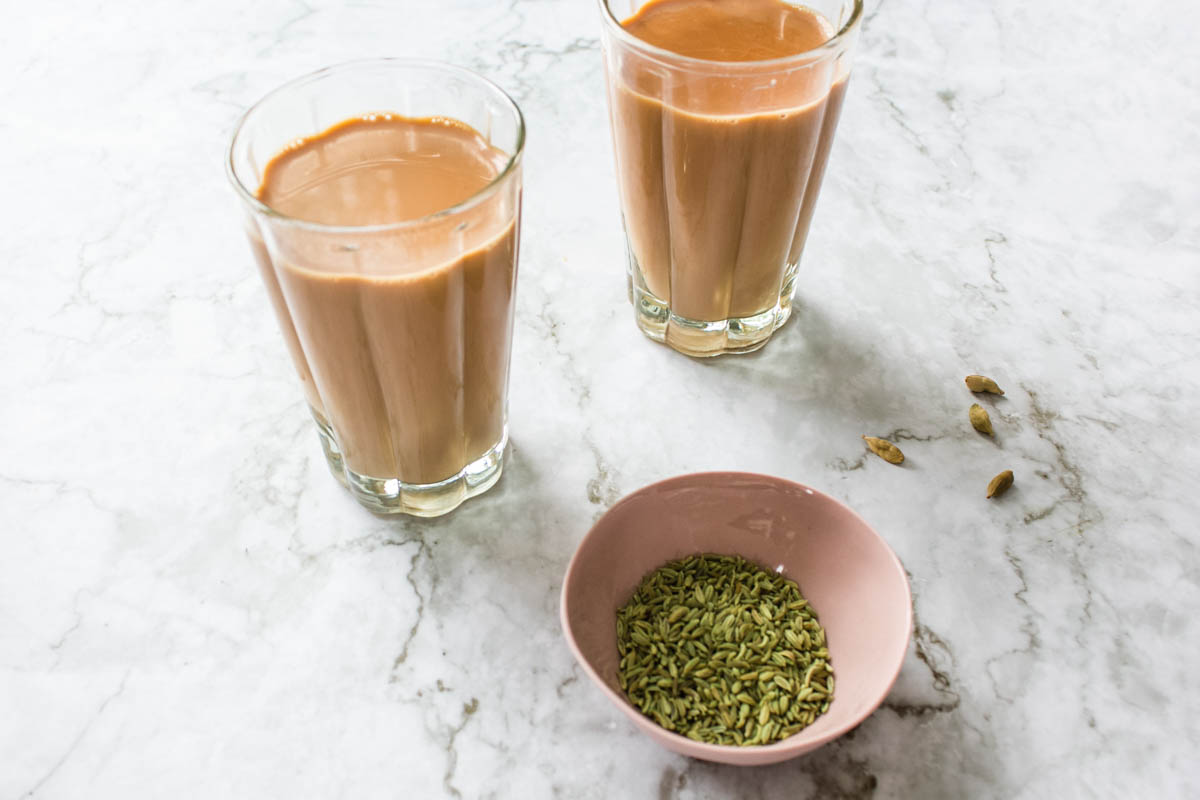 Jump to:
In my bid to fill gaping holes in the blog (see bhindi masala post), I bring you a masala chai recipe. My husband, Saptarshi, has been after me for years to post a basic chai recipe given its central place in a Pakistani household. At home in Islamabad, we only have simple Lipton black tea that is brewed in a teapot for a few minutes and served alongside milk and sugar. It wasn't interesting enough to warrant a post. But when I tried this Lahore Deli Chai recipe a couple of years ago, I learned of the special joy of a spiced, creamy chai. When I recreated it a couple of weeks ago, I realized that it was a little too spicy and too milky for my taste. There had to be a middle ground.
This masala chai recipe is that middle ground. A typical roadside Pakistani chai is doodh pati – tea leaves cooked in milk. That's Lahore Deli's variation as well. But since I cannot stand too much milk in my coffee or tea, I adapted the recipe to make it less milk heavy. I took some lessons from my friend Izzah's authentic chai recipe on her blog; and Numra of Empress Market from her tutorial on Instagram.
This masala chai recipe is for me. If you are looking for a doodh pati recipe or a really complex masala chai, you will have to look elsewhere. This is tea primarily brewed in water (rather than milk) and lightly spiced with a pinch of ground fennel seeds and cardamom. I played around with the recipe a few times and here's what I learned.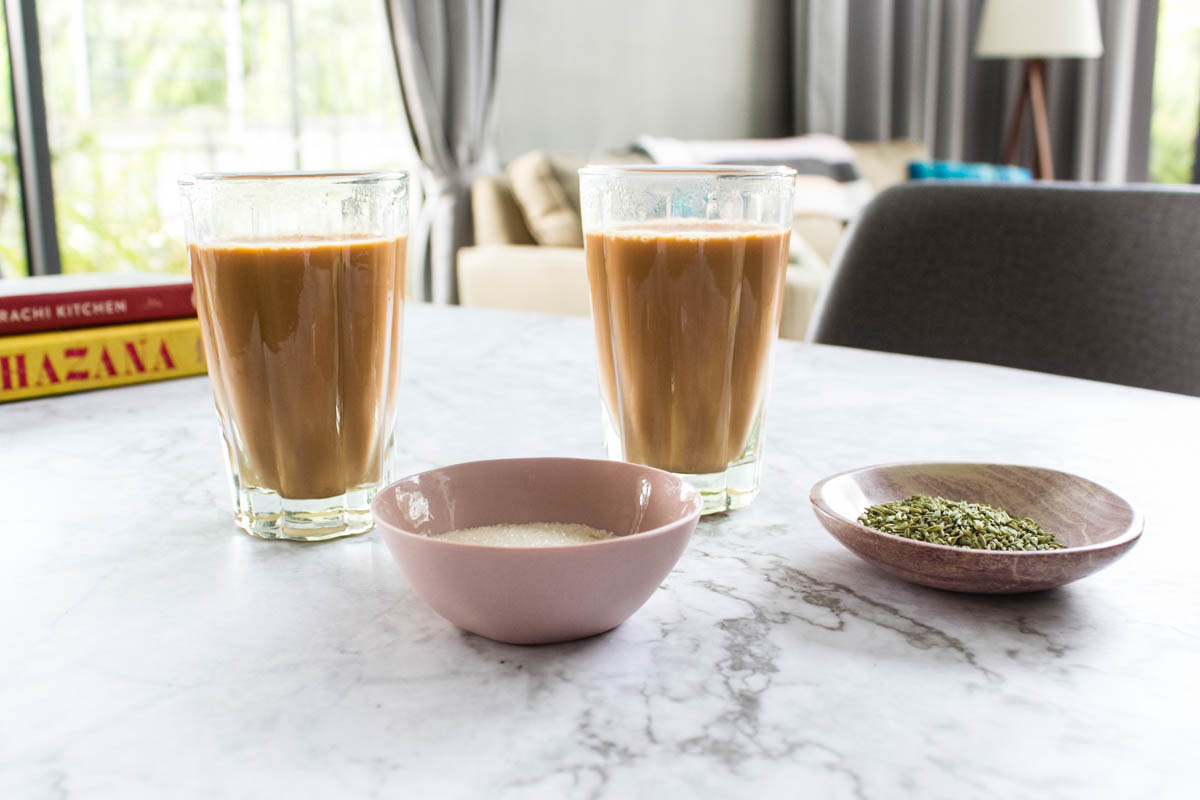 How to Make This Chai Recipe Your Own
I only used ground cardamom and a pinch of fennel seeds in this recipe but don't let that stop you from playing around. I was chatting with my Twitter friends, and people incorporate a whole range of spices including fresh ginger, cloves, black pepper and cinnamon sticks. See what you like.
Whatever spices you use, remember to infuse them for a couple of minutes in simmering water in the beginning.
Use strong black tea. You can use teabags as well. In this recipe, I added loose Tapal tea and strained it towards the end.
Use whole milk! In fact, some will go as far as urging you to use fresh milk only but we know that can be a little difficult.
Izzah and Numra both recommend aerating the tea with a ladle. I didn't have the patience to do that but I was occasionally whisking it. This apparently helps make it creamier.
Do not serve the tea in glass! I thought it would look good in photos but it's really impractical. Stick to mugs and teacups.
I hope these tips and recipe will guide you to make your own perfect cup of masala chai. Till then, enjoy and Ramadan Mubarak!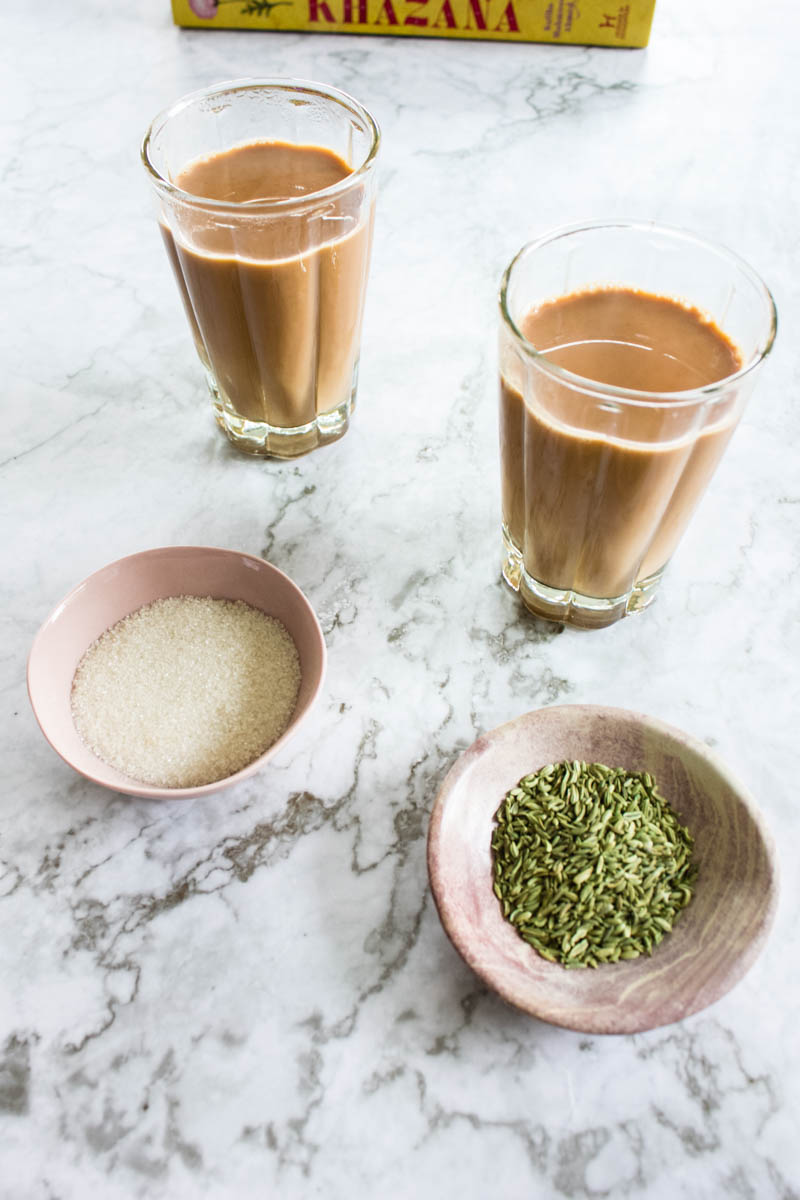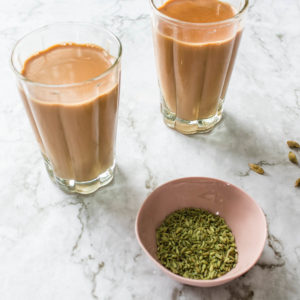 Masala Chai Recipe
A simple recipe for a masala chai that's somewhere between dhaba tea and the one I grew up having at home.
Ingredients
4

cups

water

Pinch

of fennel seeds

ground

4

cardamom

pods removed and ground

5

teaspoons

loose black tea or teabags

1

cup

whole milk

5

teaspoons

sugar or to taste
Instructions
Bring 4 cups water to boil. Reduce to simmer and add ground spices and tea. Let it simmer for 2 minutes.

Whisk in milk. Bring to boil.

Lower heat and let milk simmer for 8 minutes, whisking occasionally and skimming any residue from the top.

Remove from heat, stir in sugar or sweetener.

Strain and pour in mugs or teacups.