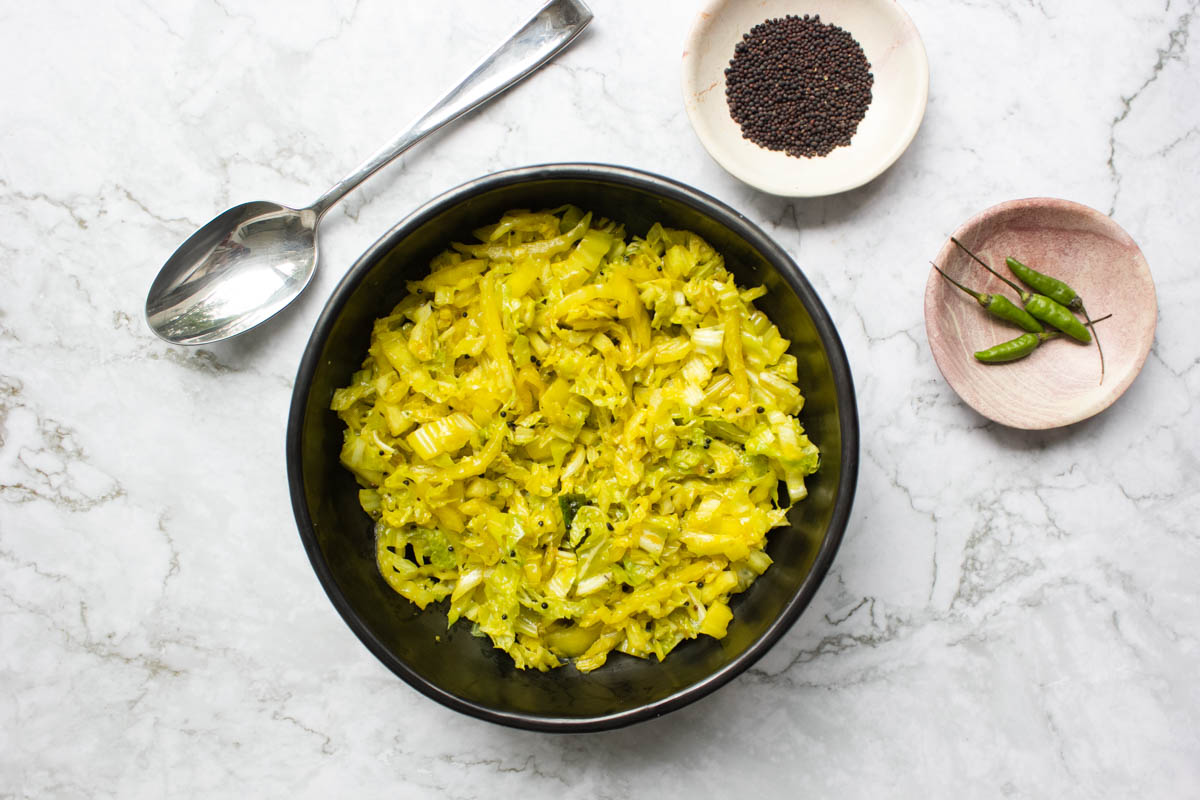 Jump to Recipe
Friends! Pakistan Eats turned five this past week! It's amazing that this passion project has continued for this long – to everyone who stuck around, thank you! For those who are new to the blog, welcome and thank you for your interest in Pakistani food. If you are new to the cuisine, this post on why I started the blog maybe helpful.
When I first started this blog, I wanted to do my best to share recipes that capture the diversity of Pakistani cuisine. To start, I had reached out to my friend, Mariyam whose maternal grandparents were from Bangalore and Mangalore in south India, and had migrated to Pakistan around partition. For this reason, the food that Mariyam's mother, Seema Aunty, prepared was very different from the traditional Punjabi fare I grew up eating. One of the initial recipes Mariyam shared with me was of patta gobi – thinly sliced cabbaged fried in mustard seeds.
The recipe stuck with me and I came across it again in Saliha Mahmood's award-winning book, Khazana. This is the second adaptation from her gorgeous book (the first one was this fun modern take on shahi tukray).
Both Seema Aunty and Mahmood's recipes incorporate mustard seeds as the primary spice for the cabbage. Mahmood however, adds a few additional layers to the flavor through the incorporation of crushed ginger, sugar and fresh methi leaves.
In my adaptation, I swapped out regular neutral oil with mustard oil to double down on the flavor. Check out Nik Sharma's great introduction to mustard oil for Serious Heats. If you are not comfortable using it and/or face difficulty finding it, don't worry! You can still use any neutral cooking oil and the cabbage will still be tasty. Since I couldn't find fresh methi leaves, I omitted them from the recipe, and tweaked some seasoning to suite my palate.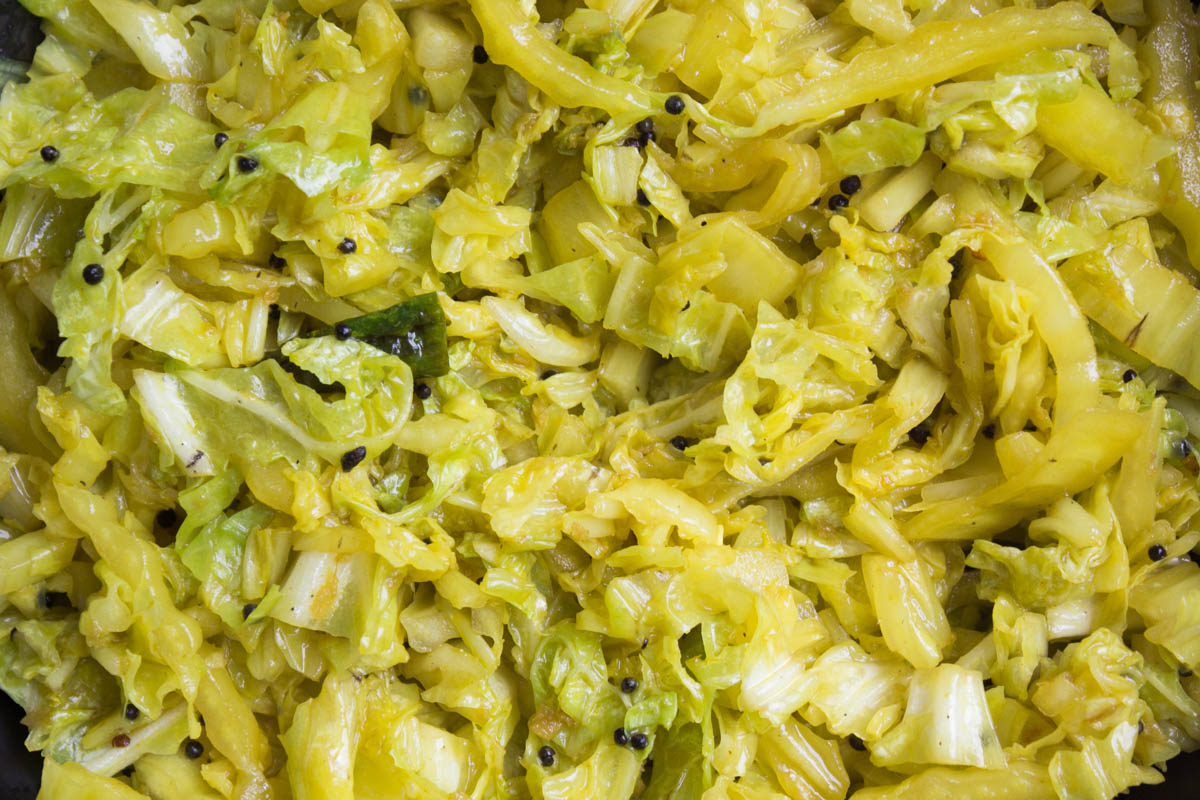 What Type of Cabbage to Use
When I was preparing this recipe, I opted to use Napa cabbage, which is also referred to as Chinese cabbage. I like using it for stir-fry recipes due to its mild flavor. But any type of green cabbage will do. I found this post by The Spruce Eats on the different varieties of cabbage quite helpful.
What to Pair with Patta Gobi
Patta gobi is a lovely bright vegetarian side that can be paired with a wide variety of South Asian mains. I especially recommend serving it alongside:
Gobi gosht or palak gosht: The lightness of the cabbage will help balance the heady flavor of these rich goat curries
Kadhi chawal: It again will add some lightness to this heavy vegetarian main. For some extra brightness, I would also throw in some garlic chutney.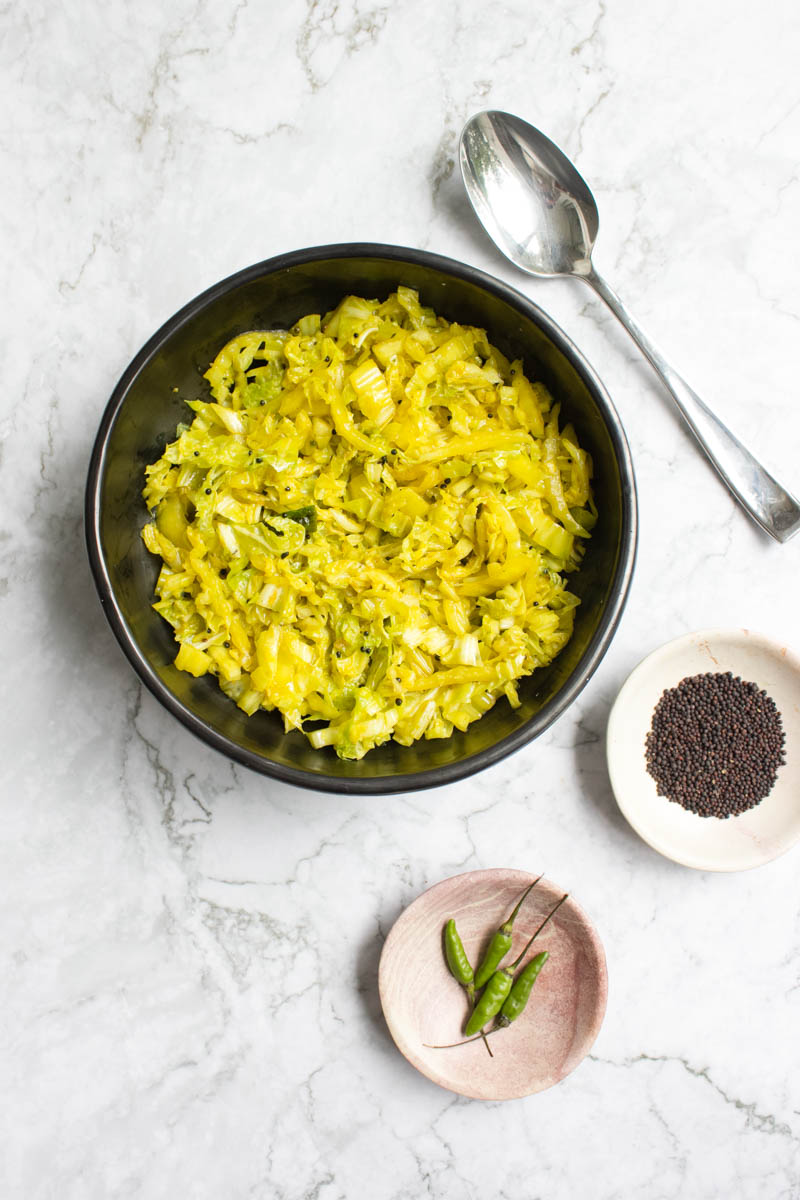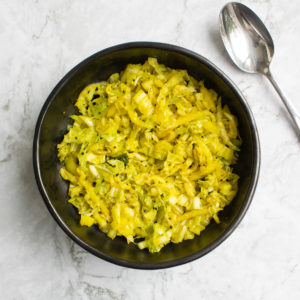 Patta Gobi (Fried Cabbage)
Patta gobi is a bright vegetarian side of cabbage fried in a light spice blend of mustard seeds, ginger and green chili.
Ingredients
⅓

cup

mustard oil or a neutral cooking oil

½

teaspoon

mustard seeds

1

green chili

half slit

½

teaspoon

turmeric powder

1

teaspoon

crushed ginger

1

pound

cabbage

shredded

1

teaspoon

salt or to taste

1

teaspoon

sugar
Instructions
Heat large wok for a few seconds and add oil. When oil becomes to shimmer, after a few seconds, add mustard seeds.

When mustard seeds begin to pop, add green chilies, crushed ginger, turmeric powder, and fry on medium heat for roughly 30 seconds.

Add shredded cabbage, salt and sugar. Fry on high heat for 5 minutes, coating it with the oil and spices till it begins to soften and acquire a pale yellow hue.

Remove from heat and serve with main of choice.