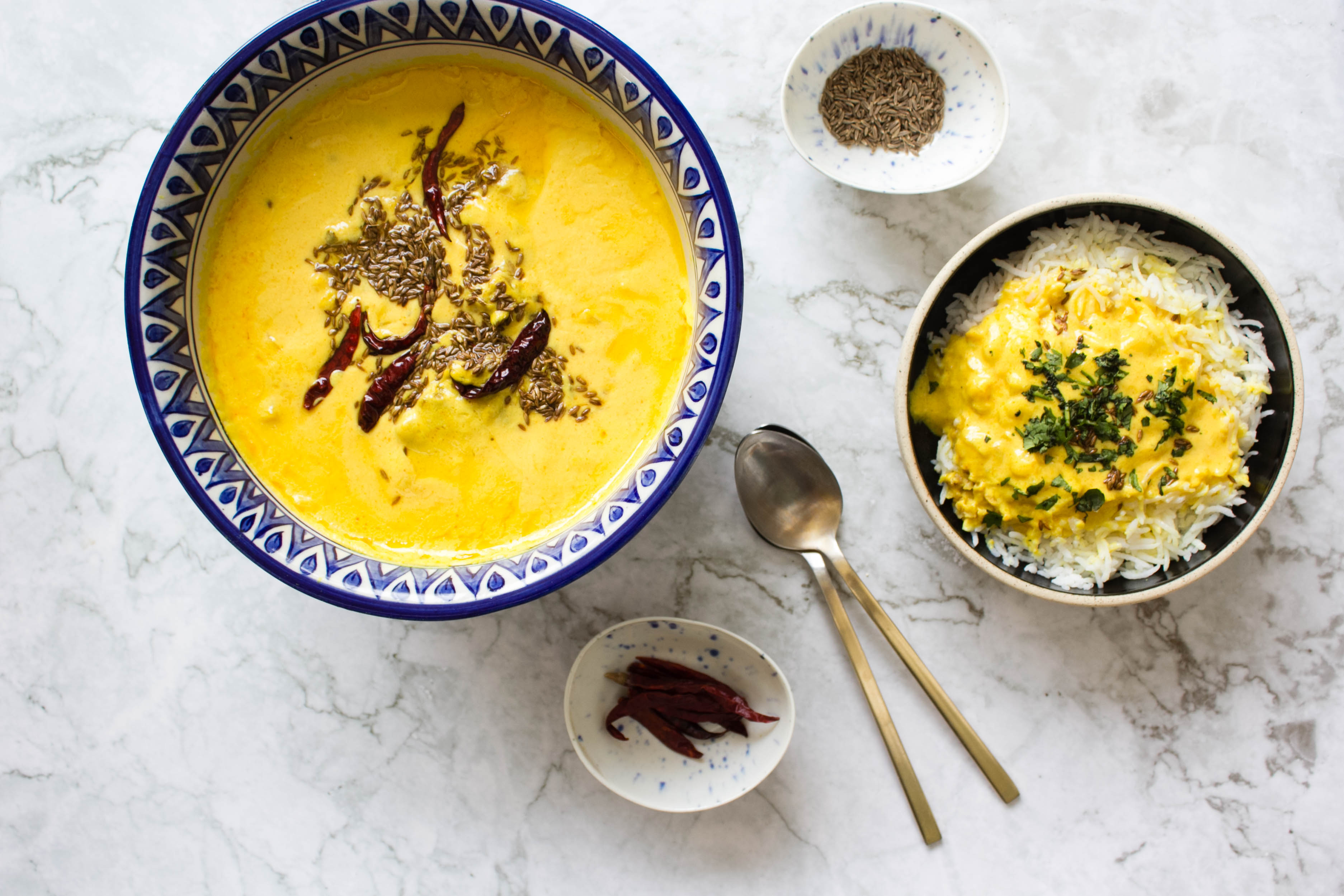 Jump to Recipe
Kadhi (pronounced karr-hee) is a vibrant yogurt-based curry served with rice.  Kadhi chawal is a generous vegetarian main that even veggie skeptics can get down with (note its quick appearance in Parts Unknown's Punjab episode where Bourdain happily wolfs it down it down in Simla).
Kadhi chawal's light but hearty blend of yogurt and rice makes the dish well-suited to subcontinent summers. A lunch staple in my home, I always ate it under the assumption that it wasn't a Punjabi dish. Turns out it is, along with being a Haryana, Uttar Pradesh, Rajasthani, Gujarati and Sindhi dish, with each region having its own take. So think pan-North Indian.
The recipe below was submitted by my old classmate, Sohaib who grew up in Rawalpindi, and adapted with input from my mom. It is a labor of love but well worth the effort.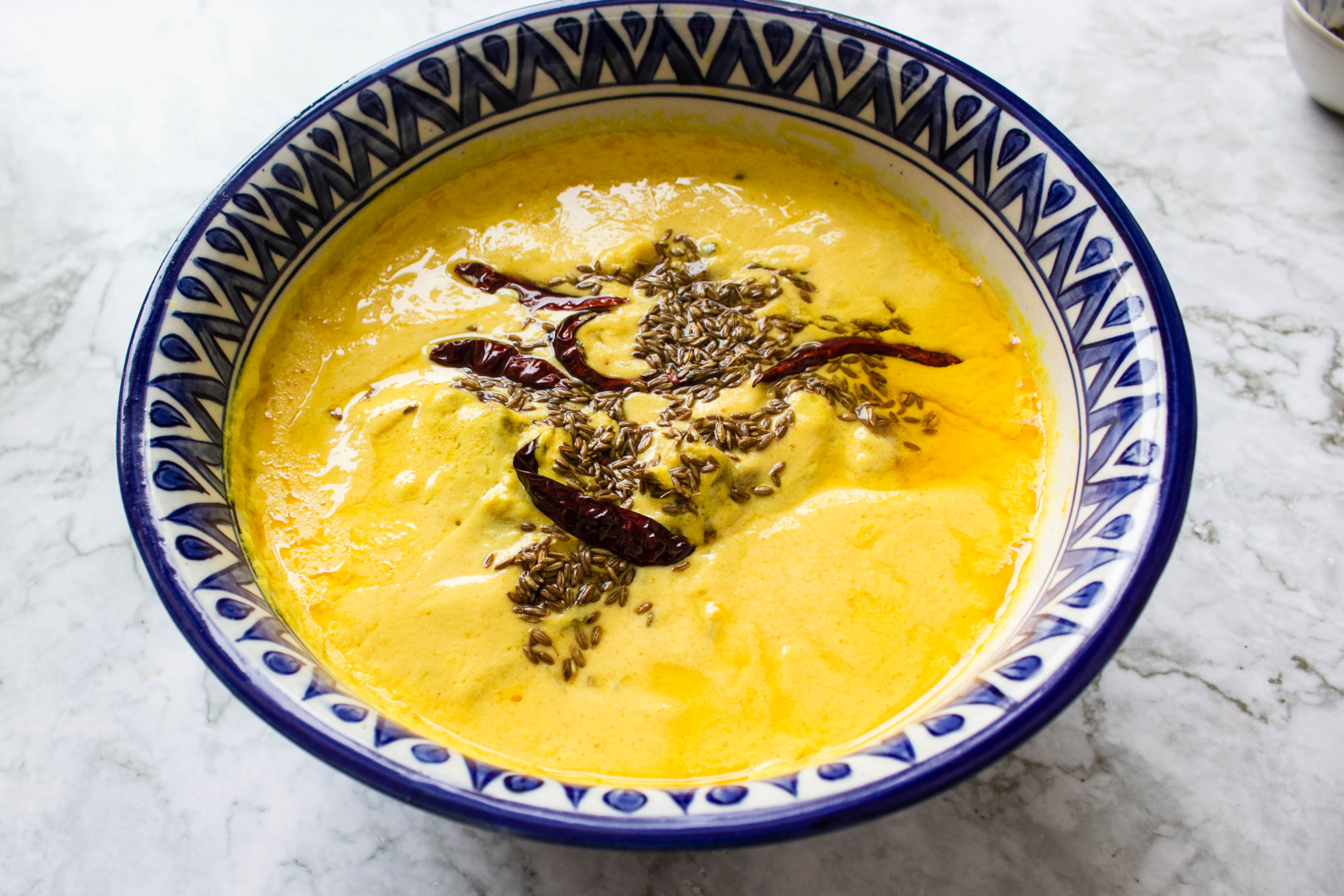 How to Make Kadhi Chawal
The dish has several variations. Each province, region and family does it separately. The recipe featured here is a blend of Sohaib and my mother's kadhi recipe. Kadhi can be an intimidating dish to make, and so here are a few suggestions to make the process as smooth as possible:
If possible, use sour yogurt. You can sometimes find it at the Indian/Pakistani grocery store or you can make your own (see Priya Krishna's recipe here). The tartness of the yogurt will definitely set your kadhi chawal apart, making it taste more like home.
It's easy for the yogurt to curdle. Some ways that you can prevent it from curdling it is to let the yogurt come to room temperature before adding it. Secondly, lower heat before adding the yogurt. One technique that worked for me when making this recipe was to keep stirring the kadhi batter as I brought it to boil. Lastly, add salt towards the end.
Different people have different preferences regarding how soft and hard they want their pakoras to be. That said, you do not want your pakoras to be fall apart soft. Sameen Rushdie recommends only adding the pakoras to the batter an hour before serving. Here, I suggest letting them simmer in the kadhi for 10 minutes. If you however, intend on serving the kadhi several hours later, I would suggest postponing that step till you are close to ready to serve.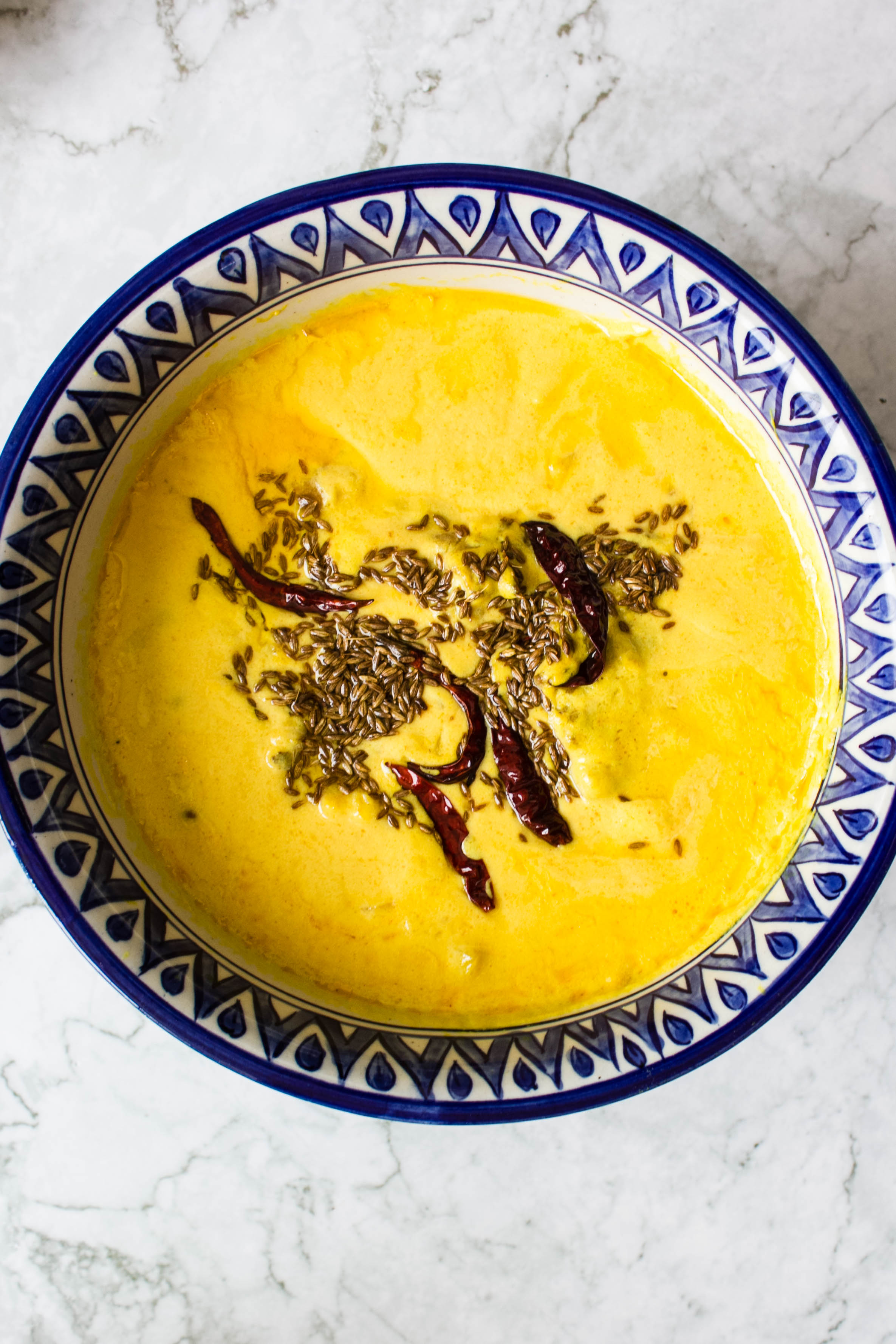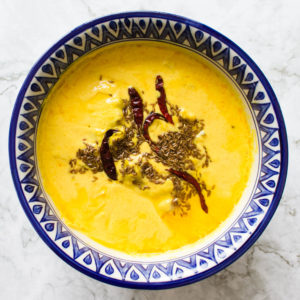 Kadhi Chawal
Ingredients
Pakoras
1 ½

cup

besan

gram flour

½

teaspoon

salt or to taste

½

teaspoon

red chili powder

½

teaspoon

coriander seeds

toasted and ground

¼

teaspoon

baking soda

1

small red onion

diced

4

green chilies

finely chopped

½

cup

oil

canola/vegetable/sunflower
Kadhi batter
2

cups

plain full-fat yogurt

½

cup

besan

gram flour

6

cups

water

1

tablespoon

salt or to taste

2

teaspoon

Kashmiri red chili powder

(less if using cayenne)

2

teaspoon

turmeric powder

¼

cup

oil

canola/vegetable/sunflower

1

teaspoon

fenugreek seeds

1

yellow onion

diced

1

teaspoon

crushed ginger

1

teaspoon

crushed garlic

2

roma tomatoes

diced (optional)
Tadka
2

tablespoon

oil

canola/vegetable/sunflower

2

teaspoon

cumin seeds

4

dried red chilies

preferably round

5

fresh curry pata

curry leaves
Instructions
To get started on the pakoras, mix in 1 ½ cup besan (gram flour), ½ teaspoon red chili powder, salt, coriander seeds, and baking soda. Slowly add roughly ⅔ cup water, gradually folding it in with the dry ingredients with a spoon. You don't want the batter to get too watery. Let it sit for 10 minutes.

Fold the chopped red onion and green chilies in with the batter. Check to see if the batter is thick enough to hold them. If it's too watery, add more flour.

Heat a small saucepan. Add ½ cup of oil. Once hot, take individual tablespoons of the batter and place inside the pan. Make sure you don't overcrowd the pan - fry in batches if needed. The pakoras should float up. If they do not, let the oil heat for a few seconds more. Move the pakoras occasionally to make sure they are not sticking. Flip when the side becomes golden brown. Drain on paper towel.

For the kadhi batter, add the yogurt, ½ cup besan (gram flour), red chili powder, turmeric powder and 6 cups of water to a blender. Blend till smooth.

Heat ¼ cup oil in a large pot. Add the fenugreek seeds.

When they start popping, add the chopped onion and fry on medium heat till translucent, about 5 minutes.

Add crushed ginger and garlic, and fry for 30 seconds.

If using, add diced tomato. Increase heat and continue to stir till the tomato softens. This step is optional.

Once the tomato breaks down and becomes paste-like, add in the kadhi batter. While stirring constantly, bring the kadhi to a boil. This prevents the yogurt from curdling. Lower heat and let the kadhi simmer for roughly 20 minutes, uncovered.

Add the pakoras to the kadhi, and let it simmer for another 10 minutes. Remove from heat.

When the kadhi is about done, start getting the tadka ready. Heat 2 tablespoon oil in a non-stick pan. Add cumin seeds and fry on medium heat till the color darkens slightly. Add the curry pata, stir for a few seconds, and then add the chilies. Stir for a few seconds till they change color slightly. Remove from heat.

Pour the tadka with the oil on top of the kadhi, and serve with rice.
Notes
My mom skips the step of frying the onion and tomato. There is no right or wrong way. It will depend on your personal preference. Adding the onion and tomato adds a hint of sweetness to the kadhi. If you like your kadhi on the tarter side, you can omit this step.
If you like your pakoras on the softer side, you can let them simmer in the kadhi for longer.