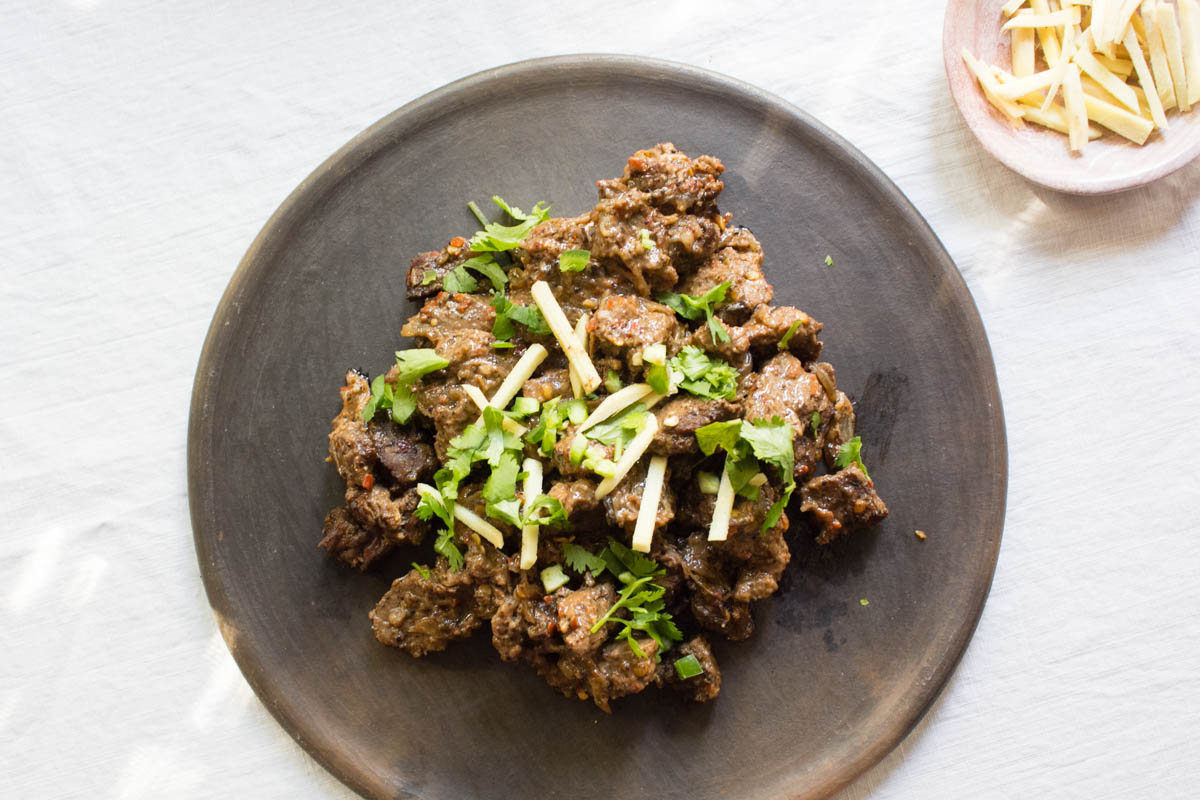 This post was originally published on June 9, 2018 based on the dum kay pasanday recipe from Kausar Ahmed's book, "The Karachi Kitchen". I recently updated it in order to prepare it in the slow cooker with a few spice adjustments. 
Katherine Ferguson was kind enough to send me a copy of Kausar Ahmed's book, "The Karachi Kitchen" in December last year. The book is a small collection of classic and contemporary flavors of Pakistan. Born in Karachi, Kausar is a food stylist, chef and cooking instructor that splits her time between Pakistan and the United States. To learn more about her work, check out my interview of her here.
I enjoyed perusing through the book but didn't have time to test out any of her recipes till several months later. I especially enjoyed making dum kay pasanday - beef strips marinated in a glorious spice blend and then slow cooked over a few hours. It's a richer variation of an old recipe, Anita's Bhuna Ghosht that I like to make in the winter. Another recipe that is inspired by Kausar's book is this chicken hara masala.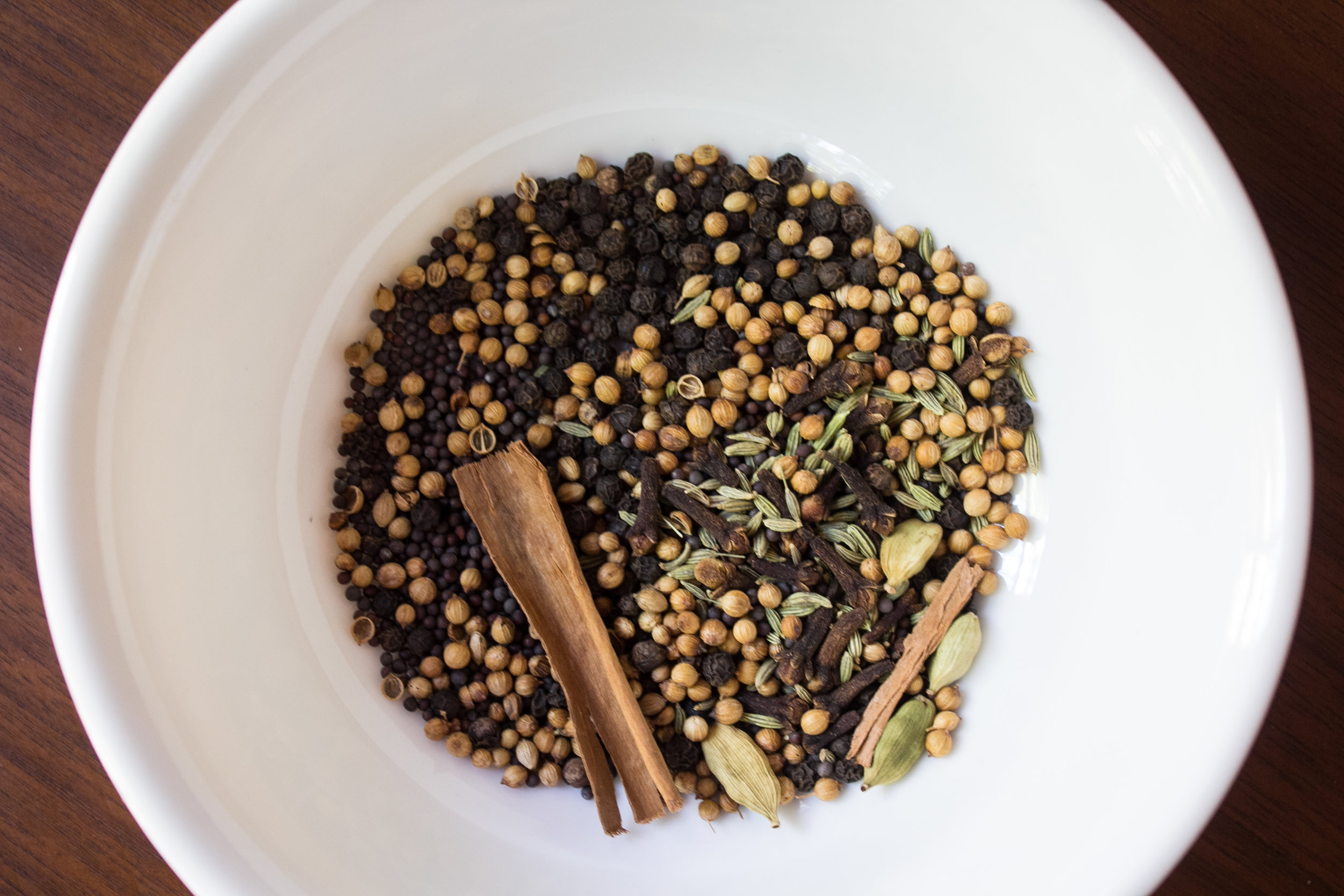 I recently took another stab at the recipe because I wanted to test it out in the slow cooker. The big change was that I first fried the marinated beef strips in oil before tossing them into the slow cooker with a cup of water.  I also tinkered a bit with the spices to soften the flavor.
I'm looking forward to preparing this during the next Eid. It's a flavorful, celebratory main that pairs well with both pulao and roti. Kausar however, specifically recommends serving it with some piping hot naan.
Enjoy!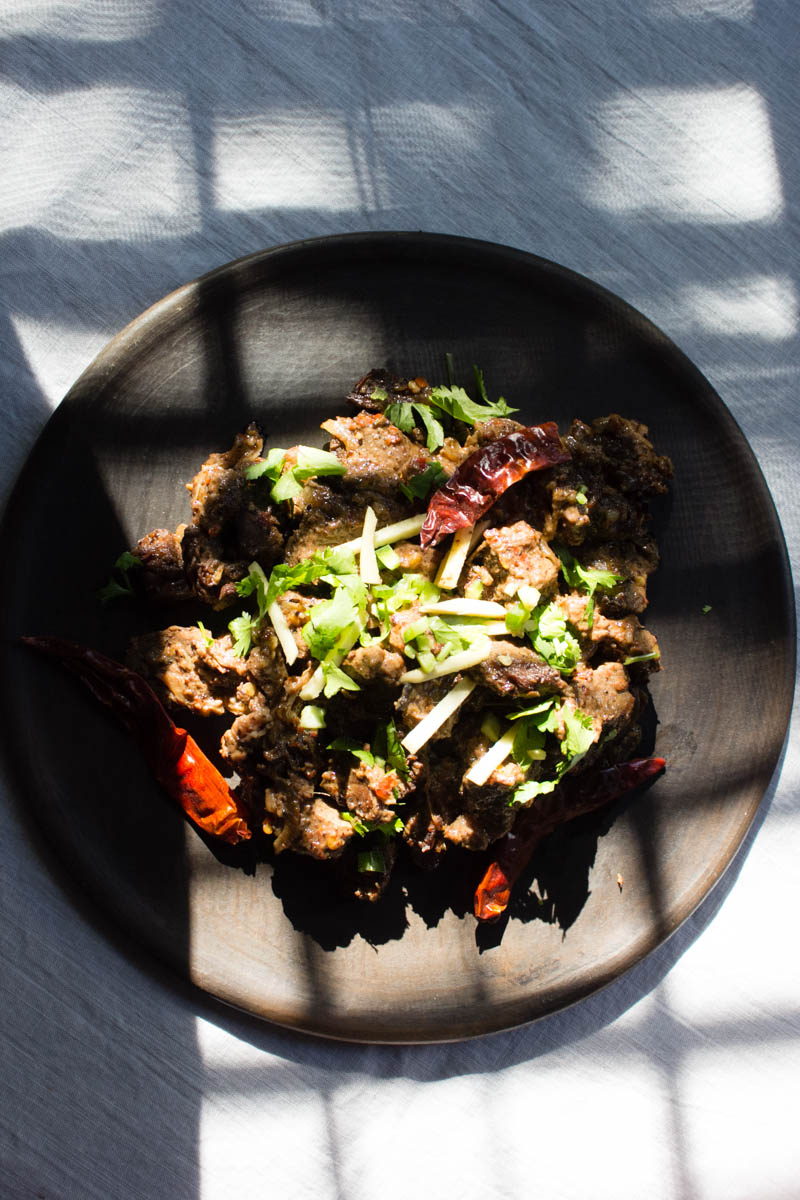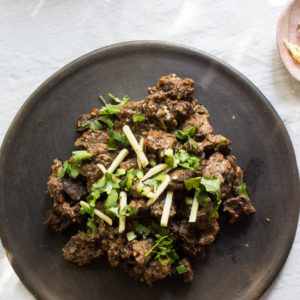 Slow Cooker Dum Kay Pasanday (Masala-Rubbed Roast Beef)
Dum kay pasanday is a delicious masala-rubbed roast beef that is an excellent celebratory main, especially when served alongside piping hot naan.
Ingredients
Spice Rub
1

teaspoon

black peppercorn

1 ½

teaspoon

coriander seeds

1

teaspoon

cumin seeds

1

teaspoon

mustard seeds

½

teaspoon

whole cloves

½

teaspoon

fennel seeds

4

green cardamom pods

1

inch

cinnamon stick

broken into small pieces

5

dried red chilies
Beef
2.2

lbs

beef tenderloin

trimmed and chopped into thin 2-inch slices

1

teaspoon

salt

or to taste

½

cup

plain yogurt

1

tablespoon

lemon juice

1

teaspoon

ginger paste

1

teaspoon

garlic paste

¼

cup

oil

canola/sunflower/vegetable

1

medium onion

thinly sliced
Instructions
Toast spices in a dry skillet on medium-low heat for 3 - 5 minutes, stirring occasionally until mustard seeds begin to pop. Cool completely and then grind into a powder using a spice or coffee grinder.

In a large platter, mix the beef, salt, yogurt, lemon juice, ginger and garlic paste and spice mix. Marinate for 2 hours, or more.

Heat oil in a large non-stick skillet over medium heat. Add chopped onion and fry until caramelized, about 10 minutes.

Add the marinated beef and cook on high heat till the meat is no longer pink, 5-7 minutes.

Remove from stove. Place in Crock-Pot or any slow cooker, add 1 cup water. Cook on low heat for 6 hours or high heat for 3 hours. Serve warm.