This recipe was submitted by Pakistan Eats reader, Zeenat Hussain from Rawalpindi, and was originally featured on Khana Pakana. It was originally posted on the Pakistan Eats blog on June 9, 2017. 
Jump to Recipe
Here's a recipe of a Bohra style keema khichri enjoyed on special occassions. Khichri inspires all kinds of emotions among desis. A one-pot, gently spiced rice and lentil dish, it is the embodiment of comfort food. My mother would prepare khichri for us when my siblings and I would fall sick. While I do not cherish those memories of an upset stomach, the presence of khichri is a reassuring reminder that somebody loves you, and that everything will be okay.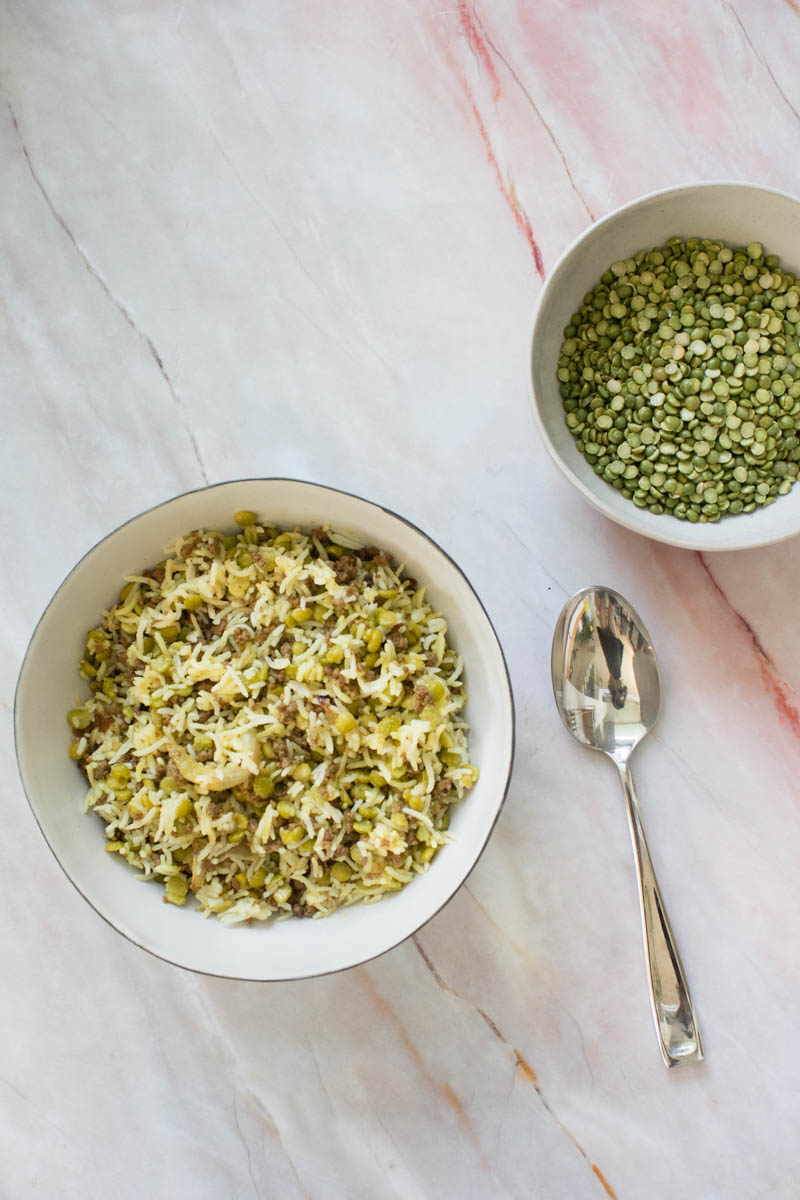 Zeenat shared a version of keema khichri that I did not grow up eating. The khichri featured here is unique to the Bohra community. Dawoodi Bohras are a Shia subsect of Islam that originated in Yemen, and spread to India and Pakistan.
Bohra Cuisine
While preparing this recipe, it was fascinating to learn about the history and traditions of Bohra cuisine. The Bohra sect's origins in Yemen. Its subsequent spread across the sub-continent make for a rich and vibrant cuisine. It absorbs influences from the Middle East, Africa, Iran and of course, the sub-continent, specifically Gujarat.  The Dawoodi Bohras have elaborate, multi-layered dining traditions. The meal typically begins with dessert, and is served on thaal, a big circular metal dish placed on a kundli, a raised platform with guests seated around it on a cloth.
Unlike the simple rice and lentil khichri I grew up eating, Zeenat's keema khichri is served on festive occasions alongside khurdi, a white stock soup.  It is a multi-layered, protein-packed one-pot that is a testament to the abundance and versatility of khichri.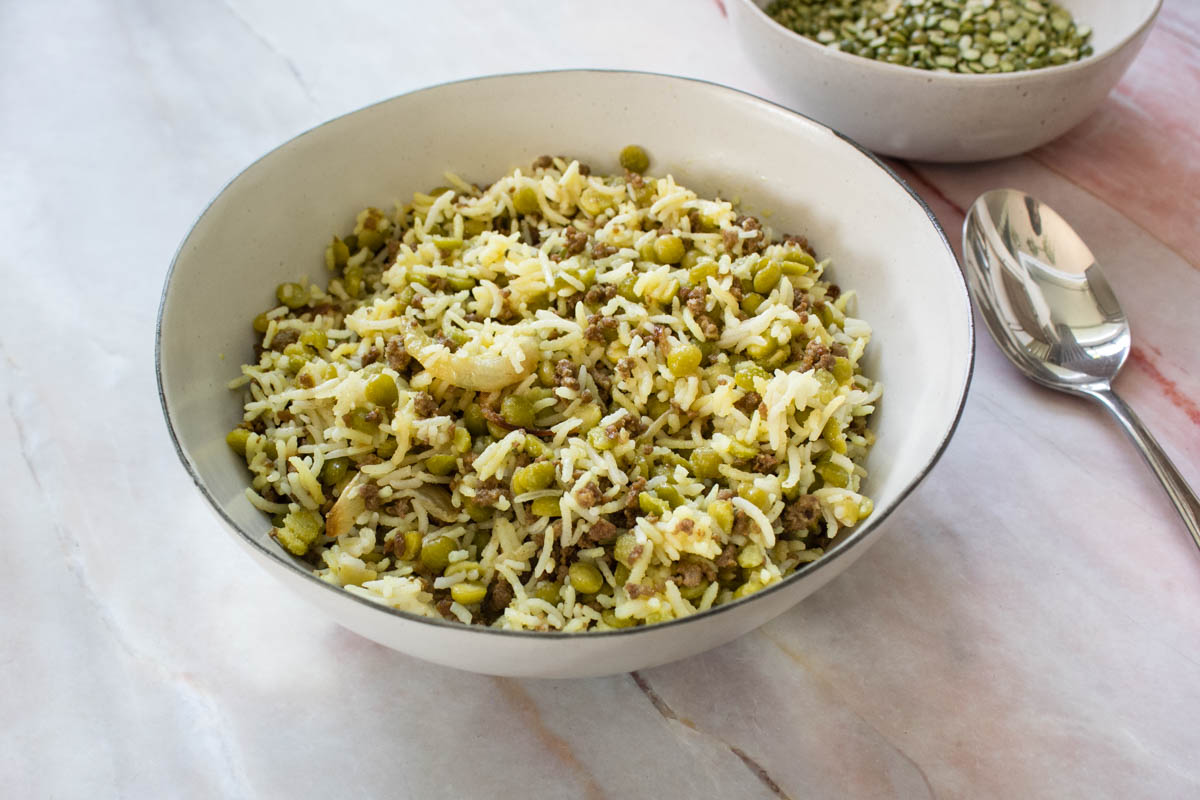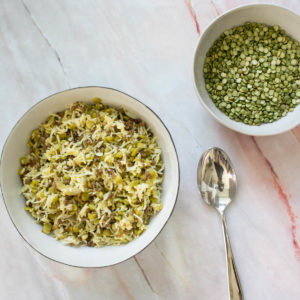 Keema Khichdi (Ground Meat and Lentil Rice)
Ingredients
Khichri
1

cup

basmati rice

washed and soaked overnight

1

cup

split moong daal

washed and soaked overnight

1

teaspoon

salt

or to taste
Keema
4

tablespoon

oil/ghee

1

small yellow onion

thinly sliced in half rings

1

teaspoon

crushed ginger

1

teaspoon

crushed garlic

1

teaspoon

red chili powder

½

teaspoon

turmeric powder

½

teaspoon

garam masala powder

1

teaspoon

cumin powder

1

teaspoon

coriander powder

1

lb

ground beef

1

teaspoon

salt

or to taste

2

hard-boiled eggs

quartered or thinly sliced in rings (optional)
Tadka (optional)
2

tablespoon

oil

canola/sunflower/vegetable

1

small yellow onion

thinly sliced in half rings
Instructions
Preheat oven to 350 F.

Bring 4 cups salted water to a boil. Add rice and lentils, and let it simmer on low heat till the lentils are done, about 20 - 30 minutes. Drain immediately.

While the rice and lentils are cooking, you can begin to get the keema ready. Wash ground meat and drain.

Heat oil in a saucepan, and brown sliced onion on medium heat for about 10 minutes.

Add crushed ginger and garlic, and fry for a few seconds.

Add the ground spices and fry on medium heat for 1 minute. Add a splash of water to deglaze the pan if needed.

Turn heat up, add ground meat and salt. Fry the ground meat till it is cooked through and no longer pink.

Add ½ cup water, cover saucepan and let ground meat (keema at this point) cook on medium-low heat for about 15 minutes.

Remove lid, increase heat to high and stir well for about 5 minutes. Remove from heat.

For the tadka (tempering), in a small frying pan, fry the onions till they are a medium brown. This step is optional

In an about 4 quart, oven-proof pot, begin to layer the rice, tempered onions and keema. Start with the rice, and top with onions, and a thin layer of keema and chopped eggs (if using). Keep layering.

Cover and put in the oven for about 10 minutes.