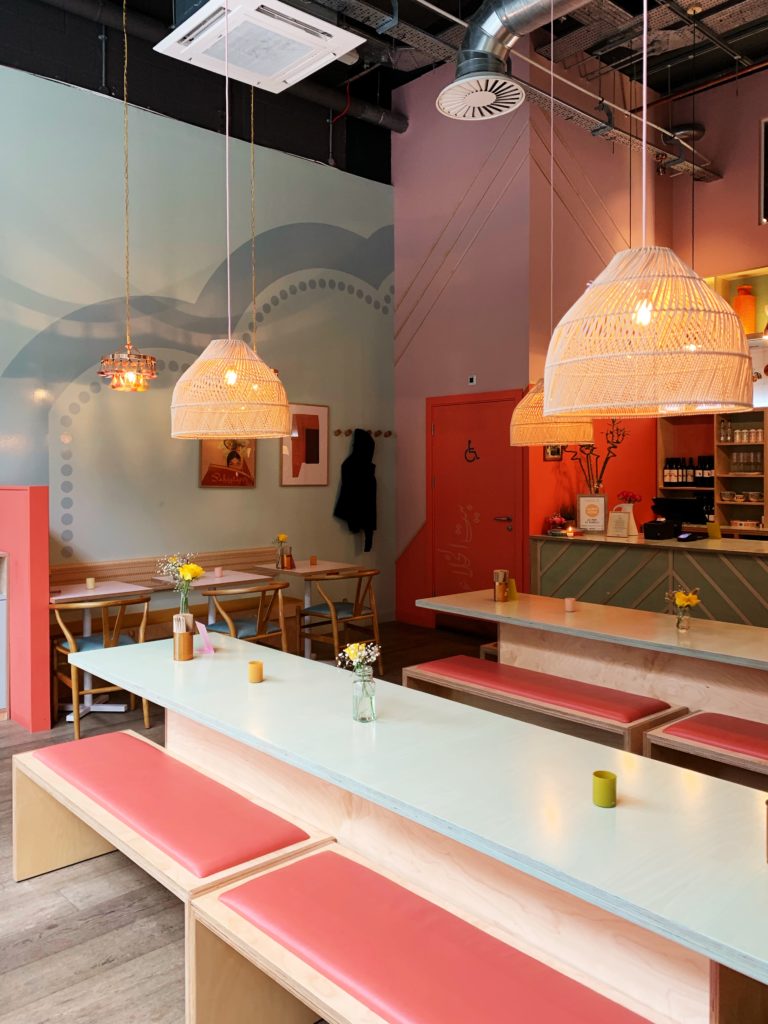 Hello! I am so happy to share this long overdue feature of Aida Khan, the founder and chef behind Shola Kitchen. I had the privilege of eating Shola Kitchen's food first in Islamabad, and then in London. Back in October, I sat down with Aida to chat about her journey from working at a bank to hosting a food travel show and ultimately, starting Shola Kitchen.
I felt compelled to feature Aida because she is part of an emerging cadre of young Pakistani chefs that are diversifying the Pakistani culinary scene by offering what they grew up eating at home. The menu is traditional but it offers items like kaalay channay ki chaat or khatti daal, or timatar kut that you cannot find in most Pakistani restaurants, especially overseas. It reflects Aida's mixed Hyderabadi and Delhi heritage, and Karachi upbringing. And while the menu is traditional, Shola's space is not. The restaurant is airy with a modern color palette and refreshing details that include wicker lights and vintage posters.
I hope Aida's example will inspire more young Pakistani female chefs to offer Pakistani food that is a closer reflection of who they are and what they grew up eating.
The interview has been condensed and edited for clarity and brevity.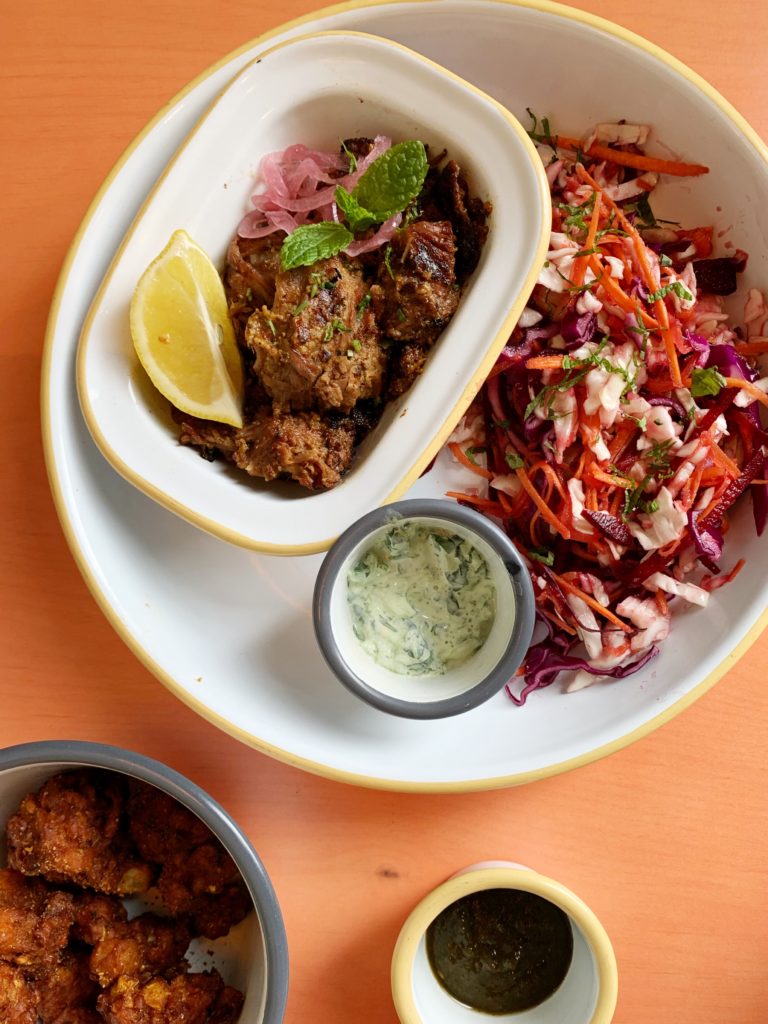 You hosted a Pakistani food travel TV show for DAWN. Tell me a little bit more about that.
That was probably one of the best things I have done…one of my favorite things. It was a pioneer show because DAWN just launched Pakistan's first English news channel and we literally launched with them. It was called, "For the Love of Food". We did a few seasons and traveled all over Pakistan. We traced food history based on geography.
It was one of those experiences that had I not done the show, I would have not traveled to certain parts of Pakistan or eaten certain foods. I learned a lot, met a lot of interesting people, picked up a lot of tips and techniques, and really developed a greater appreciation for Pakistani food. Realized how strongly food was linked to history, and then, was able to find influences from all of Pakistan in our own family cooking, (for example) seeing how fulana aunty is from there, and that's why she prepares gosht this way.
It was a lovely team and overall, just a fabulous experience.
What about your entry into the restaurant business?
When I was expecting a baby, I wrapped up the DAWN show really fast. After that, it was difficult to get back into the food space. I did a bit of food writing for the DAWN blog but it was an interesting time in Pakistan in terms of the food space, and so I decided to step back for a little bit.
I then did my Master's in International Management but even during that time, food kept coming back up. I was doing pop-ups…and then when I had my second child, I realized I needed to pursue food again. So, I went to the Leiths School of Food and Wine (in London) for a six-month course. During that time, I also did supper clubs and catering, and then, it struck me to make the transition to a brick-and-mortar restaurant.
For that, we had to get a site, and London is the worst place to get a site because places are constantly shutting down. It was taking a long time to find one. Meanwhile, we were going back and forth between Islamabad and London for my husband's work, and we ended up finding a place there. I thought, this is the food we want to do, why don't start in Islamabad and test the recipes there? I called it The Karachi Kitchen and renamed it to Shola Kitchen.
The food between Islamabad and London is similar. Islamabad is take out and delivery. This (London) is more sit-down but for both, I did all the recipes, all the masalas. I took the training and lessons from certifications here, and applied it both places…The idea is to do ghar ka khana in a professional kitchen.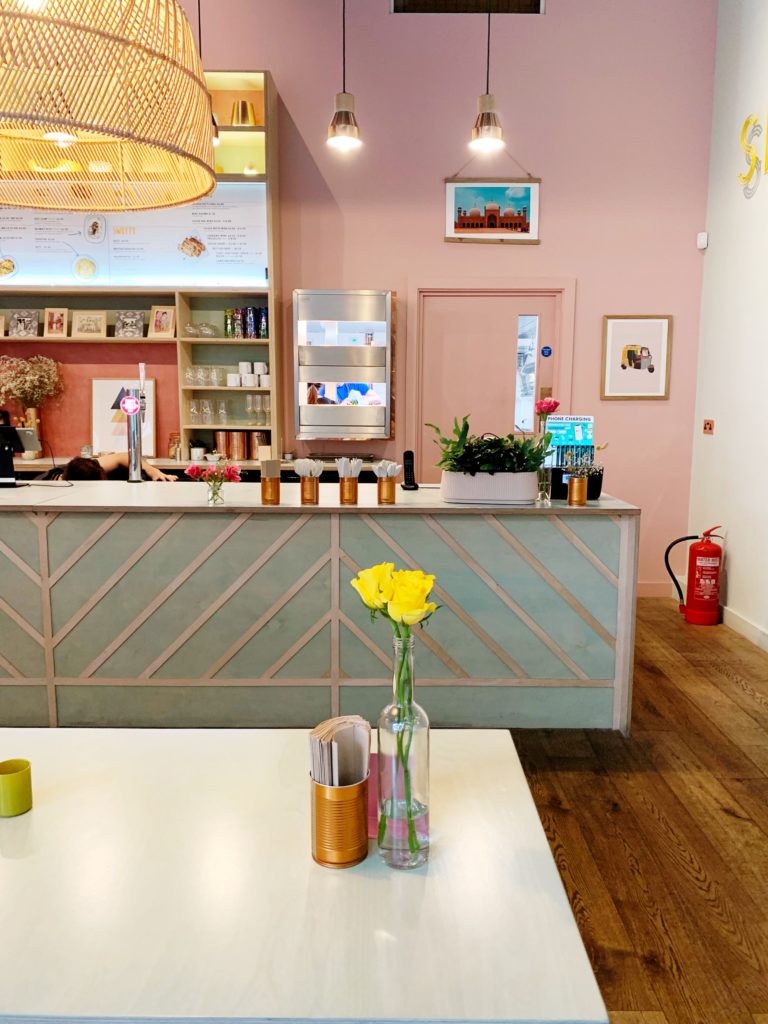 Within three years, you set up two brick and mortar businesses. You recently started dinner service in the London branch. What's next for Shola Kitchen?
With Islamabad, we don't have an outlet yet but stay tuned. We are exploring that option. And we want to do a lot with the London restaurant. We are really excited with the kind of response we have had. It's just been amazing. A part of me thought, "who would want to eat ghar ka khana?" It turns out a lot of people…People want to eat authentic Pakistani food, especially Pakistanis! We have so many customers who are of Pakistani descent, have Pakistani families or are from Pakistan, who say they are really proud to be able to bring friends to a restaurant like Shola. The restaurant has a light vibe. The food is in your face, the flavors are overpowering, but the space is light, breezy and airy. We receive a lot of lovely comments about the restaurant…Somebody said that it reminded them of a happy place, a really calming spot, like a hygge nook in the house, where everyone goes to decompress. Every house in Denmark and Norway has it. That was the sweetest thing I heard, and comments like that keep me going.
For Shola, I plan to do a lot more catering. I really want to do wedding catering because I feel South Asian wedding food is not being done justice to. I feel we can bring authentic Pakistani food to weddings. One of the greatest parts of Pakistani food is the food that you get at weddings!
3. What were the main challenges of starting a contemporary Pakistani restaurant in London? How were you able to successfully navigate some of them?
One of the challenges has been trying to explain to people the difference between Indian and Pakistani cuisine, and then convincing them that it's ok to eat it every day for lunch and that it won't stay with you for the rest of the day. Our food is light. And we have many customers who come every day.
And yes, human resources is always a challenge in this industry. I have suffered from that quite a bit. But my motto is that everybody, including me, is interchangeable. The team is aware that if all else fails, we'll pull all the strings, we'll all step up. (It's inevitable that) people will not show up, you'll have somebody in the family who has an illness…but the kitchen still needs to run.
We have been through these. Two weeks before the launch, I had a mutiny…my GM, head chef and sous chef all just gave up at the last minute. That's when the nerves kick in…right before the launch. We delayed it by two weeks but we still launched the restaurant. Once you have done that, been through that kind of disaster and still able to get through it, you believe you can get through anything…It was a blessing in disguise because now nothing worries me.
Why the name Shola?
Shola means spark. The original plan was to bring back the famous of BBQs of Pakistan. And I have a bright, yellow, gorgeous grill that I light up in the morning. It's my favorite. That's where the name comes from. But the word shola is multi-faceted. Our kitchen is also igniting a spark for Pakistani cuisine.