Jump to Recipe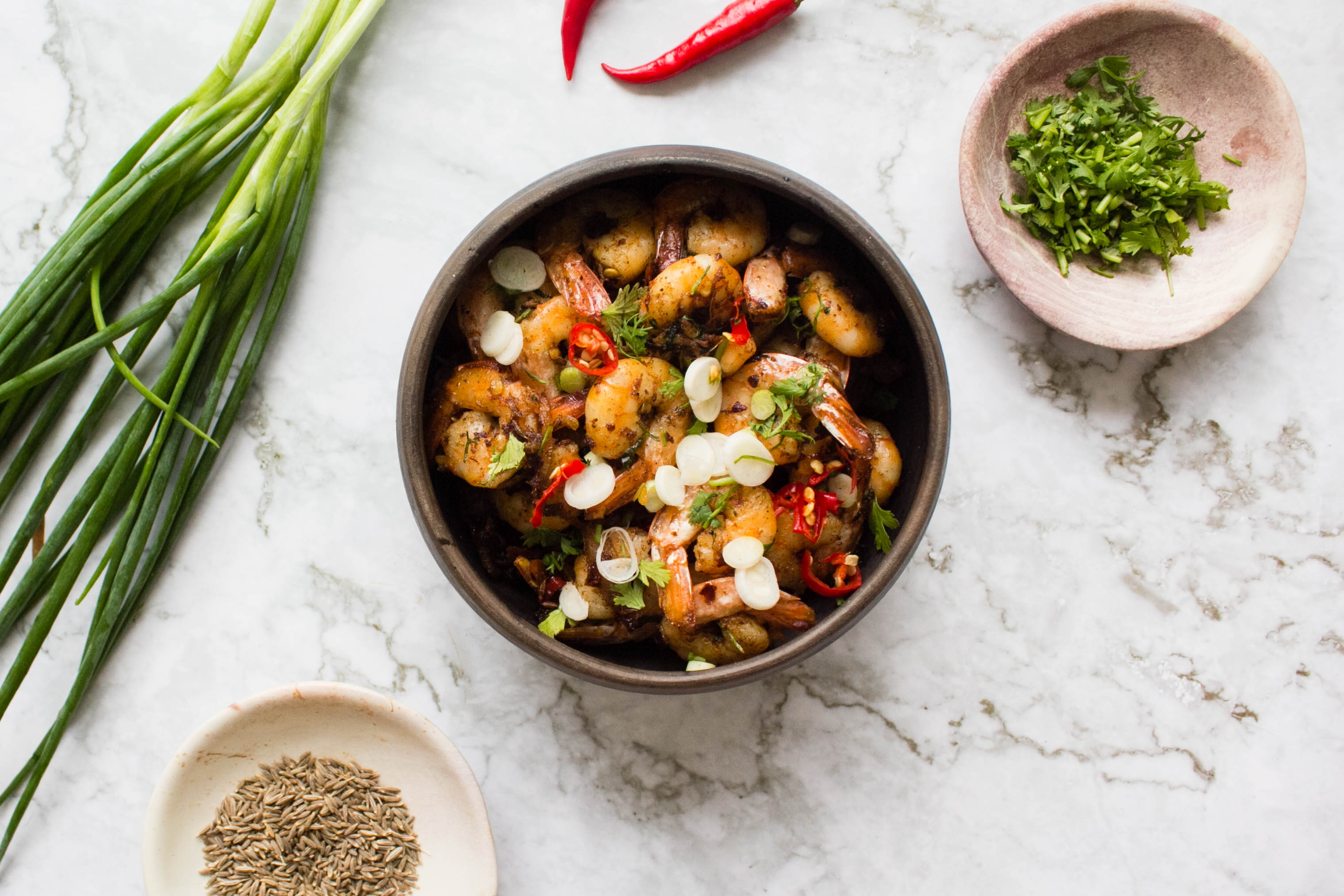 Jump to:
This Sindhi style prawn fry is my first Sindhi recipe post! I often write and talk about how I wish I had experienced more of Pakistan's regional cuisines. The longer I research Pakistani food, the more I learn about the its variety and richness. Last spring, I wrote about the vibrance of Sindhi food for DAWN. I had the privilege of speaking to various food writers, bloggers and chefs of Sindhi origin who shared the beauty and complexity of Sindhi food.
Since I was raised in Islamabad, and my family migrated from Eastern Punjab, I never experienced Sindhi food growing up. Even though I traveled across Sindh recently while I worked in international education, I had limited exposure to Sindhi food during my travels.
The little I know about Sindhi cuisine has been through talented friends such as food writer, Pooja Makhijani, Ankiet, the mastermind behind the very clever food blog, Belly Over Mind, and Sapna, the chef behind Sindhi Gusto, a London-based Sindhi supper club series. All three are Hindu Sindhis whose families migrated to India from Sindh during Partition. By speaking to them, I have learned about Sindhi cuisine's reliance on fresh, indigenous greens and herbs; the interplay of sweet and savory; and Sindhi food's unique place in sub-continent cuisine.
Given the widespread displacement of Hindu Sindhis during Partition, Sindhi food has served as an important anchor for the Hindu Sindhi diaspora. It's for this reason you will find a decent number of Sindhi cookbooks written by migrants. Inspired by my friends to take a stab at Sindhi food at home, I picked up a copy of The Sindhi Kitchen by Aroona Reejhsinghani. It's a simple recipe book that provides an interesting snapshot of Sindhi cuisine. It's been really interesting for me to go over the book because while some of the flavor profiles and dishes are very familiar, many are not.
What are the key features of Sindhi cuisine?
I'm still learning about Sindhi food, and so I cannot speak with any authority on Sindhi cuisine. Here are just a few observations, and I would love for the blog's Sindhi readers to correct me, or add more:
Sindhi cuisine heavily draws from fresh vegetables and herbs. There is liberal use a medley of herbs and greens, such as cilantro, dill, fenugreek leaves that infuse the food with a fresh, vibrant flavor. I also especially appreciate how it draws upon a lot more indigenous ingredients than the food I grew up eating. For instance, they have an impressive variety of dishes prepared with lotus stem or bhea. See Kiran's great recipe for bhea ki sabzi here.
While there are strains of vegetarianism in Sindh, Sindhi cuisine does incorporate meat. It is definitely less reliant on it than purely Mughlai cuisine, but many of my Hindu Sindhi friends said that the fact their families widely consumed meat set them a little apart from their neighbors in the predominantly vegetarian state of Maharashtra.
Palla is king. The fish, hilsa or palla, enjoys a mythical status in Sindh. I'm familiar with hilsa because my husband's family is from Bengal where they also consider hilsa a big delicacy. I found it fascinating that Sindhis hold the fish in equally, if not higher, regard. I found this to be a fascinating read on the relationship between palla and the Sindhi saint, Jhulelal.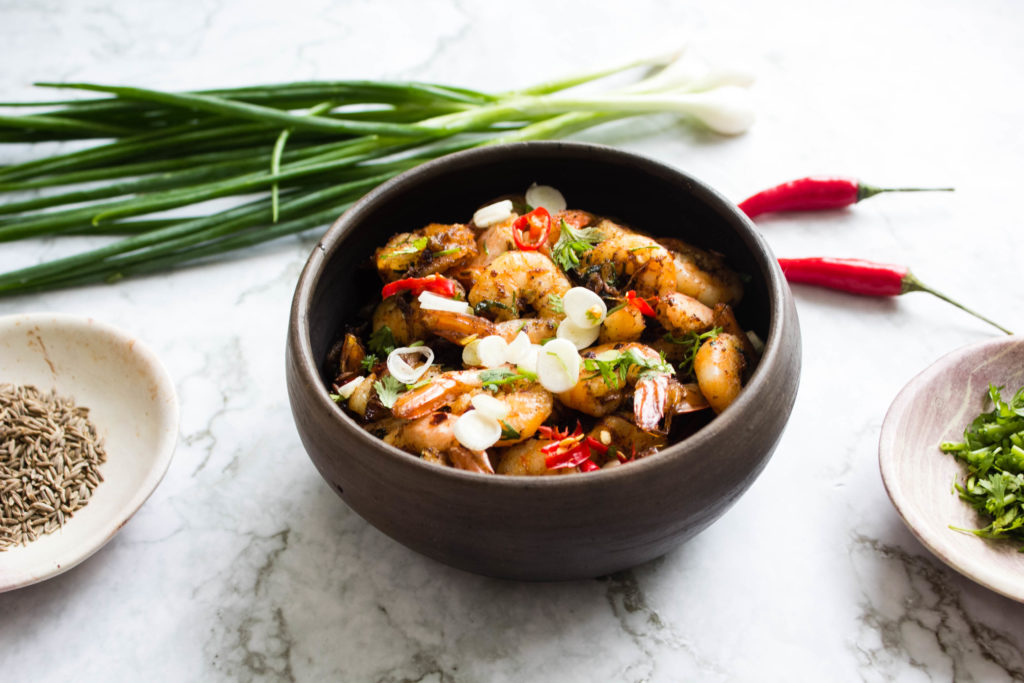 Why make this Sindhi style prawn fry?
I really enjoyed Reejhsinghani's recipe for fried prawns or tariyal gangat, in the book, The Sindhi Kitchen. This is an adaptation of the recipe. I adjusted the spices and added some sequencing to the steps. In Reejhsinghani's recipe, the onions and spices are all fried at the same time for a couple of minutes. That variation will undoubtedly be crunchier, and one that I would love to spread on toast. But given the pungent nature of some of the spices used, to adapt this recipe for dinner, I preferred to add a couple of additional layers to the recipe. Some thoughts on the dish:
This is a dry dish best had with roti or naan. If you are looking for a shrimp or prawn masala, with more gravy, this will not be a great fit. The upside is that because this dish is drier and crunchier, each bite packs a punch.
It's spicy. The bird's eye chili we find in Cambodia have a lot of flavor. I also nearly always prefer using red chili flakes instead of a red chili powder. Adjust the spice level to your comfort zone.
The dish is versatile and can work well on a menu to complement a variety of meat and vegetable dishes with more gravy.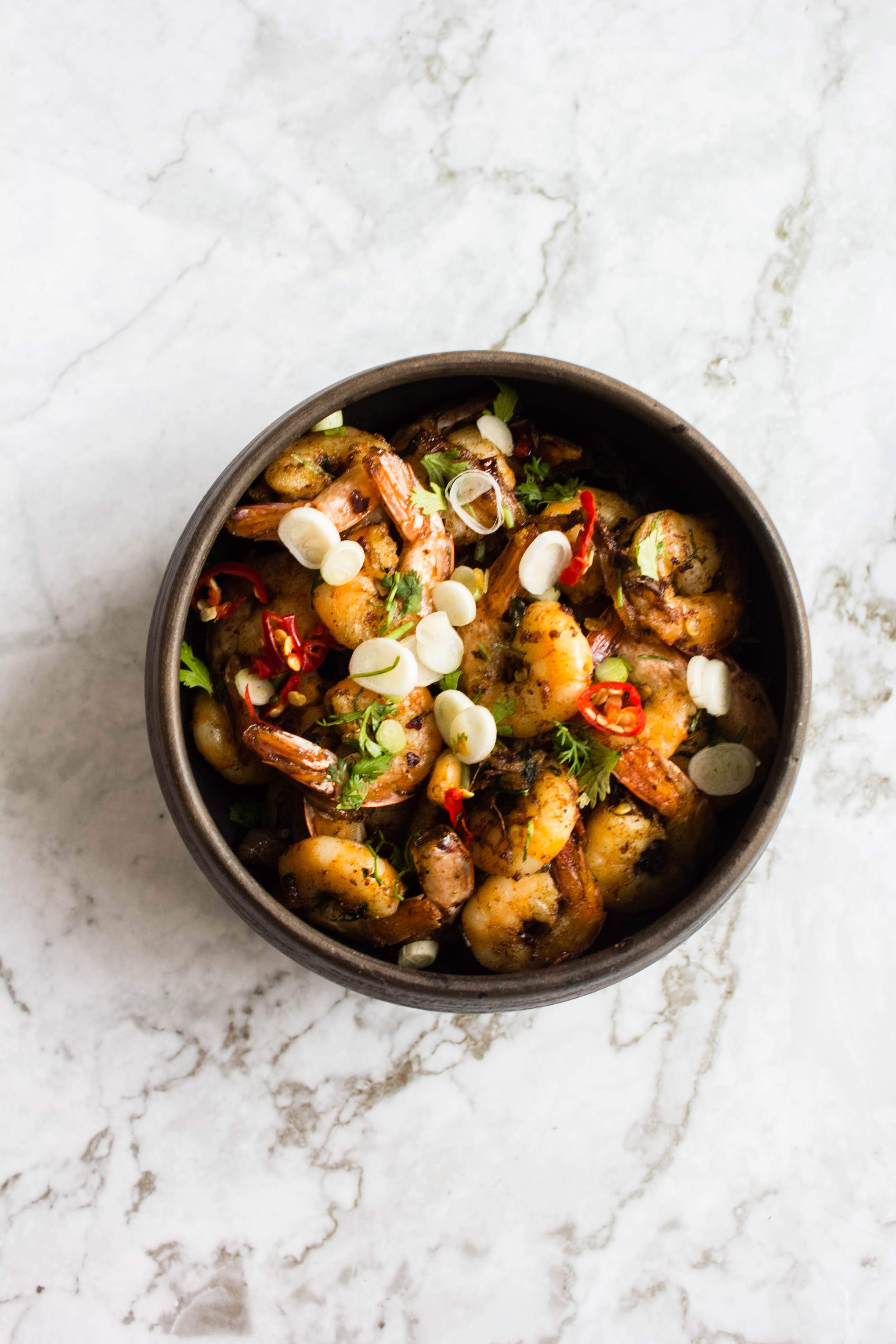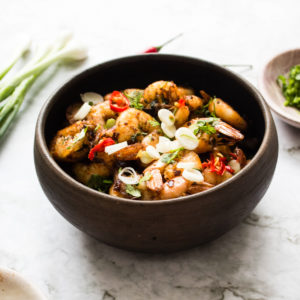 Sindhi Style Prawn Fry Recipe
An easy and flavorful weeknight meal, this Sindhi style prawn fry is adapted from Aroona Reejhsinghani's book, "The Sindhi Kitchen".
Ingredients
¼

cup

oil

canola, sunflower or vegetable

½

pound

shrimp or prawn

pre-cooked and thawed

½

teaspoon

salt or to taste

½

yellow onion

thinly sliced in half rings

1

teaspoon

cumin seeds

1

teaspoon

crushed ginger

1

teaspoon

crushed garlic

1

teaspoon

cumin powder

1

teaspoon

coriander powder

½

teaspoon

garam masala powder

½

teaspoon

red chili flakes

2

bird eye's chilies

finely chopped

2

tablespoon

cilantro

finely chopped
Instructions
Heat ¼ cup of neutral oil in a saucepan. Add shrimp or prawn, salt, and fry for 5-7 minutes until cooked through.

Remove from saucepan and drain on paper towel.

Reheat remaining oil and add cumin seeds. Fry for 30 seconds or until aromatic.

Add chopped onion and fry for 5-7 minutes until limp and translucent.

Add crushed ginger and garlic, and fry for 30 seconds to 1 minutes.

Add ground spices and fry for 1 minute, until they stop smelling raw. Add a splash water to deglaze the pan if needed.

Add diced chilies, cilantro, and cooked shrimp/prawns. Fry and coat in the masala for a couple of minutes. Serve immediately with roti or naan.