It is our collective misfortune that despite the sub-continent having a vibrant and eclectic cuisine, we are often exposed to only a small piece of what it offers.
A large part of why I started Pakistan Eats was to crowdsource recipes from different parts of Pakistan so we, or at least I could begin to get a truer picture of what is eaten inside homes across the country, and archive it in a meaningful and accessible way.
Six months into the blog, I however found that nearly all my recipes are reflective of what is eaten among Punjabi and Urdu-speaking families but not necessarily elsewhere.
So I recently asked my friend, Erum who grew up in Karachi to recreate what her mom cooked at home.
Erum's family primarily comes from Mumbai, and their cuisine is strongly rooted in South Indian and Gujarati culinary traditions. It is mostly vegetarian, and draws upon incredibly complex spice blends.
Here Erum recreates her mom, Nevine's twist on the Hyderabadi classic, Baghari Baingan. It is a gorgeous dish that is typically served as a side to biryani or pulao (pilaf) but we enjoyed with a side of Trader Joe wraps and gawar ki sabzi (green beans).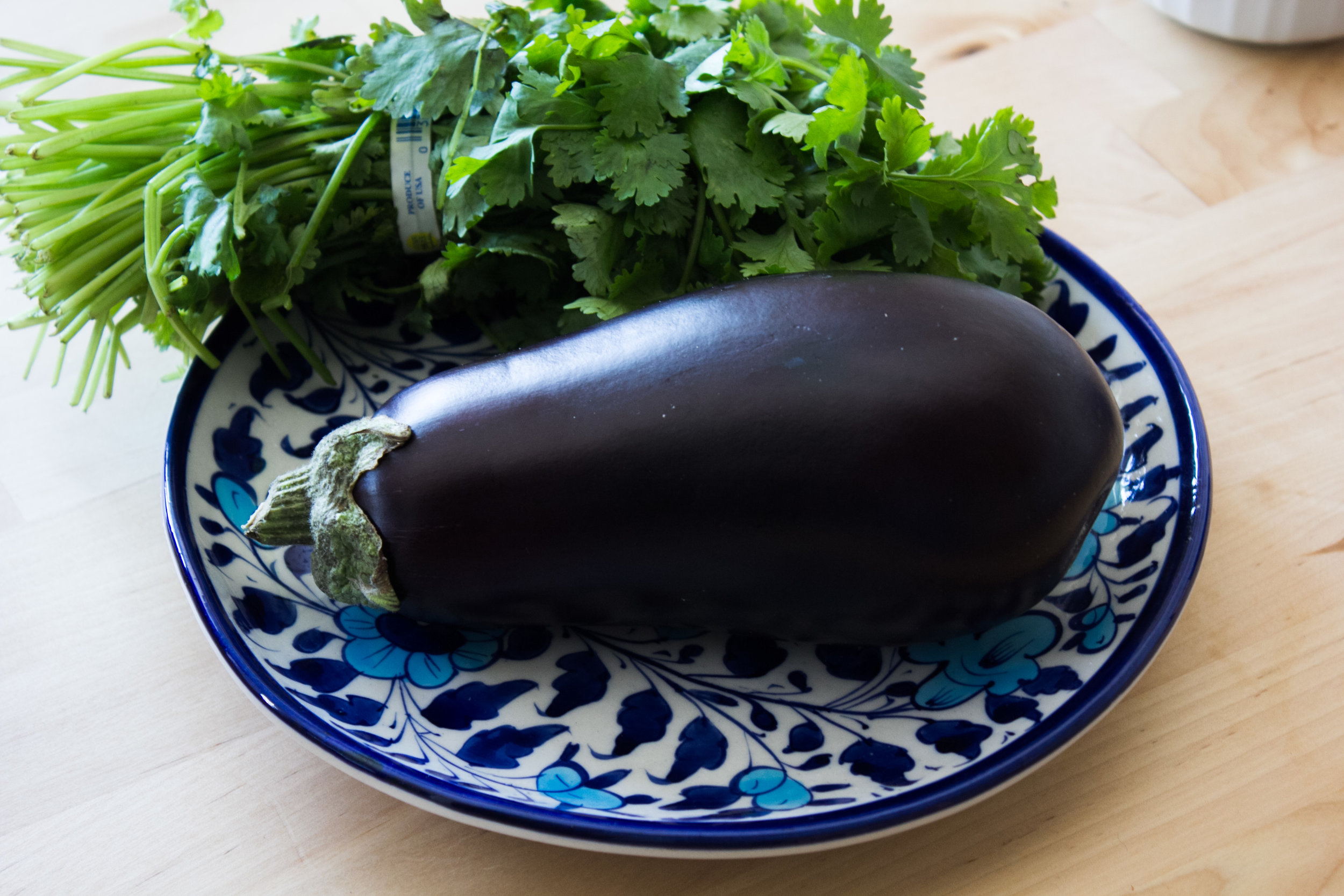 Baghara Baingan
Serves: 4-6
Ingredients:
Walnut sized tamarind pulp
¾ cup hot water
4 tbsp canola/sunflower/vegetable oil
½ medium red onion, sliced in half rings
1 ½ tsp ginger paste
1 ½ tsp garlic paste
3 baby egg plants, thinly sliced crosswise
Salt to taste
12 oz full-fat yogurt, slightly whipped
Sprinkle of birista (thinly sliced dried onion) (optional)
Handful of roughly chopped cilantro for garnish (optional)
Masala Paste
½ medium red onion, sliced in half rings
1 tsp coriander seeds
1 tsp cumin seeds
1 tsp sesame seeds
1 tsp poppy seeds
2-4 large red chilies
Tadka
4-5 curry patta/leaves
4-5 dried round chilies
1 tsp of cumin seeds
½ tsp mustard seed
Preparation:
Place tamarind pulp in a bowl, and add hot water. Squeeze the tamarind to soften it and make it paste-like. Set the tamarind water aside.
Heat 1 tbsp of oil in a small sauce pan. Add the ½ sliced red onion and brown on medium heat till it's a light brown.
Add the spices listed under masala paste and roast them on low heat till they change color and become fragrant (about 10 minutes). Make sure they don't burn. Once done, grind the onion and spices in a food processor to create a smooth paste. Set aside.
Heat 1 tbsp of oil in a medium-sized sauce pan. Add remainder of the chopped onion. Turn up heat and fry till soft and translucent. Add ginger and garlic paste and fry for a few seconds. Add splash of water to deglaze the pan as needed.
Add the ground masala paste and stir till it stops smelling raw.
Lower the heat, and layer the sliced eggplant on top of the onion and paste.
Slowly strain the tamarind water into the pan while squeezing the tamarind to infuse it with more flavor.
Add salt.
Turn up the heat to bring the tamarind water to a boil. Once it begins to simmer, lower heat to medium and cover the pan with a tight lid. Turn heat off when the eggplant softens (about 10-15 minutes).
Layer the eggplant on to a serving dish. Drizzle with whipped yogurt. Top with birista.
For the tadka, heat 1-2 tbsp of oil. Add curry patta/leaves, dried red chilies, cumin seeds and mustard seeds in quick succession as they change color. Remove from heat.
Pour the tadka over the eggplant. Add cilantro for garnish.